Toyota Motor Corporation president Akio Toyoda has apologised to Ott Tanak and Martin Jarveoja after their Yaris WRC failed on the final stage of Rally Italy.
Toyoda was present at Rally Italy and said he was touched by the emotion shown when the distraught Estonians returned to service after final-stage steering problems dropped them from a near-certain rally win to fifth place.
Without that problem, Tanak would likely have gone into the WRC's summer break at least 19 points clear of Sebastien Ogier.
Instead, he ended round eight just four points up on the defending champion.
Toyoda said: "It was a heartbreaking ending to Rally Italia Sardegna.
"As I felt Ott and Martin's strong ambition to bring me to the podium again, I was lost for words when I saw their car slowing down in the final stage.
"But I think the disappointment is bigger for the driver and the co-driver than for anyone else.
"I'm very sorry we couldn't let the drivers drive through to the finish.
"I'm very sorry for all the fans who were watching the fight.
"I will never forget the regretful expression in his (Tanak's) face when he got out of the car.
"He hugged with the mechanics one-by-one, facing the sadness with all of the team members.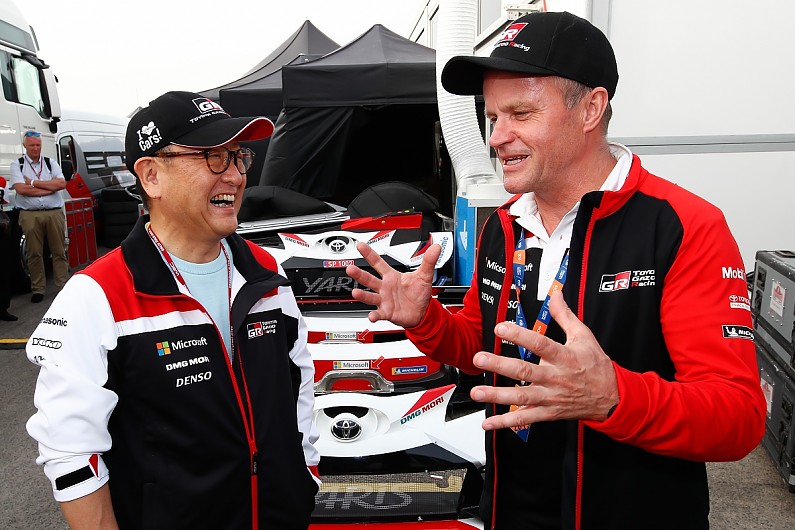 "I was touched by this scene.
"I thought Ott and all the members of car No. 8 must be the champion by any means from my heart.
"What I can do is to make the Yaris the even better car and much more reliable car to continue driving.
"I will carry out this goal together with Tommi [Makinen] by any means."
All four Toyotas suffered similar steering issues, prompting the team's chief rally engineer Tom Fowler to suspect a bad batch of components.
Despite Tanak leading through the second half of the rally - and posting the fastest time on all six Saturday stages - the Japanese marque lost further ground to Hyundai in the manufacturers' championship in Italy.
Tanak was classified fifth with Kris Meeke eighth and Jari-Matti Latvala 19th, who returned under Rally 2 regulations after steering problems forced him off the road on Friday.