Ott Tanak clinched victory in Germany as his M-Sport Ford team-mate Sebastien Ogier rebuilt a 17-point World Rally Championship lead over Thierry Neuville.
In the lead fight from the outset, Tanak hit the front for good amid Friday afternoon's torrential rain - when he was one of a handful of drivers to give the WRC's 'monsoon' tyre its competitive debut - and controlled the remainder of the event.
His second WRC win, and first on asphalt, came just three rallies after his maiden triumph in Sardinia.
Both Neuville and Ogier, who had arrived in Germany level on points, made errors in Friday's slippery conditions.
They began day two third and fourth with Neuville slightly ahead, but his Hyundai broke its suspension in a cut on Saturday's opening Panzerplatte stage.
Though Neuville hoped he could still salvage some bonus points from the powerstage when he rejoined on Sunday, he never got back on the pace as he struggled for confidence and with the car's set-up.
The only consolation for Neuville was that Ogier couldn't catch Andreas Mikkelsen for second place, as the world champion decided to play it safe once Neuville was out.
Ogier wasn't a big scorer on the powerstage either, but his fourth place there was two points more lucrative than Neuville's sixth.
Mikkelsen, the leader for much of Friday, never gave up on chasing Tanak for victory and finally finished 16.4-seconds adrift.
His second place was only the second WRC podium for a Citroen driver this season after Kris Meeke's Mexico win in March.
While Mikkelsen, whose programme beyond this rally is uncertain, got Citroen back in the victory hunt, its nominal team leader Meeke crashed less than a mile into the event on Thursday's superspecial.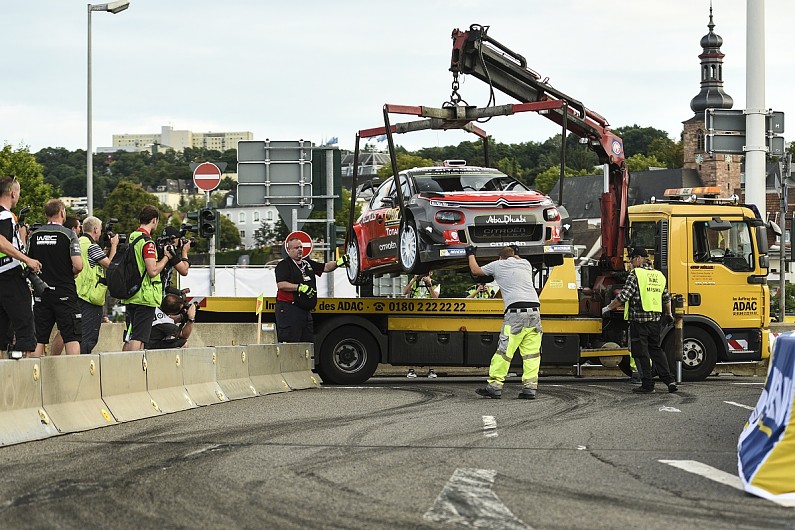 He rejoined under Rally2 and ran at the tail of the field until a water-pump failure on Saturday afternoon.
Juho Hanninen recovered from a mistake on Friday and damper problems on Saturday to claim fourth when Elfyn Evans briefly went off on the final morning.
Evans had been a top-five factor at first but his DMACKs were not as rapid when the weather improved and he lost fifth place to Craig Breen on the very last stage.
The other Toyotas of Jari-Matti Latvala and Esapekka Lappi were in top five contention on Friday before a misfire dropped Latvala down the order and Lappi crashed.
Latvala salvaged seventh ahead of Hayden Paddon, who was off the pace and delayed by an early puncture, with Lappi consigned to Rally2.
Dani Sordo briefly led early on but was another Friday crasher.
Like Lappi, he showed what might've been with stage wins after rejoining - including the powerstage, by 0.2s over the Finn.
M-Sport fielded an additional World Rally car for German veteran Armin Kremer, who finished ninth ahead of his WRC2-winning team-mate Eric Camilli.
Skoda WRC2 driver Jan Kopecky had led the event outright by setting the pace on the Thursday evening superspecial, but a puncture on Saturday cost him a potential class win.
His team-mate Pontus Tidemand wrapped up an early WRC2 championship title as third in class in Germany cemented the advantage he'd built with four wins in the opening rounds.
Rally result

| Pos | Driver | Team | Car | Gap |
| --- | --- | --- | --- | --- |
| 1 | Ott Tanak, M.Jarveoja | M-Sport World Rally Team | Ford | 2h57m31.7s |
| 2 | Andreas Mikkelsen, A.Jager | Citroen Total Abu Dhabi WRT | Citroen | 16.4s |
| 3 | Sebastien Ogier, J.Ingrassia | M-Sport World Rally Team | Ford | 30.4s |
| 4 | Juho Hanninen, K.Lindstrom | Toyota Gazoo Racing WRC | Toyota | 1m49.2s |
| 5 | Craig Breen, S.Martin | Citroen Total Abu Dhabi WRT | Citroen | 2m01.5s |
| 6 | Elfyn Evans, D.Barritt | M-Sport World Rally Team | Ford | 2m03.4s |
| 7 | Jari-Matti Latvala, M.Anttila | Toyota Gazoo Racing WRC | Toyota | 3m58.2s |
| 8 | Hayden Paddon, S.Marshall | Hyundai Motorsport | Hyundai | 4m32.4s |
| 9 | Armin Kremer, P.Winklhofer | | Ford | 10m19.4s |
| 10 | Eric Camilli, B.Veillas | M-Sport World Rally Team | Ford | 10m44.3s |
Powerstage result
| Pos | Driver | Team | Car | Gap |
| --- | --- | --- | --- | --- |
| 1 | Dani Sordo, M.Marti | Hyundai Motorsport | Hyundai | 6m17.3s |
| 2 | Esapekka Lappi, J.Ferm | Toyota Gazoo Racing WRC | Toyota | 0.2s |
| 3 | Jari-Matti Latvala, M.Anttila | Toyota Gazoo Racing WRC | Toyota | 2.6s |
| 4 | Sebastien Ogier, J.Ingrassia | M-Sport World Rally Team | Ford | 2.7s |
| 5 | Craig Breen, S.Martin | Citroen Total Abu Dhabi WRT | Citroen | 2.9s |
Drivers' championship
| Pos | Driver | Points |
| --- | --- | --- |
| 1 | Sebastien Ogier | 177 |
| 2 | Thierry Neuville | 160 |
| 3 | Ott Tanak | 144 |
| 4 | Jari-Matti Latvala | 123 |
| 5 | Dani Sordo | 89 |
| 6 | Elfyn Evans | 87 |
| 7 | Craig Breen | 64 |
| 8 | Juho Hanninen | 58 |
| 9 | Hayden Paddon | 55 |
| 10 | Esapekka Lappi | 49 |
| 11 | Andreas Mikkelsen | 39 |
| 12 | Kris Meeke | 31 |
| 13 | Teemu Suninen | 25 |
| 14 | Stephane Lefebvre | 22 |
| 15 | Mads Ostberg | 19 |
| 16 | Jan Kopecky | 5 |
| 17 | Pontus Tidemand | 4 |
| 18 | Eric Camilli | 3 |
| 19 | Armin Kremer | 2 |
| 19 | Stephane Sarrazin | 2 |
| 21 | Yohan Rossel | 1 |
| 22 | Bryan Bouffier | 1 |