Ford will next month unveil an extreme version of its GTE racer that could point to a future in the hypercar concept class of the World Endurance Championship.
A teaser image of what is only being described as an "ultra-high-performance supercar" clearly shows the vehicle has its roots in the Ford GT that the US car maker has campaigned in the GTE Pro class of the WEC over the past three seasons.
The news of the announcement at the Goodwood Festival of Speed on July 4 follows the revelation earlier this year that Ford has begun evaluating the hypercar WEC rules after the decision to allow road-based machinery to compete alongside lookalike prototypes.
Ford Performance Motorsports boss Mark Rushbrook told Autosport in April: "It was a very interesting development last month when we learned what was happening with the hypercar rules.
"It would give us the opportunity to race our GT as a road-based car in that class.
"It is something we are looking at and asking what it would take to compete with our car in that class and whether it makes sense."
No details of the new car have been released, except that it will be unveiled at Goodwood by Ford Performance director Hermann Salenbauch and Larry Holt, motorsport boss of the Multimatic organisation that developed the GT road and race cars.
How the WEC's hypercar class is shaping up
The study of the hypercar rules is part of a wider evaluation undertaken by Ford into its future in what it is calling "electrified motorsport".
This raises the prospect that the car that will be unveiled at Goodwood incorporates hybrid technology.
Ford has stressed that no decisions about its next global motorsport programme have been taken.
It is unclear whether Ford could be ready in time to join Aston Martin and Toyota on the grid for the opening season of the hypercar concept class in 2010/21.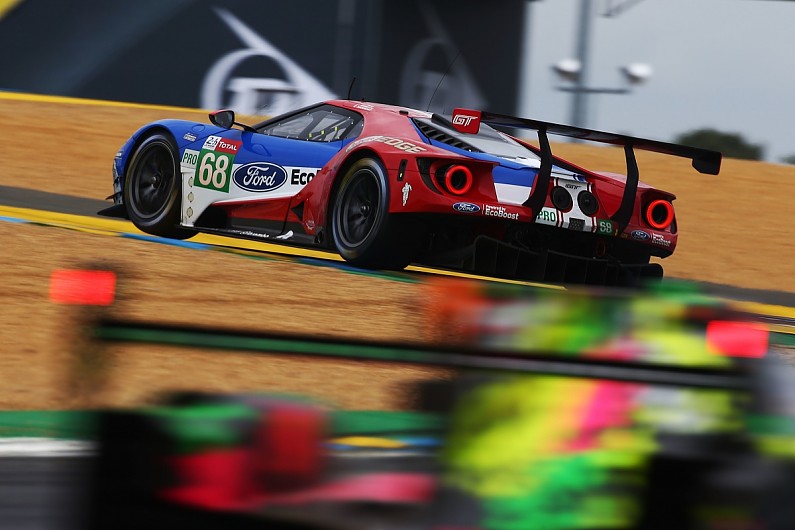 At the same time Holt has vowed to keep the Multimatic Motorsport Europe team that masterminded Ford's WEC campaigns together after the end of the factory programme at the Le Mans 24 Hours last weekend.
It is still working on plans to try to race on in the WEC with the Ford GT on a privateer basis, despite missing the entry deadline for the 2019/20 championship.
The works Ganassi team will continue to race the Ford GT in the IMSA SportsCar Championship in North America until the end of this season.