The World Endurance Championship's LMP1 privateers have been handed a power reduction for the Le Mans test day next month.
The non-hybrid independents have been given a reduced fuel-flow rate for the test on June 3 in comparison with the opening WEC round at Spa earlier this month.
They will be allowed 108 kilogrammes of petrol per hour rather than the 110kg/hr at which they raced in Belgium.
The fuel flow rate for the Toyota TS050 HYBRID remains unchanged at 80kg/hr under the Equivalence of Technology bulletin published for the test, which takes place two weekends before the Le Mans 24 Hours on June 16/17.
The move appears to reflect the fact that the fuel-flow formula rules introduced in 2014 afford hybrid machinery more fuel and greater discharge from their energy-retrieval systems per kilometre at the shorter WEC races than at Le Mans.
The rulemakers, the FIA and the Automobile Club de l'Ouest, are trying balance the cars in order to give Toyota a lap-time advantage of half a second over the 8.47-mile Le Mans circuit.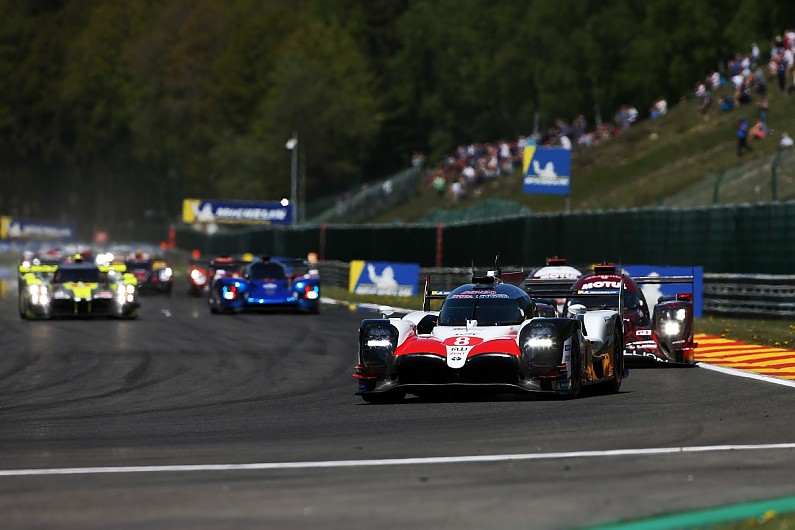 The amount of fuel that the privateers can use each lap and over a stint has yet to be announced and will be determined after the test day.
This follows a pro-rata reduction in the fuel per lap figure, measured in megajoules, between the official pre-season WEC test at Paul Ricard in April and the Spa series opener.
The rulemakers insisted that this change was motivated to achieve the required stint length of 17 laps for the privateers rather than to reduce performance.
But some privateer drivers reported that they were having to lift to avoid going over the prescribed limit.
The FIA bulletin detailing the EoT for the Le Mans test states that the missing values will be determined to ensure "no fuel lift [is] required".
The refuelling restrictors, which determine the rate at which the fuel goes into the cars in the pits, will also be published after the test day.
The ACO has reserved the right to change the EoT between the test and the race at Le Mans as it attempts to balance the performance of the privateers and the Toyotas, which are running to different rulebooks.