The latest safety upgrade at the Porsche Curves on the Le Mans 24 Hours circuit has already been completed.
The wall on the inside of the final right-hander of the famous section of the 8.47-mile Circuit de la Sarthe has been moved back and asphalt run-off added.
The latest development is part of the ongoing drive to improve safety by the Automobile Club de l'Ouest, which runs the track.
This included moving the barriers back on the outside of the same corner in time for last year's Le Mans World Endurance Championship round.
ACO sporting director Vincent Beaumesnil told Autosport: "In the past few years, as we have worked on safety in the Porsche Curves, the number of accidents has reduced drastically.
"We have created a big run-off on the inside, which we believe is very sensible even if it has come at a big financial cost."
Beaumesnil explained that the ACO was attempting to prevent cars that had encountered a problem coming out of the Porsche Curves' double left from making contact with the wall.
Last year's safety improvements were met with a mixed reaction by the drivers, some of whom believed that the opening up of the section removed its character.
Three-time Le Mans winner Andre Lotterer said last year that the changes made driving the circuit "a little less thrilling".
The ACO has claimed that moving the walls backs, as well as installing deformable SAFER barriers on the outside of the first part of the double left, is preferable to wholesale changes to the section or the addition of a chicane.
Beaumesnil said that there was a desire within the ACO "not to change the race route of the 24 Hours".
The Circuit de la Sarthe has been remeasured for the coming season and is now officially three metres shorter than before.
Startline position changed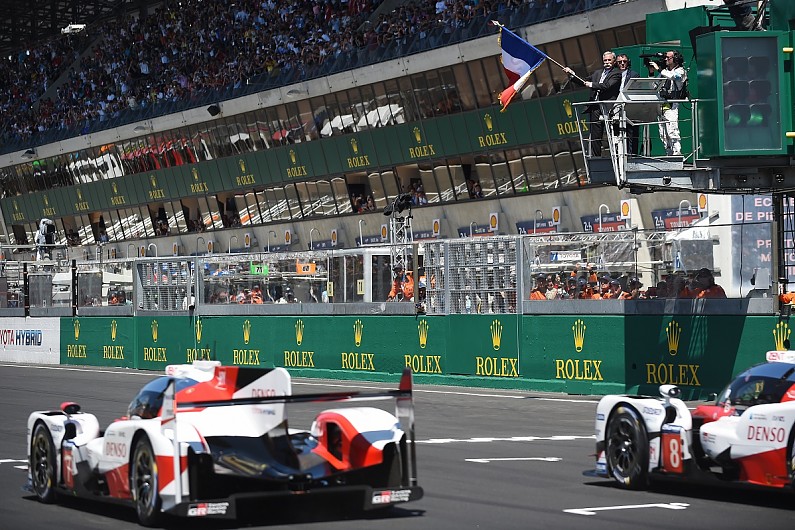 The ACO has also announced that the circuit's startline has been moved.
A decision has been taken to shift the startline 145 metres further up the track with the start of the 24 Hours race in mind, although the new position will also be used by all events that take place on the shorter Bugatti circuit, including MotoGP's French Grand Prix.
The previous startline was located near the beginning of the straight, in line with the circuit clock, podium and first pit box.
The ACO said the change would "enable all the cars to line up on the pit straight" before the start and avoid a "situation of having cars in the Ford chicanes when the pack is finally unleashed".
Although the startline has moved, The positioning of the finishing and timing lines will not be altered.