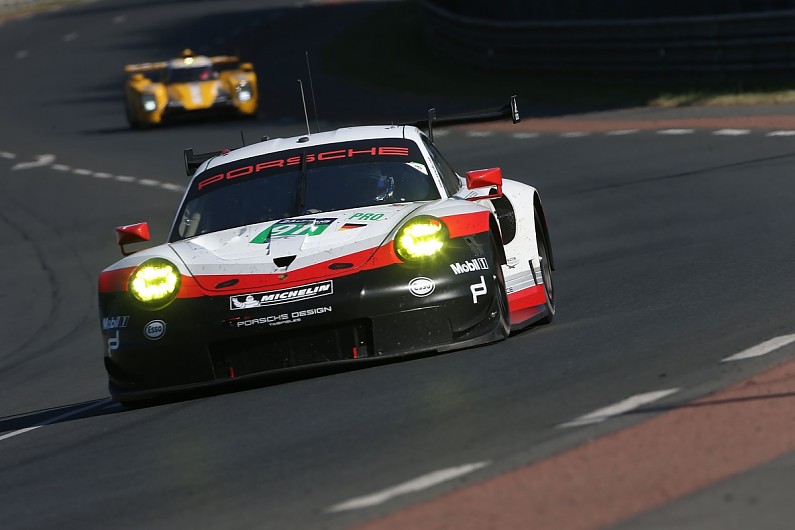 Porsche will expand its factory GTE Pro class entry from two to four cars for the Le Mans 24 Hours next year.
The German manufacturer will be represented by a pair of mid-engined 911 RSRs run by each of its World Endurance Championship and IMSA SportsCar Championship squads in the French enduro on June 16/17.
The expanded programme for the 24 Hours follows the end of Porsche's LMP1 programme with the 919 Hybrid, which claimed a hat-trick of outright victories at Le Mans in 2015-17.
The two Porsche GT Team WEC entries will be driven by Richard Lietz, Frederic Makowiecki and Gianmaria Bruni, who will be making his first Le Mans start since joining Porsche, and the another car by Kevin Estre, Michael Christensen and Laurens Vanthoor.
Porsche said that it is "expected" the two US entries run by the works CORE Motorsport team to be raced by Patrick Pilet, Nick Tandy and Earl Bamber, and Timo Bernhard, Romain Dumas and Sven Muller at the 24 Hours.
Bruni will race a 911 RSR full time in the 2018/19 WEC superseason, after beginning his Porsche career in IMSA mid-year following a period of gardening leave in the wake of his defection from Ferrari.
The two-time WEC class champion will line up alongside Lietz in place of Makowiecki. Estre and Christensen will again share the sister car.
The expected return of outgoing LMP1 drivers Tandy and Bamber to the GT Le Mans class IMSA campaign has been confirmed.
Tandy will re-form his partnership of 2015-16 with Pilet, while Bamber will be paired with Vanthoor.
The two line-ups will be joined for the four long-distance IMSA races that make up the North American Endurance Cup by Makowiecki and Bruni respectively.
Porsche has named a squad of 18 factory drivers, which includes all six refugees from the P1 programme.
Double WEC champion Bernhard's primary programme will be in the ADAC GT Masters series in Germany with his own Team 75 Bernhard operation aboard a 911 GT3-R shared with Estre.
No programmes have been announced so far for Andre Lotterer and Neel Jani, who are now racing in Formula E, and new Toro Rosso F1 driver Brendon Hartley.
Porsche has confirmed the sale of seven 911 RSRs to customer teams for programmes spanning Le Mans, the WEC and the European Le Mans Series.
The German Proton and the Gulf Racing UK WEC squads are among the customers.