Audi drivers Andre Lotterer, Benoit Treluyer and Marcel Fassler made it two World Endurance Championship race wins out of two after another thrilling race with Porsche.
The Audi triumphed in the Le Mans-spec, low-downforce R18 e-tron by just 13 seconds from the Porsche 919 Hybrid shared by Marc Lieb, Romain Dumas and Neel Jani.

The Porsche was the faster LMP1 car over a stint at Spa, but the Audi was quicker when it came to double-stinting its Michelin tyres. It was this that ultimately gave it victory.
Lotterer jumped the Porsche in the pits early in the fourth hour by double-stinting his tyres.
Porsche doubled next time around with Marc Lieb, but he lost out to a hard-charging Treluyer, who took the lead with an around-the-outside manouevre at Fagnes.
Jani came back at Treluyer in the penultimate hour and regained the lead for Porsche, but the Audi was back ahead at the next round of stops courtesy of doubling again.
Treluyer then kept the same tyres the short run to the flag, ensuring the victory.
"When they told me that I was going to keep the tyres for a third stint, I thought, oh!" said Treluyer.
"But that was our chance to win and I was still able to take risks in traffic and push like hell."
The top two of only three LMP1 cars to have clean races finished a lap clear of their nearest pursuer, the pole-winning Porsche shared by Brendon Hartley, Timo Bernhard and Mark Webber.
It lost time with a drive-through penalty early in the race after Hartley overshot the Bus-Stop chicane and nipped through a gap between the tyre barriers and the start of the guard rail on the start/finish straight.
The car subsequently lost more time with a damper problem, which explained the one-lap deficit at the finish.
Fourth place went to the high-downforce Audi R18 shared by Marco Bonanomi, Rene Rast and Filipe Albuquerque, which was delayed by the loss of the window from the left door.
Fifth place went to the Toyota TS040 HYBRID shared by Alex Wurz, Stephane Sarrazin and Mike Conway, which had a clean race but wasn't on the pace of the Audis or the Porsches.
The Porsche shared by Nick Tandy, Nico Hulkenberg and Earl Bamber finished three laps down in sixth after losing time to front body repairs after Tandy came together with the factory Manthey Porsche 911 RSR driven by Kevin Estre early on.
Reigning champions Anthony Davidson and Sebastien Buemi, who drove as a duo after Kazuki Nakajima was injured in free practice, finished down in eighth after suffering throttle and then electrical problems.

JOTA SPORT TAKES LMP2 WIN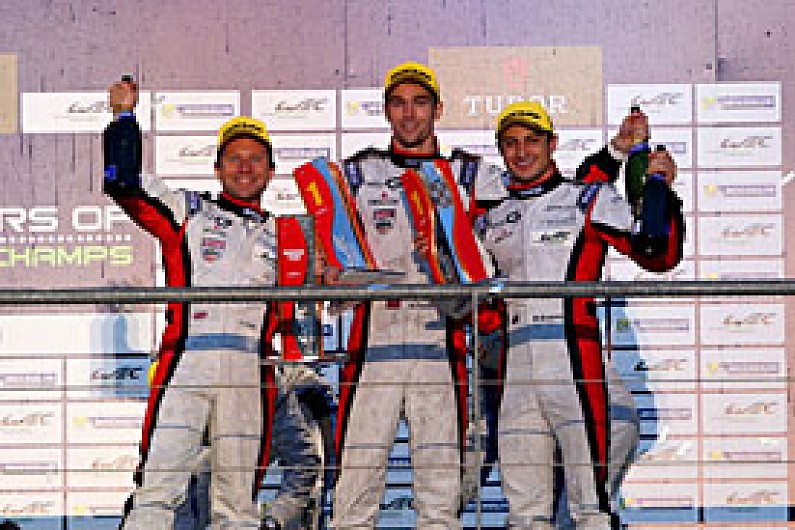 European Le Mans Series regular Jota Sport sealed victory in LMP2 with its Gibson-Nissan 015S, driven by Harry Tincknell, Mitch Evans and Simon Dolan, despite an early-race drive-through for a jump-start.
Amateur Dolan looked to have done enough during his double stint before handing back to Tincknell to secure victory, but retirement for the chasing G-Drive Ligier-Nissan JSP2 of Sam Bird, Julien Canal and Roman Rusinov left him and then Evans a clear run to a one-lap victory.
Aston Martin Racing took honours in GTE Pro with the Vantage GTE shared by Richie Stanaway, Fernando Rees and Alex MacDowall, which battled with the AF Corse Ferrari of Gianmaria Bruni and Toni Vilander for much of the race.
Bruni was just over a second behind Rees when he was forced to take a stop-go penalty of one-minute for a pitstop infringement that dropped the car to fourth.
AMR also won in GTE Am with Pedro Lamy, Mathias Lauda and Paul Dalla Lana.
RESULTS - 176 LAPS:
| Pos | Class | Driver | Team | Car | Gap |
| --- | --- | --- | --- | --- | --- |
| 1 | LMP1 | M.Fassler, A.Lotterer, B.Treluyer | Audi Sport Team Joest | Audi | 6h01m08.896s |
| 2 | LMP1 | R.Dumas, N.Jani, M.Lieb | Porsche Team | Porsche | 13.424s |
| 3 | LMP1 | T.Bernhard, M.Webber, B.Hartley | Porsche Team | Porsche | 1 Lap |
| 4 | LMP1 | F.Albuquerque, M.Bonanomi, R.Rast | Audi Sport Team Joest | Audi | 2 Laps |
| 5 | LMP1 | A.Wurz, S.Sarrazin, M.Conway | Toyota Racing | Toyota | 3 Laps |
| 6 | LMP1 | N.Hulkenberg, E.Bamber, N.Tandy | Porsche Team | Porsche | 3 Laps |
| 7 | LMP1 | L.di Grassi, L.Duval, O.Jarvis | Audi Sport Team Joest | Audi | 8 Laps |
| 8 | LMP1 | A.Davidson, S.Buemi, K.Nakajima | Toyota Racing | Toyota | 14 Laps |
| 9 | LMP2 | S.Dolan, M.Evans, H.Tincknell | JOTA Sport | Gibson/Nissan | 15 Laps |
| 10 | LMP2 | G.Yacaman, P.Derani, R.Gonzalez | G-Drive Racing | Ligier/Nissan | 16 Laps |
| 11 | LMP2 | P.Ragues, O.Webb, Z.Amberg | Team SARD Morand | Morgan/SARD | 17 Laps |
| 12 | LMP2 | M.Howson, R.Bradley, N.Lapierre | KCMG | ORECA/Nissan | 17 Laps |
| 13 | LMP2 | N.Panciatici, P-L.Chatin, V.Capillaire | Signatech Alpine | Alpine/Nissan | 17 Laps |
| 14 | LMP2 | N.Leventis, D.Watts, J.Kane | Strakka Racing | Dome/Nissan | 20 Laps |
| 15 | LMP2 | J.Nicolet, J-M.Merlin, E.Maris | Oak Racing | Ligier/Nissan | 24 Laps |
| 16 | GTE Pro | A.MacDowall, F.Rees, R.Stanaway | Aston Martin Racing V8 | Aston Martin | 25 Laps |
| 17 | GTE Pro | F.Makowiecki, R.Lietz | Porsche Team Manthey | Porsche | 25 Laps |
| 18 | GTE Pro | S.Muller, K.Estre | Porsche Team Manthey | Porsche | 25 Laps |
| 19 | GTE Pro | G.Bruni, T.Vilander | AF Corse | Ferrari | 25 Laps |
| 20 | GTE Pro | D.Turner, S.Mucke, R.Bell | Aston Martin Racing | Aston Martin | 26 Laps |
| 21 | GTE Pro | C.Nygaard, M.Sorensen, J.Adam | Aston Martin Racing | Aston Martin | 26 Laps |
| 22 | GTE Pro | D.Rigon, J.Calado | AF Corse | Ferrari | 26 Laps |
| 23 | LMP2 | E.Brown, J.van Overbeek, J.Fogarty | Extreme Speed Motorsports | Ligier/HPD | 27 Laps |
| 24 | GTE Am | P.D.Lana, P.Lamy, M.Lauda | Aston Martin Racing | Aston Martin | 28 Laps |
| 25 | GTE Am | F.Perrodo, E.Collard, R.Aguas | AF Corse | Ferrari | 28 Laps |
| 26 | GTE Am | V.Shaytar, A.Bertolini, A.Basov | SMP Racing | Ferrari | 29 Laps |
| 27 | GTE Am | C.Ried, K.Al Qubaisi, K.Bachler | Abu Dhabi-Proton Racing | Porsche | 30 Laps |
| 28 | GTE Am | P.Dempsey, P.Long, M.Seefried | Dempsey-Proton Racing | Porsche | 31 Laps |
| 29 | GTE Am | F.Castellacci, R.Goethe, S.Hall | Aston Martin Racing | Aston Martin | 38 Laps |
| 30 | LMP2 | S.Sharp, R.Dalziel, D.H.Hansson | Extreme Speed Motorsports | Ligier/HPD | 42 Laps |
| 31 | LMP2 | R.Rusinov, J.Canal, S.Bird | G-Drive Racing | Ligier/Nissan | 52 Laps |
| - | GTE Am | D.Cameron, M.Griffin, A.Mortimer | AF Corse | Ferrari | Retirement |
| - | GTE Am | G.Roda, P.Ruberti, K.Poulsen | Larbre Competition | Chevrolet | Retirement |
| - | LMP1 | S.Trummer, V.Liuzzi, C.Klien | Team ByKolles | CLM/AER | Retirement |
| - | LMP1 | Kazuki Nakajima | Toyota Racing | Toyota | Withdrawn |
| - | GTE Pro | Jonny Adam | Aston Martin Racing | Aston Martin | Disqualified |
LEADING LMP1 STANDINGS:
| Pos | Driver | Points |
| --- | --- | --- |
| 1 | Andre Lotterer | 50 |
| 1 | Benoit Treluyer | 50 |
| 1 | Marcel Fassler | 50 |
| 2 | Neel Jani | 36 |
| 2 | Romain Dumas | 36 |
| 2 | Marc Lieb | 36 |
| 3 | Stephane Sarrazin | 22 |
| 3 | Alexander Wurz | 22 |
| 3 | Mike Conway | 22 |
| 4 | Anthony Davidson | 19 |
| 4 | Sebastien Buemi | 19 |
| 5 | Mark Webber | 17 |
| 5 | Brendon Hartley | 17 |
| 5 | Timo Bernhard | 17 |
| 6 | Lucas di Grassi | 16 |
| 6 | Oliver Jarvis | 16 |
| 6 | Loic Duval | 16 |