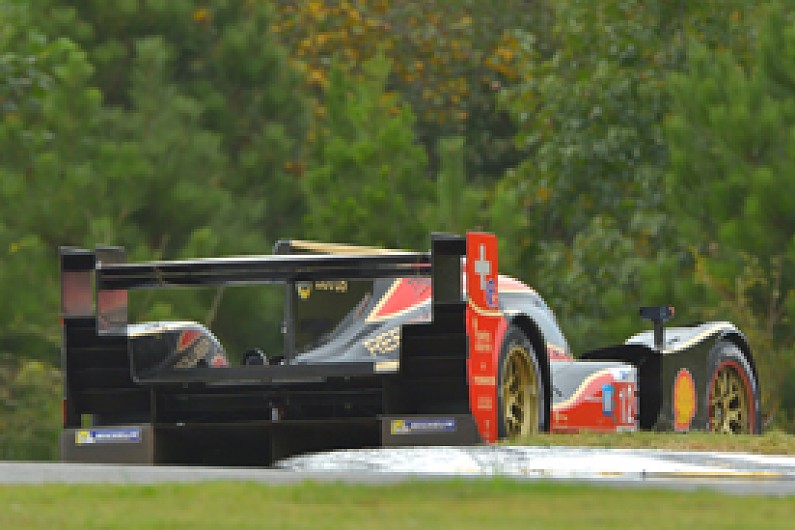 Rebellion Racing will start the final American Le Mans Series race from pole after Neel Jani topped Petit Le Mans qualifying at Road Atlanta.
Chris Dyson beached the Dyson Lola in spectacular fashion when he locked up braking hard for the Turn 10 chicane, bringing out the red flags.
The stoppage meant a five-minute shootout for pole and though Lucas Luhr improved to a 1m10.397s for the champion Pickett HPD squad, Jani lowered his benchmark further, claiming pole with an eventual best of 1m09.254s.
Ryan Briscoe headed the fight for LMP2 pole before the red flag in the #551 Level 5 car but David Brabham, driving the #01 Extreme Speed entry, snatched it with a stunning effort after the stoppage.
Having got ahead of Briscoe, who briefly rallied and regained top spot with a 1m12.490s - as Guy Cosmo slotted into third, Brabham surged back onto pole as Briscoe suffered an apparent fuel pick-up problem in the session's climax and broke down on circuit.
Dane Cameron looked as though he would have to settle for second after being usurped from top spot in LMPC by Bruno Junqueira.
But the Mathiasen driver squeezed back ahead of his returning rival before extending his advantage with the second of two laps good enough for pole.
Junqueira responded in the wrong way, skating over the Turn 5 gravel and nerfing the tyre wall right at the end of the session. Briton Tom Kimber-Smith nipped ahead of Kyle Marcelli to claim third.
RISI TOPS GT BATTLE
Matteo Malucelli's Risi Ferrari 458 Italia claimed GT honours in a tight qualifying session in which the top seven cars were covered by just over half a second.
Each of the five manufacturers represented in the series was in the early lead quintet, though the SRT Vipers swiftly put an end to that with Jonathan Bomarito emerged as the main challenger to Malucelli's 1m18.861s benchmark and closed the gap to 0.027 seconds.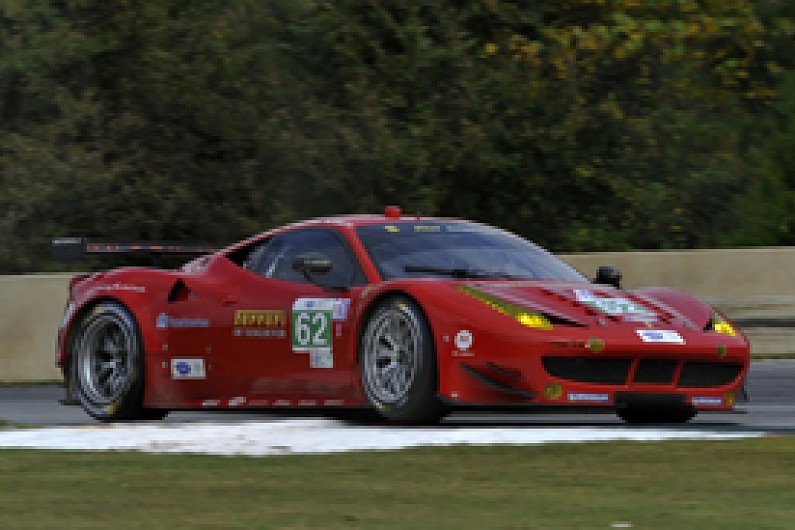 Despite the Ferrari driver returning to the pits with five minutes remaining, Bomarito could not improve further.
Marc Goossens brought the second Viper into play in the closing stages of the session - just edging out Antonia Garcia in the first of the Corvettes in the process - but fell a tenth short of his team-mate.
Dirk Muller (RLL) and Bryan Sellers (Falken) were the lead BMW and Porsche cars respectively in fifth and sixth, just ahead of Oliver Gavin in the second Corvette.
In GTC, Spencer Pumpelly led the session's early running with a benchmark of 1m24.118s set in the opening stages of the session.
Andy Lally and Jeroen Bleekemolen gave chase and although the latter found enough time to haul him into second, he could do nothing about Pumpelly in front.

Pos Cl                                    Team/Car                   Time        Cl Gap
 1. P1   Heidfeld/Jani/Prost              Rebellion Lola-Toyota      1m09.254s       
 2. P1   Graf/Luhr/Dumas                  Pickett HPD                1m10.397s  +1.143s
 3. P2   Sharp/Lazzaro/Brabham            Extreme Speed HPD          1m12.668s    
 4. P2   Tucker/Briscoe/Franchitti        Level 5 HPD                1m12.792s  +0.124s
 5. P2   Cosmo/Kane/Dumbreck              Level 5 HPD                1m13.637s  +0.969s
 6. P2   Brown/van Overbeek/Bell          Extreme Speed HPD          1m13.929s  +1.261s
 7. PC   Guasch/Cheng/Cameron             PR1 Mathiasen FLM          1m14.955s   
 8. P1   Dyson/Burgess/McMurry            Dyson-Lola                 1m14.978s  +5.724s
 9. PC   Junqueira/Ende/Menezes           ORECA FLM                  1m15.143s  +0.188s
10. PC   Bennett/Kimber-Smith/Wilkins     CORE FLM                   1m15.215s  +0.260s
11. PC   Marcelli/Cumming/Johansson       BAR1 FLM                   1m15.367s  +0.412s
12. PC   Rayhall/Negri                    8Star FLM                  1m15.399s  +0.444s
13. PC   Nunez/Shears                     Performance Tech FLM       1m15.604s  +0.649s
14. PC   Drissi/Mitchell/French           BAR1 FLM                   1m16.001s  +1.046s
15. P1   Meyrick/Legge                    DeltaWing                  1m16.206s  +6.952s
16. GT   Beretta/Malucelli/Liddell        Risi Ferrari               1m18.861s   
17. GT   Bomarito/Wittmer/Kendall         SRT Viper                  1m18.888s  +0.027s
18. GT   Farnbacher/Goossens/Dalziel      SRT Viper                  1m19.017s  +0.156s
19. GT   Magnussen/Garcia/Taylor          Corvette                   1m19.128s  +0.267s
20. GT   Muller/Edwards/Auberlen          RLL BMW                    1m19.228s  +0.367s
21. GT   Henzler/Sellers/Tandy            Falken Porsche             1m19.386s  +0.525s
22. GT   Gavin/Milner/Westbrook           Corvette                   1m19.440s  +0.579s
23. GT   Long/Braun/Christensen           CORE Porsche               1m19.947s  +1.086s
24. GT   Alzen/Martin/Muller              RLL BMW                    1m19.954s  +1.093s
25. GT   Miller/Holzer/Collard            Miller Porsche             1m20.497s  +1.636s
26. GT   Sweedler/Keen/Mowlem             West/AJR Ferrari           1m20.506s  +1.645s
27. GTC  Canache/Pumpelly/Snow            Flying Lizard Porsche      1m24.118s 
28. GTC  MacNeil/Bleekemolen/Bleekemolen  Alex Job Porsche           1m24.433s  +0.315s
29. GTC  Dempsey/Lally/Foster             Dempsey Del Piero Porsche  1m24.480s  +0.362s
30. GTC  Hedlund/Heylen/Fogarty           JDX Porsche                1m24.923s  +0.805s
31. GTC  Keating/Faulkner/Stanton         TRG Porsche                1m24.926s  +0.808s
32. GTC  Armindo/Nielsen/Benitez          NGT Porsche                1m25.237s  +1.119s
33. GTC  Putman/Espenlaub/Law             Dempsey Del Piero Porsche  1m25.368s  +1.250s
34. GTC  Neiman/von Moltke/Sandberg       Flying Lizard Porsche      1m28.039s  +3.921s