For any people who emerged angry after preview screenings of Le Mans '66, the Hollywood blockbuster starring Matt Damon as Carroll Shelby and Christian Bale as Ken Miles, there needs to be a reality check.
Motorsport is a niche, falling out of favour more and more each day as it becomes more obscure and harder for the public to justify alongside environmental concerns. Anything that brings racing into the mainstream - let alone gives Miles the limelight - for a positive reason needs to be celebrated, up to a point.
Yes, Le Mans '66 features dialogue that's hammy and unsubtle at times, it makes liberal use of poetic licence and there are even shots of Bale finding another six inches of throttle travel on the Mulsanne Straight. But what else were people expecting? This is a big-budget production that exists in a post-Fast and Furious world where there's no such thing as too many gear changes.
The truth is, if you want an accurate retelling of the 1966 Le Mans 24 Hours, go and watch the race itself on the internet or read any one of the books on the battle between the Ford MkII (what most people would call a GT40, but there's a debate over whether the MkII was ever officially called that) and Ferrari 330 P3.
In just the same way, Rush wasn't utterly loyal to the Niki Lauda and James Hunt rivalry, while the Senna documentary felt compelled to cast Alain Prost as a villain. Cinema and pinpoint precision rarely go together.
But let's focus on Le Mans '66. Well, good news, there's a lot to like. Extensive use of big-block American V8s as a soundtrack is an instant win. Whether they're found nestled in an AC Cobra, a Chevrolet Corvette or in the GT40, treat yourself to the IMAX experience to make the most of the excellent audio.
Visually, what strikes you is there's a pleasing lack of CGI. Don't let the overly airbrushed movie poster fool you. The sun-kissed tint to Willow Springs or the rain-soaked Le Mans night stints are beautiful but, crucially, the cars look as if they're really there in most cases.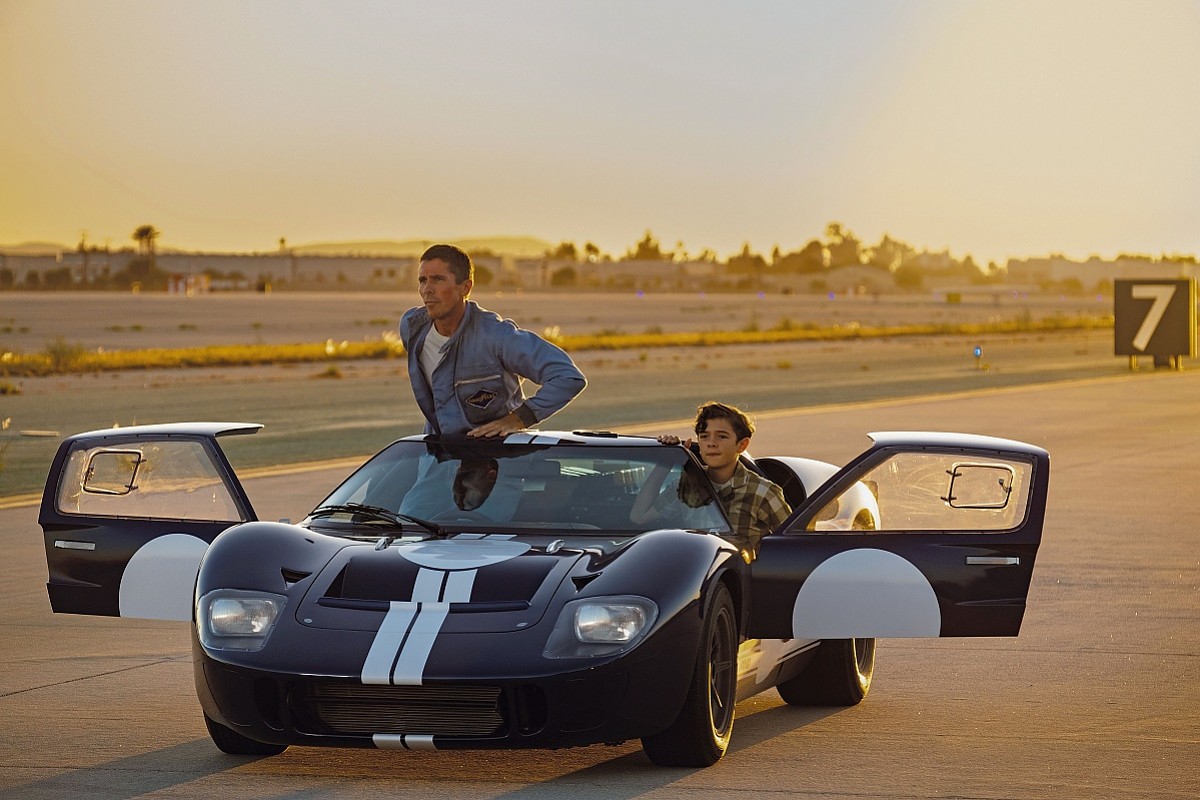 Whereas audiences of Rush can pick out Brands Hatch masquerading as Paul Ricard or Fiorano, the depiction of the Circuit de la Sarthe in Le Mans '66 is a lot more convincing. Equally, the Fords and Ferraris look as though they are genuinely racing one another.
Enter the cinema with a pinch of salt and be grateful that the story of Ford versus Ferrari and the career of Ken Miles are getting some deserved high-profile recognition
Although there is some editing trickery and sped-up footage, it doesn't fall into the trap as often as Rush. That film tended to plead with the audience to find the action thrilling even though it was obviously filmed at 30mph. Le Mans '66 is rather more visceral.
If you are among the motorsport fans willing to overlook the inaccuracies, then the film also pleases both types of racing enthusiast: the ones who derive most pleasure from the cars and those who are more interested in the people.
Damon has a warmth as Shelby, while Bale's portrayal of Miles is better still. Any criticism of Bale's performance is probably down to director James Mangold. It's most likely that he has asked Bale to chunter and sing away to himself in the car as though there's a need to kill any dead air. Similarly, given the high stakes of racing at 210mph, Miles seems to have plenty in reserve to give Ferrari rival and token Italian Ludovico Scarfiotti scathing looks as he draws alongside. But, alas, this is Hollywood after all.
There's much made of Miles's unpolished demeanour but he remains the right side of arrogant and so it's left to Leo Beebe, Henry Ford II's second in command, to play the main villain of the film as he argues with Shelby over Miles driving the car and orchestrates the idea of a dead heat at Le Mans, which ultimately costs Miles his victory.
Perhaps, however, it's Tracy Letts who provides the greatest performance as Ford II. His dry delivery brings in genuine laugh-out-loud moments throughout.
In the same way that this review won't cut much mustard with Mark Kermode, Le Mans '66 probably doesn't fulfil hardcore motorsport fans and their idea of the perfect racing film. But this Autosport writer isn't a full-time film reviewer in the same way that Mangold isn't competing in club meetings at Snetterton.
So, enter the cinema with a pinch of salt, enjoy the beautiful images on screen and be grateful that the story of Ford versus Ferrari and the career of Ken Miles are getting some deserved high-profile recognition, and opening up motorsport to the mainstream.