Jamie Chadwick took victory in the third round of the inaugural W Series season at Misano, extending her championship lead over second-place finisher Beitske Visser.
Chadwick took her second win of the season having led the race from start to finish, successfully holding off several attempts by Zolder winner Visser before crossing the line 0.5 seconds ahead of her title rival.
The championship leader and recently announced Williams Formula 1 development driver started the race second, but took the lead from polesitter Fabienne Wohlwend as soon as the lights went out.
Visser also managed to get the jump on Wohlwend at the start, with Wohlwend dropping back to third and tagging the car of Alice Powell as the field made its way through the first chicane.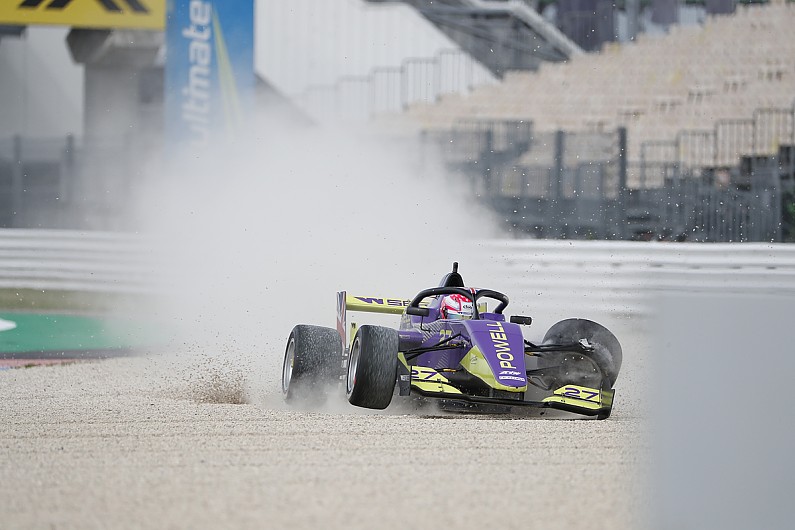 Powell's car was briefly tipped airborne in the clash - which was deemed a racing incident after an investigation mid-race - and came to rest in the gravel, triggering a safety car while it was removed from the circuit.
Chadwick, Visser and Wohlwend all held onto their respective positions at the restart, the leading trio extending a gap over the rest of the pack.
Home favourite Vicky Piria initially held onto her fourth place qualifying slot at both the start and the restart, but was overtaken on the penultimate straight by Miki Koyama, who scored her best W Series finish with fourth.
Sixth position went to Marta Garcia ahead of Tasmin Pepper. Sabre Cook starred with an impressive drive from 15th on the grid to finish in eighth place, having duelled with Sarah Moore throughout the race before completing a successful overtake on the final lap.
Moore was ninth, with reserve driver Vivien Keszthelyi - racing in place of the injured Emma Kimilainen - completing the top 10.
Race result

| Pos | Driver | Laps | Gap |
| --- | --- | --- | --- |
| 1 | Jamie Chadwick | 20 | 32m45.929s |
| 2 | Beitske Visser | 20 | 0.587s |
| 3 | Fabienne Wohlwend | 20 | 2.285s |
| 4 | Miki Koyama | 20 | 10.434s |
| 5 | Vicky Piria | 20 | 14.200s |
| 6 | Marta Garcia | 20 | 16.118s |
| 7 | Tasmin Pepper | 20 | 19.009s |
| 8 | Sabre Cook | 20 | 28.518s |
| 9 | Sarah Moore | 20 | 28.994s |
| 10 | Vivien Keszthelyi | 20 | 29.460s |
| 11 | Esmee Hawkey | 20 | 31.265s |
| 12 | Sarah Bovy | 20 | 32.222s |
| 13 | Gosia Rdest | 20 | 33.671s |
| 14 | Caitlin Wood | 20 | 34.043s |
| 15 | Jessica Hawkins | 20 | 36.002s |
| 16 | Shea Holbrook | 20 | 39.107s |
| 17 | Megan Gilkes | 20 | 39.334s |
| 18 | Naomi Schiff | 20 | 40.795s |
| - | Alice Powell | 0 | Retirement |
Drivers' standings

| Pos | Driver | Points |
| --- | --- | --- |
| 1 | Jamie Chadwick | 68 |
| 2 | Beitske Visser | 55 |
| 3 | Marta Garcia | 35 |
| 4 | Alice Powell | 33 |
| 5 | Fabienne Wohlwend | 29 |
| 6 | Miki Koyama | 22 |
| 7 | Sarah Moore | 22 |
| 8 | Tasmin Pepper | 18 |
| 9 | Vicky Piria | 12 |
| 10 | Sabre Cook | 4 |
| 11 | Gosia Rdest | 2 |
| 12 | Caitlin Wood | 1 |
| 13 | Naomi Schiff | 1 |
| 14 | Vivien Keszthelyi | 1 |