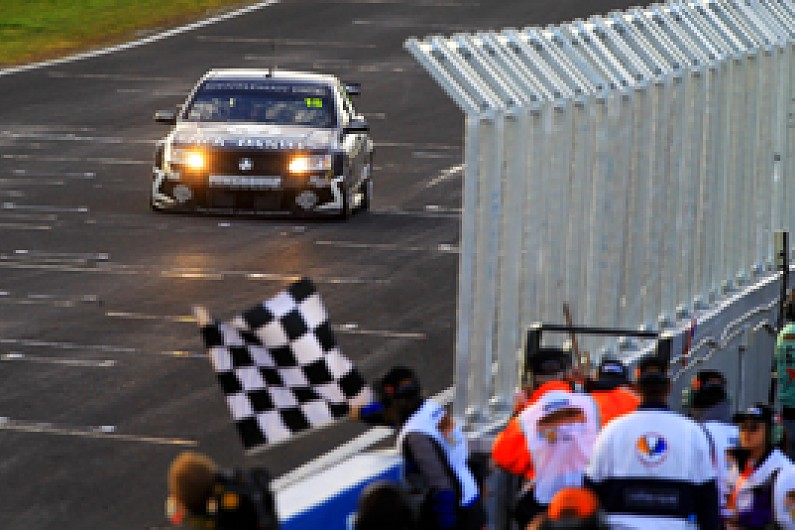 Jack Daniel's Racing's Rick Kelly repeated what Steve Owen did in race one, dominating from start to finish in race two of the of the L&H 500 at Phillip Island.
In fact, Kelly was even more dominant, opening up a five second gap after five laps, his margin only trimmed due to a late-race safety car period. Craig Lowndes took advantage of this but it was not enough as Kelly pulled away again to take the victory.
James Courtney was third for Jim Beam Racing, with the FPR cars of Steven Richards and Mark Winterbottom close behind, while Will Davison held on to finish sixth having come under heavy pressure in the opening laps from the cars behind him.
Jamie Whincup was the best placed of the cars who took their compulsory pitstop in race two in 14th place, and combined with co-driver Steve Owen's win in race one that secured pole position for tomorrow's 113 lap L&H 500.
Alongside him on the front row will be race two winner Rick Kelly with Owen Kelly, followed by championship leader James Courtney with Warren Luff, with Craig Lowndes/Mark Skaife and Garth Tander/Cameron McConville completing the top five.
Jason Bargwanna's second place in race one netted him ninth on the grid with veteran Glenn Seton, just ahead of Steven Richards and James Moffat despite dramas in qualifying and the race for Moffat.
However, one of the dark horses for the race, Fujitsu Racing's Michael Caruso and Greg Ritter, will have a lot of work ahead of them, a DNF in race one and 22nd in race two forcing them to start from 31st position, last on the grid.
Pos  Driver                Make                  Time
 1.  Rick Kelly            Holden Commodore VE   24m05.1814s
 2.  Craig Lowndes         Holden Commodore VE   +   1.4779s
 3.  James Courtney        Ford Falcon FG        +   3.6463s
 4.  Steven Richards       Ford Falcon FG        +   4.1809s
 5.  Mark Winterbottom     Ford Falcon FG        +   4.5261s
 6.  Will Davison          Holden Commodore VE   +   4.9972s
 7.  Marcus Marshall       Ford Falcon FG        +   5.4994s
 8.  Tim Slade             Ford Falcon FG        +   6.2749s
 9.  Fabian Coulthard      Holden Commodore VE   +   6.9192s
10.  Alex Davison          Ford Falcon FG        +   9.4316s
11.  Lee Holdsworth        Holden Commodore VE   +   9.5884s
12.  Paul Dumbrell         Ford Falcon FG        +  10.6925s
13.  Russell Ingall        Holden Commodore VE   +  11.1611s
14.  Jamie Whincup         Holden Commodore VE   +  11.1695s
15.  Jason Bright          Holden Commodore VE   +  11.4575s
16.  Cameron McConville    Holden Commodore VE   +  12.5472s
17.  David Wall            Holden Commodore VE   +  12.8959s
18.  Nick Percat           Holden Commodore VE   +  13.1819s
19.  John McIntyre         Ford Falcon FG        +  13.3256s
20.  Michael Patrizi       Ford Falcon FG        +  13.9341s
21.  David Russell         Ford Falcon FG        +  14.7236s
22.  Greg Ritter           Holden Commodore VE   +  16.1548s
23.  Andrew Jones          Holden Commodore VE   +  16.3233s
24.  Damian Assaillit      Ford Falcon BF        +  16.7830s
25.  Dale Wood             Holden Commodore VE   +  17.6749s
26.  Nathan Pretty         Holden Commodore VE   +  19.9178s
27.  Tim Blanchard         Holden Commodore VE   +  20.9741s
28.  Glenn Seton           Holden Commodore VE   +  21.1794s
29.  Shane Price           Holden Commodore VE   +  25.6964s
30.  Tony Ricciardello     Holden Commodore VE   +    2 laps

Not classified/retirements:

     Driver                Make                  Laps
     Geoff Emery           Holden Commodore VE    13

Sunday's starting order:

Pos  Drivers                             Make
 1.  Steve Owen/Jamie Whincup            Holden Commodore VE
 2.  Owen Kelly/Rick Kelly               Holden Commodore VE
 3.  Warren Luff/James Courtney          Ford Falcon FG
 4.  Mark Skaife/Craig Lowndes           Holden Commodore VE
 5.  Cameron McConville/Garth Tander     Holden Commodore VE
 6.  John McIntyre/Shane van Gisbergen   Ford Falcon FG
 7.  Luke Youlden/Mark Winterbottom      Ford Falcon FG
 8.  Dean Canto/Paul Dumbrell            Ford Falcon FG
 9.  Glenn Seton/Jason Bargwanna         Holden Commodore VE
10.  James Moffat/Steven Richards        Ford Falcon FG
11.  David Reynolds/Will Davison         Holden Commodore VE
12.  Andrew Jones/Jason Richards         Holden Commodore VE
13.  Marcus Marshall/Steven Johnson      Ford Falcon FG
14.  Dale Wood/Todd Kelly                Holden Commodore VE
15.  Jack Perkins/Tim Slade              Ford Falcon FG
16.  David Russell/Jonathon Webb         Ford Falcon FG
17.  David Besnard/Lee Holdsworth        Holden Commodore VE
18.  Michael Patrizi/Dean Fiore          Ford Falcon FG
19.  David Brabham/Alex Davison          Ford Falcon FG
20.  Shane Price/Tony D'Alberto          Holden Commodore VE
21.  Craig Baird/Fabian Coulthard        Holden Commodore VE
22.  Tim Blanchard/Greg Murphy           Holden Commodore VE
23.  Ant Pedersen/Damian Assaillit       Ford Falcon BF
24.  Paul Morris/Russell Ingall          Holden Commodore VE
25.  Mark Noske/Nathan Pretty            Holden Commodore VE
26.  Matt Halliday/Jason Bright          Holden Commodore VE
27.  Marcus Zukanovic/Geoff Emery        Holden Commodore VE
28.  David Wall/Karl Reindler            Holden Commodore VE
29.  Nick Percat/Andrew Thompson         Holden Commodore VE
30.  Taz Douglas/Tony Ricciardello       Holden Commodore VE
31.  Greg Ritter/Michael Caruso          Holden Commodore VE