Seven-time Supercars champion Jamie Whincup may yet face a race suspension for what the head of Australian motorsport's governing body called a "disgraceful" outburst about series officials.
Whincup and Tickford Ford driver Cam Waters were both issued with 'please explain' letters after blasting race control for a controversial safety car episode in last Sunday's Pukekohe race.
"You've got people making decisions that are just cruising back, having a few glasses of red [wine] each night, and rocking up to the track and the brain's not with it," said Whincup immediately afterwards.
"They're not operating at the same level as the teams are operating at."
Though Whincup later issued a public statement admitting his comments were not helpful, that has failed to appease the governing body.
Confederation of Australian Motor Sport CEO Eugene Arocca wants a formal apology for the remarks.
"The comments he made have ranged, from what people have said to me, from disrespectful to disgraceful," said Arocca.
"Nobody has said anything supportive, within CAMS, of that sort of attack on the integrity of our officials.
"He's accused them of cruising, of not having their brains in gear, and getting on the piss.
"I'm struggling to find a more offensive comment about an official at a high-level sport ever, other than cheating. This is just one step down.
"We're pretty upset about it. To be brutally blunt, there are lawyers who were stewards at that event, and they would be within their rights to consider separate legal action because they've been defamed.
"I understand the theatre element of it. You can come out and say 'I didn't agree with that decision' or 'I'm pretty pissed off about that decision'.
"But you step over the line when you attack the professionalism of the individuals who have made the decision. To come out on national television and go whack, and attack, I think, their integrity... because in a way, when you talk about people not being professional, getting on the red wine, not having their brain in gear, you're really attacking their integrity.
"This will reverberate right through to the FIA. And don't forget, this is the pool from which [Formula 1 race director] Michael Masi came.
"So you're really attacking all Australian officials at all levels, internationally and locally, when you come out with the disgraceful comments that were made on the weekend.
"I think universally the decisions were right in the circumstances. So to actually have a crack at decisions that were right, and then attack the integrity of those people, is in my opinion about as bad an incident as I've seen in my seven years with CAMS.
"I've been involved in sport at the highest level in one form or another since 1996, it's a 20-odd-year experience. I've dealt with AFL and other forms of sport in my career, and this is about as bad as I've heard about an official.
"That paragraph will go down in infamy, in my view."
Whincup has until Friday to provide an official apology to CAMS, which will help determine if the matter is referred to a tribunal.
Should the tribunal get involved, potential sanctions include fines and suspensions.
The seven-time champion could, therefore, be forced to sit out the Bathurst 1000.
"I'm waiting for Jamie's formal response," said Arocca.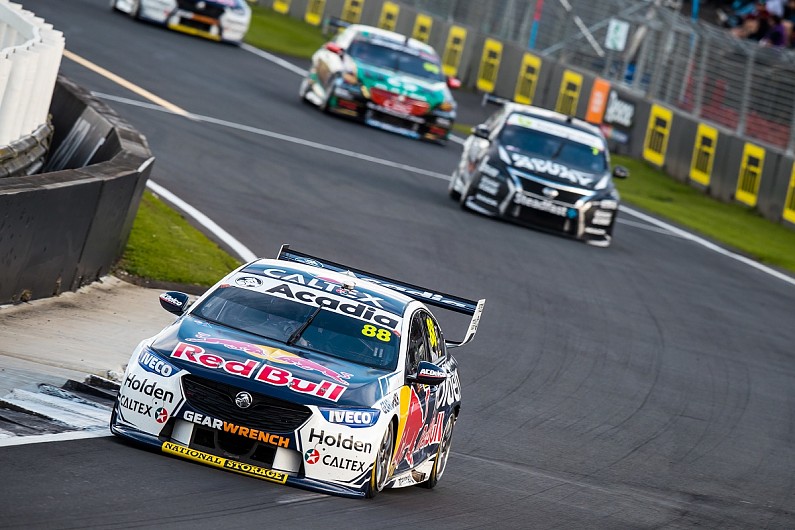 "If his response, or the outcome of that interaction between me and him, doesn't result in an outcome that we believe is acceptable, then the next step for me is to refer him to a tribunal.
"And I'd have no hesitation in doing that, to be brutally honest.
"I'm keen to hear what Jamie has to say in a formal sense. He's contacted me and said he'd come back to me.
"But right now, the mood of the place is that it should be referred to a tribunal.
"And then anything could happen, from fines, suspension, or any other sort of penalty that the tribunal might see fit.
"I'm hoping to resolve it in a sensible way, but absent that, it's off to the tribunal - as it should be.
"We either take this seriously, or we allow pot-shots to be taken at our officials, who are generally volunteers, generally give up a lot of their time, to effectively keep this sport running at all levels.
"That has cut right to the heart of our officials community."
Waters was quoted in Tickford's official press release as saying: "I had a really good race car, was just trucking around, we would have been on for a podium - but obviously race control managed to screw that one up royally.
"It's an embarrassment that a championship can do that and classify it as full points.
"As far as I'm concerned I want an explanation from the powers that be, and I think that race should be zero points."
Arocca said Waters' comments were not regarded as seriously because they "in context were not as personal as those from Jamie" but that he could also be referred to a tribunal subject to the outcome of talks between them in the coming days.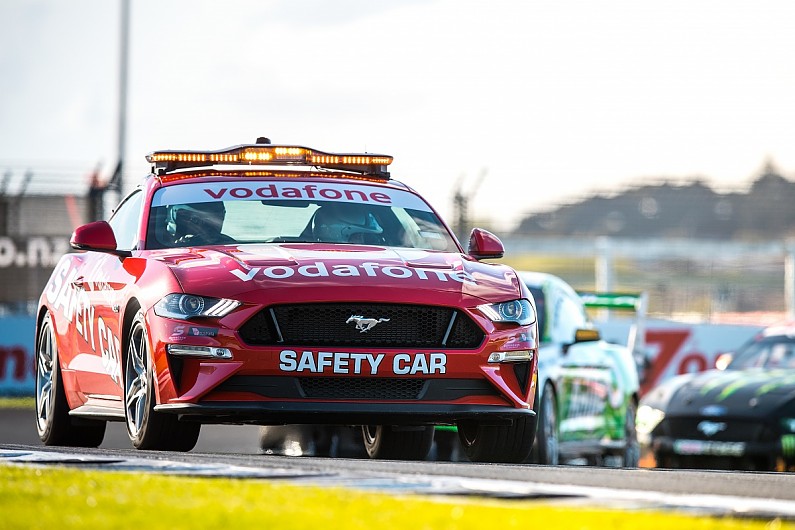 What actually happened at Pukekohe?
Confusion, anger, allegations, finger-pointing - the safety car debacle at Pukekohe had it all.
The deployment of a full-course caution on lap 13 of the 70-lap race led to chaos last Sunday afternoon.
Could that chaos have been avoided? Let's start with what actually happened.
Having made early pitstops, Whincup, Lee Holdsworth, Waters and Fabian Coulthard all came across the safety car with its orange lights illuminated.
At that point Whincup was the effective leader, heading the pack that had already stopped.
But he technically wasn't the race leader. That was Scott McLaughlin, who was at the front of a train of cars that was immediately pitlane-bound once the safety car was called.
And, given the short lap time and long pit exit at Pukekohe, that train was the best part of a lap ahead.
Concerned that sitting behind the safety car would allow that lead group to get a free stop and retain track position, Whincup disobeyed the lights and took off into the distance.
That meant he cleared the train of cars now exiting pitlane and took over as the actual race leader, while Holdsworth, Waters and Coulthard ended up at the back of that train, still sitting being the safety car.
The safety car then waved that group through and picked up Whincup for a second time, now as the race leader, leaving the others he had been racing early in the first stint at both a track position and fuel disadvantage.
Whincup was later penalised, very rightly, for not playing the whistle, even though he thought the umpire was wrong.
So how could it have played out differently?
Scenario 1: Whincup doesn't pass the safety car
What would have happened if Whincup had obeyed the safety car lights and stayed put?
Even working on the assumption that the lead pack would have pitted and returned to the track before the slow-moving pack had made it back to the safety car 2 line, the Whincup/Holdsworth/Waters pack would have continued to be first in the queue... at least initially.
The order would have been right - those that pitted early at the front - but the cars right behind them would have been the best part of a lap ahead, having just had a free stop.
It's worth noting that, while it created an almighty mess, there was nothing unlawful about the safety car having its orange lights on when it did.
The competitor briefing notes clearly state: 'In some circumstances the SC may be deployed and hold the first approaching car, then at the appropriate time any cars between the SC and the leader will be waved through'.
Race directors David Stuart and Tim Schenken are adamant they could have corrected the order had Whincup held station. It wouldn't have been impossible, but boy it would have been tricky.
The lead group that had made its early stop would have had to be waved past the safety car, complete a lap, and then past the group that had stopped behind the safety car, before tucking back in at the front.
Any other resolution, such as waving the group that had stopped through, would have put the lead pack all a lap down.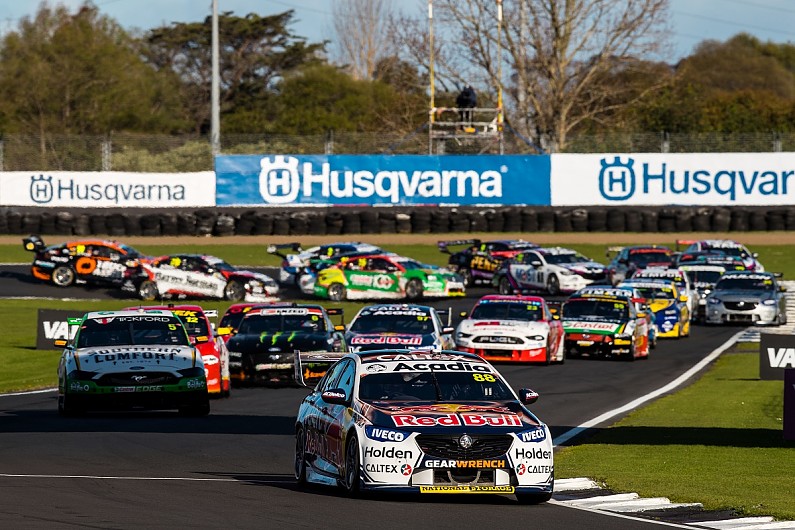 Scenario 2: The green lights were on
Had Whincup et al come across the safety car with its green lights on, it would have been a very different outcome.
They would have been able to carry on quickly enough to beat those in the pitlane to the crucial safety car 2 line, and then file back in behind the safety car the next time around.
Their races would have still been hugely compromised by the very presence of the safety car, with the likes of McLaughlin, Shane van Gisbergen and Chaz Mostert all right in the lead pack, but with a lot more fuel on board.
But at the very least the early leaders would have only been at a fuel disadvantage, not a fuel and track position disadvantage.
The door, therefore, would have been open to try to sprint once the race went green and build a big enough gap to negate the fuel difference.
A long shot, maybe, but better than what they were ultimately left with.
Circling back to what actually happened, simply stating that the safety car should have picked up actual race leader McLaughlin is an oversimplification.
It's impossible to 'pick up' a car that is sitting in the pitlane on its jacks getting a belly full of fuel.
Whincup should have been the man parked behind that Vodafone Mustang during the caution... just not quite that quickly.
It seems the safety car picked up the right lead group at the wrong time.