Triple Eight team manager Mark Dutton admits he was "very surprised" with Jamie Whincup's crash at Townsville, and that his alternate strategy could have netted victory.
The seven-time Supercars champion was pushing hard on slicks in damp conditions during Sunday's race when he ran wide at the exit of Turn 6 and went head-on into the wall, bringing his race to an end.
The crash came three laps after his first pitstop, when Whincup was running in what was effectively fifth place and looking to undercut early leaders Cam Waters and Fabian Coulthard.
Dutton reckons had the strategy call came off, Whincup may well have gone on to take a win instead of team-mate Shane van Gisbergen.
"[I was] very surprised, but on the flip side he was pushing hard," explained Dutton.
"His laptimes compared to everyone else, I truly believe we were on for the win with Jamie.
"That's how quick he was, and obviously he started from P12, so you saw him coming through real strong in those slippery conditions.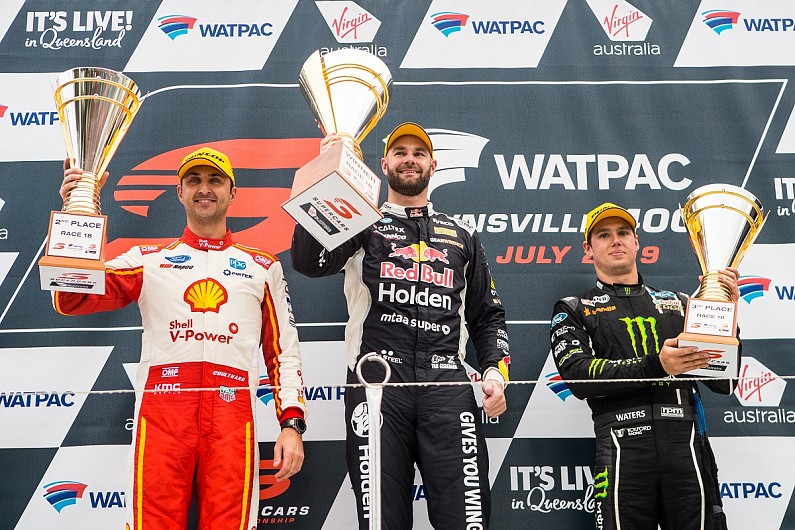 "We were prepared to take some risks and you've got to be prepared, or do it together.
"We knowingly decided how hard to push in those conditions and unfortunately sometimes you push too hard.
"We all do it together."
The team was quickly able to ascertain that there was no serious chassis damage, and forcing Whincup to shut down the car on-track, rather than try and limp back to the pits, has left hope that engine builder Ken McNamara can even rescue the V8 unit that took the brunt of the impact.
"We pulled [the car] over quick enough because it must have thrown the belts," said Dutton. "[Oil] pressure alarms came up.
"You hate stopping on track, even if you can't repair the car you want to get it back, but you also don't want to lunch an engine at any time, let alone when your race is over.
"So yeah, [Whincup] did his best to pull it over in a safe sort of physical position.
"Kenny Mac, the engine man, says he thinks the engine should still be fine with how quickly it was turned off.
"[The] chassis rails and that look pretty good.
"It's all pretty much the bolt on bits, that copped a flogging."