Scott McLaughlin made it a Winton Supercars clean sweep with an emphatic win over DJR Team Penske Ford team-mate Fabian Coulthard on Sunday.
As expected based on his half-second advantage in qualifying, it was a straightforward win for the defending series champion.
Having beaten Coulthard to the first corner, McLaughlin had more than a second up his sleeve within the first three laps and led by four seconds through the first two stints of the 67-lap race.
The lead grew after the final pitstops, getting as high as eight seconds, before a safety car with nine laps to go to recover Will Davison's broken Mustang.
But the five-lap dash to the finish was easy enough for McLaughlin to deal with, his winning margin just under a second.
"It's been an amazing weekend, two wins for our team, a pole and a one-two," said McLaughlin.
"Our cars were just ridiculously good and I'm excited for the future and the rest of the year.
"We battle hard, we had a little kerfuffle yesterday, we got our butts kicked and came back here today."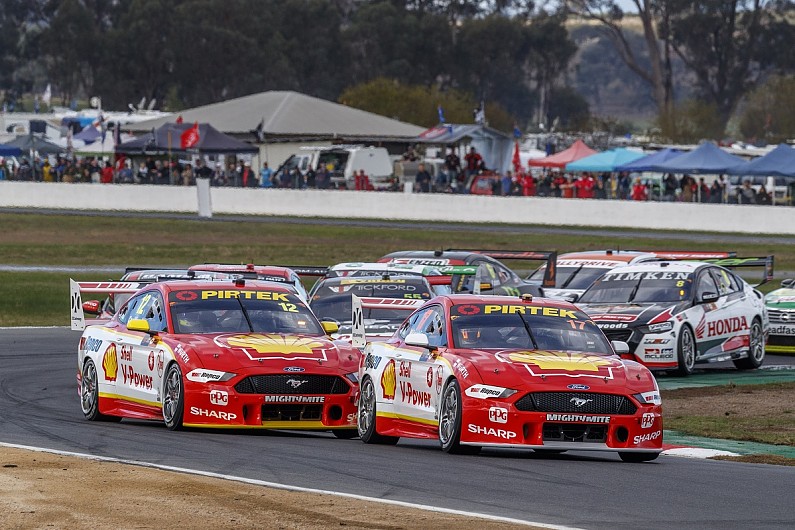 The battle for third was a little more spirited, with Holden drivers Jamie Whincup and David Reynolds scrapping over the final spot on the podium.
For the first two stints it was Reynolds running in third, however that all changed when Triple Eight went for the undercut by bringing Whincup in for a second stop at half-distance.
Erebus responded by pitting Reynolds a lap later, his Holden coming out just in front of Whincup.
But the seven-time champ wasn't content with slotting in behind, running side-by-side with Reynolds through the first two corners before barging by on the way into Turn 3.
This all played out well behind the Penske Mustangs, however, with Whincup around 20s behind McLaughlin before that late safety car.
Lee Holdsworth finished fifth, helped by a strategic gamble going wrong for Nick Percat in the closing stages of the race.
The Brad Jones Racing driver had been running ahead of Holdsworth, but elected to pit for fresh rubber when the safety car came out with nine laps left.
That dumped him back to 12th, with just five laps after the restart to try to make an impact on better tyres. It wasn't quite enough, Percat only recovering to ninth.
Cam Waters and Shane van Gisbergen finished sixth and seventh, with Scott Pye holding off a hard-charging Percat for eighth.
Fresh from a second place on Saturday, Chaz Mostert had an action-packed Sunday. It started when he went off on the first lap while running sixth, rejoining way behind the pack.
He quickly ran down wildcard driver Jack Smith, but had a second excursion while trying to pass the Brad Jones Racing Holden at Turn 3 on the second lap.
His then received a 15s penalty for contact on James Courtney mid-way through the race, but, like Percat, gambled on a new set of rubber during the safety car and charged his way to 10th.
Race two result
| Pos | Driver | Team | Car | Laps | Gap |
| --- | --- | --- | --- | --- | --- |
| 1 | Scott McLaughlin | DJR Penske | Ford | 67 | 1h35m22.6591s |
| 2 | Fabian Coulthard | DJR Penske | Ford | 67 | 0.7664s |
| 3 | Jamie Whincup | Triple Eight | Holden | 67 | 1.9878s |
| 4 | David Reynolds | Erebus | Holden | 67 | 4.3543s |
| 5 | Lee Holdsworth | Tickford | Ford | 67 | 5.3933s |
| 6 | Cameron Waters | Tickford | Ford | 67 | 7.7668s |
| 7 | Shane van Gisbergen | Triple Eight | Holden | 67 | 8.2607s |
| 8 | Scott Pye | Walkinshaw | Holden | 67 | 9.0142s |
| 9 | Nick Percat | Brad Jones | Holden | 67 | 9.2397s |
| 10 | Chaz Mostert | Tickford | Ford | 67 | 9.4909s |
| 11 | Andre Heimgartner | Kelly | Nissan | 67 | 12.7786s |
| 12 | Tim Slade | Brad Jones | Holden | 67 | 13.0870s |
| 13 | James Courtney | Walkinshaw | Holden | 67 | 13.8237s |
| 14 | Chris Pither | GRM | Holden | 67 | 14.3141s |
| 15 | Todd Hazelwood | Matt Stone | Holden | 67 | 14.9394s |
| 16 | Macauley Jones | Blanchard/BJR | Holden | 67 | 15.2172s |
| 17 | Anton De Pasquale | Erebus | Holden | 67 | 15.5657s |
| 18 | Garry Jacobson | Kelly | Nissan | 67 | 15.9171s |
| 19 | James Golding | GRM | Holden | 67 | 17.3779s |
| 20 | Jack Le Brocq | Tekno | Holden | 67 | 37.9751s |
| 21 | Jack Smith | Brad Jones | Holden | 66 | 1 Lap |
| 22 | Mark Winterbottom | Schwerkolt | Holden | 66 | 1 Lap |
| 23 | Simona de Silvestro | Kelly | Nissan | 66 | 1 Lap |
| - | Will Davison | 23Red Racing | Ford | 56 | Retirement |
| - | Rick Kelly | Kelly | Nissan | 34 | Retirement |
Drivers' standings

| Pos | Driver | Points |
| --- | --- | --- |
| 1 | Scott McLaughlin | 1646 |
| 2 | Fabian Coulthard | 1402 |
| 3 | Shane van Gisbergen | 1231 |
| 4 | David Reynolds | 1220 |
| 5 | Jamie Whincup | 1168 |
| 6 | Chaz Mostert | 1160 |
| 7 | Nick Percat | 1057 |
| 8 | Cameron Waters | 985 |
| 9 | Will Davison | 983 |
| 10 | Tim Slade | 972 |
| 11 | Mark Winterbottom | 886 |
| 12 | Lee Holdsworth | 858 |
| 13 | Anton De Pasquale | 846 |
| 14 | James Courtney | 844 |
| 15 | Andre Heimgartner | 818 |
| 16 | Scott Pye | 745 |
| 17 | Todd Hazelwood | 703 |
| 18 | Rick Kelly | 672 |
| 19 | James Golding | 665 |
| 20 | Simona de Silvestro | 619 |
| 21 | Jack Le Brocq | 526 |
| 22 | Macauley Jones | 495 |
| 23 | Garry Jacobson | 494 |
| 24 | Richie Stanaway | 482 |
| 25 | Jack Smith | 144 |
| 26 | Tim Blanchard | 93 |
| 27 | Chris Pither | 63 |