Ford's new Mustang for the 2019 Supercars championship ran for the first time with DJR Team Penske at Queensland Raceway on Wednesday.
Current championship leader Scott McLaughlin took the wheel of the prototype car for its first on-track appearance, with team-mate Fabian Coulthard also expected to turn laps during the debut test.
A second test will follow at Phillip Island later in the week.
The car will then undergo its official aerodynamic homologation next month, with back-to-back testing alongside the Nissan Altima and the Holden ZB Commodore.
The car running as a Mustang at QR started life as an FG-X Falcon, and has been Penske's spare chassis for almost two seasons.
The Queensland-based DJR team took over from Tickford Racing as Ford's lead homologator for the Mustang, but both squads are involved in the development of the car and personnel from both teams and Ford Performance were on hand at the test.
DJR Penske, Tickford and the single-car 23Red team will all field Mustangs next season as Ford returns to the series in a factory capacity.
McLaughlin labelled the test a "great start", and said the car did everything he hoped it would this early in its development.
"First of all, the car looks awesome," said McLaughlin.
"It's a great start. It did everything we could expect of a brand-new racecar, and the balance feels pretty close to our current package.
"Having now driven it, I'm massively excited for the 2019 season to begin."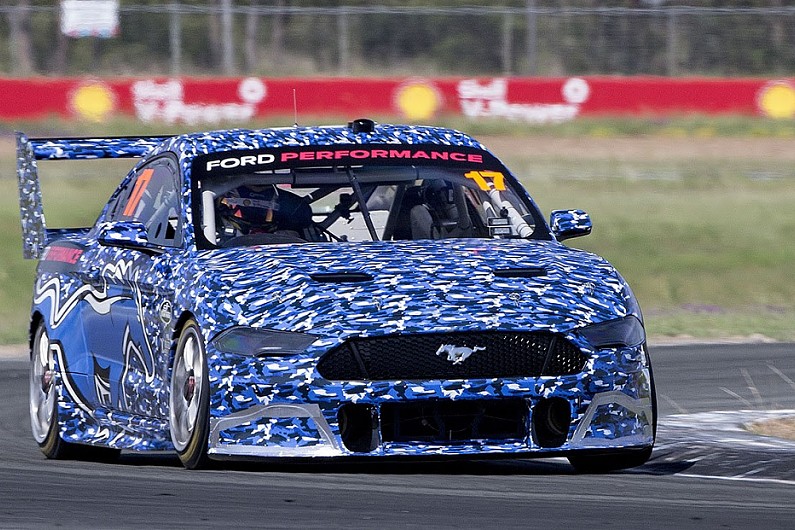 Ford Performance aerodynamics lead Sriram Pakkam, who has travelled to Australia for the testing programme, said it was special to see the Mustang in the flesh after all of the CAD and CFD work that has gone into it.
"It's always a special moment when a project such as this one finally comes to fruition and rolls out onto the race track for the first time," said Pakkam.
"This is a significant car for Ford, and this is demonstrated in the resources we've put into the project to ensure that we build the best racecar possible, within Supercars' regulations."
Tickford team boss Tim Edwards added that a solid start was critical given the pressure the high-profile car will be under to perform.
"It's very early stages, but the car is shaping up extremely well, and we're keen for the next test," he said.
"The Mustang resonates with fans, and we know that circulating won't be enough - Mustang has to be gunning for race wins, championships and of course Bathurst, and everyone involved is working tirelessly to make this happen. It's a great team effort."