Prema duo Frederik Vesti and Olli Caldwell shared the wins in the inaugural Formula Regional European Championship event at Paul Ricard, although Caldwell's is currently provisional.
The Italian-run eight-round series is the first European championship to be run to FIA's Regional F3 regulations - a Tatuus chassis powered by a turbocharged Alfa Romeo engine.
The series attracted just 10 entries for its season opener, while Formula Renault Eurocup, which was beaten to the FRegional tender, had 22 cars for its first round this weekend at Monza.
Seventeen-year-old Danish ace Vesti dominated the first FREC race, seizing the lead on the opening lap when his Prema team-mates Caldwell and polesitter Enzo Fittipaldi battled for the lead and ran each other off the track.
The pair rejoined the circuit but also allowed Esports champion Igor Fraga into second place.
Ferrari junior Fittipaldi, who beat Caldwell to the Italian F4 title last year, managed to overcome Fraga in the closing stages of the race to secure a Prema one-two.
Caldwell finished a distant fourth, having let David Schumacher - son of Formula 1 race-winner Ralf - past him when he had his off-track moment with Fittipaldi.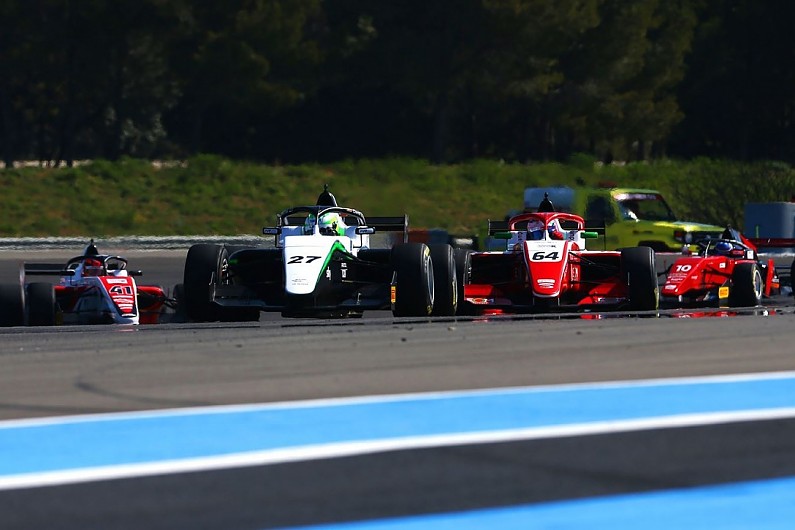 Caldwell repassed Schumacher but by that point had lost touch with his team-mates and Fraga.
Prema took its domination one step further in the second race, as Caldwell bounced back to lead a 1-2-3 for the team. Fraga ran second at the start but once again went backwards with tyre management woes.
Fittipaldi took second place, surviving a last-lap lunge from his team-mate Vesti, who was forced to settle for third place.
Caldwell was then disqualified because stewards deemed his car did not comply with the series' technical regulations, but Prema appealed and the result is currently provisional.
In the third and final race of the weekend, Schumacher passed poleman Vesti off the line, but the places swapped back at the end of the Mistral Straight later on the first lap.
Vesti controlled the race thereafter to extend his championship lead to 11 points.
Fittipaldi passed Schumacher at the final corner to take second place, while his team-mate Caldwell spent the majority of the race stuck behind DR Formula's Raul Guzman before Guzman collided with his team-mate Fraga on the penultimate lap of the race.
This allowed Caldwell to take fourth, ahead of Sophia Florsch - who struggled all weekend with Van Amersfoort Racing. The team was forced to make a late switch to the series following the cancellation of Formula European Masters.
Florsch was helped earlier in the race by another intra-team collision, involving 2018 NEZ F4 champion Konsta Lappalainen and his former title rival Isac Blomqvist - driving for Finnish squad KIC Motorsport.