"You're not working off assumptions." In five words, the most significant factor that sets Project Cars 2 apart from its predecessor, and many other racing games, is laid out.
The franchise that only came to fruition thanks to online crowdfunding is rapidly approaching the release of its second title (September 22), and the spotlight is on. The popularity of the original game - played by millions worldwide - surely surpassed any realistic expectations ahead of its 2015 launch, but with those big numbers came major scrutiny, and Project Cars 2 now has to live up to that.
With a solid platform under its feet from the first game, but room for improvement and a community that remains highly demanding, the team behind the series knew the lengths they had to go to this time around to deliver a game that can satisfy the fans of hardcore racing simulation that were key to its crowdfunding, but also producing something that can be a mainstream hit in a fiercely competitive gaming genre.
There are few better examples of how deep Slightly Mad Studios went this time than two stories from the feedback given by ex-Formula 1 and Le Mans racer Stefan Johansson to make two iconic types of car far more playable than they were first time around: fearsome 1980s turbo F1 machinery, and the ever-popular Group C sportscar division.
"We put him in the Porsche 962, and he said 'you've got the caster angle all wrong'," says Rod Chong, CCO of Slightly Mad Studios. "He could feel it wasn't right, he wanted the suspension geometry corrected, and when we changed it, he was happy again.
"When we had him test the 1986 Lotus - although he didn't race that car, he raced in that era - he didn't like how it built boost. The way it went up through the gears was incorrect. Coming out of a hairpin there would be a slight turbolag but then the car should blast up through the gears quite quickly, whereas in Project Cars 1 there was a slight delay as you went through each gear.
"So you'd wait for the boost to kick in, then take second, wait, third, wait, and he said it wasn't like that at all - it was always in the rev range once you were going through the gears. Once we changed the way the boost kicked in, he was much happier with the car.
"Those are just small examples of the lengths we're going to, to ensure authenticity. You have to get racing drivers involved in the development process to be able to do that."
On the Lotus in particular, Autosport can vouch for the improvements Johansson's feedback have resulted in. That same car was near-impossible to drive consistently on the first game without a top-level steering wheel and pedals set-up, but without the car trying to spit you off the road in every gear now, you can enjoy the challenge of driving it.
But it's not just real driver feedback that makes the difference this time around. As a far more established contender in the racing game market, the Project Cars team was able to push harder for cooperation from manufacturers or championships than it could first time around. The results of that are noticeable throughout the game.
"We found that manufacturers responded differently to our demands, and for Project Cars 2 we were strong with those demands," adds Chong. "We asked for data, we tried to get telemetry of the cars going around a track that we had laser-scanned in-game, so we can compare the data.
"Then you can look at anything from the speed of the car, what gear it's in, what the driver is doing with the pedals and steering inputs, even the shock absorber movement. Some of them were willing to give us that type of data, and in some instances we even got the set-up sheets or aero models from the car.
"When you get that, it's hugely helpful. You're not working off assumptions, you're working off proper data."
There's a wealth of proper data and real-world help behind the full introduction of modern-day IndyCar for Project Cars 2, after the US series' inclusion in the first title got no further than a standard IR-12 Dallara chassis being made available as a downloadable additional car. This time around, both Chevrolet and Honda road course and oval versions of the car are available, with real-life 2016 liveries and the famed Indianapolis Motor Speedway.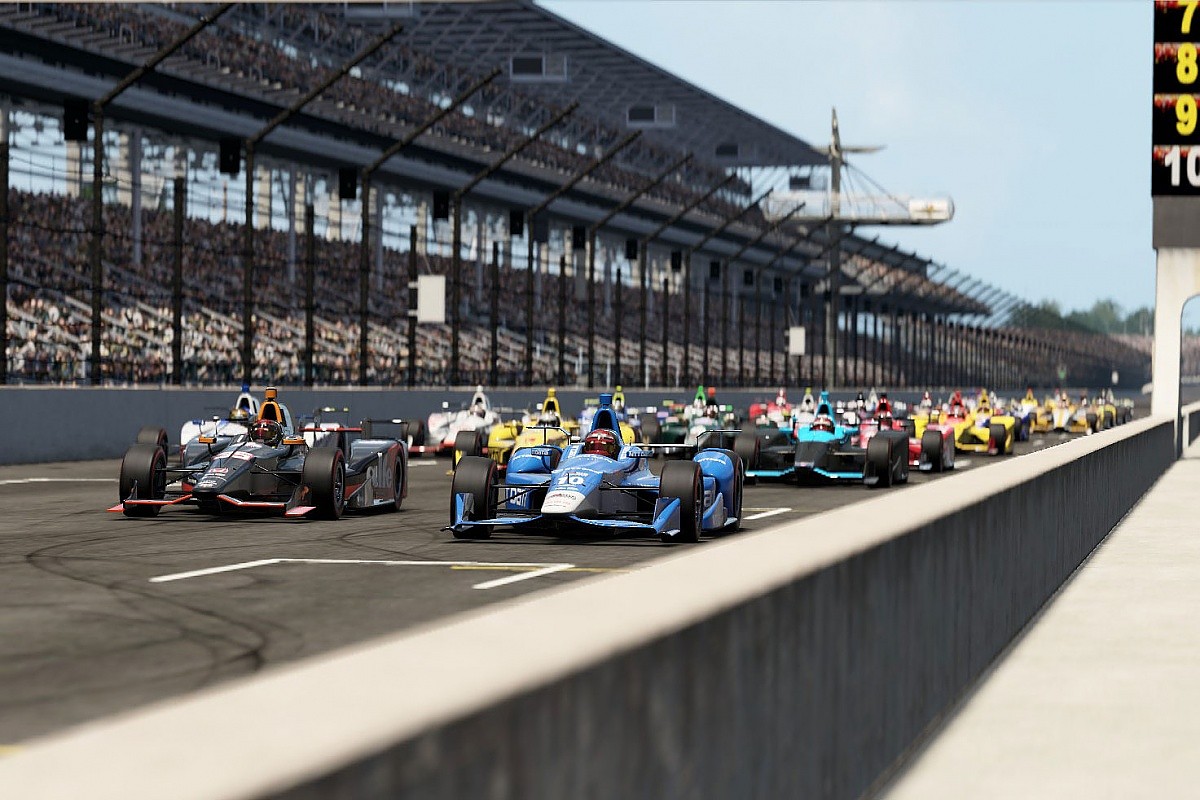 Not only did the series provide as much help as it could, but it put together a deal for the Schmidt Peterson team to work with the game developers, a partnership that extended to Chong and his team spending time on the pitwall during practice for the 2016 Indianapolis 500, working with engineers to set the car up in-game, and getting James Hinchcliffe to drive it to verify it was all going in the right direction.
The results are good. If you want to be quick around the legendary 2.5-mile Speedway, you'll need to build up to it gradually, Fernando Alonso-style, and not overdrive the car. It's all about getting the combination of gentle steering input and deciding whether to breathe the throttle or not that determines if you are fast. And over the course of a run, the impact of tyre wear means you will have to become more conservative.
"It's a complete open sandbox. You can run Group C cars on an oval or put a Toyota LMP1 on the old Monza banking" Slightly Mad Studios CCO Rod Chong
One slightly odd quirk we detected when battling to get into the top 30 (yes, you can race a full 33-car field) was the ability to smoke the outside tyres if you pushed on a bit too much, which we don't recall being a regular feature of any recent 500s. But there's a chance that could be ironed out by the time of release, and that aside, the challenge and sensations of racing at Indy, even with a controller instead of a wheel, were very satisfying.
The only major downside is the absence of caution periods at Indy, which were going to be so time-consuming to programme correctly that they were left out.
"We wanted to do it, but in the end that got cut," says Chong. "We decided it was more important to spend our efforts to get the AI experience right, which took a lot of engineering work.
"We had to rewrite our AI code to understand a huge amount of new logic systems for oval racing. It has to understand what is happening, what drafting is, and not get freaked out when driving in a pack together at 230mph!"
That reprogrammed AI is part of a wider refinement of the computerised opponents, in which the already excellent difficulty slider is accompanied by an 'aggression' setting. It's up to you if you want to use it realistically, to reduce the chance of contact in single-seater racing compared with touring cars, for example, or if you decide to encourage all hell to break loose.
Get the settings right, and an offline race against computer opponents can be utterly absorbing. When Autosport tried the game in August, we had a gripping GT3 contest around Austin, where we were just about hanging on to the leaders without getting close enough to attack. As the race developed and tyre wear became a factor we crept up on the car ahead, eventually launching a slightly overambitious attack at the end of the back straight.
Unfortunately for us, from the fantastic helmet cam view (which, for total immersion, even looks towards the apex of the corner for you), we'd failed to detect that our opponent had also been catching the car ahead of him, and he was shaping up to launch a similar attack of his own. We ended up outbraking both cars by accident, and slamming into the one at the front of the train. An embarrassing, but completely realistic, shambles of an accident that was caused by the levels of realism on offer.
While there is an added emphasis towards online play and the growing eSports market with Project Cars 2, the attention given to improving the AI, and the experience for players using a controller, is testament to the work that has gone in to make the game more accessible for less dedicated fans.
The breadth of motorsport covered in the first game meant it drew in a lot of more casual fans of racing, or driving games, but some were quickly put off by difficult handling of too many of the cars. While changes like those made on Johansson's recommendations have gone a long way to tackling this, so has a greater focus on controller-play and other handling tweaks that expand the number of cars that players will feel comfortable with.
"We put a huge amount of emphasis on the gamepad," adds Chong. "We make sure we are always testing on gamepad, so we have a game that you can sit in your living room and enjoy with a pad, or if you are professional racing driver you can use it to practice.
"It's hugely important if you think that over two million people bought the first game, it's now a mass-gaming title. It's not only living in the more niche simulation area of PC gaming - which is also an important area for us. But the majority of our audience are on console.
"We decided to rework the algorithm that determines how the game interprets what you're asking the steering to do. Let's say you're flying up the straight to Les Combes at Spa, and you notice that you're a little off the racing line, so you want to adjust the car before you turn in to the apex.
An embarrassing, but completely realistic, shambles of an accident was caused by the levels of realism on offer
"You may move the pad control all the way to the left as you try to reposition the car, but you're not really asking the game engine to give you full lock, because you're doing 180mph. There's a bit of interpretation needed there in terms of how much lock you want based on the speed you're doing. It's quite tricky, so we spend a lot of engineering effort on that, and we're getting a good response."
At Autosport we always like to try racing games with a controller to get a feel for how the majority of players will experience it, and there is a noticeable step forward with Project Cars 2. There were cars in the first game that were very enjoyable to play with a gamepad, but some categories or particular cars were almost unplayable, limiting where you could spend most of your time in the game.
This time around, there appears to be no such trouble, and you can do a lot more to hustle cars in the middle of a corner - whereas in the first game if you'd made a mistake at the beginning of a corner there was little you could do to put it right other than desperately slow down or spin/go off the road as punishment. Chong puts this progress down to other areas of development in conjunction with the controller-play.
"We've also put a lot of effort into the tyres," he says. "We've added a lot of new code into two key areas: one we are calling 'rip grip', which is the tyre sliding sideways and the actual surface being scrubbed off like sandpaper by the surface of the road, and our terminology for the other area is 'bite'.
"We spent a year working on the sliding physics - the feel of the car up to and over the limit, what happens if you introduce wheelspin, the controllability and the general feeling. The result of that is you can push harder, and if you're having a crazy moment you can get the car back. It won't just spin out as it would have in Project Cars 1, and you can have more fun.
"If you want to go crazy and start drifting, you can - because you can do it in real life, so you should be able to do it in simulation as well. It doesn't require any special game set-ups or anything."
The improvements on the tyre front have been coupled with further development on the sensation of downforce, which is an area Chong admits the first title was a little weak in.
"We got feedback on Project Cars 1 that we didn't quite capture the tight feeling of high-downforce cars, how the car behaves as the aero load comes in," he says. "When a car is under high aero load, the way it changes direction, the grip it can initially generate as the driver turns in, you can really spike and shock the tyre.
"Think about how an LMP1 car turns in on a high-speed circuit when it's under tremendous aero load - we've now replicated that feeling. It means the cars aren't necessarily twitchy, but you can generate sharp turn-in, and if you have a steering wheel you can feel the downforce building, which we are very excited about."
Sportscar racing is an area the first Project Cars title did great justice to, with long-distance events and multi-class racing incorporated excellently. But there were two main limitations first time around: one that has been addressed in the second game, and one that sadly hasn't.
Let's start with the good news.
Multi-class racing was great in the original game, but it was unfortunate that the classes to appear if you chose that option when setting up your own race were predetermined for you based on the type of car you were driving. So if you wanted to race an LMP1 car in a multi-class field at Le Mans, you could have a huge grid, but it was multiple classes of prototypes, rather than a mix of LMP and GT cars, for example.
In Project Cars 2 there is total freedom. Not only can you replicate real-world multi-class racing, but you can mix anything you like - pitching old cars vs new, or bizarre combinations such as LMP1 vs IndyCar vs Formula Renault 3.5 vs GT4. The possibilities are almost endless.
"It's a complete open sandbox," says Chong, who also points to the fact you can race modern cars on the classic versions of several circuits in the game. "You can take the Group C cars and run them on an oval if you want, or put a Toyota LMP1 car on the old Monza banking. You can come up with these fantasy scenarios, which is pretty cool."
One thing that isn't quite so cool, given how well endurance racing is represented again, is the lack of an option to save mid-race. As much as the idea of running a full Le Mans 24 Hours did appeal on occasion with the first game, and you could stick an AI driver in if you fancied a break or sleep, such a mammoth task would be more welcoming if you could attack it in parts.
"Whenever you are developing a game you have to prioritise," says Chong, "so sadly that was one thing that didn't quite make the cut. In game development you are always in this scenario, you always want to do more than you have resource and time for. I'm sure if you look at the full feature list, and you see all the small additions to the game, you can see there's a tremendous amount of things in there."
Tremendous is a fitting word. Project Cars 2 is a world apart from its predecessor in so many ways, and for those that were disappointed with the first game (we liked it, even if, as you can hopefully see, we were as aware as anyone of its downsides), there is no need to be preconditioned by your previous experiences of the series.
The team behind the game hasn't hidden from the fact that its first attempt wasn't flawless - that was part of the reason it spent time that could have been devoted to the sequel continuing to produce patches and updates for Project Cars 1.
But if all you're expecting from the second title is a polished version of what you felt the first game should have been, you're setting your expectations way too low for Project Cars 2.