AUTOSPORT readers may well remember the inspiring story of Race2Recovery, the first amputee team to take on the Dakar Rally, chronicled in their blog for the website 12 months ago.
They endured no end of mishaps, including a terrifying roll and a road traffic accident, only for one of the team's cars to survive to the finish.
It was an extraordinary tale, and this year they returned with a two-car team to do it all again.
Last time out, mechanical troubles resulted in amputee driver Tony Harris being excluded after the second stage. The images of a tearful Harris became one of the abiding memories of Dakar 2013 - this year he was back for a rematch.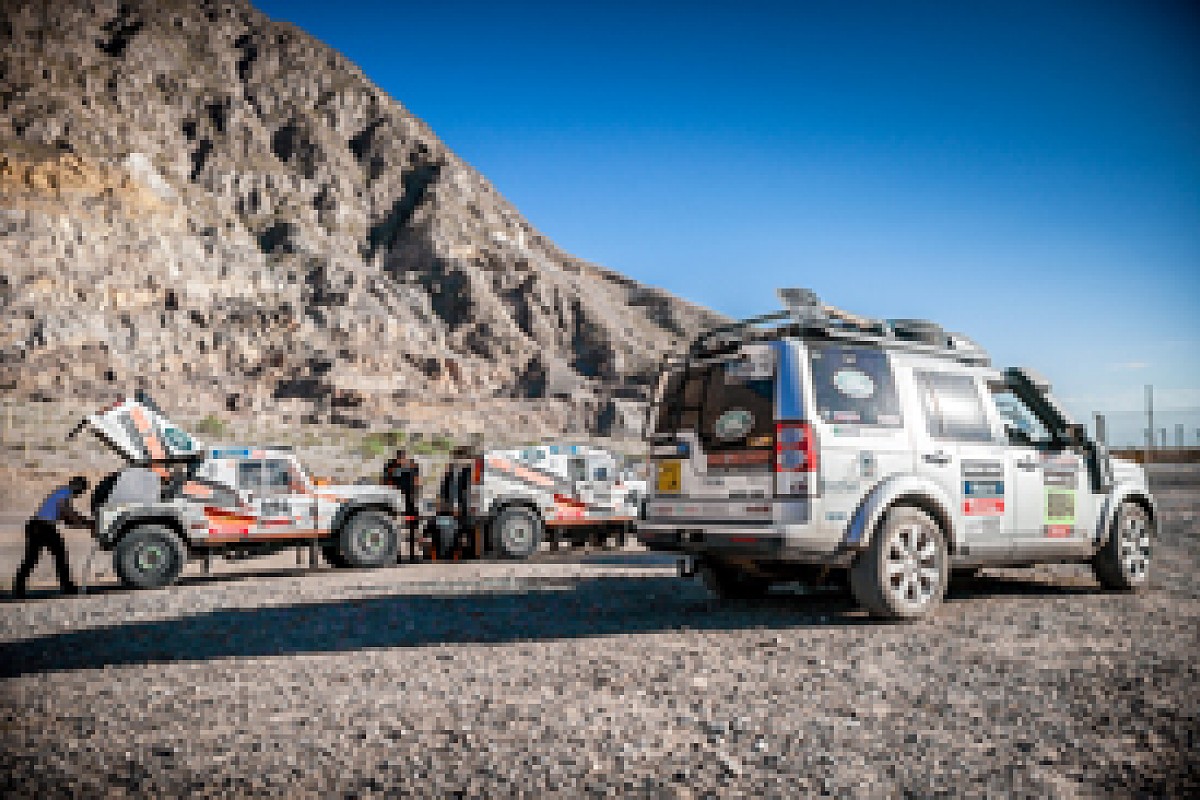 Race2Recovery's Wildcats didn't last long this time © Gaucho Productions
Harris was going well until he misjudged a razorback sand dune and rolled his Wildcat end-over-end.
The car, based on a Land Rover Defender, landed on its wheels, but the rollcage had sheared behind the driver's head.
"I just made a mistake," said Harris. "Everything happened a such low speed - no more than 10mph - that we thought the damage was just cosmetic."
For the second year running he was out on stage two.
The second car was driven by Ben Gott and co-driven by Philip 'Barney' Gillespie, who became the first amputee ever to finish the Dakar last year. Sadly, it too went out on the second stage. In extreme weather conditions, the car overheated and blew a head gasket.
The team's support truck then tried to drag them out of the dunes, but to no avail.
"I'm gutted, of course," said Gillespie. "We were really only just getting in to the rally, but this is the Dakar. If we finished every year, it wouldn't be such a challenge."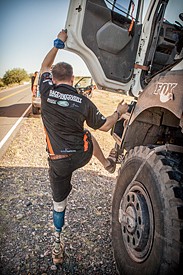 Whittingham climbs aboard the truck © Gaucho Productions
Attention has therefore focused on the team's supporting race truck, or T4 as it's known in Dakar parlance.
It's piloted by Mark Cullum, Chris Ratter and Daniel 'Baz' Whittingham. Cullum is an off-road expert who taught all Race2Recovery drivers, while Ratter is a mechanic and accomplished rally driver.
Whittingham lost his left leg while serving as a bomb disposal expert in Afghanistan and was part of the support crew last year before swapping his overalls for a racesuit.
Driving a top-heavy, 14-tonne truck through the dunes is at least as big a challenge as driving a rally car. It's also slower, which makes the days even longer.
On the fifth stage, the truck left the bivouac at 8am and didn't return until 7.30am next morning before setting off again two hours later to do it all again.
"It's been unbelievably hot," said Whittingham. "We're not eating properly and I've had to find a way to sleep in the cab when I'm not driving. I've even managed to fall asleep on a special stage. We've just got to keep going."
This has been an exceptionally tough Dakar with brutal heat and a tough course. Many talented riders and drivers have already dropped out but as of the rest day, Race2Recovery has one vehicle left in the rally.
Their target remains the same: make it to the finish.