This season is not going to plan.
It was meant to be the year of the glorious championship charge, the culmination of everything we've strived to achieve since joining Formula Vee in 2009.
Three rounds in and we've suffered two broken engines, I've crashed three times (four if you count the Ariel Atom Cup, but more on that later), we haven't won a race, and I'm not even inside the top six in the standings.
Since I last updated you following the belated opening round at Brands Hatch we've visited Snetterton (in 300 and 200 configurations) and been to Pembrey.
These are both circuits at which I've enjoyed success in the past. Snetterton was the scene of my maiden Formula Vee win in 2010, while Pembrey is a place I scored a double pole position the last time I raced there three years ago. I felt this would be a good omen for me.
It wasn't.
I didn't finish either race at Snetterton. In fact, I didn't qualify for either race at Snetterton.
I hit the barriers at Riches during a horribly wet test day, and the resultant damage meant I missed Saturday's qualifying session as Anderson Sr busied himself patching up my car once again.
We got ready in time to start race one from the back of the grid, and when I saw championship leader Paul Smith pull off on the warm-up lap I thought my luck was about to turn.
It wasn't.
I surged from 17th to sixth on the opening lap, but could hear the engine detonating itself to pieces right from the start. Sure enough, my right front piston only lasted another half-lap before it fell apart, meaning zero points for me.
At least 1988 Formula First champion (and Snetterton local) Keith Farrance upheld team honour by scoring his maiden Vee win in front of his adoring public.
Sunday's sport on the shorter 200 layout wasn't much better. The spare engine wouldn't start because it hadn't been assembled correctly, so we missed qualifying again.
Anderson Sr's silky skills got it running in time for the race, but I could probably have produced more power if I'd punched a hole in the floor and done my best Fred Flintstone impression.

With yet more horrible mechanical noises ringing in my ears, I pulled into the pits to retire on the third lap.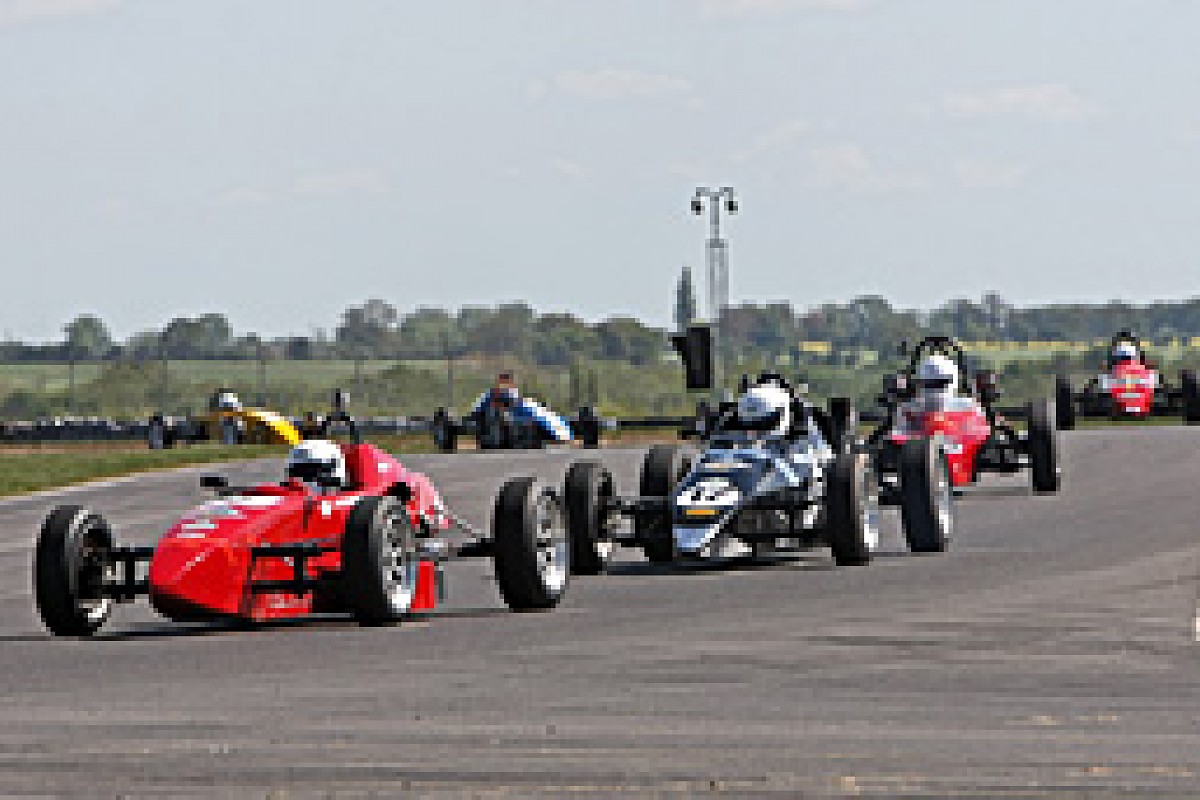 Things are not going well for Anderson
Smith had given up and gone home by this point, having suffered catastrophic engine problems of his own, so a golden opportunity to make up points in the championship went begging.
We figured things couldn't get any worse as we headed to South Wales for round three at Pembrey, but they did.
I took a respectable third in race one in an ill-handling car, but finished well adrift of winner Smith.
This was our first decent run with a correctly functioning engine in our GAC (thanks to a carburettor manifold change) but it exposed problems with our experimental three-spring rear suspension set-up.
We were suffering serious traction issues from the stiffness, and no matter what combination of springs we tried just couldn't find a decent balance with the chassis.
The AHS Dominator looks extremely stiff, yet wonderfully tractable. I just can't work out how they do it.
Rain washed out any chance of getting back to basics for Sunday's sequel. Even so I've gone well in the wet in the past, so felt the weather could be a timely ally for me.
It wasn't.
I reversed my way from third on the grid to sixth at the start and spent the first lap bottled up behind three battling slower cars.
Unsighted in the spray, I wandered off the circuit on the exit of the high-speed right-hand kink on the back straight, spun from the grass back across the track, and was clipped by another car, which ripped a hole in the sidewall of my left-rear tyre and bent the driveshaft.
My third DNF in four races!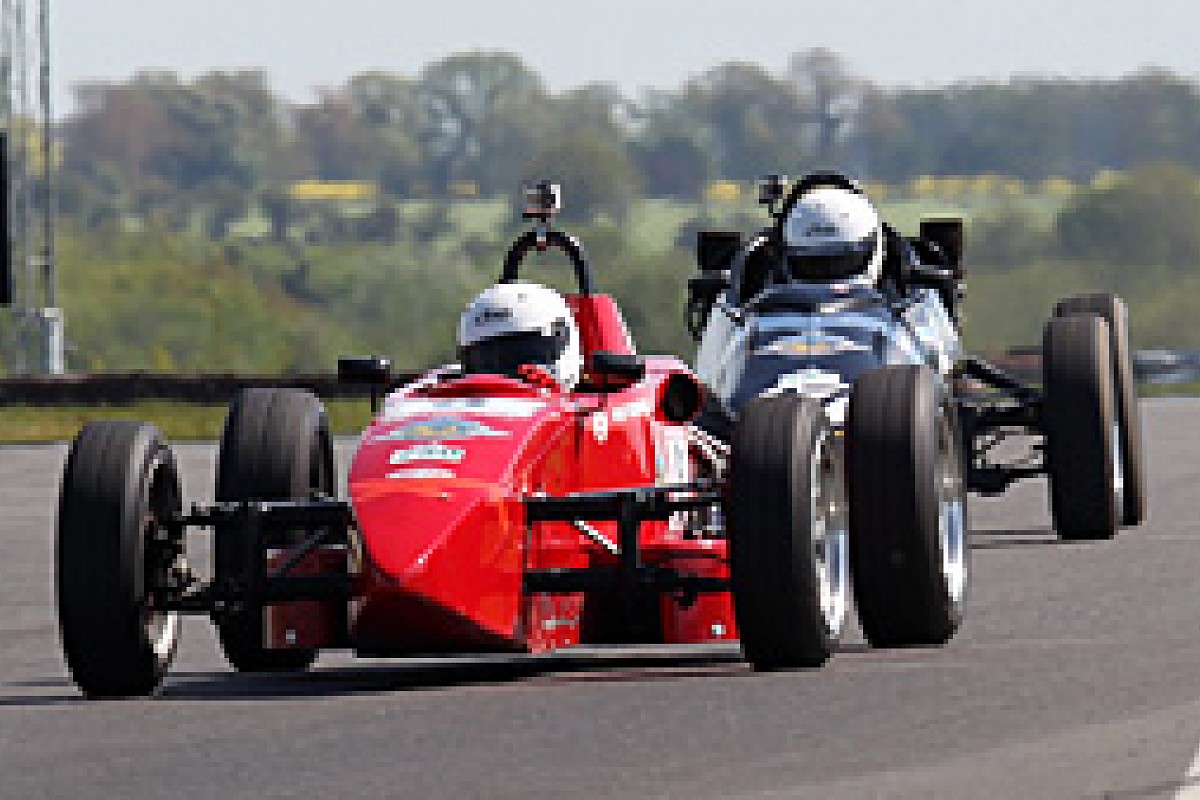 Our man has dropped to seventh in the standings
To make matters worse, the tail-lift on our truck collapsed as we were packing away in the paddock; thankfully just after we'd finished loading the cars.
I'm not sure if I've seriously wronged lady luck somewhere along the way - called her fat, or two-timed her with her best friend - but she certainly isn't smiling on me at the moment.
I felt really sorry for my dad Phill, who's made nothing but a heroic effort so far for scant reward. Another serious repair job is not the ideal Father's Day present.
Surely the only way is up from here.
FORMULA VEE TABLE AFTER PEMBREY
1. Paul Smith 104
2. Martin Farmer 87
3. Craig Pollard 85
4. Steve Ough 84
5. Ian Jordan 79
6. Ian Buxton 70
7. Ben Anderson 65
SPLITTING THE ATOM
So now for that fourth crash I mentioned earlier.
In between the Snetterton and Pembrey rounds of the Vee championship I was invited to take part in the new Atom Cup series, which kicked off earlier this year.
The Ariel Atom is a popular road and track day toy, so perhaps it was inevitable someone would start a single-make race series for them at some point.
It's made a modest start to life, but the single-figure grid present for the first two rounds at Silverstone and Cadwell Park grew to 10 for my appearance at the inaugural American Speedfest event at Brands Hatch on June 8-9.
The 240bhp Honda-engined cars look a bit unwieldy from a distance, but they are properly engineered and enormously capable on a circuit.
I had a lot of fun driving one. A little too much fun as it turned out. Race one yielded a podium, but race two ended in the barriers after contact with another car and a trip across the Paddock Hill gravel trap.
I didn't quite split the Atom, but had a pretty good go at it...
Be sure to catch more of Ben Anderson's Atom adventure in AUTOSPORT magazine next month.
Previous blog entries:

AUTOSPORT on the podium in Formula Vee opener