January 15
The last competitive day of the 2011 Dakar is now behind us, with only the closing podium ceremony in Buenos Aires to come. Over the past two weeks, the VW Amarok in which AUTOSPORT followed the event has registered over 11,000 kilometres. Although achieved in far less gruelling conditions, the distance comfortably exceeds that of the winning race Touaregs.
The winning VW of Nasser Al-Attiyah © autosport.com
My overriding memory from a hugely rewarding week has been the incredible support for the rally shown by the people of Chile and Argentina. Our car's race livery has perhaps helped to provoke a reaction from well wishers, but on Saturday I was given a taster of the enthusiasm reserved for the top drivers. Exiting the Barados race track, where the finish of the last special stage was held, our Amarok caught up with the Race Touareg 3s of Carlos Sainz and Mark Miller on the motorway into Buenos Aires.
The road echoed to the sound of horns even before the Dakar machines were in sight, and the cars were greeted by hundreds of people waiting roadside and on overpasses. Things got a little hairy for a moment when a number of locals started racing up the inside lane in order to gain a better view. But Carlos and Mark displayed supreme skill in finding some space and and then opening up a safe distance.
The excitement came in contrast to the drive from Cordoba to Buenos Aires. Setting off in darkness, we were seen on our way by a low-key group of Friday night revellers. Once out of the city, the rest of the journey was completed on a two-lane motorway with little to distinguish the surrounding countryside from that of England on a hot summer's day.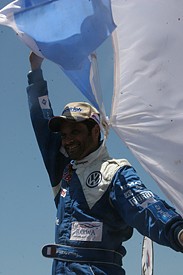 Nasser Al-Attiyah celebrates his win © autosport.com
The finish at Barados was as good a place as any to see an outpouring of emotion: from winners to competitors shattered but relieved to be home, and smaller crews reuniting with their families.
After initial celebrations on the roof of Nasser Al-Attyah's winning Touareg, VW staged a press conference under the awning of its communications truck. There was a unanimous sentiment that Nasser completely deserved his victory and, as to be expected, there was also a large round of acknowledgements.
So, with memories of unshaven and weathered bikers staggering off their machines fresh in my mind, I'll end by thanking VW for managing the feat of getting myself and Glenn out to often remote stages ahead of the race cars every day and for looking after us both so well.
• Driving the Dakar: Daily blog image gallery.
• Driving the Dakar: Daily blog week one, with Glenn Freeman
January 14
As a legacy of our breakdown yesterday, there wasn't much of an opportunity to see San Juan today. Baja racer Scott reckoned late last night I was "hunched forward asleep like a 100-year-old grandpa". It must have been a reaction to the heat.
On entering our San Juan hotel, Circuit of Ireland rally boss Bobby Willis introduced himself and said it looked like we had dragged our bags through the desert, which was not far from the truth. Bobby is in Argentina working with VW as a provider of expert maps. There are a few other unexpected characters within the VW team.
On Friday morning, while transferring my luggage into our regular (now repaired) Amarok, I bumped into Carlos Cintra, a Brazilian who was Carlos Pace's right-hand man when he drove for Frank Williams in Formula 2, and also toured Italy with Nelson Piquet during a 1977 Formula 3 season.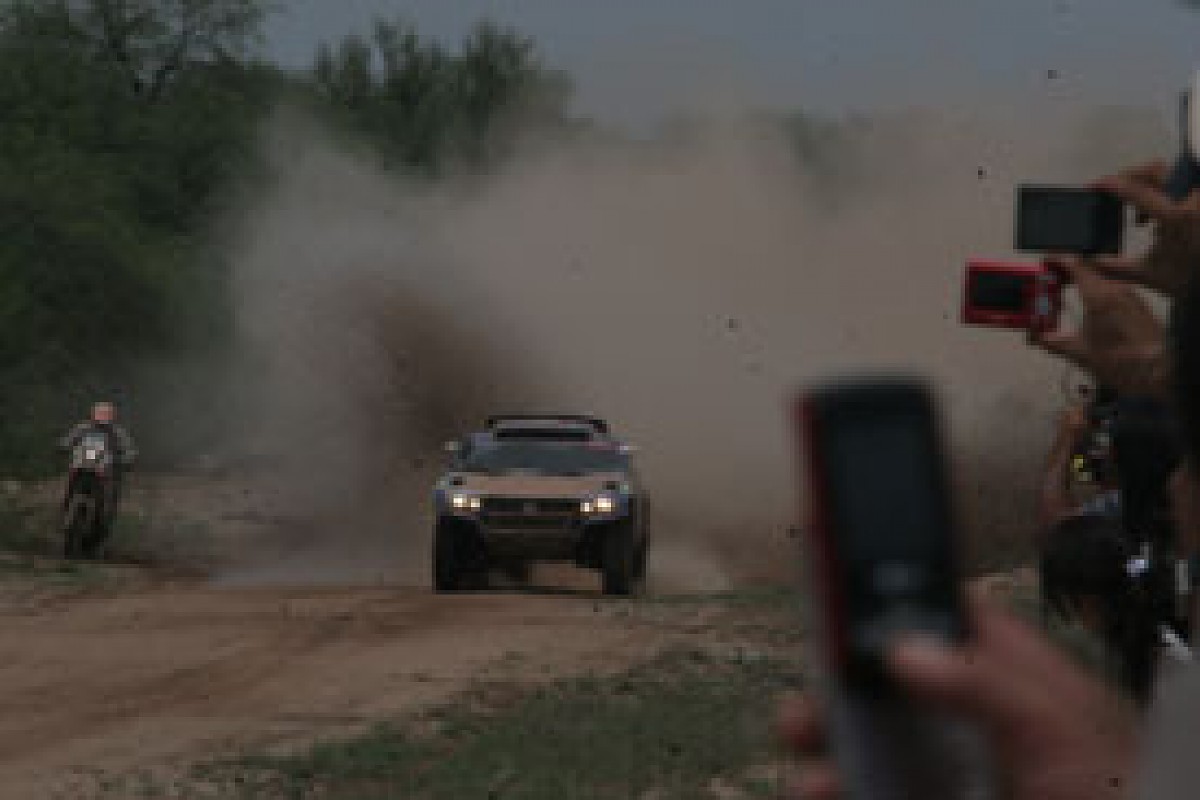 Sainz and a biker heading for a water splash © autosport.com
A group of Amaroks visited the special stage outside Chepe, a small town that helps maintain Argentinean stereotypes, littered with old Peugeot 504s. To reach the stage, we drove through miles of straight gravel roads that appeared to cut through various cattle ranches.
Around the stage's spectator zone, fans lit up barbecues in the pampas - their vantage points showing a fast left-hander, leading into a water splash and then a tight right by a gate. On the way to the fastest stage time of the day, Carlos Sainz was really attacking. A biker in the vicinity thought better of following the Touareg through a water splash and got well out of the way.
With a stipulation to arrive in Cordoba by 7pm, we departed Chepes after the leading runners had passed. In the intervening small towns that we stopped in for fuel, children frequently swamped the car asking for "regalos" (presents). The extent of my generosity stretched to handing out a cap - sadly there were just too many mouths to feed. Heading on east, the countryside has become greener. We start the blast to Buenos Aires at 5.30am tomorrow.
January 13
A minor navigational hitch, caused when our GPS position failed to tally with the road map, was a prelude to a slightly larger setback during Thursday's leg from Chilecito to San Juan.
Then our trusty VW Amarok developed a glitch that resulted in us spending eight hours beside Tucunuco's special stage. While inconvenient, help was never far from hand.
The departure from Chilecito provided an opportunity to view the aftermath of a bustling Dakar welcoming party that had been laid on the previous night. As the Amorak continued its journey, the enthusiasm demonstrated by roadside fans either shouting encouragement or taking in the commotion from picnic chairs, was unwavering.
After just a few miles, the transformation of the road from asphalt to gravel instigated a map-reading blunder from yours truly. An unnecessary U-turn was executed before realisation dawned that we had, in fact, been on the correct course originally.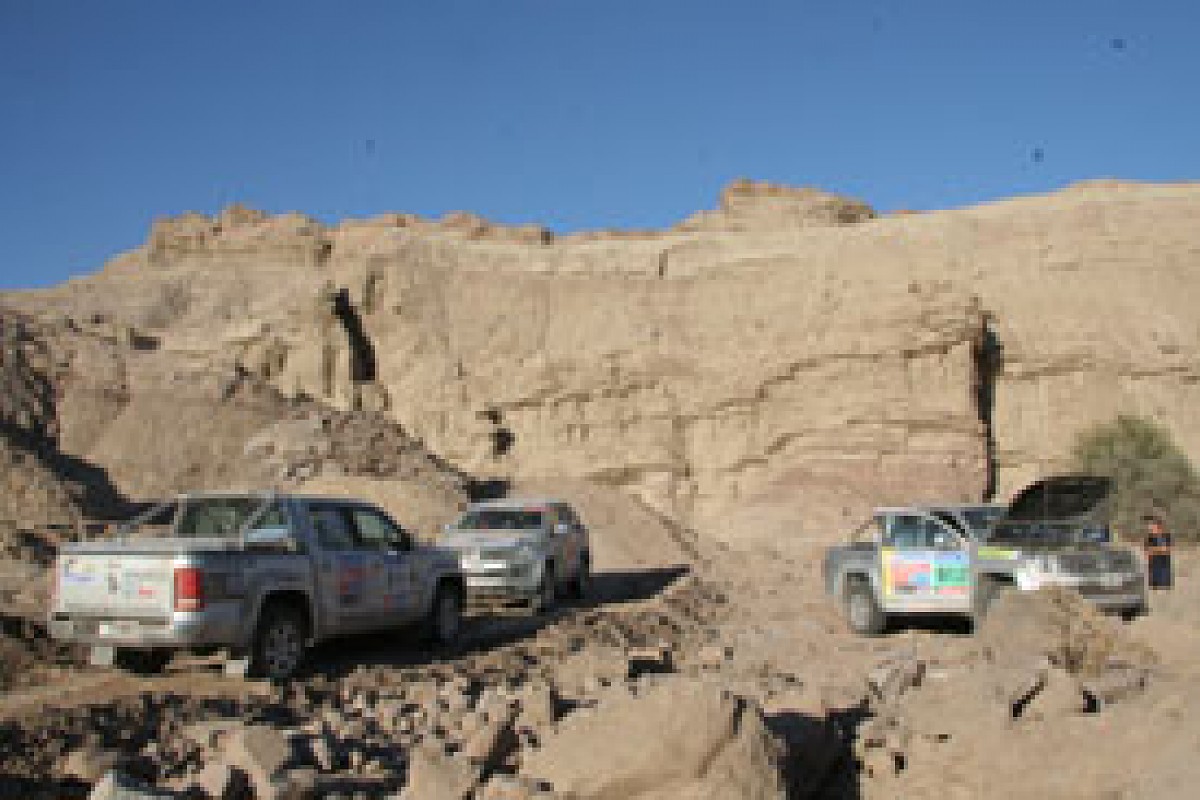 Peter, Markus and Scott stranded in the wilderness © autosport.com
The gravel road rewarded us with stunning views of La Rioja's Sierra de la Famatina and its contrasting red and green hued mountains. While beautiful, the red mountains also produced a red dust. Visibility on the tight road was severely reduced by the cloud, but with sheer drops hiding clumsily behind ancient looking stone walls, that was perhaps a blessing.
Our breakdown occurred late in the morning as we headed to the designated GPS co-ordinates. Team leader Markus Kleemann did not want to enter the stage by car unless he could find an alternative exit route. Without one, there was the possibility of having to wait for every car to go through before being able to leave for the Dakar bivouac.
With two hours to spare before the leading motorcycles arrived, it was decided that a quick recce was in order. The stage started on a plain before moving into a series of canyons created by ferric chimneys. Unfortunately, while turning at low speed, our Amarok faltered with a suspected fuel relay problem at around 11.30. It is worth stressing that the car was on its second Dakar rally and had hitherto performed faultlessly.
Markus, who on Wednesday had come close to collapse on the descent from the Andes, elected to brave the 37-degree heat and walk back down the stage to raise help.
While waiting by the car's satellite phone (we had no mobile signal) I tried to ignore thoughts of Ray Mears' voiceovers about people being stranded in hostile environments.
Help eventually arrived from Speedweek's Christian Schon. Although unable to get the car started, Cristian and his Amarok obligingly remained with us until the VW service team arrived at eight o'clock.
Cristian picked up myself and fellow passenger Scott and drove onto to windy San Juan. Markus again took one for the team and insisted we go while he remained with the car and mechanics. But perhaps there was an ulterior motive as he had drawn the short straw in deciding who would be eaten first in the case of an extreme delay.
• Driving the Dakar: Daily blog image gallery.
• Driving the Dakar: Daily blog week one, with Glenn Freeman
January 12
Wednesday's stage from Copiapo to Chilecito was easily the most varied of my time covering the 2011 Dakar. Leaving the deserts of Chile behind, our VW Amarok crossed the Andes, passed the incredible Laguna Verde lake at an altitude of 4500m, and descended the llama inhabited Paso San Francisco into Argentina. After missing out on a rendezvous with a dune on Monday, our vantage point beside a canyon today more than compensated.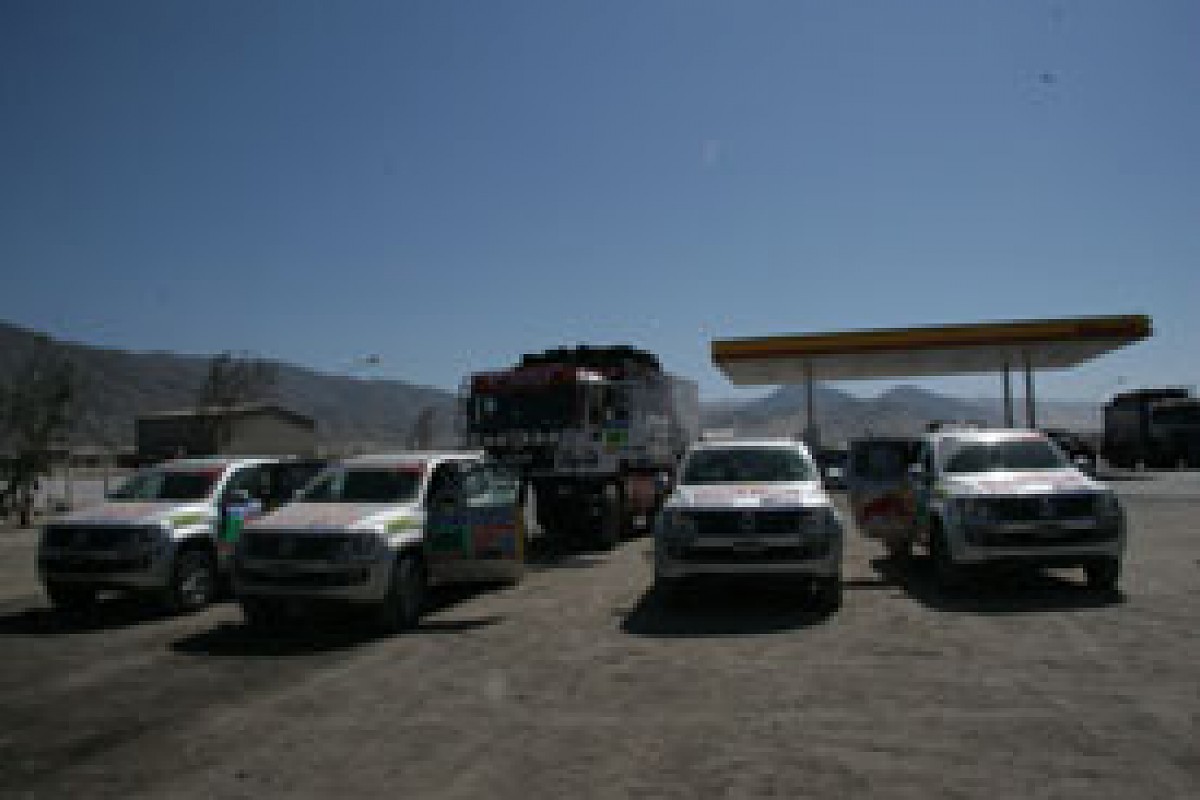 © autosport.com
The Dakar competitors have taken conditions in their stride compared to the journalists travelling at a more sedate pace. Markus Kleemann, VW motorsport's excellent communications man, who has been travelling with AUTOSPORT over the last week and half, fell ill while I was at the wheel on the descent from the Andes.
Although providing us with a brief scare, Markus happily made a swift return to his feet after being administered oxygen on the hard shoulder.

The bivouac has settled at Chilecito tonight. The reception from the Argentinean locals has been spectacular, with seemingly whole towns lining the streets to welcome the Dakar. Now that the afternoon temperature of 40 degrees has cooled it should be a good night in the tent.
• Driving the Dakar: Daily blog image gallery.
• Driving the Dakar: Daily blog week one, with Glenn Freeman
January 11
Tuesday's special stage at Copiapo was relatively short, in Dakar terms, being only 235km long. The format of staying in the mining city for two nights allowed the mobile army who set up the bivouac each night to take a well-earned break. It also freed up the possibility for VW's Amaroks to sample some off-road driving, on the stage, after the final truck competitors had set-off.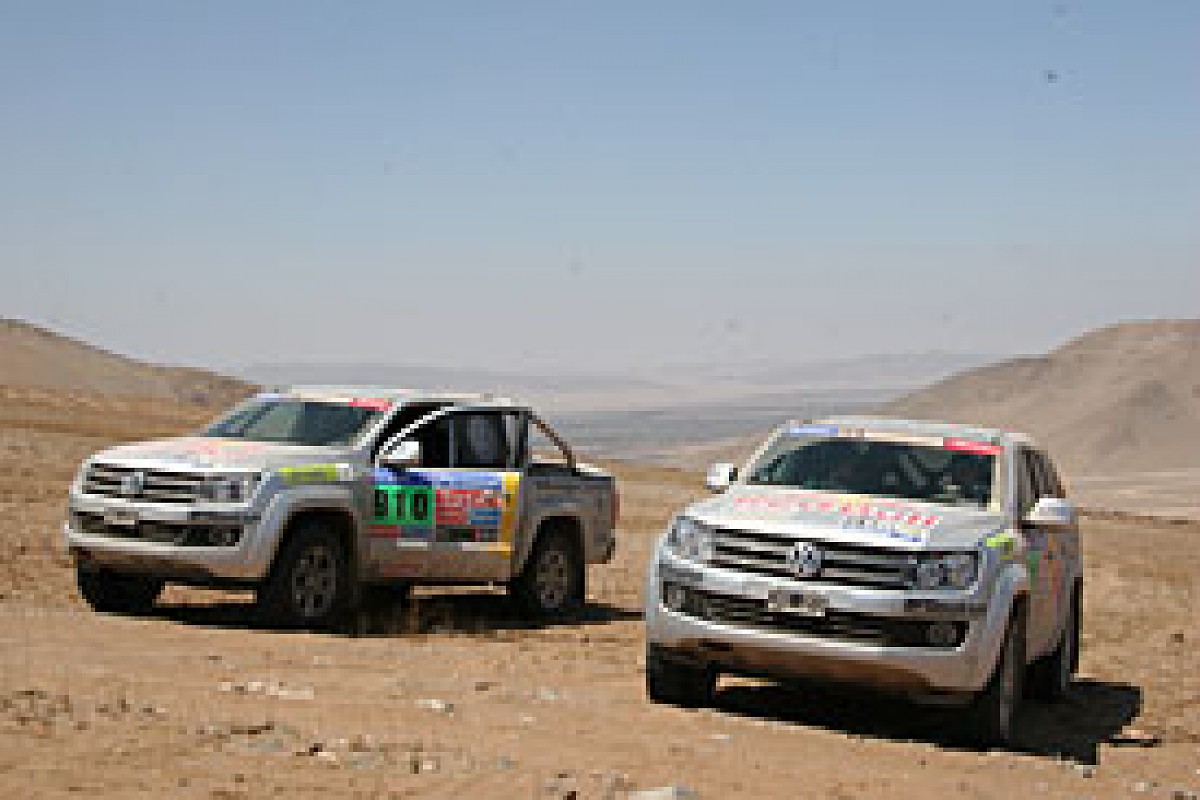 VW's Amaroks © autosport.com
Our off-road exploits meant sacrificing attending the end of the special stage, a shame given that another classic race between Carlos Sainz and Nasser Al-Attiyah materialised. It was hoped that our experience would offer more of an insight into the demands faced by the competitors and the epic scale of the dunes.
Before heading into the Atacama Desert, there was time to watch the bike category's spectacular group starts. The departures were all good value, and the accompaniment of low-flying helicopters added to the theatre. However, the bikers' exploits paled against the sight of the Dakar trucks and their precarious meanderings up a very steep incline on the early part of their stage.
The going in the Amaroks would later prove equally challenging. The plan to penetrate around 35km into the stage over a couple of hours proved a shade optimistic. Indeed, only five kilometers of ground was covered in over three hours. Doing the bulk of the driving in our regular car was French Red Bull employee Arnaud Duhamel, whose experience from half a dozen Dakars was telling in his polished technique.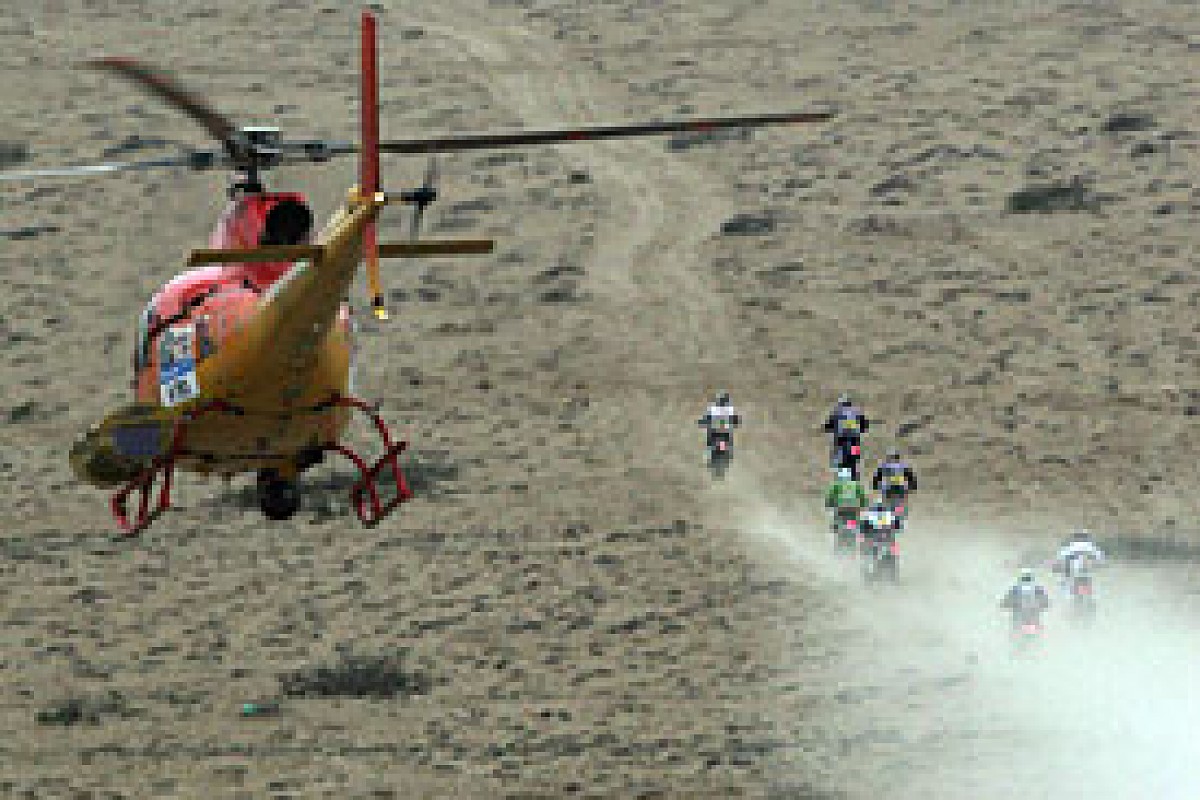 Dakar helicopter © autosport.com
Late on, the Amaroks were joined on the slopes by several delayed Dakar competitors who were demonstrating incredible spirit in continuing to slog away. On Wednesday we will depart for Argentina.
As a special send-off, the Chilean's laid on a visit by 11 of the formerly trapped miners from last year, and a display of one of their capsules in the bivouac.
• Driving the Dakar: Daily blog image gallery.
• Driving the Dakar: Daily blog week one, with Glenn Freeman
January 10
Our media fleet of VW Amaroks made a slightly delayed getaway from the bivouac for the journey to Copiapo. A minor diversion was subsequently called for owing to fallen rocks outside of Antofagasta, but the time was recovered through a strong run in the Atacama Desert.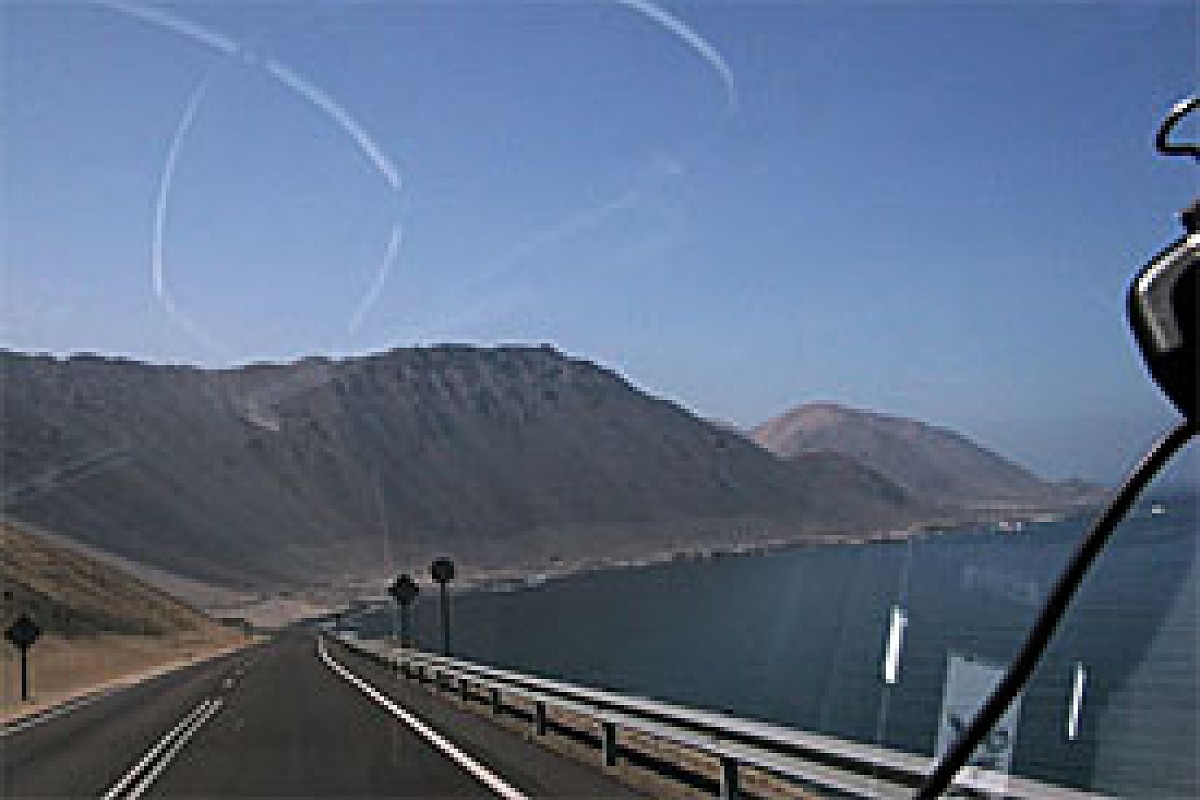 Peter Mills driving along the coast © autosport.com
During my turn at the wheel in the Atacama, I received a near continuous stream of backseat driving comments from Scott, the car's resident "El Americano". I felt more at ease about the critique when Scott informed me he was an amateur co-driver in Baja-style off-road truck racing in Mexico. Scott also had good reason for wanting to maintain the itinerary, as we had a rendezvous with a dune close to the special stage finish.
We wouldn't quite make it. Following a mass, midday, fuel stop, our Amarok parted company with the rest of the convoy in search of some chorizo sausages. The thinking had been to serve them up triumphantly on the summit of the dune. But none of us onboard could have imagined how much drama we would encounter trying to scale the climb.
Our first attempt failed after becoming bogged down in soft sand. Goading us, a line of vehicles exactly where we wanted to reach was just visible. How on earth did they get up there? Our second try was on an alternative, rocky, road. This resulted in an even longer period stationary when the Amarok grounded itself on a huge rock. A shovel was made to work overtime and we were soon moving again. With no obvious signs of a passable track at the first dune, we dashed for an alternative seemingly located behind a mountain.
Perhaps our progress had been a little too hastily on the uneven surface. On bringing the Amarok to a halt we discovered that several jars of condiments bought for lunch had failed to survive the journey and were leaking there contents into the tailgate... To add to our woes, we belatedly discovered that our chosen vantage point was some two kilometres from the rally route, forcing us to race to a known viewing area.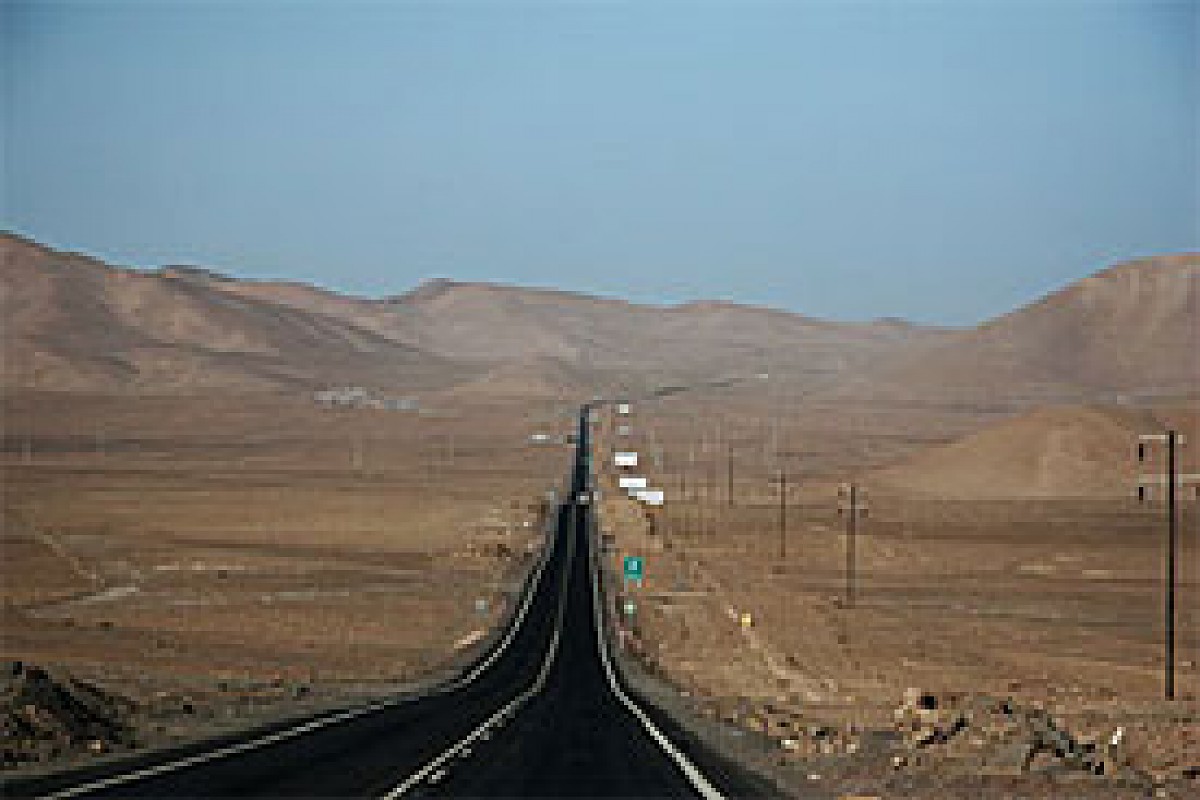 A long road ahead © autosport.com
We never did discover how the other vehicles had reached the dune's peak. But any disappointment that we had missed viewing some dune action was more than offset by the friendly Chilean fans encountered at our new location and witnessing the frenzy of activity when Stephane Peterhansel stopped his BMW X3 to attend to overheating issues close by.
On Tuesday, we aim to sample some 35km of the rally stages by following the truck competitors. Rally road-books and GPS co-ordinates will be required.
• Driving the Dakar: Daily blog image gallery.
• Driving the Dakar: Daily blog week one, with Glenn Freeman
January 9
Familiarising myself with the role of new crew member aboard VW Amarok #912 had appeared a sufficient task for Sunday's seventh stage. But the plan to miss today's action to head straight for the bivouac in Antofagasta was shelved when organisers cut the stage from 611km to 273km. The move, intended to help less well-funded competitors, provided an opportunity to visit the climax of today's leg.
We caught Carlos Sainz and Nasser Al-Attiyah before the start. Opposite our roadside meeting place rested a group of dishevelled shacks whose only inhabitants appeared to be a trio of friendly, if equally worn, stray dogs. What would have been surreal anywhere else was a perfect fit in Chile's uncompromising El Norte Grande, which even on Sunday's rest day accounted for the Mini of Guerlain Chicherit during a demonstration run accident.
Readers of Glenn Freeman's blog covering the first week of the Dakar may recall mention of VW's media delegate Markus Kleemann. During our journey to the stage, he regaled a story illustrating Al-Attiyah's unflappability. By putting his car in neutral during dune descents, Al-Attiyah discovered a way to boost the Touareg's top speed to over 220km/h, quite an edge - albeit an alarming one - over his team-mates.
Finding the stage took a little detective work as we were not provided with exact GPS coordinates. El Norte Grande is said to possess a quarter of Chile's mainland area but only five percent of its population. Ignoring signposts to the indigenous Aymara peoples' ancient geo-glyphs, passing golf courses built of little more than desert lined with paint, and pushing images of mineral container ships on the adjacent Pacific ever more distant in our rear-view mirror, we eventually reached the stage finish in Huanillos Sur.

A number of the early bike contingent home were animated at being passed by cars on the narrow 14km run-in. Later, our Amarok had a close shave of its own. The Antofagasta bivouac was reached with very little fuel in the tank and a reserve of five litres was dipped into by Markus in order to pick up a group of delayed Argentinean journalists in the evening.
Tomorrow we're off to Copiapo and El Norte Chico.
• Driving the Dakar: Daily blog image gallery.
• Driving the Dakar: Daily blog week one, with Glenn Freeman
January 8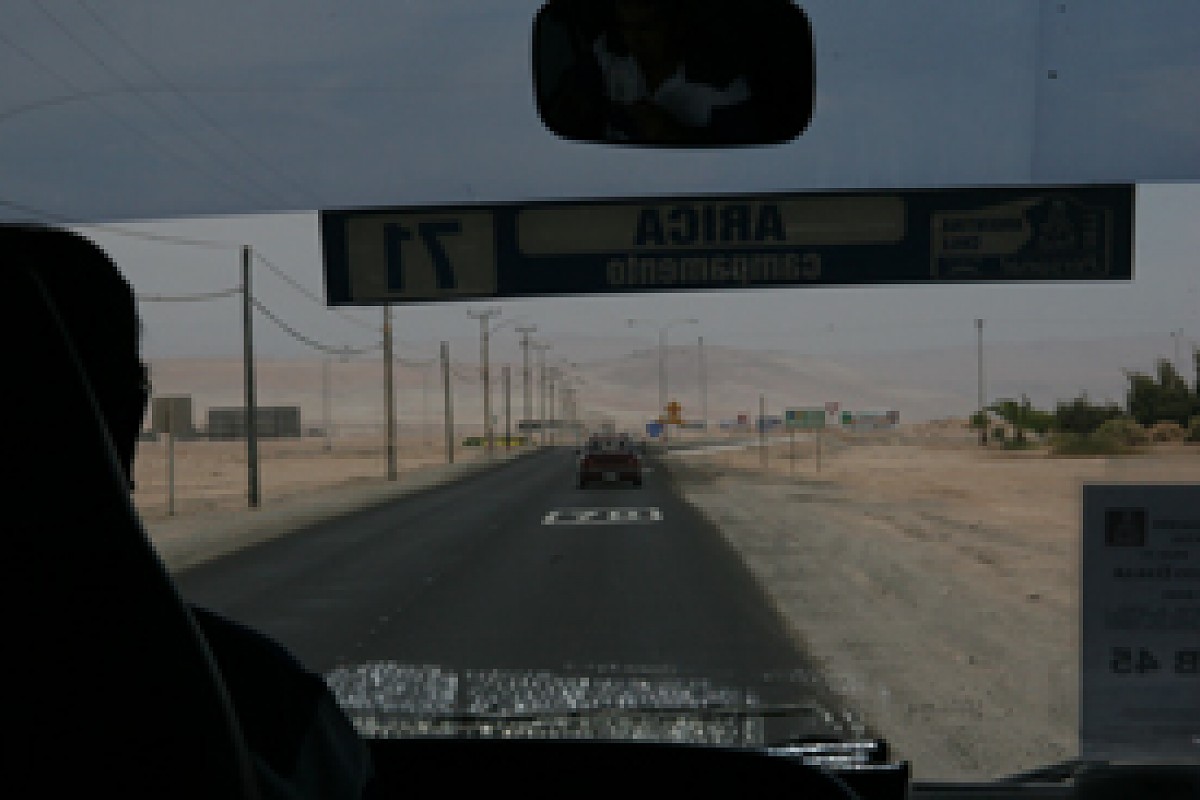 Peter Mills arrives in Dakar country © autosport.com
Being on the receiving end of a presidential-like reception works wonders for jetlag. After 27 hours in transit, my growing drowsiness was alleviated by entry to the Dakar bivouac and the accompanying cheers from an impressive swelling of Chilean fans.
A visit to the rally's service area by the country's premier Sebastian Pinera only hours earlier explained the large turnout, but I'll cling to the belief that not all of the applause aimed my way had been ironic. The identity of two other influential decision makers in Chile's northern-most city of Arica today is of perhaps more interest to AUTOSPORT readers.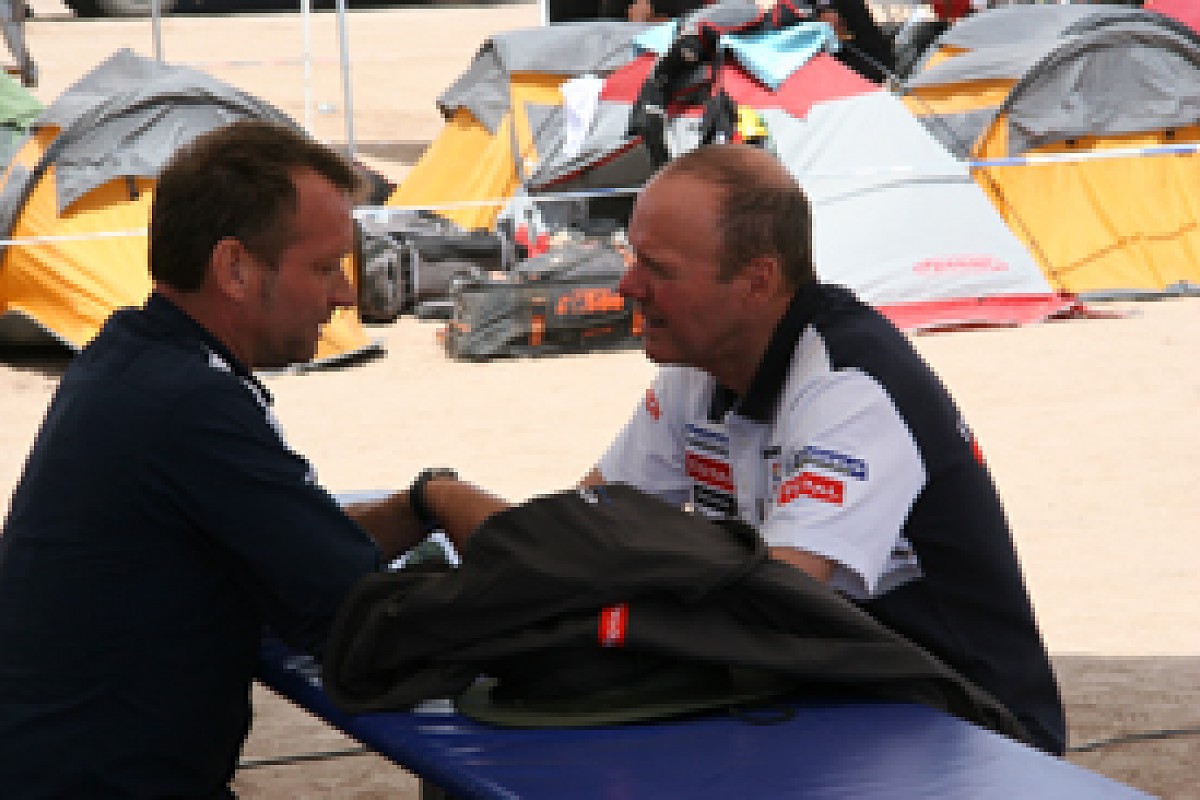 Kris Nissen shares his Dakar experiences with Olivier Quesnel © autosport.com
The Dakar's organiser, the ASO, invited director of Peugeot Sport and Citroen Sport Olivier Quesnel and M-Sport's Malcolm Wilson to sample a flavour of the event. Quesnel's stay included a lengthy conversation with VW's motorsport director Kris Nissen.
Jaime Alguersuari Sr, father of Toro Rosso Formula 1 driver Jaime, relayed how he would encourage Peugeot or Citroen to return to the Dakar discipline. Alguersuari Sr's RPM publishing and promotions concern has a long-standing relationship with Dakar and off-road biking. Even so, bumping into Senor Alguersuari on my first day in Chile was something of a surprise, given that I usually report on RPM's (and Renault-Sport's) World Series by Renault.
It wasn't difficult to detect Dakar leader Carlos Sainz's desire for overall victory in his speech to the VW crew this evening. News that tomorrow's special stage had been cut in distance to help ease competitors into the second week of the Dakar did not appear to dim the Spaniard's intensity. The thrust of Sainz's opening words were: "Sorry, the job is not finished. The toughest part of the rally is still to come."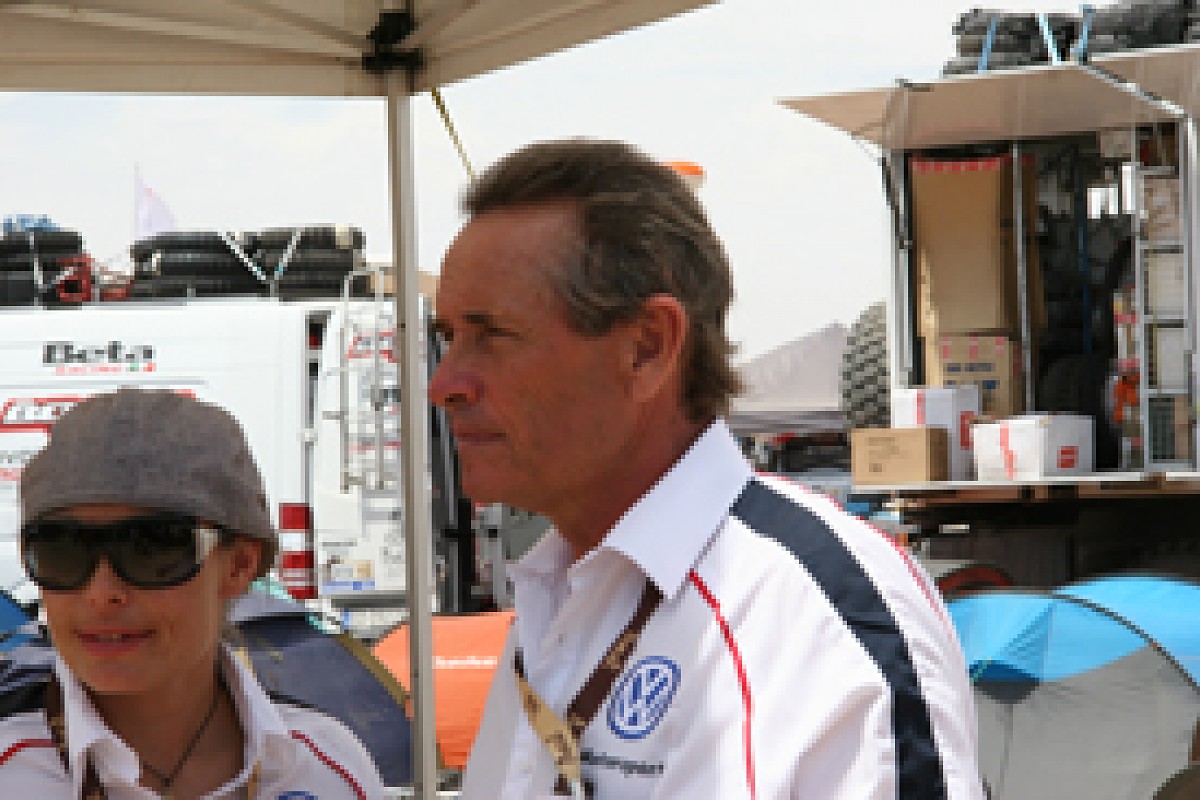 Vanina and Jacky Ickx © autosport.com
For the assistance crews, including the VW Amarok I will be riding in, the journey of 755km to Antofagasta on Sunday is expected to take around eight hours. Camping is also on the cards, which leads me to, perhaps, the highlight of my day: an impromptu conversation with Dakar legend Jacky Ickx.
Jacky described how he had spent many nights in African deserts by himself, and that it had made him feel very small as well as opening his mind to other cultures and countries. "Had those experiences been on recces for the Paris-Dakar?" I ventured. "No," was the reply. "Doing the Paris-Dakar was a recce for my holidays and adventures."
I can't wait to see what the journey to Buenos Aires brings, although there are a few nerves, too. One thing I can't complain about is my journey to Chile. Of four journalists due to be picked up by VW at Arica's airport this afternoon, I was the only one not to be severely delayed. To put matters further into perspective, the journey of VW's Indian media invitee took 47 hours...
• Driving the Dakar: Daily blog image gallery.
• Driving the Dakar: Daily blog week one, with Glenn Freeman