Carlin has been given special permission to run a fourth car in the BRDC British Formula 3 Championship, opening the door for Billy Monger to race in the series.
Series rules state teams can run a maximum of three cars, but the "exceptional" case of Monger, who had both of his legs amputated after a British Formula 4 crash last year, means Carlin could now enter an extra car for him this year.
Group operations manager Giles Butterfield from MotorSport Vision, which operates British F3, said: "The rules are three drivers per team but the Billy Monger situation is utterly exceptional in our opinion, we're very keen to help his rehabilitation.
"Obviously there are unknowns, such as how he's going to get on and funding it. "But everyone is hoping in time the effort and money to make the fairytale come true is worth it."
Monger has tested with Carlin alongside Nicolai Kjaergaard and Sun Yue Yang - who have already signed with the team - as well as karting ace Clement Novalak, but has not formally announced he will compete in British F3 this year.
"I just want to make sure the funds are there and Carlin have been enquiring about running me as a fourth car, so there are a couple of things that need to fall into place," said Monger.
"Judging by our pace in the car we're near the sharp end of the grid."
Monger's car has been adapted so that he can operate the throttle with a paddle on the steering wheel, but he still brakes using a pedal.
Butterfield is confident Monger will not gain an advantage from using the system.
"It's a level playing field, if Billy wins he will be winning on merit," he said.
Small changes have also been made to the Tatuus-Cosworth car used in British F3 following recent FIA directives and in the wake of Monger's accident.
The upgrades include a longer carbon fibre rear impact structure with a slightly modified diffuser and a machined-from-solid anti-intrusion bulkhead that will be fitted at the front of the car.
Maini tops Donington test day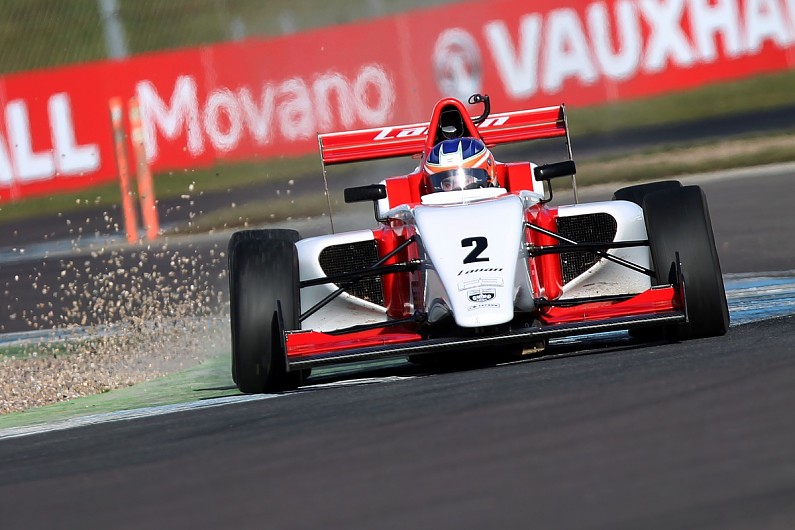 Lanan Racing's Kush Maini topped testing at the series' media day at Donington Park.
Maini, the brother of Haas Formula 1 junior Arjun, set a fastest time of 1m24.523s to beat reigning Ginetta Junior champion Tom Gamble (Fortec Motorsports) and British F4 frontrunner Linus Lundqvist, who has stepped up to British F3 with Double R, to top spot.
Monger was sixth in the combined classification, 0.930 seconds off Maini's pace.
Eight teams are expected to contest the 2018 season, while 15 drivers have signed up so far.