Joe Gibbs Racing's Kyle Busch overcame a 28th-place start and overtime to seal Pocono NASCAR Cup Series race victory, ahead of team-mate Daniel Suarez in a career-best second.
Busch had a two second lead over first-time polesitter Suarez heading into the closing stages.
This advantage was eliminated when a red flag was triggered with six laps remaining when Darrell Wallace Jr suffered a brake failure heading into Turn 1, slamming into the barriers. He emerged unhurt.
After Busch's lead survived one restart, spins for Ricky Stenhouse Jr and Aric Almirola - who were both running outside the top 20 - sent the race into overtime.
While Suarez was forced to defend an attack from Erik Jones on the final restart, Busch was able to swoop around the outside of both his team-mates at Turn 1 to retain the lead and seize a sixth 2018 victory.
Busch and Stewart-Haas Racing's Kevin Harvick were among the 13 drivers who failed post-qualifying car inspections and were excluded from the qualifying result. The pair had originally locked out the front-row but started 28th and 29th respectively.
In fourth place by the end of stage one, Busch did not lead the race until lap 112 of 160, after having sacrificed stage points and a top 10 stage two finish by pitting before the segment-ending caution. As a result, he gained track position to start the final stage when the frontrunners pitted under the caution between the segments.
Stage two winner Harvick was one of the drivers to lose out as a result of eight drivers opting for Busch's strategy.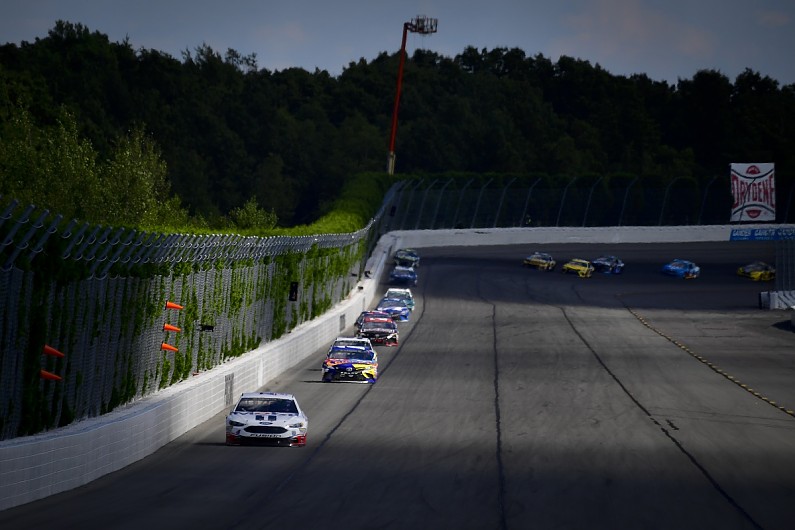 Harvick's victory hopes were finally dashed during a caution period triggered by a Brad Keselowski tyre blowout with 39 laps remaining.
With the majority of the field pitting, Harvick's left-rear was tagged by SHR team-mate Almirola in the pitlane.
The two had to return to the pits for repairs. Almirola dropped to 28th and Harvick restarted the race in 30th.
Harvick was eventually able to recover to a fourth place finish behind Suarez, who successfully defended second in overtime, and Alex Bowman in third.
Hendrick Motorsports' Bowman had consistently occupied a position in the top 10 throughout the day, ending stage one in ninth and stage two in fourth. He passed Jones after the #20's failed attempt at taking second place.
Jones slipped to fifth place, finishing ahead of William Byron. The Hendrick driver had propelled himself into contention by choosing not to pit at the end of stage two and running a contra-strategy.
Chase Elliott was the third Hendrick Motorsports driver in the top seven in what was the team's best result of the season.
Elliott won the opening stage and was fifth at the overtime restart before a snap of oversteer at Turn 2 cost him two positions.
Ryan Newman finished eighth, ahead of SHR's Kurt Busch. The #41 driver recovered from a puncture early on and was one lap down halfway through the second stage.
Denny Hamlin finished in 10th, and ensured that all four JGR cars were in the top 10.
Race result
| Pos | Driver | Team | Car | Laps |
| --- | --- | --- | --- | --- |
| 1 | Kyle Busch | Joe Gibbs Racing | Toyota | 164 |
| 2 | Daniel Suarez | Joe Gibbs Racing | Toyota | 164 |
| 3 | Alex Bowman | Hendrick Motorsports | Chevrolet | 164 |
| 4 | Kevin Harvick | Stewart-Haas Racing | Ford | 164 |
| 5 | Erik Jones | Joe Gibbs Racing | Toyota | 164 |
| 6 | William Byron | Hendrick Motorsports | Chevrolet | 164 |
| 7 | Chase Elliott | Hendrick Motorsports | Chevrolet | 164 |
| 8 | Ryan Newman | Richard Childress Racing | Chevrolet | 164 |
| 9 | Kurt Busch | Stewart-Haas Racing | Ford | 164 |
| 10 | Denny Hamlin | Joe Gibbs Racing | Toyota | 164 |
| 11 | Clint Bowyer | Stewart-Haas Racing | Ford | 164 |
| 12 | Ryan Blaney | Team Penske | Ford | 164 |
| 13 | Austin Dillon | Richard Childress Racing | Chevrolet | 164 |
| 14 | A.J. Allmendinger | JTG Daugherty Racing | Chevrolet | 164 |
| 15 | Martin Truex Jr. | Furniture Row Racing | Toyota | 164 |
| 16 | Michael McDowell | Front Row Motorsports | Ford | 164 |
| 17 | Jimmie Johnson | Hendrick Motorsports | Chevrolet | 164 |
| 18 | Matt Kenseth | Roush Fenway Racing | Ford | 164 |
| 19 | David Ragan | Front Row Motorsports | Ford | 164 |
| 20 | Jamie McMurray | Chip Ganassi Racing | Chevrolet | 164 |
| 21 | Paul Menard | Wood Brothers Racing | Ford | 164 |
| 22 | Ricky Stenhouse Jr. | Roush Fenway Racing | Ford | 164 |
| 23 | Kyle Larson | Chip Ganassi Racing | Chevrolet | 164 |
| 24 | Ty Dillon | Germain Racing | Chevrolet | 164 |
| 25 | Aric Almirola | Stewart-Haas Racing | Ford | 164 |
| 26 | Joey Logano | Team Penske | Ford | 164 |
| 27 | Matt DiBenedetto | Go FAS Racing | Ford | 164 |
| 28 | J.J. Yeley | BK Racing | Toyota | 164 |
| 29 | Jeffrey Earnhardt | Gaunt Brothers Racing | Toyota | 163 |
| 30 | Kasey Kahne | Leavine Family Racing | Chevrolet | 162 |
| 31 | Kyle Weatherman | StarCom Racing | Chevrolet | 161 |
| 32 | Reed Sorenson | Premium Motorsports | Chevrolet | 161 |
| 33 | Darrell Wallace Jr. | Richard Petty Motorsports | Chevrolet | 153 |
| 34 | Landon Cassill | StarCom Racing | Chevrolet | 148 |
| 35 | Ross Chastain | Premium Motorsports | Chevrolet | 146 |
| 36 | Timmy Hill | MBM Motorsports | Toyota | 142 |
| 37 | Chris Buescher | JTG Daugherty Racing | Chevrolet | 123 |
| 38 | Brad Keselowski | Team Penske | Ford | 121 |
| 39 | Corey LaJoie | TriStar Motorsports | Chevrolet | 95 |
| 40 | B.J. McLeod | Rick Ware Racing | Chevrolet | 77 |
Drivers' standings

| Pos | Driver | Points |
| --- | --- | --- |
| 1 | Kyle Busch | 891 |
| 2 | Kevin Harvick | 833 |
| 3 | Martin Truex Jr. | 762 |
| 4 | Joey Logano | 690 |
| 5 | Clint Bowyer | 677 |
| 6 | Kurt Busch | 677 |
| 7 | Brad Keselowski | 644 |
| 8 | Kyle Larson | 626 |
| 9 | Denny Hamlin | 618 |
| 10 | Ryan Blaney | 612 |
| 11 | Aric Almirola | 587 |
| 12 | Chase Elliott | 569 |
| 13 | Jimmie Johnson | 547 |
| 14 | Erik Jones | 533 |
| 15 | Alex Bowman | 496 |
| 16 | Ricky Stenhouse Jr. | 440 |
| 17 | Paul Menard | 440 |
| 18 | Ryan Newman | 408 |
| 19 | Austin Dillon | 402 |
| 20 | Daniel Suarez | 400 |
| 21 | William Byron | 390 |
| 22 | Jamie McMurray | 375 |
| 23 | A.J. Allmendinger | 338 |
| 24 | Chris Buescher | 325 |
| 25 | Darrell Wallace Jr. | 319 |
| 26 | David Ragan | 308 |
| 27 | Michael McDowell | 305 |
| 28 | Kasey Kahne | 296 |
| 29 | Ty Dillon | 279 |
| 30 | Matt DiBenedetto | 234 |
| 31 | Trevor Bayne | 185 |
| 32 | Gray Gaulding | 113 |
| 33 | Matt Kenseth | 108 |
| 34 | Landon Cassill | 97 |
| 35 | Cole Whitt | 87 |
| 36 | D.J. Kennington | 82 |
| 37 | Corey LaJoie | 75 |
| 38 | Jeffrey Earnhardt | 69 |
| 39 | Reed Sorenson | 41 |
| 40 | Harrison Rhodes | 23 |
| 41 | Kyle Weatherman | 16 |
| 42 | Mark Thompson | 15 |
| 43 | Chris Cook | 6 |
| 44 | Tomy Drissi | 5 |
| 45 | Derrike Cope | 4 |
| 46 | Blake Jones | 4 |
| 47 | Danica Patrick | 2 |
| 48 | Cody Ware | 1 |