Joey Logano went from last to victory in the NASCAR Cup race at Richmond, leading home Brad Keselowski to claim a Penske one-two.
Having originally qualified fifth for his 300th Cup start, Logano was sent to the back of the 38-car starting grid due to a transmission change.
He was one of several drivers to stop at the first early caution and made steady progress up the order to sneak into the top 10 at the end of stage one.
With a strong car underneath him, Logano continued to move up the field and found himself in the top five at the pitstop phase under the seventh caution, caused by Dale Earnhardt Jr spinning with a punctured left-rear tyre.
Penske gambled at the penultimate caution to keep both Logano and Keselowski, who was leading at the time, out on track.
Logano got the jump on his team-mate to take the lead with just under 30 laps remaining.
He then got once last chance to pit at the final caution, caused by Ryan Blaney hitting the wall with a flat left-rear tyre, but had to battle his way through slower cars that gambled on staying out.
Logano put his fresh tyres to good use, quickly moving up to second place and then taking the lead from Kyle Larson. He went on to claim his 18th Cup victory and first of the 2017 season.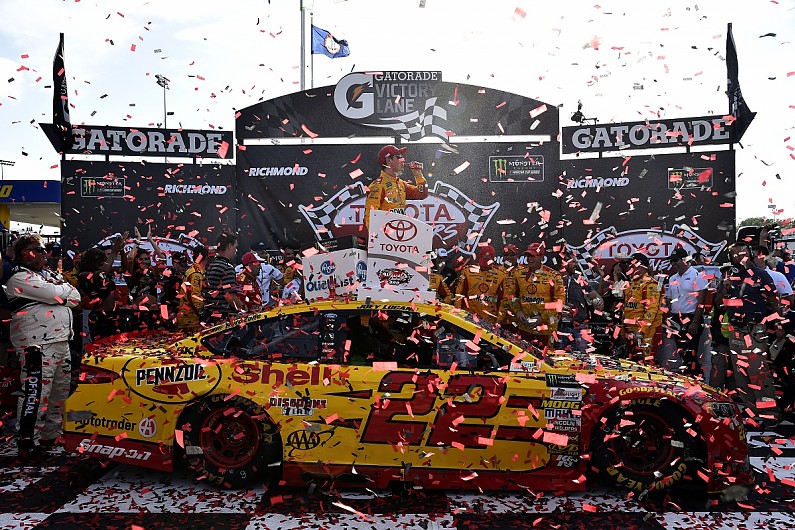 Keselowski also battled his way back up the field in the closing stages, with the two Penske Fords pulling clear of the rest.
He had won stage two and led 124 laps but missed out on victory by just eight tenths of a second.
Denny Hamlin featured at the front for the majority of the race, finishing third despite an early scare with an electrical issue. He completed the top three for Joe Gibbs Racing.
Ricky Stenhouse Jr hit the wall at Turn 3 mid-way through the opening stage but recovered ground. He risked it staying out in the final caution and despite losing a few spots, he finished fourth.
Kevin Harvick was another driver to feature near the front, but he eventually finished fifth, ahead of Jamie McMurray and Ryan Newman, who made up ground staying out in the green-flag stops midway through the final stage.
Kurt Busch was eighth, with Aric Almirola and Martin Truex Jr moving into the top 10 in the final laps.
Kyle Busch looked to be challenging for victory after bouncing back from an early pitlane penalty, only to get another at the last stops. He fell to 16th.
Stage one winner and polesitter Matt Kenseth led the most laps with 164 but a late right-rear puncture after contact with Chase Elliott dropped him to 23rd.
RESULTS:
| Pos | Driver | Team | Car | Laps |
| --- | --- | --- | --- | --- |
| 1 | Joey Logano | Team Penske | Ford | 400 |
| 2 | Brad Keselowski | Team Penske | Ford | 400 |
| 3 | Denny Hamlin | Joe Gibbs Racing | Toyota | 400 |
| 4 | Ricky Stenhouse Jr. | Roush Fenway Racing | Ford | 400 |
| 5 | Kevin Harvick | Stewart-Haas Racing | Ford | 400 |
| 6 | Jamie McMurray | Chip Ganassi Racing | Chevrolet | 400 |
| 7 | Ryan Newman | Richard Childress Racing | Chevrolet | 400 |
| 8 | Kurt Busch | Stewart-Haas Racing | Ford | 400 |
| 9 | Aric Almirola | Richard Petty Motorsports | Ford | 400 |
| 10 | Martin Truex Jr. | Furniture Row Racing | Toyota | 400 |
| 11 | Jimmie Johnson | Hendrick Motorsports | Chevrolet | 400 |
| 12 | Daniel Suarez | Joe Gibbs Racing | Toyota | 400 |
| 13 | Trevor Bayne | Roush Fenway Racing | Ford | 400 |
| 14 | Kyle Larson | Chip Ganassi Racing | Chevrolet | 400 |
| 15 | Clint Bowyer | Stewart-Haas Racing | Ford | 400 |
| 16 | Kyle Busch | Joe Gibbs Racing | Toyota | 400 |
| 17 | Chris Buescher | JTG Daugherty Racing | Chevrolet | 400 |
| 18 | Danica Patrick | Stewart-Haas Racing | Ford | 400 |
| 19 | David Ragan | Front Row Motorsports | Ford | 400 |
| 20 | Austin Dillon | Richard Childress Racing | Chevrolet | 400 |
| 21 | Landon Cassill | Front Row Motorsports | Ford | 400 |
| 22 | Kasey Kahne | Hendrick Motorsports | Chevrolet | 400 |
| 23 | Matt Kenseth | Joe Gibbs Racing | Toyota | 400 |
| 24 | Chase Elliott | Hendrick Motorsports | Chevrolet | 400 |
| 25 | Paul Menard | Richard Childress Racing | Chevrolet | 400 |
| 26 | Ty Dillon | Germain Racing | Chevrolet | 400 |
| 27 | Cole Whitt | TriStar Motorsports | Chevrolet | 400 |
| 28 | Matt DiBenedetto | Go FAS Racing | Ford | 400 |
| 29 | Michael McDowell | Leavine Family Racing | Chevrolet | 399 |
| 30 | Dale Earnhardt Jr. | Hendrick Motorsports | Chevrolet | 398 |
| 31 | Gray Gaulding | BK Racing | Toyota | 398 |
| 32 | Corey LaJoie | BK Racing | Toyota | 396 |
| 33 | Reed Sorenson | Premium Motorsports | Chevrolet | 395 |
| 34 | Timmy Hill | Rick Ware Racing | Chevrolet | 393 |
| 35 | Jeffrey Earnhardt | Circle Sport / TMG | Chevrolet | 392 |
| 36 | Ryan Blaney | Wood Brothers Racing | Ford | 378 |
| 37 | A.J. Allmendinger | JTG Daugherty Racing | Chevrolet | 333 |
| 38 | Erik Jones | Furniture Row Racing | Toyota | 4 |
CHAMPIONSHIP STANDINGS:

| Pos | Driver | Points |
| --- | --- | --- |
| 1 | Kyle Larson | 398 |
| 2 | Martin Truex Jr. | 358 |
| 3 | Chase Elliott | 346 |
| 4 | Brad Keselowski | 327 |
| 5 | Joey Logano | 308 |
| 6 | Kevin Harvick | 286 |
| 7 | Jamie McMurray | 282 |
| 8 | Jimmie Johnson | 270 |
| 9 | Clint Bowyer | 266 |
| 10 | Kyle Busch | 235 |
| 11 | Denny Hamlin | 231 |
| 12 | Ryan Blaney | 229 |
| 13 | Ryan Newman | 225 |
| 14 | Trevor Bayne | 216 |
| 15 | Ricky Stenhouse Jr. | 201 |
| 16 | Erik Jones | 193 |
| 17 | Kurt Busch | 192 |
| 18 | Matt Kenseth | 192 |
| 19 | Aric Almirola | 189 |
| 20 | Kasey Kahne | 179 |
| 21 | Austin Dillon | 171 |
| 22 | Daniel Suarez | 169 |
| 23 | Ty Dillon | 157 |
| 24 | Dale Earnhardt Jr. | 141 |
| 25 | Paul Menard | 139 |
| 26 | A.J. Allmendinger | 117 |
| 27 | Chris Buescher | 114 |
| 28 | Michael McDowell | 110 |
| 29 | Danica Patrick | 110 |
| 30 | Landon Cassill | 104 |
| 31 | Cole Whitt | 104 |
| 32 | Matt DiBenedetto | 99 |
| 33 | David Ragan | 97 |
| 34 | Reed Sorenson | 43 |
| 35 | Jeffrey Earnhardt | 36 |
| 36 | Gray Gaulding | 31 |
| 37 | Michael Waltrip | 29 |
| 38 | Derrike Cope | 15 |
| 39 | Cody Ware | 1 |
| 39 | D.J. Kennington | 1 |