One-time NASCAR Cup Series champion Kevin Harvick is the championship's elder statesman. With his own popular radio show and an outspoken nature, what he says gets noticed.
During a year in which Harvick went to war with what he perceived as social media-decided post-race penalties during his ultimately unsuccessful 2018 title bid, he made his feelings known on multiple issues. But one of his most notable thoughts from the year just gone was about the importance of NASCAR's grassroots, as well as the series' agenda of promoting its new stars or future talent.
Rather than join Kyle Busch in slamming that approach - indeed Harvick accused his rival of "whining" about the focus on the young guns - Harvick made a point of suggesting NASCAR should invest more in its lower levels. Not one for empty words, Harvick has raced in the lower tiers around his Cup series commitments, and one race this year was particularly noteworthy.
Driving the #4 Fields Ford, he appeared at California's Kern County Speedway for the season-opening K&N Pro Series West race - effectively racing in the last tier below the third-level NASCAR Trucks series.
Late in the race, Harvick made a greater exit onto the back straight and shot to the inside of the #19 Toyota Camry on the paved oval. Quick thinking from the Toyota driver allowed her to cut across the bow of Harvick, who nudged her bumper in retaliation at the block.
Harvick would finish fourth in a race won by Derek Kraus, but the attention was firmly on the seventh-placed #19, which had been driven by 17-year-old Hailie Deegan in what was her first race at that level. She had done enough to deeply impress Harvick.
"When we went to Bakersfield [Kern County] this year, running around Hailie - she has a lot of potential," Harvick reflected.
"She's the best female ‑ she has the most potential of a female racer because she gets it. She's very into what she's doing. It's not about everything else. It's really about the racecar and 'how do I drive it faster?' She's just got her stuff together."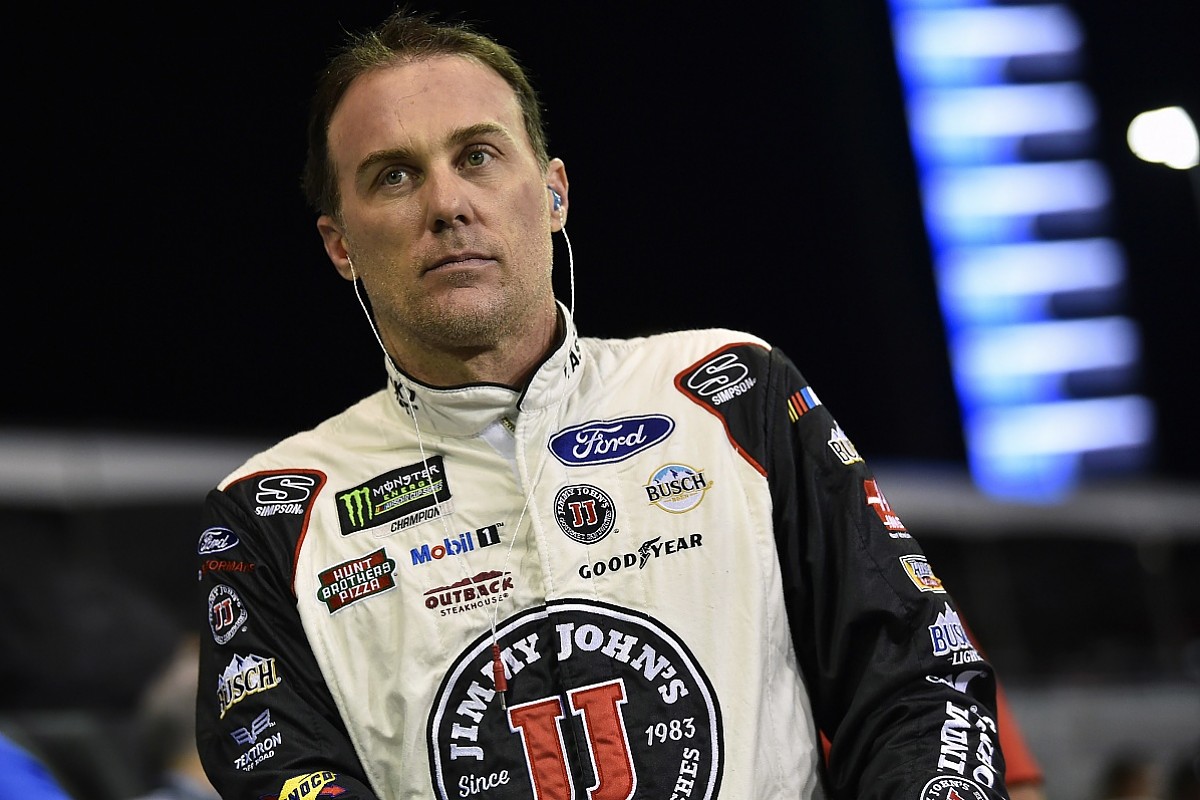 For those who follow American motorsport, Deegan is a recognisable name - largely through her father Brian, an X-Games legend, who has dabbled in racing. She is also one of only a handful of female drivers racing in the NASCAR system.
That meant Deegan was thrust into the limelight early on, so it's no surprise she took Harvick's praise in her stride.
"That [Harvick's comments] was really cool because that was really my first K&N race in the West series, and that got a ton of attention," says Deegan. "It was funny because that morning I drove home from Kern County, didn't get home until like three or four in the morning, and I don't think I woke up until noon. I looked at my phone and it was all over social media so that was cool to wake up to, and Kyle Busch also said some stuff, which was really cool.
Danica Patrick's NASCAR endeavours led to Toyota trying out many female drivers for its programme, with Deegan making the cut
"Just having these Cup racers kind of notice these lower racers that are coming up through the ranks is really great, and something that is going to help NASCAR racing in general."
Deegan's route to that promising debut began by following her father's path, racing dirt bikes before moving into a successful karting career that yielded several titles.
By 2017, she had already begun the transition into late models as a 16-year-old - the conventional route for an aspiring NASCAR driver to learn asphalt oval racing in old machinery.
But the key moment in her career came from a chance phone call to team owner Lee McCall, asking to test one of his K&N Pro cars.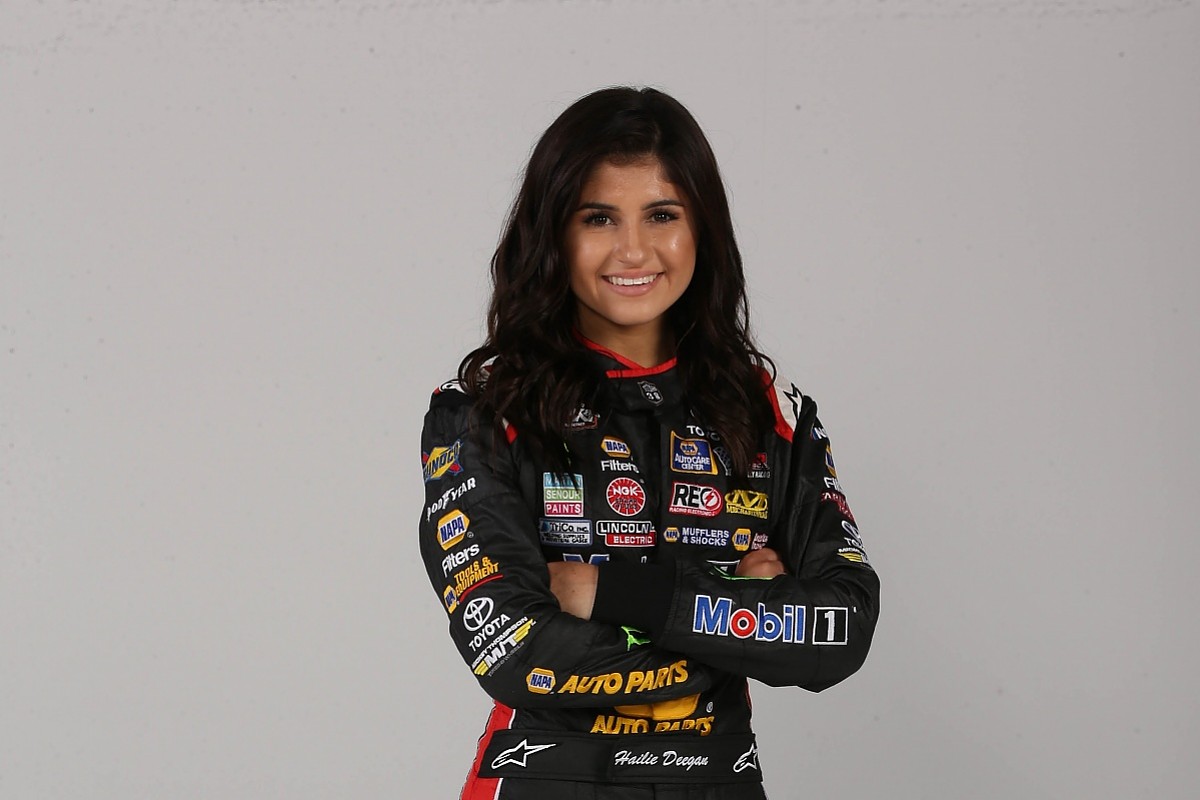 Deegan impressed McCall enough to earn a chance to drive one of the Toyotas against two-time series champion and Kyle Busch-backed driver Todd Gilliland. By the end of a day's testing, Deegan was lapping quicker than Gilliland.
That performance then earned her a shot on the Toyota Racing Development programme that steers young drivers, and previously helped graduates such as current Cup driver Erik Jones win national championships. Danica Patrick's endeavours reportedly led to Toyota trying out many female drivers for its programme, with Deegan making the cut.
"The Toyota programme is really what's got me into stock car racing," says Deegan. "I was an off-road racer before they sought me out, tested me and put me with the late model team and K&N team, and without them I wouldn't be a stock car racer.
"In the NASCAR world people have accomplished a lot of things because it's been around for a long time, but there hasn't been a girl to win. So that's something to definitely take advantage of and I definitely want to be that girl. But in the end, I also want to be the best driver and not just the best girl."
Toyota has taken an active role in steering Deegan's career, as has her dad Brian - an ever-present at her races and someone she highlights as the reason for her success.
For Deegan, Toyota's support is also absolutely crucial. While some in NASCAR still find a Japanese manufacturer dominating a thoroughly American series uncomfortable, Toyota's huge commitment to American talent has reaped benefits.
Toyota Racing Developments president David Wilson (below) explains the manufacturer's attitude to its programme: "The financial piece is the smallest part of the equation.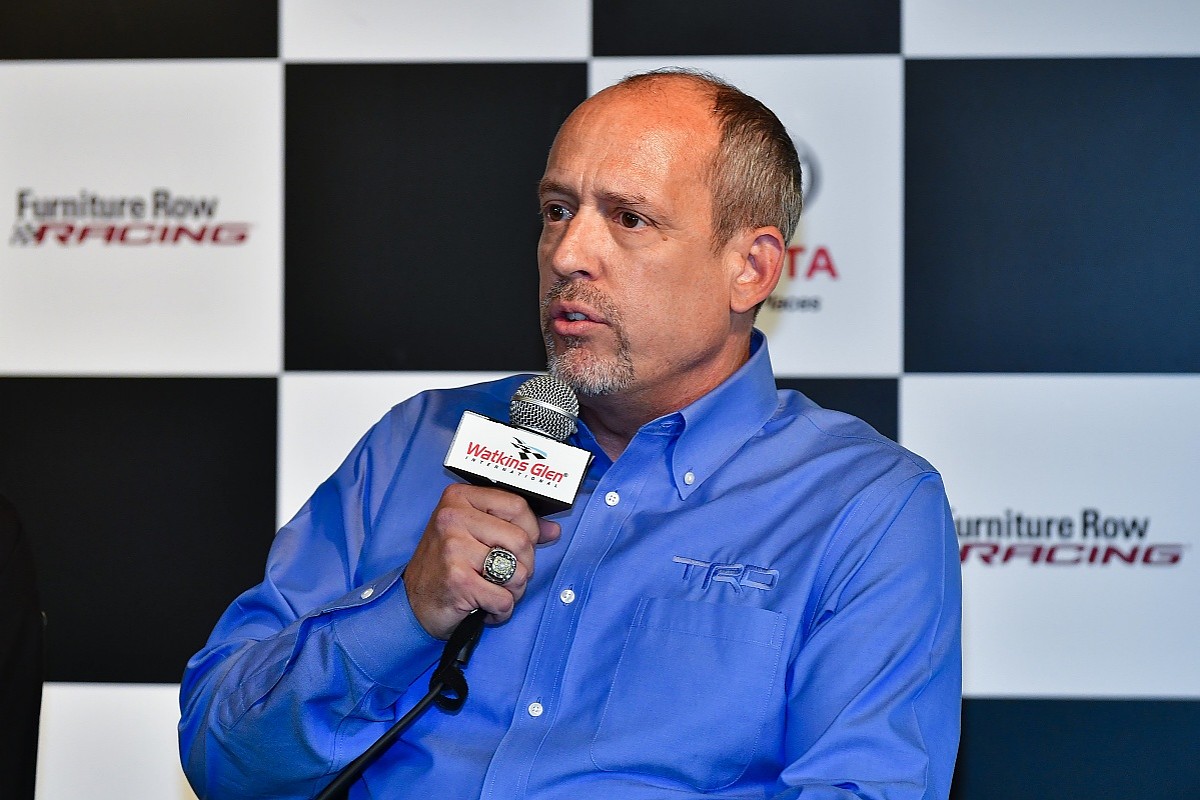 "The secret to our success is partnering with the right teams who have the people that are good at coaching these young kids. We provide a lot of coaching, training, physio, behind the scenes work that we really don't talk a lot about, as part of the overall system. We've been to Europe, looked at and talked with Formula 1 teams about driver development.
"We've benchmarked and looked at best practices in all sport. We have a relationship with the Texas Rangers [baseball team] too. It's about people. It's about managing people and how we can apply resources."
The third element is Deegan's role in the NASCAR Next programme, as one of nine drivers selected to have tutoring on and off the track. The likes of Ryan Blaney and Chase Elliott are alumni of the scheme.
Deegan will not rush up the ladder in a vain attempt to follow Patrick's path - she has found genuine success with a good support network early on in her career
And Elliott, now NASCAR's most popular driver in the post-Dale Earnhardt Jr era, is the leader of the new generation NASCAR wants to promote and help revive its fortunes.
Deegan will absolutely factor into that push, initially spearheaded by now ex-NASCAR president Brent Dewar. His successor Steve Phelps has done little to suggest he will veer off that path.
It cannot be ignored that Deegan will, at some point, be seen as NASCAR's golden ticket. A media-savvy, talented young female driver with the beginnings of a strong track record could comfortably transcend Patrick's impact in her NASCAR spell.
Even Wilson reckons Deegan is a unique case. Asked if her heightened media profile is a challenge, he says: "It can be a little bit distracting.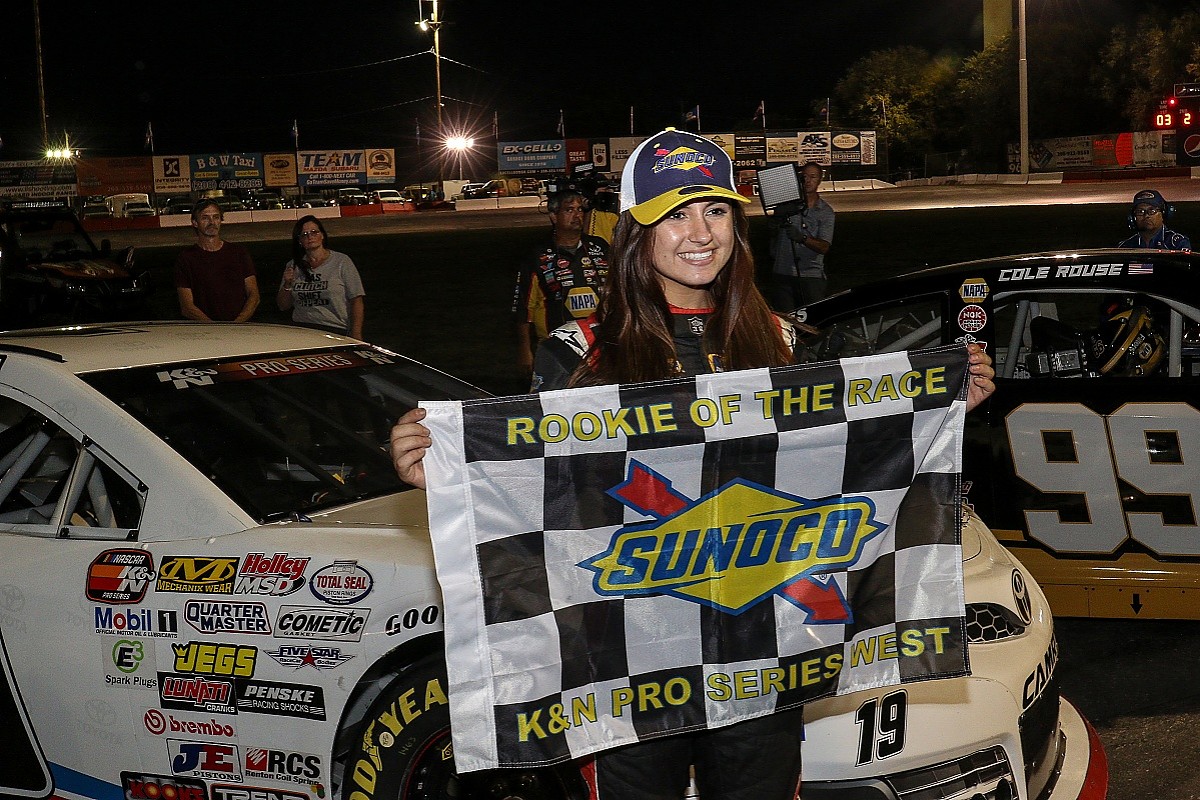 "Her family, her dad did big things and their livelihood is motorsports. It seems like they have a camera trained on her 24/7. On one hand it's a little distracting. You kind of want her to be able to focus on her craft. On the other hand, this gives her a headstart in terms of being able to deal with media, being comfortable in that situation.
"A lot of these drivers get up to the point where they're dealing with media and they're a deer in the headlights whereas with Hailie, she's not even going to think about it. It'll be second nature. But for sure it's a bit of a circus, everywhere Hailie goes. But they're a great family and they've been great partners, all in all."
There has, in the past, often been a mismatch between the size of a driver's following and their success in NASCAR.
Deegan will not rush up the ladder in a vain attempt to follow Patrick's path and, more importantly, she has found genuine success with a good support network early on in her career.
Harvick's praise was a boost, but it was not the only demonstration of what became Deegan's breakthrough year. Her first win towards the end of 2018 at Idaho became the scene of one of NASCAR's most widely-shared clips of the campaign, which was plastered over international broadcasters such as ESPN.
Deegan's first win in the K&N Series West looked highly unexpected late in the race, as she was running seventh. But a message from her crew chief to "get to work" pushed her to take a measured aggressive approach to work back up the order.
"I ended up using my bumper a little bit," Deegan says. "I didn't take anyone out, just it's short track racing and you've got to bump-and-run to get past people sometimes and we did that and we got up to third."
The lead car then tangled with a lapped runner and caused a late restart, which could have hurt Deegan as her third position placed her on the marble-strewn outside line.
But a strong restart pushed her into second and set up a last-lap showdown with her Bill McAnally Racing team-mate Cole Rouse. There was a dramatic ending as Rouse ran ever-so-slightly wide and left enough of a gap for Deegan to pull her Toyota's front bumper level with Rouse's rear-left corner.
One of those good old-fashioned 'bump-and-run' moves allowed her to pitch Rouse wide into a half-spin and keep the momentum to storm past and take a first career win.
"I'm just focusing year-to-year on what we want to accomplish, our smaller goals, [but] it would be really nice if I could go full-time Truck racing in 2020" Hailie Deegan
"I can't even count anymore how many times I've watched that - it's just everywhere," says Deegan. "Whether it's on social media, on TV, I just go back and watch the race just seeing what I could have done better, if I could have got the lead sooner - just different types of things.
"Just learning from it and in the end, it was a pretty cool move to take, kind of from that little bit rough off-road racing [background], and great stock-car racing."
Far from being a one-hit wonder, Deegan set herself a checklist for the 2018 campaign. On the list was: finish in the top 10 once, qualify in the top five, qualify and finish top three, lead a race and win a race. She ticked every box.
Not included on the list was receiving her high school diploma at Sonoma during the driver introductions, nor was her battle with Harvick.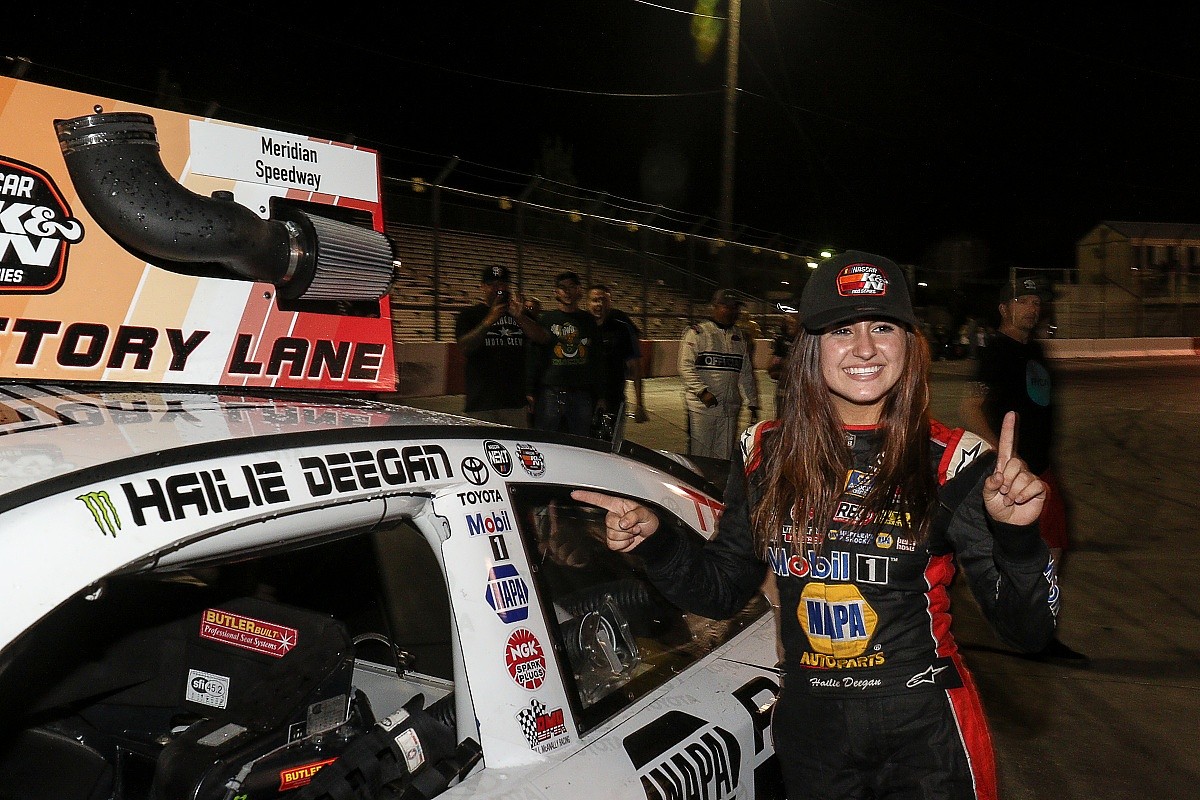 But she felt that one of the most important moments of her year was taking pole position at Las Vegas, one of the more challenging tracks on the calendar, and a second one at Kern County in the finale.
That meant her season ended with one victory and two near-misses in her five top-five finishes. Deegan finished outside the top 10 just twice in her 14-race K&N Pro Series West season.
Now, Deegan is staying in the series for 2019 for a title bid ahead of what she hopes will lead to a graduation to the Truck Series the following year.
"I'm kind of just focusing year-to-year on what we want to accomplish, our smaller goals, [but] it would be really nice if I could go full-time Truck racing in 2020," she says.
"But it's just depending on how we do this next year or two, how much we learn, how much experience we get, how many wins we get. Just learning as much as we can as quick as possible, that really decides how far my career will take me."
Deegan bats off any concerns about the pressure surrounding her heightened media profile or the need to have a long-term career plan to reach NASCAR's highest level.
NASCAR was guilty of trying to force its moment too soon with Patrick but, if it is patient and allows Toyota and the Next programme to steer Deegan, alongside her father, it can reap the rewards with a driver that may well prove to be NASCAR's focus in the next generation.
Harvick certainly thinks highly of Deegan, and he's not a champion to be ignored.