Pedro Piquet won the contest of the GP3 season in the Monza sprint, after a race-long battle with Ferrari Academy driver Giuliano Alesi, with 2.6 seconds covering the top six.
Trident team-mates Alesi and Piquet - watched on by ex-Formula 1 driver fathers Jean and Nelson - duelled for the entirety of the race after both jumped polesitter Richard Verschoor.
The key move came on the penultimate lap, when Alesi locked up into the first chicane while leading and then had to watch Piquet with a huge run on him in his mirrors.
Piquet got alongside at the Curva Grande, and despite putting his left-hand wheels on the grass - he held on to the inside to divebomb Alesi into the Roggia chicane.
Alesi came back at him but couldn't retake the place as the pair secured a Trident 1-2 and a clean sweep of GP3 victories for the team at home, after it had won the feature race with David Beckmann.
Alesi had executed what looked like the overtake of the season on lap one around the outside of the Parabolica, but a safety car for a crash between Juan Manuel Correa and Gabriel Aubry meant he couldn't complete the move on Piquet.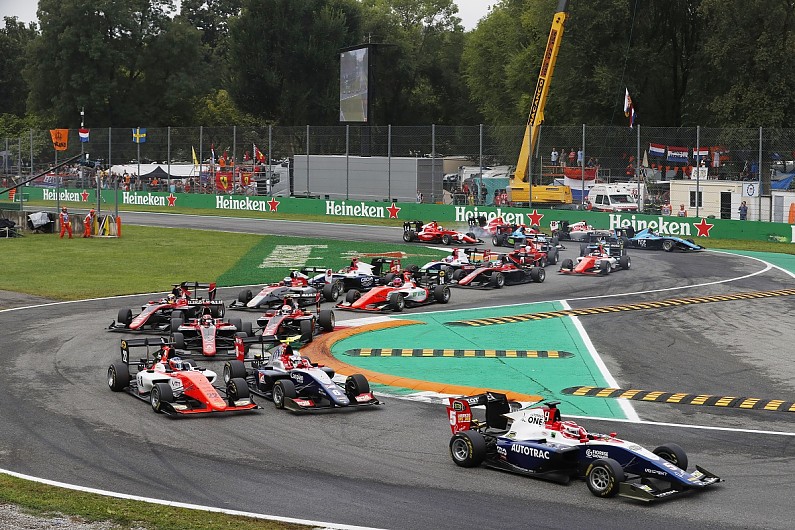 Alesi took the lead on lap eight of the 17, though the two Trident drivers swapped positions again four laps later in a brilliant race.
Callum Ilott made it two Ferrari drivers in the top three with a late pass on the fast-starting Anthoine Hubert.
Championship leader Hubert threatened to pass Alesi and Piquet but never got quite close enough to complete a move, and also had to watch for ART team-mate and title rival Ilott.
Hubert held on when he locked-up into the Rettifilo with six laps to go, but three laps later Ilott took the spot.
Fellow ART driver Nikita Mazepin was clipped at the start by Hubert, and then spent most of the race close behind his team-mates.
The team's fourth man Jake Hughes - still struggling to understand the Pirelli tyres in races - drove from ninth to sixth, with a stunning pass on Beckmann the highlight on the penultimate lap.
He went around the outside into the first part of the Roggia chicane, which became the inside at the right-hander, and Beckmann had to yield seventh.
Beckmann had used the run-off at the first chicane too many times, hurting his chances.
Tatiana Calderon - who struggled with tyre pressures in the feature race, finishing 15th from her best qualifying of the season in eighth - drove excellently to take eighth on Sunday.
She was followed by Saturday second-row starter Leonardo Pulcini - up from 14th after a gearbox issue spoiled his feature race - and Simo Laaksonen.
Sprint race result
| Pos | Driver | Team | Laps | Gap |
| --- | --- | --- | --- | --- |
| 1 | Pedro Piquet | Trident | 17 | 33m01.677s |
| 2 | Giuliano Alesi | Trident | 17 | 0.419s |
| 3 | Nikita Mazepin | ART Grand Prix | 17 | 2.603s |
| 4 | Jake Hughes | ART Grand Prix | 17 | 2.841s |
| 5 | David Beckmann | Trident | 17 | 3.382s |
| 6 | Tatiana Calderon | Jenzer Motorsport | 17 | 6.756s |
| 7 | Leonardo Pulcini | Campos Racing | 17 | 9.071s |
| 8 | Simo Laaksonen | Campos Racing | 17 | 9.643s |
| 9 | Richard Verschoor | MP Motorsport | 17 | 10.153s |
| 10 | Niko Kari | MP Motorsport | 17 | 12.260s |
| 11 | Jannes Fittje | Jenzer Motorsport | 17 | 16.224s |
| 12 | Joey Mawson | Arden International | 17 | 18.214s |
| 13 | Julien Falchero | Arden International | 17 | 21.294s |
| 14 | Diego Menchaca | Campos Racing | 17 | 25.674s |
| 15 | Devlin Defrancesco | MP Motorsport | 17 | 35.571s |
| 16 | Ryan Tveter | Trident | 17 | 1m07.656s |
| - | Callum Ilott | ART Grand Prix | 17 | Disqualified |
| - | Anthoine Hubert | ART Grand Prix | 17 | Disqualified |
| - | Juan Manuel Correa | Jenzer Motorsport | 0 | Retirement |
| - | Gabriel Aubry | Arden International | 0 | Retirement |
Drivers' standings

| Pos | Driver | Points |
| --- | --- | --- |
| 1 | Anthoine Hubert | 176 |
| 2 | Nikita Mazepin | 147 |
| 3 | Callum Ilott | 147 |
| 4 | Pedro Piquet | 106 |
| 5 | Leonardo Pulcini | 101 |
| 6 | David Beckmann | 92 |
| 7 | Giuliano Alesi | 92 |
| 8 | Jake Hughes | 61 |
| 9 | Ryan Tveter | 61 |
| 10 | Dorian Boccolacci | 58 |
| 11 | Alessio Lorandi | 42 |
| 12 | Juan Manuel Correa | 26 |
| 13 | Joey Mawson | 22 |
| 14 | Simo Laaksonen | 16 |
| 15 | Tatiana Calderon | 6 |
| 16 | Niko Kari | 6 |
| 17 | Richard Verschoor | 6 |
| 18 | Diego Menchaca | 3 |
| 19 | Gabriel Aubry | 1 |
| 20 | Julien Falchero | 0 |
| 21 | Devlin Defrancesco | 0 |
| 22 | Jannes Fittje | 0 |
| 23 | Christian Lundgaard | 0 |
| 24 | Will Palmer | 0 |