Deliverance: Interview with Jarno Trulli

---
By Adam Cooper, England
Autosport-Atlas Contributing Writer
Even taking Fernando Alonso's dominance into account, it is fair to say Toyota have been the biggest surprise of the season so far, and Jarno Trulli has spearheaded the Japanese squad's challenge. After being sacked by Renault last year, the Italian has needed just three races to silence his critics with his race pace. Adam Cooper talked to Trulli about his season so far
While Fernando Alonso has been the undoubted star of the season so far, his former teammate Jarno Trulli has run him pretty close, both on the track and in terms of the boost to his reputation. Indeed the Italian has probably made the bigger progress, in terms of from where he started.
What a difference six months make. When Renault booted him out in September last year, Trulli didn't appear to be in great shape. A brilliant start to the season, including that memorable Monaco win, fizzled out in acrimony as he began to struggle to come to terms with the R24. Was he in some way shafted by Flavio Briatore? Did he suffer a loss of confidence, or was it a combination of factors? There are different theories.
Two things gave him some comfort. He already had the soft landing of a Toyota job to go to, and then his replacement Jacques Villeneuve also found that the Renault was not an easy car to drive, and failed to help the French team in their fight for second place.
Trulli's two Toyota outings in Japan and Brazil began the rehabilitation process, but since then he's silenced the critics with his speed and, at least in the last two races, his consistency. So let's take a close look at how his season has unfolded.
Australia
Trulli had the luck of the draw in Australia, and took second place in the rain-affected first qualifying. He held on to the position on Sunday morning. In the race he defied expectations by staying with pole man Giancarlo Fisichella through the first stint, leaving the rest far behind, although Fisichella probably had more in hand. But then he fell away dramatically after the first stop, eventually dropping out of the points. By the end, he was going quickly again
It emerged after the race that he'd suffered from a rear tyre problem. The only real evidence came from a Michelin man who'd looked at it in the stop, because by the end evidence of a strange wear pattern had disappeared, which reflected the fact that he'd regained speed.
There was a suggestion that this was the 'same old Jarno,' struggling with a phantom problem that made the car not quite to his liking. Even Michelin sources sounded sceptical, and at the next race Ralf Schumacher gleefully made a point of telling journalists that the tyre had been inspected and nothing had been found. But it was a very real problem for Jarno.
"It was very strange," he recalls. "The wear of the tyre, at the end of the race, wasn't any worse than any others. But during the race I had a vibration. When I stopped the tyre was completely cut all around, blistered or delaminated, something very weird that even Michelin could not explain. Then they analysed the tyre at the end of the race and said there was no problem. But probably in wearing it out, the problem has disappeared. In fact at the end of the race I was going quick again."
So was it hard to convince people that there was really an issue?
"I don't know. I don't care about this. We knew that our race was probably not as good as our qualifying pace, but nevertheless we had a quick car at some stages, and it was just a matter of making it better for the future."
Malaysia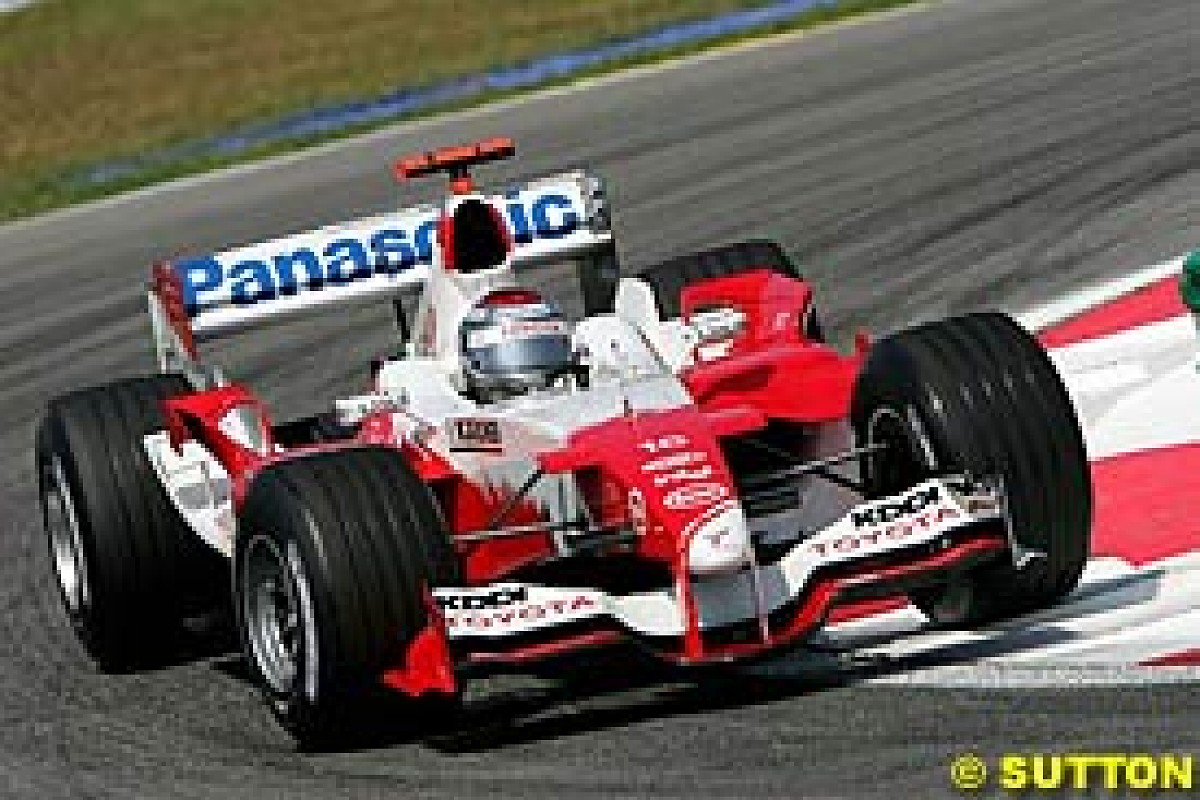 A lot of people thought that the Australian qualifying performance was a fluke, and Trulli's Malaysian weekend got off to a quiet start, but he could see that there was some potential in the package.
"Friday wasn't a very good day for me. I had some electrical problems, so I had to stop. But when I was on the track I had a good feeling, and Ralf confirmed it with a very good lap time. Then on Saturday morning things went better for me, and I was always topping the times."
He was second in first qualifying, and maintained the position on Sunday when some thought Toyota might run him light to gain pole position glory. Instead the team had their sights set firmly on what would work in the race.
"We tried to do our best strategy, and things worked out pretty well. The car was good all weekend, and there was no point in wasting a good qualifying position. The car was competitive all through the race, because the balance was nice, and there were no major problems with the tyres. Obviously the wear was high, but I could manage it."
Trulli knows better than most how good the Renault starts can be. The rules are stricter now, and Toyota have improved, but he was still worried that Fisichella would get him.
"Yeah, that was the case. I had to fight, but I think the only person out there quicker than me was Fernando. Fisichella wasn't a problem at all. I was just pulling away from him, doing my race. At the end of the day I think I got a fantastic second position, which was well deserved."
So was he surprised that Fisichella dropped back the way he did?
"I don't know. Surprised or not, I was just doing my race, I was just controlling it. I think I could have had a similar pace to Fernando, it was just a matter of wanting it or not. There was no rush. I think it was too important, that podium for the team. Everyone was panicking at the end, slow down, slow down! It was a nice race and a fantastic result. There were no particular problems, and I was slowing down quite a lot my mid-race to save tyres and engine. That was it."
Bahrain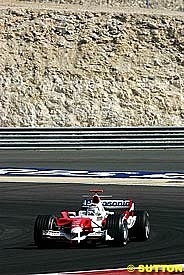 Once again Trulli was second fastest to Alonso in first qualifying. Indeed the gap was small enough for some to once again expect Toyota to run light and deprive Renault of pole. That might have been tempting in PR terms, but in fact he stuck with a very competitive fuel load. And even after being demoted to third by Michael Schumacher, he seemed pretty happy with his prospects for the race. In contrast Schumacher, who knew that pole was his only hope, looked pretty miserable.
"I was very heavy. I had some understeer, so I lost a bit more time compared to the Ferrari, which I believe was slightly lighter than me. No one knows, no one will know, but looking at the car during the race, I felt like it was lighter. That's why after the qualifying I was anyway happy because I was on the second row instead of the third row, and third position meant that I was on the clean side."
Once again Jarno made a good start, although not good enough to jump ahead of Michael. He nearly did it through the first corner complex, and indeed for a second or two it looked as though he might squeeze past Alonso as well, but he wasn't in the right place and had to settle into third.
"I nearly did it, I nearly got into the lead. The biggest problem was that at Turn 2 we were nearly side by side. Michael went for it because I really believe he was lighter, I believe he wanted to get ahead of Fernando and he took a lot of risks. I really believe that it was the only chance for him to get ahead of everybody, and try and look good for the first part of the race. In the end with the Bridgestone tyres they were struggling a lot, so I don't think I would have had any problems with him."
So was Michael a little bit too aggressive at the start?
"The first corner was OK. At the second corner I wanted to lift off because I remember last year Sato and Ralf Schumacher hit each other because neither of them wanted to lift off and in the end they ruined their race. It was the first corner, it was the first lap, I had the full race to race. I knew I was competitive and didn't want to throw my race away."
Although the TV coverage didn't really reflect it, Jarno stayed pretty well in touch with Alonso and Schumacher through the first stint, and he was close to Alonso after the first stops. But as soon as he tried to close the gap, the Spaniard showed that he had something in hand.
"At one stage when Fernando responded to me with very quick laps I said there's very little we can do. Again I was pulling away from Webber, I was pulling away from everybody. I started to take care of the engine and the guys are very happy because now we have a very fresh engine [for Imola]. I really handled it very well towards the end, I was really dropping, dropping [revs], and I was still very quick.
"I was losing a second only with the engine performance, and we were still competitive. At the end of the day, it was a good result for us. When he wanted to be, Fernando was between 0.5-0.7s quicker than me. There's very little I can do at the moment. And if we look at the qualifying, anyway it was half a second. In qualifying yesterday because he made a mistake I was only 0.15s slower, but again this morning he 0.5s quicker than me. In the end, that was my performance."
Imola and Beyond?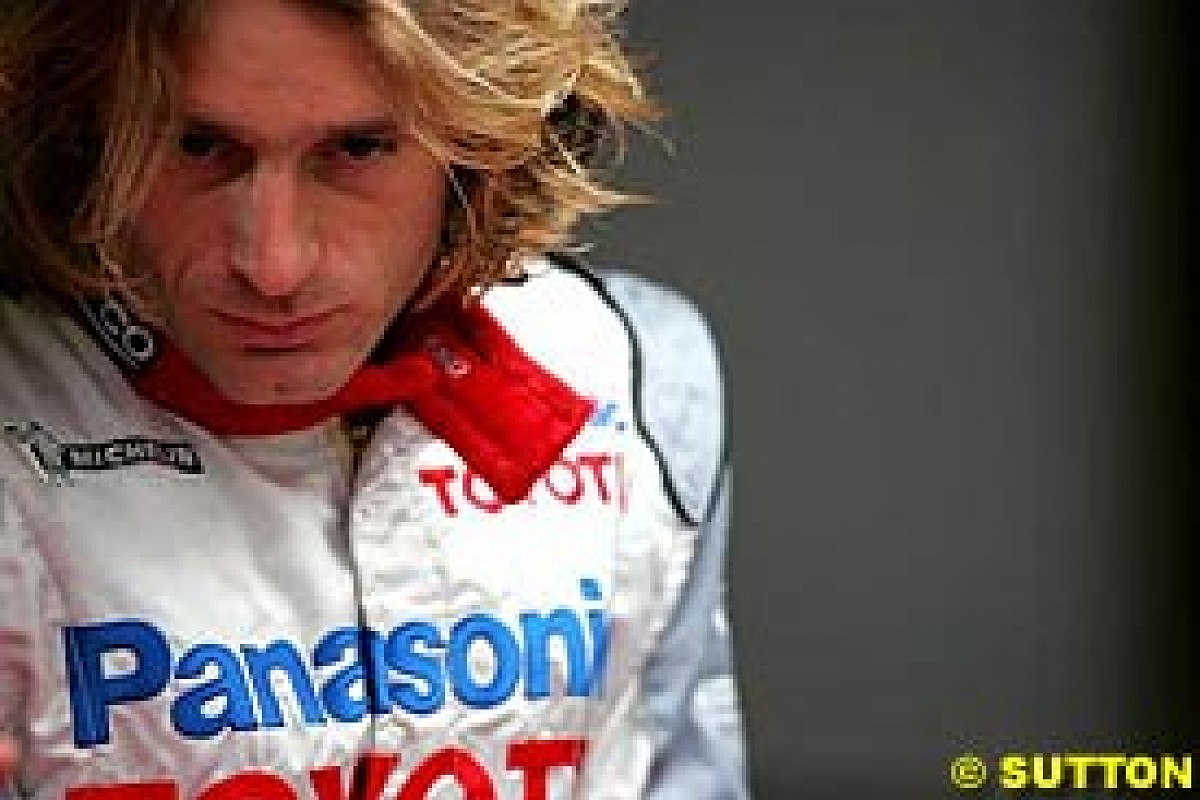 Even Trulli admits that he's been surprised by the results so far: "I didn't expect them, to be honest. Let's say that in Australia we benefited from the conditions, but in Malaysia I think we benefited from good work at the factory, a new aero package and development. We had a good performing car on the track. We didn't expect to be so good, and it will be interesting to see if we can be as competitive in the future. At the moment we are happy."
While Toyota have enjoyed some good qualifying positions in the past, this time it's been on a level playing field. Two races in a row he's been second fastest on Saturday, when everyone carries minimal fuel and pure speed is all that matters. It says a lot about both driver and car.
"It's important for many reasons. First of all we are confirming we are making progress, with the team, with the car. And there is something good in this car, the pace is good. It's promising. I wouldn't live on these results, because the season is still very long, and our rivals are very strong. But it's nice to see Toyota making some progress.
"Let's say that in Australia we were lucky to start on the front row, but in the race we were very unlucky with one rear tyre, which didn't help my race. In Malaysia we were always topping the times, always in the top five or top six, then in qualifying with the same fuel for everybody, we were again on the first row. We definitely have made a step forward since last year."
The big problem Toyota have faced in the past few years is consistency - one good race and then the next time, they're really struggling. Do the early results suggest that problem has been addressed?
"There are some circuits where we might not be very good, like Barcelona. It's my first year with the team, so I don't know enough about it. But we analysed the Australian race, and understood a lot out of it. We went to Malaysia, we changed things, and already it was looking better. I think for us it's experience. Improving things means understanding, first of all. And then progress can be made.
"I cannot say I'm confident, but the one thing you can say is that we will analyse things better race by race, and try not to make mistakes and try to be more consistent from race to race. But teams do tend to have one good race or one bad race.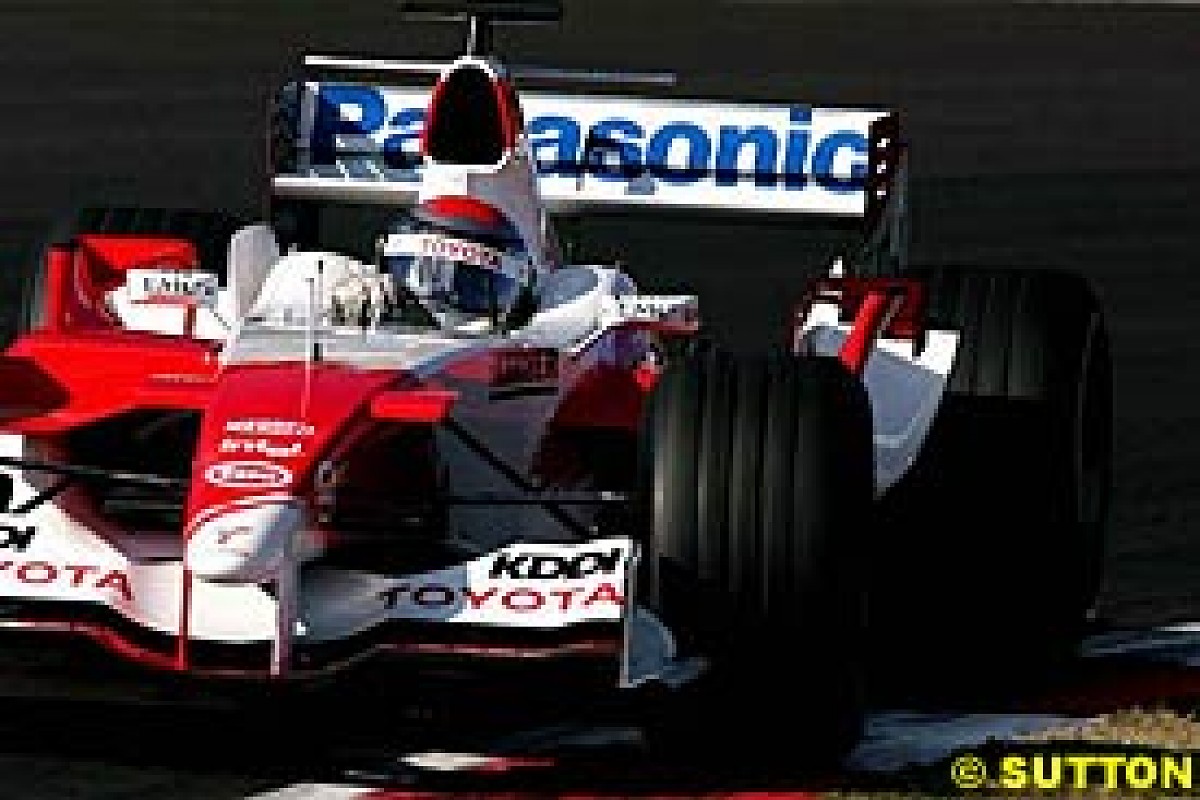 "When you have a very quick car you don't notice it because the car is very quick almost everywhere. When you've got a car which is not completely competitive but is getting better, some times it can be very quick, sometimes it can perform a bit less well. We've seen it with Renault in the past. Sometimes they were very strong, like Malaysia, and they went somewhere else and it wasn't so good."
Although he's been quick at a variety of circuits thus far, Trulli knows it won't be easy.
"It's starting to be nice, I'm consistently in front. But I still have to keep my feet on the ground, because these last two Grands Prix were in similar conditions, very hot conditions. I wouldn't say they are similar tracks, but they are tracks which are definitely suitable for our car, our driving style our package. Now we are heading for two races which I think will be a bit tougher.
"We are bringing a new aero package, we are bringing new mechanical things, probably a step with the rear suspension. There are a lot of things coming up. We hope we can improve our performance. Historically Imola has never been a good Grand Prix for Toyota, that's why I'm a little bit concerned."
One way or another, it will be an interesting weekend for Trulli. Like Juan Pablo Montoya, he is about to experience the joys of fatherhood, although the Colombian is likely to get their first.
"Yes, we're racing again! My baby is expected for the Imola weekend. I'm really fired up for that and really looking forward to a nice event.. I hope I can be there. It's a new experience in life, so we'll see, It will be a tough season because it's 19 races, so I won't be home much. But I'm not really concerned about that, because the mum normally works it out most of the time, and he dad only has to be there when the boy becomes a bit older!"