The 2005 Italian Grand Prix Review

---
By Will Gray, England.
Autosport-Atlas GP Correspondent
Juan Pablo Montoya took a dominant win in the Italian Grand Prix, but the weekend was all about Michael Schumacher handing his crown for the first time in the Millenium, almost certainly to Fernando Alonso after rival Kimi Raikkonen was again hit by problems. Will Gray reviews the events and results from the fifthteenth race of the 2005 season
What a difference a year makes.
Ferrari's loyal tifosi cheered on an unchallenged one-two for the scarlet Scuderia in Monza last year, but there was no polished powerful performance from the men from Maranello this time around; just promises for the future from defeated Champions.
Of all places, Italy, in front of their home fans, was not the place Ferrari wanted to finally be forced to acknowledge their era was over. Another composed performance from Fernando Alonso, however, ensured that was exactly the sad situation they were put in.
Juan Pablo Montoya won for McLaren but it was all about Alonso, Giancarlo Fisichella and Renault as the Championship leaders secured the vital points to leave both Schumacher and Ferrari without any mathematical chance of retaining their long-held crown.
Not since the Japanese Grand Prix on October 8, 2000, when Schumacher first claimed the drivers' title for Ferrari, could any other man on the grid lay claim to the crown and not since that same race, one year previously, could any team lay eyes on the constructors' trophy.
But now, with four races left, it is finally official. Only Alonso and Kimi Raikkonen can take the drivers' crown and only Renault or McLaren can win the Constructors' Championship. Ferrari are no longer painting Formula One red. Their time, for now, is over.
It is only a matter of time, in fact, before Alonso's grasp on the world title becomes double-handed and firmly clamped, so acknowledged the outgoing Champion after losing his crown for the first time this Millennium. It could all be over in Spa this weekend, as Raikkonen knows only too well.
If the Finn ever had any doubts that the Championship was destined to head to Oviedo rather than Espoo this year then the race in Italy firmly knocked them right out of his head as Lady Luck kicked him where it hurts for the umpteenth time this season.
An engine change before qualifying is now greeted by a shrug of Raikkonen's very high shoulders, but a subsequent tyre delamination and a surprising late-race spin all suggested the 'try again next year' option was the only one left available.
Despite the problems, he still fought up to fourth and only lost three points on Alonso, but Juan Pablo Montoya's comfortable victory rubbed it in by displaying McLaren's advantage, despite an ill-handling car, and Raikkonen must now realise the trophy just doesn't have his name on it.
Alonso, again, did what he needed to do and the Renault was, again, ultra reliable as Giancarlo Fisichella brought his car home in a strong third place while the Toyotas, who have had an up and down season, were on an up with satisfying fifth and sixth place finishes.
BAR's good but not so good season continued as they got it right in qualifying, they were the best of the rest behind McLaren and Renault, but suffered problems in the race and finished with Jenson Button eighth and Takuma Sato down in 16th, their comeback stalled once again.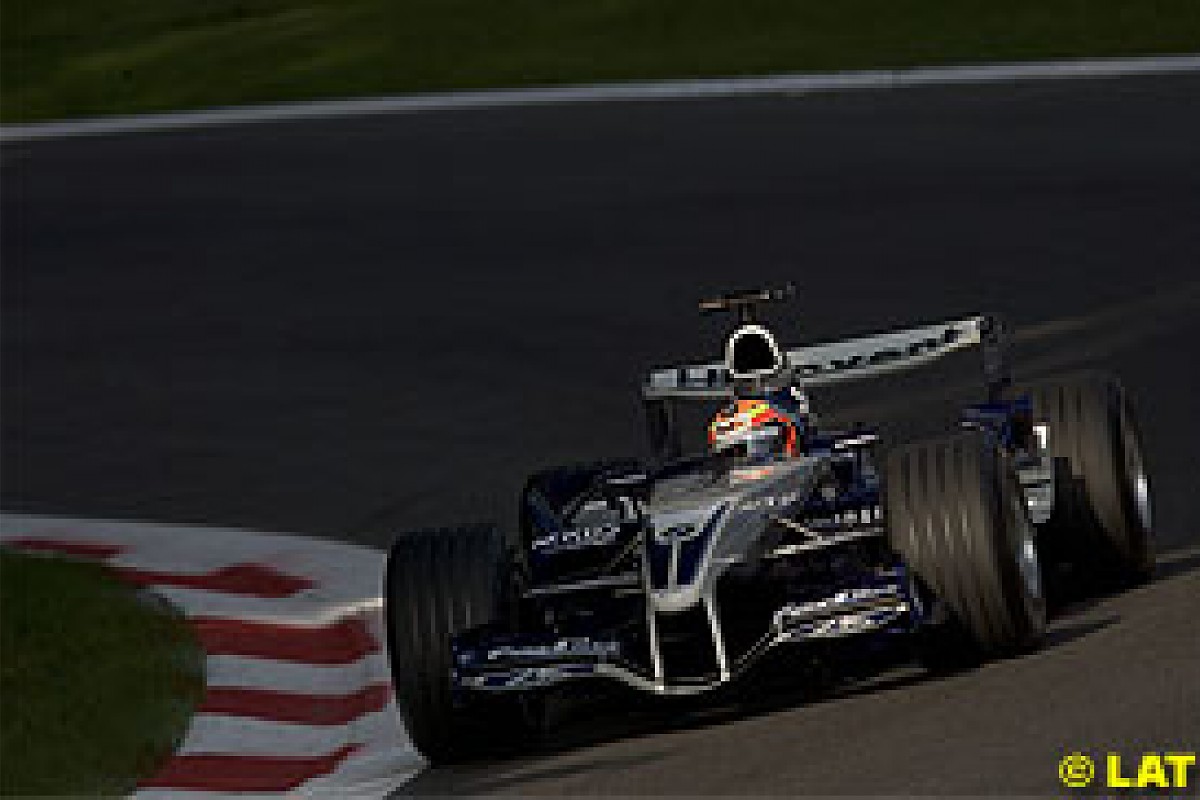 Button was faced with chasing home a car from Williams, the team he says he does not now want to join next year, after Antonio Pizzonia did an impressive job in replacing the injured Nick Heidfeld, who will not be back for Spa this weekend after a recurrence of an injury suffered in his pre-race testing crash.
Williams showed some promise in practice after a mid-season lull, but their qualifying was a disaster and the race was little better, with the under-pressure Mark Webber once again taken out the equation by a collision before he could display whether the car actually had any true pace.
Montoya, in contrast, had no problems in doing that despite the fact his McLaren car was not in tip-top condition, and nor did Raikkonen, who set the fastest lap of the race despite his setbacks, and it will be those two who head to Spa full of confidence for another race victory.
The Constructors' Championship looks destined to go to McLaren, the top team by a stretch, providing they continue to chip away at Renault's increasingly slender lead, but with just fourteen points needed to become the youngest title winner in Grand Prix history, Alonso must now have it in the bag.
Qualifying
A McLaren one-two should have translated into an all-McLaren front row, but yet more practice engine problems for Raikkonen left the Finn facing another fightback from a lowly 11th grid position despite a storming performance in the single-lap runs.
McLaren were dominant from the start of the weekend but Renault remained close to their pace and Alonso did the best he could, and all he needed to do, to stay in touch and put himself in contention for a podium. The rest, really, were in a lower league.
1. Kimi Raikkonen (McLaren) 1:20.878
Only in the race did it become clear just how astonishingly quick Raikkonen's qualifying lap had been. The Finn, who knew he could start no better than 11th after changing an engine in practice, was fuelled heavier than any other car but he still managed to put the McLaren on top of the times.
2. Juan Pablo Montoya (McLaren) 1:21.054 + 0.176
Running third from last on the track gave Montoya a big chance of claiming pole, with his teammate Raikkonen already ruled out, and he made no mistakes, putting in a clean lap and setting the fastest time in two of the three sectors to comfortably ensure he claimed the pole by almost three tenths of a second.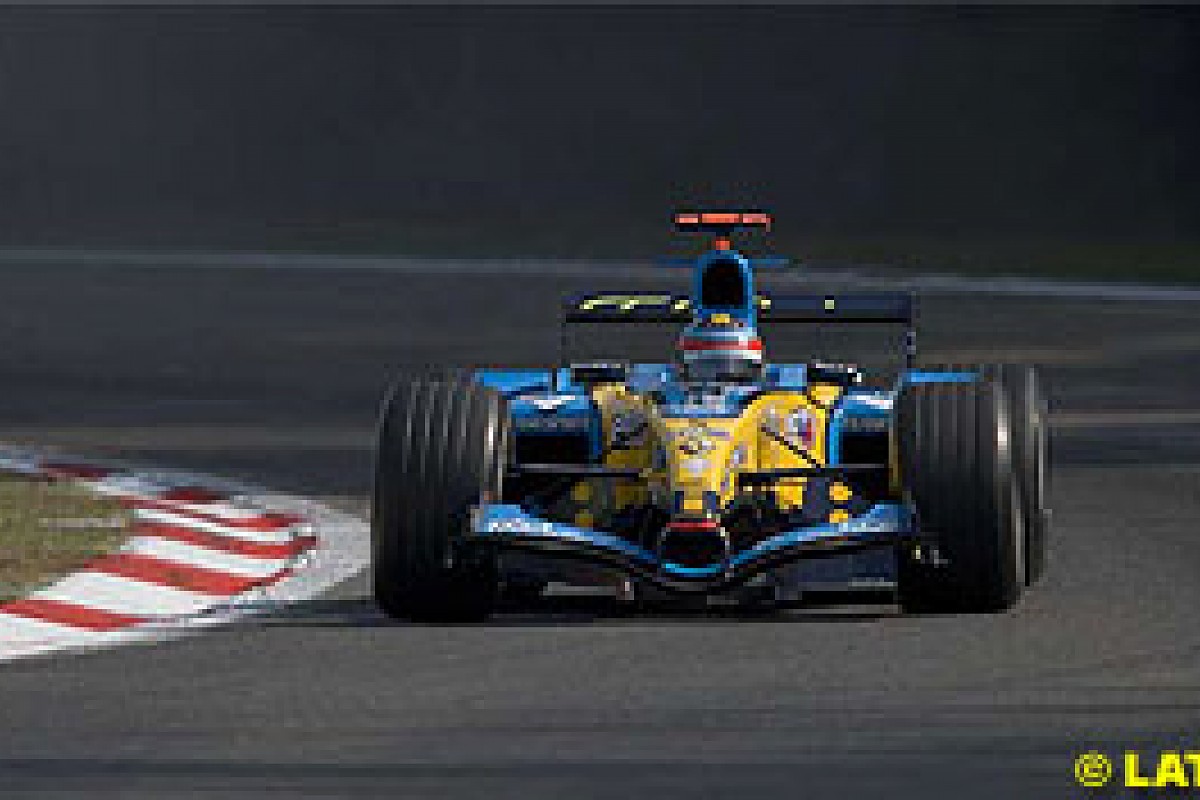 3. Fernando Alonso (Renault) 1:21.319 + 0.441
Alonso had been struggling to solve problems with his car's handling all weekend and he surprised himself with his pace in qualifying. He was second fastest to Montoya in the first sector but slower in the second two and ended up a significant distance away from the McLaren pair by the end of the lap.
4. Jenson Button (BAR-Honda) 1:21.369 + 0.491
A time around three tenths of a second slower than Alonso in the first sector proved costly for Button in that it stopped him securing a front-row spot by five hundredths of a second. But he was more than happy having improved his ill-handling car significantly during practice and was pleased to sit on the clean side of the grid.
5. Takuma Sato (BAR-Honda) 1:21.477 + 0.599
Sato was happy with his car balance and it showed. He attacked his lap, as always, but with a car that was easier to drive he was able to post a time just one tenth slower than Button having started four cars earlier, beating his teammate in the first and last sectors.
6. Jarno Trulli (Toyota) 1:21.640 + 0.762
The acknowledged master of the qualifying lap admitted Monza is one of the most difficult tracks on which to get it right so he was happy to string a consistent set of sector times together to secure the sixth fastest time ahead of the two Ferrari drivers with a clean, smooth and aggressive lap.
7. Michael Schumacher (Ferrari) 1:21.721 + 0.843
Seventh on the grid was not what the tifosi wanted, but there was nothing the World Champion could do about it. Schumacher was tenth fastest in the first sector, struggling with the grip of the track due to his early running slot as the fourth car out on track, and only a very strong final sector pulled him up from an even worse position.
8. Rubens Barrichello (Ferrari) 1:21.962 + 1.084
Barrichello complained of understeer caused by graining on his tyres and lost time in the Lesmos. He finished more than two tenths slower than teammate Schumacher despite a strong first sector in which he finished fourth of the 20 cars.
9. Giancarlo Fisichella (Renault) 1:22.068 + 1.190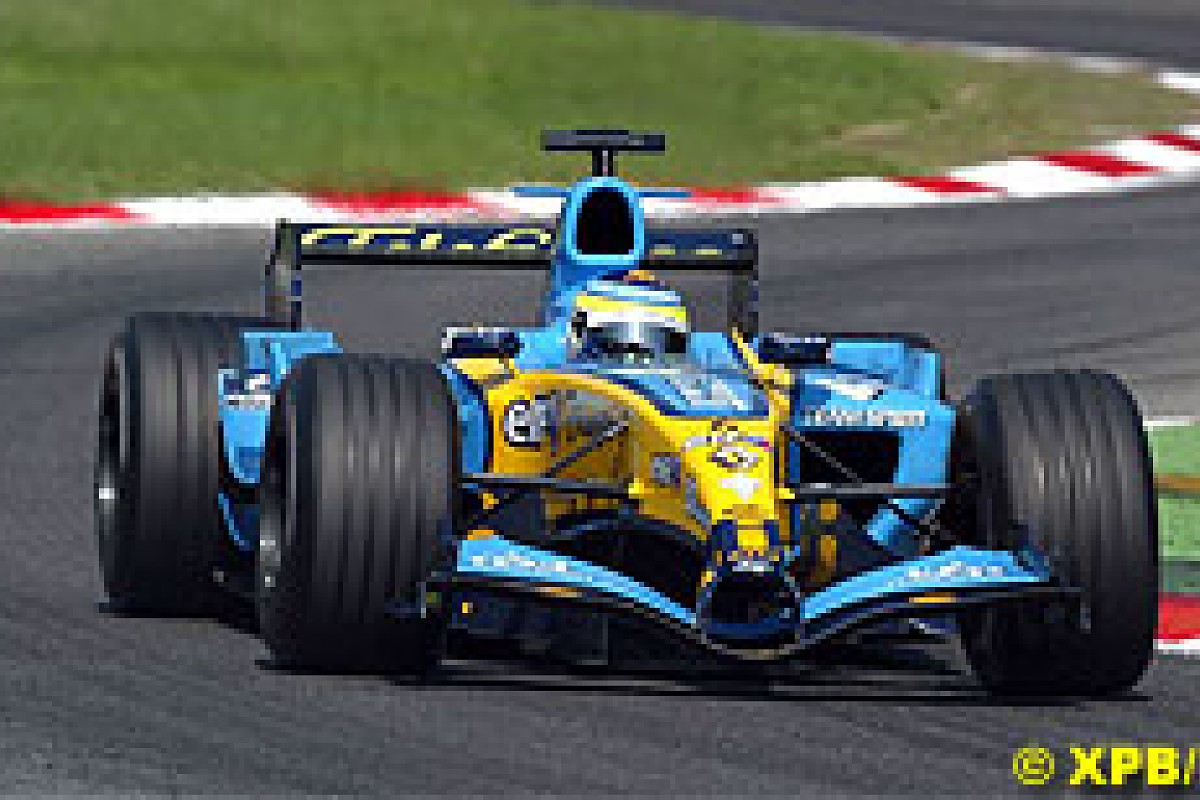 Expectations were high for Fisichella, who ran fourth from last, but he fluffed his lines when he locked his brakes going into the first corner and lost, he estimated, around half a second. He was 14th fastest in the first sector, recovering slightly to set the sixth and then ninth fastest times in the final two, but his error proved costly for Renault as he managed only a fourth row grid spot.
10. Ralf Schumacher (Toyota) 1:22.266 + 1.388
A consistent lap, helped by a set-up change just before qualifying, enabled Schumacher to secure a top ten position, but he was almost six tenths of a second slower than teammate Trulli.
11. David Coulthard (Red Bull) 1:22.304 + 1.426
Coulthard admitted he struggled to "feel" his car and failed to get the most out of it in the one-lap run, not an unusual problem for the Scot, and he took a conservative approach. He lost two tenths, he claimed, in the first chicane but was consistent for the rest of the lap and finished two tenths ahead of teammate Klien.
12. Jacques Villeneuve (Sauber) 1:22.356 + 1.478
A poor first sector let Villeneuve down and prevented him from securing what the team believed would have been his optimum position of tenth place. But he still finished around seven tenths faster than teammate Massa after an impressive performance.
13. Christian Klien (Red Bull) 1:22.532 + 1.654
Klien started well with the eighth fastest first sector time but he suffered understeer for the rest of the lap, managed only 13th fastest in the second sector and then lost time in the final corner and completed the lap with a 16th fastest final sector, admitting a few mistakes had ruined his lap.
14. Mark Webber (Williams) 1:22.560 + 1.682
A strong first sector, despite being the second car on track, saw Webber ninth fastest but his lap fell away after that and he was hopeful that his race strategy would pull him up through the grid.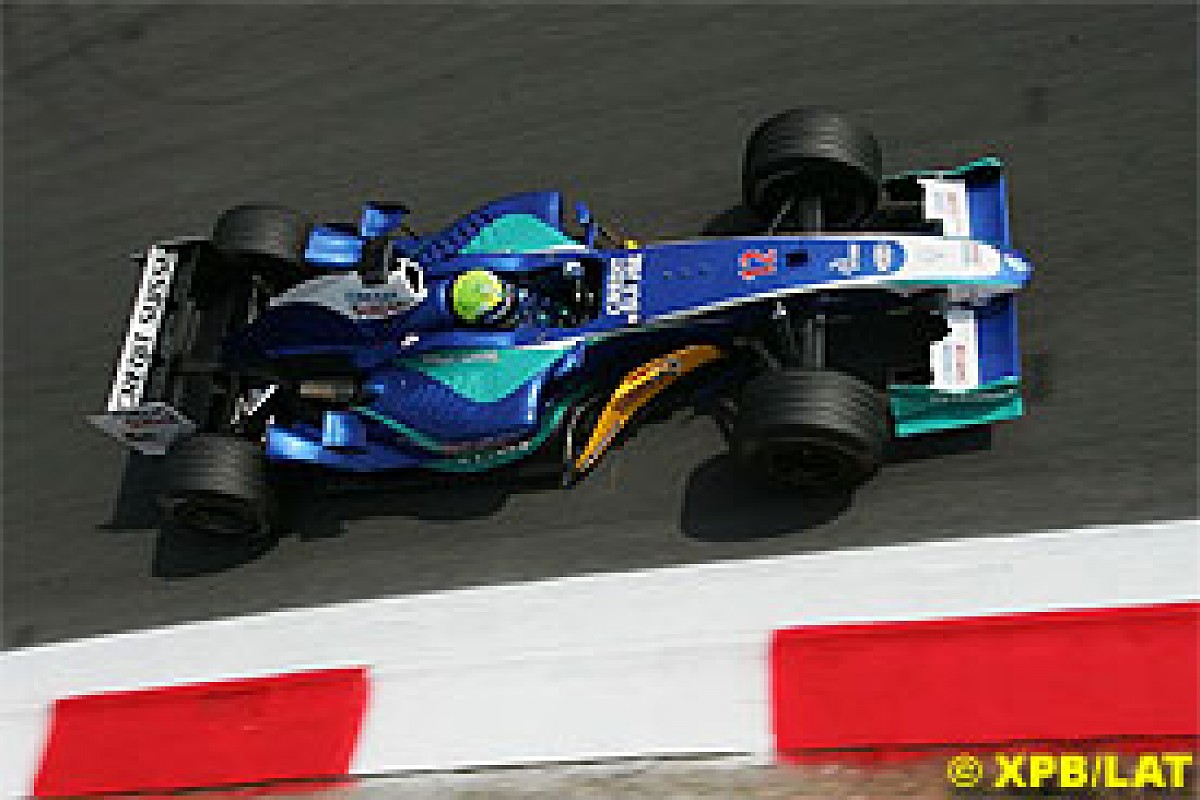 15. Felipe Massa (Sauber) 1:23.060 + 2.182
Massa suffered from starting third in qualifying, complaining of low grip throughout his qualifying lap, but he was consistent and suggested his race strategy was what pushed him down the order.
16. Antonio Pizzonia (Williams) 1:23.291 + 2.413
Pizzonia was in bed at 8.30 when he got the call to replace the injured Nick Heidfeld on Saturday morning and he had very little preparation time before his lap. To make things worse he had not sat in the car for three months and was the first car out in qualifying, so it was no surprise he finished around eight tenths slower than teammate and regular race driver Webber.
17. Tiago Monteiro (Jordan) 1:24.666 + 3.788
Monteiro was the best of the backmarkers by three tenths thanks to the use of the new Jordan, which he won on the toss of a coin. But he could have been even further ahead if a poor first sector, which he finished 19th fastest, had not cost him time.
18. Robert Doornbos (Minardi) 1:24.904 + 4.026
After finding a good set-up on the car, Doornbos was quick in all practice sessions and carried that through to the qualifying by beating Jordan's Narain Karthikeyan by almost a second.
19. Narain Karthikeyan (Jordan) 1:25.859 + 4.981
Karthikeyan suffered a heavy accident in Saturday morning practice and the team had to repair his car in time for qualifying. He was still aching from the crash and struggling with an ill-handling car he decided to take it easy in the single-lap run.
20. Christijan Albers (Minardi) 1:26.964 + 6.086
Albers made a mistake in the second sector to throw away the chances of a strong grid position, having competed strongly with teammate Doornbos for much of the weekend.
The Race
Montoya made a clean get-away and eased ahead of Alonso, with Button third and Trulli fourth having made it past Sato as Barrichello snatched sixth off teammate Schumacher.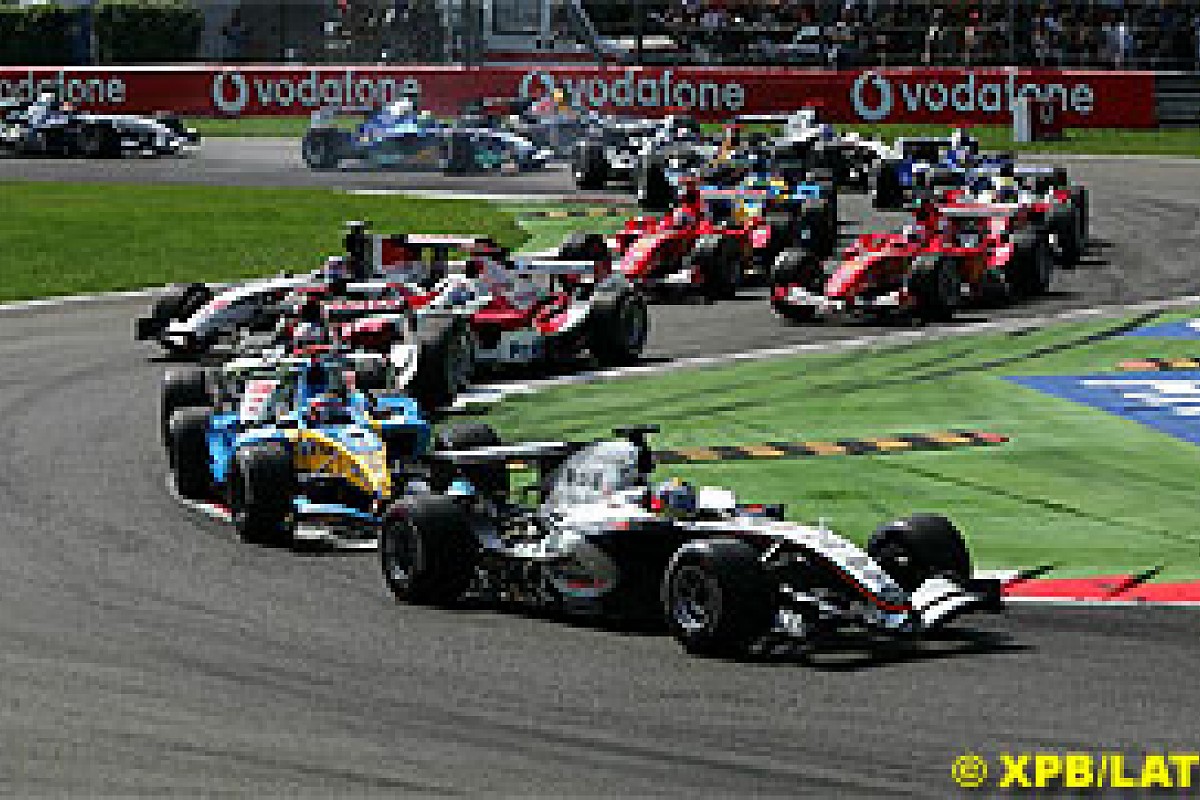 Villeneuve jumped Raikkonen to claim tenth while the cautious Finn was lucky to get through the first corner unscathed as the rest of the midfield jostled for position alongside him.
Coulthard lost out in turn two when he touched the back of Fisichella's Renault and damaged his front wing while Massa made the most of the tight battling and jumped three places to 12th.
Webber was another driver to lose out in the melee of the opening lap when he was caught out by Coulthard's concertina collision with Fisichella up ahead and suffered another blow to his race hopes.
"I had a good start and I was telling myself 'take it easy, take it easy' but I think someone moved on Coulthard and he slowed rapidly in front of me and I damaged my front wing," said Webber.
It was an unfortunate collision considering the comments made by Coulthard ahead of the race, where he branded Webber a "hooligan" and a "madman" after a collision at the last race in Turkey.
"I had to come into the pits to change my front wing and after that it was basically all about recovering from nowhere," said a disappointed Webber, who is growing impatient with a lack of results at Williams.
Right at the back there was another incident as Albers collided with Karthikeyan and the Jordan driver said: "Albers has already done this to Tiago in the past, he stupidly hit me in the rear."
Albers made no note of the incident in his post-race comments, simply saying he and Minardi would "put this race behind us", but it left him heading for the pits for a new nose and Karthikeyan needing to pit for a new tyre.
Coulthard and Webber also both came in to change their front wings at the end of the first lap, by which time Sato was back in fourth after an aggressive move on Trulli on the outside of the Parabolica.
"The start was quite exciting," said Sato. "I defended my position into turn one but was already side by side with Trulli. At the end of lap one I overtook him again which was an exciting moment."
Apparently stunned by the move, Trulli dropped further back when, first Barrichello and then Schumacher passed him on the second lap, the Italian blaming his car's lack of straight-line speed for his brief demise.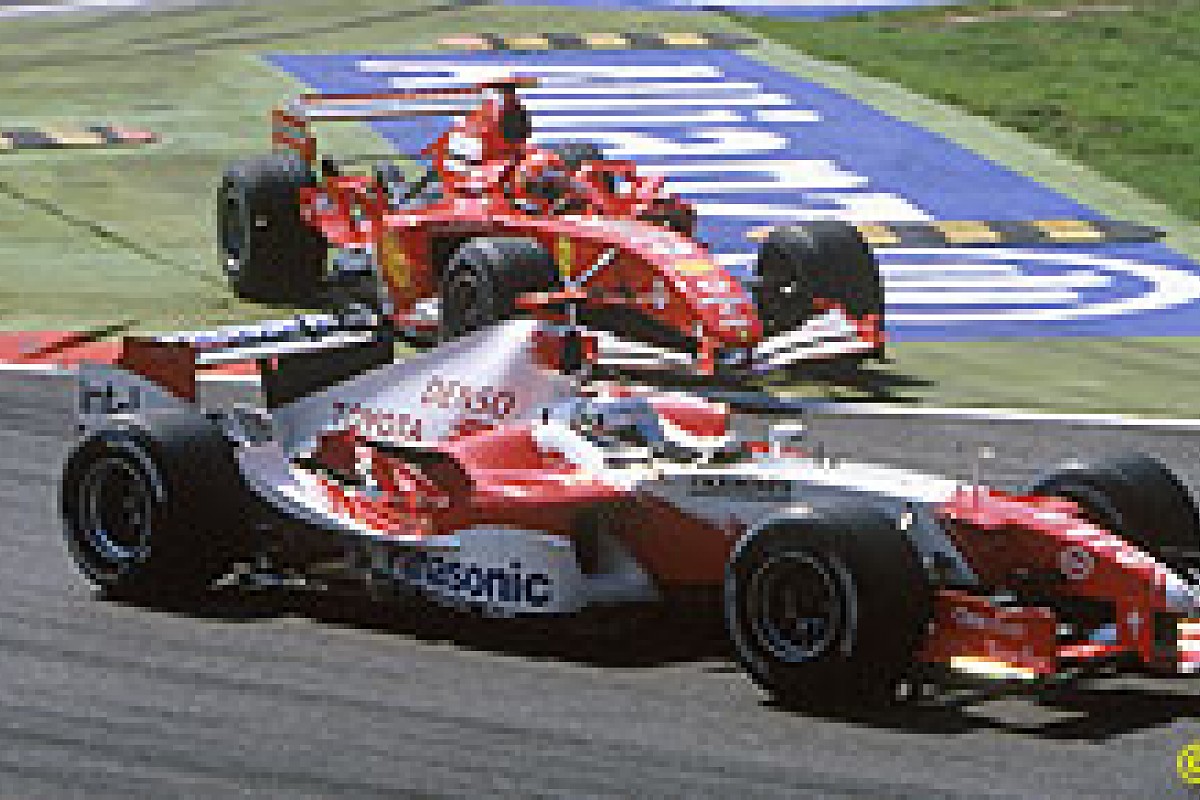 Trulli took Schumacher back on lap four to reclaim sixth place but could do nothing about fifth-placed Barrichello as the race order remained static in the early laps.
With five laps completed Montoya had a 2.4-second lead over Alonso with Button 4.2 seconds further back in third. With ten laps down, the gap between the top two was the same, with Button now 12 seconds down.
Alonso was happy with his pace once he had got going and explained: "I was extremely slow in the first two laps, I lost three seconds with Juan Pablo and then I was on the same pace more or less.
"The front tyres were not working at all at the start and I thought for a moment that I had something wrong with the front wing. I thought I had touched maybe Juan Pablo at the first corner."
Raikkonen, meanwhile, was having a tough time in the midfield and, stuck behind Villeneuve, he sat 23 seconds behind Montoya, still in 11th place, until the Canadian pitted for fuel on lap 14.
Michael Schumacher had become the first of the leaders to pit when he came in one lap earlier. Barrichello stopped on the same lap as Villeneuve and then Sato stopped on lap 16.
But something was wrong with the BAR-Honda fuel rig and after Button came in, one lap later, Sato was forced to immediately head back in for an unscheduled second stop to take on more fuel.
"We had a problem with the fuel delivery with both drivers during their first stop," said sporting director Gil de Ferran. "That compromised our strategy, particularly for Taku."
Alonso dived into the pits on lap 19, the same lap as Massa, but a slow stop put him out right in front of his title rival Raikkonen, who was having all sorts of problems with traffic.
With Villeneuve out the way, Raikkonen was having difficulty with Ralf Schumacher and, to make things worse, Alonso slotted right in between the pair and made sure his Renault was as wide as possible.
"I went out of the pits and he was behind me so I tried to stop him as much as I could," admitted Alonso. "But again I had this problem with front tyres so I was very, very slow in one part."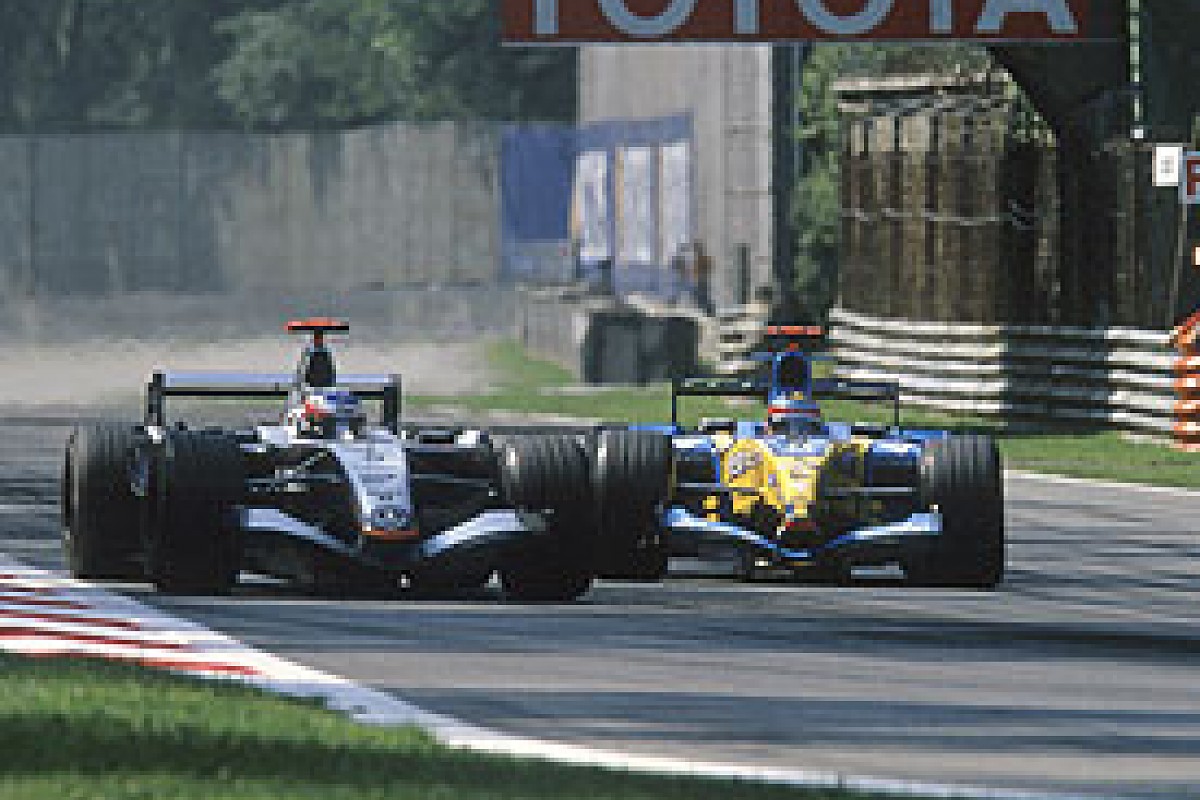 That was the idea, of course, but Alonso's difficulty with the tyres also gave Raikkonen the opportunity to get past easily, one he took after almost a lap of pressuring his rival.
Raikkonen tried first at the first chicane but both were forced off the track and Alonso said: "I think he was a little bit unfair in the overtaking manoeuvre.
"He cut the first chicane and then he let me pass to recover the position because it was not fair what he did, but it was not enough because he was really in the tow.
"He then tried to overtake me into turn four. It was a little bit of a strange manoeuvre. He overtook me at turn four, the second chicane, thanks to cutting the first chicane as well."
Meanwhile Montoya had pitted from the lead, stopping on the same lap as Trulli, and coming out still ahead of Fisichella, who had moved up to second when Alonso pitted.
Fisichella stopped on lap 21 with Ralf Schumacher pitting on lap 22 and Pizzonia stopping on lap 23 before Raikkonen finally came in for more fuel on lap 25 after posting the fastest lap of the race.
A long stop, around 11 seconds, put him out just behind fourth-placed Trulli, gaining him six positions through the first set of stops and now putting him clearly on a one-stop strategy.
Webber and Coulthard both stopped on laps 26 and 28 respectively for their second fuel stops, having fuelled up early on following their first-lap incidents.
Raikkonen was looking good for a podium but then bad luck hit him once again when he was forced to pit for a second time on lap 28 for a replacement left rear tyre.
Michelin motorsport director Pierre Dupasquier said: "The team obviously had some kind of tyre issue. We saw Kimi Raikkonen's cut left rear and were curious because tyre wear on the outside edge of a carcase is extremely unusual here.
"Normally it's the inside shoulder that bears the bulk of the load down the long straights. But a later incident illustrated there was a problem of some kind and we will look at this closely."
Raikkonen came out of the pits in 12th place, undoing all the advantage gained from the pitstops, and to make things worse he came out right behind Villeneuve again. Back to square one.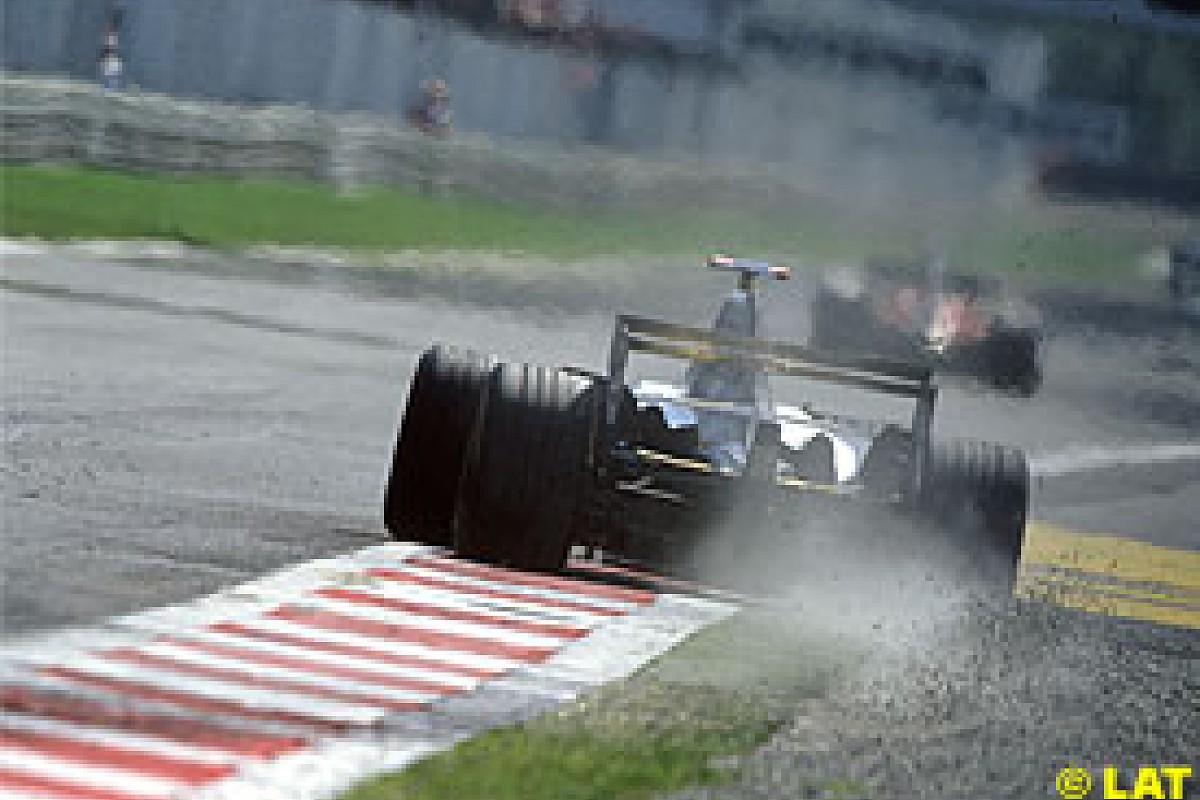 He made short work of the Canadian this time, passing him on lap 30, but then got stuck behind Massa, who he passed on lap 35, to move his way back up into the top ten.
It all appeared to be easy up front for Montoya, but the Colombian was thankful for a lack of competition because he was not happy with his car and not able to respond to any pressure.
"The car became quite oversteery," he said. "You've got a lot of adjustment in the car. I worked with it a little bit, but I never really felt comfortable with it.
"It was like one lap you could push but the next lap it would go really bad. I didn't have any confidence in the car to lean on it, to go into the corners and say okay, I'm going to lean on it.
"I tried to close the diffs and everything and mid-corner, when I had a stable entry it would just understeer so it was one or the other. It was a bit of a pain in the arse."
He still managed to maintain around an eight-second advantage over second-placed Alonso, with Fisichella third, Trulli up to fourth and Button fifth but under pressure from sixth-placed Ralf Schumacher.
Albers was handed a drive-through penalty on lap 35 for failing to make way for Felipe Massa but Minardi boss Paul Stoddart explained: "He simply didn't hear the call on the radio to do so."
Button pitted for a second stop on lap 36 but all was not as planned. "Because of the problems we had with the fuel rig I had to stop four laps early," he said. "That cost me."
Schumacher stopped one lap later and then Barrichello came in. Alonso made his second stop from second on lap 39, the same lap as Villeneuve, and Montoya pitted one lap later, as did Fisichella and Trulli.
The Colombian retained the lead with an 11-second advantage over second-placed Alonso. Ralf Schumacher and Massa pitted on lap 41 but Barrichello was in the pits again on lap 42 with tyre problems.
Bridgestone technical chief Hisao Suganuma explained: "Rubens picked something up on track. He started to lose air in his left rear tyre but the sensor picked it up and he was able to change the tyre before the condition worsened further."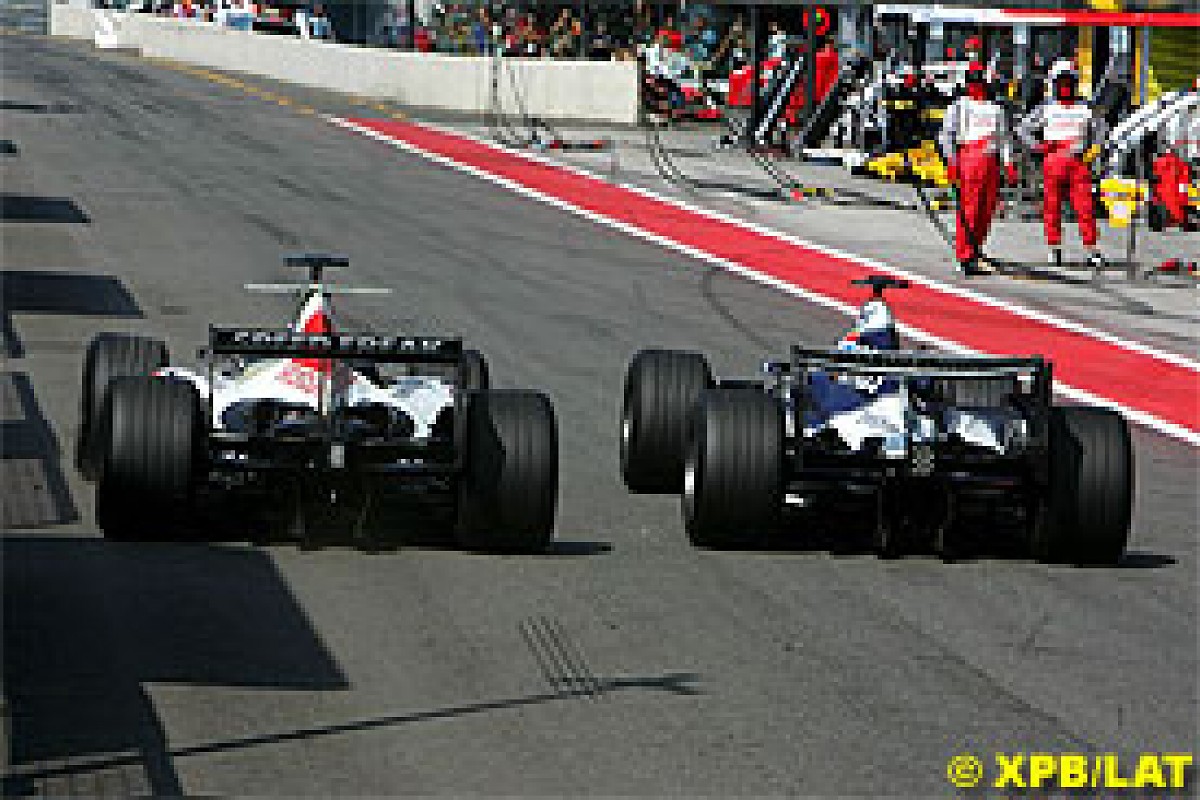 Sato and Webber stopped on the same lap and had a side-by-side race out of the pits, with the Williams driver making it out ahead but because of their earlier problems the battle was only for 15th.
Pizzonia made his second stop on lap 43 to put Raikkonen up into fourth, the Finn's one-stop tactics still getting him past Trulli despite his second stop for a tyre change.
But Raikkonen then spun on lap 45 at the second chicane and only just managed to avoid beaching his car in the gravel trap, losing fourth position to Trulli again in the process.
Once again Raikkonen was going forward and then hitting problems that put him back to square one, but once again he dealt with the problems with controlled aggression.
He took the place back one lap later and went off in chase of Fisichella while, behind him, Michael Schumacher proved that even seven-time World Champions can make mistakes when he spun.
Schumacher was pushing Button hard to claim the final point but instead, after pushing too hard, gave up ninth place to Massa, his future teammate at Ferrari, when he went off the track.
"Running ninth I was prepared to take some risks to get a point," said Schumacher. "But I risked a bit too much and went off the track, which lost me a place."
It mattered little, his mathematical chances of retaining his title were already now long gone, and he remained philosophical, adding: "There is no point in getting angry."
Just when the race looked settled, McLaren's hearts were in their mouths once again when Montoya was hit by the same tyre problem that struck his teammate Raikkonen.
With just four laps left to go his tyre began to delaminate and the team were left with a tough call whether to bring him in or risk leaving him out to coast to victory.
With a ten-second lead over Alonso pitting and winning was not an option, so he stayed out. "We knew it was not dangerous," said team boss Ron Dennis. "We had the race in control."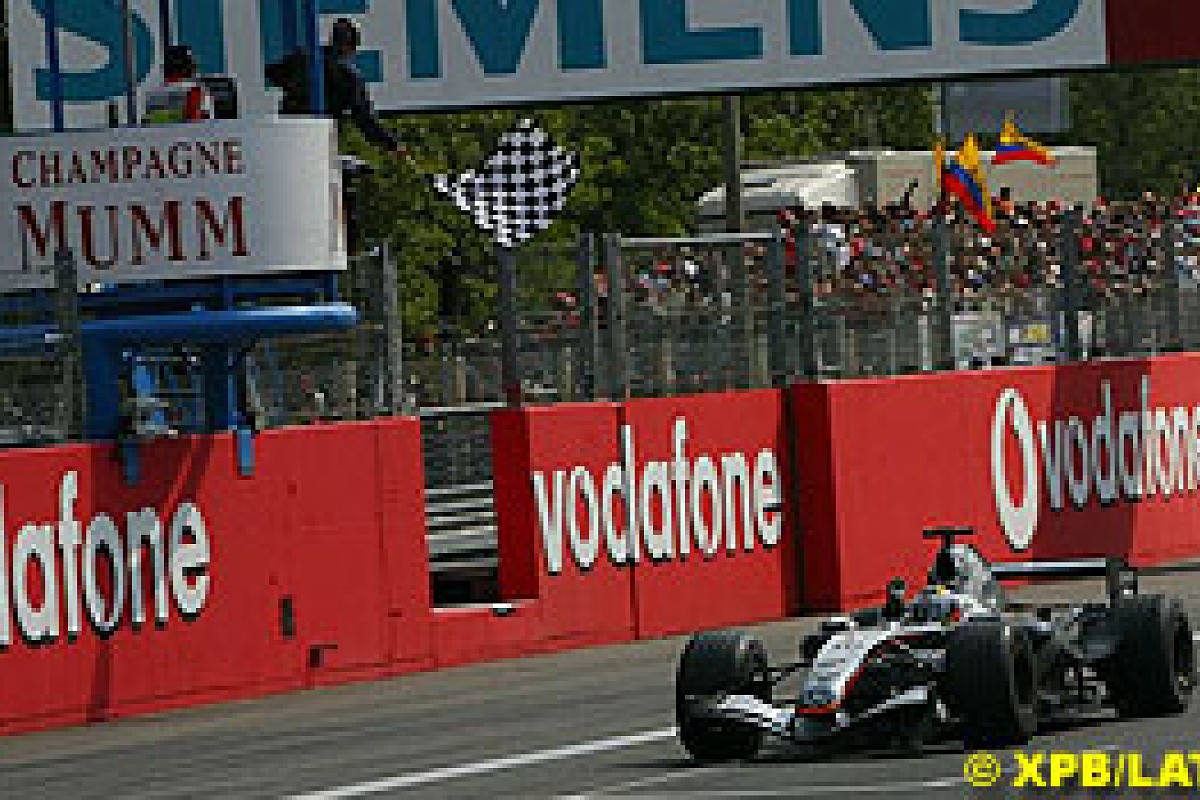 But it was still a challenge for Montoya and he added: "You couldn't really push or lean on the tyre or anything. It was just 'go as slow as you can' and I couldn't go any quicker.
"Any quicker was a big risk to go off. I brought the engine back up to full power and I think that helped me a little bit. When I had four seconds with two laps to go I thought it should be okay."
And okay it was. Montoya was able to cruise home and take his second win of the year as he fended off Alonso to secure a vital two extra points in the Championship for McLaren.
Race Results
Pos  Driver        Team                  Time   
 1.  Montoya       McLaren-Mercedes (M)  1h14:28.659
 2.  Alonso        Renault          (M)  +     2.479
 3.  Fisichella    Renault          (M)  +    17.975
 4.  Raikkonen     McLaren-Mercedes (M)  +    22.775
 5.  Trulli        Toyota           (M)  +    33.786
 6.  R.Schumacher  Toyota           (M)  +    43.925
 7.  Pizzonia      Williams-BMW     (M)  +    44.643
 8.  Button        BAR-Honda        (M)  +  1:03.635
 9.  Massa         Sauber-Petronas  (M)  +  1:15.413
10.  M.Schumacher  Ferrari          (B)  +  1:36.070
11.  Villeneuve    Sauber-Petronas  (M)  +     1 lap
12.  Barrichello   Ferrari          (B)  +     1 lap
13.  Klien         Red Bull-Cosworth(M)  +     1 lap
14.  Webber        Williams-BMW     (M)  +     1 lap
15.  Coulthard     Red Bull-Cosworth(M)  +     1 lap
16.  Sato          BAR-Honda        (M)  +     1 lap
17.  Monteiro      Jordan-Toyota    (B)  +    2 laps
18.  Doornbos      Minardi-Cosworth (B)  +    2 laps
19.  Albers        Minardi-Cosworth (B)  +    2 laps
20.  Karthikeyan   Jordan-Toyota    (B)  +    3 laps

Fastest Lap: Raikkonen, 1:21.504

World Championship Standing, Round 15:                

Drivers:                    Constructors:             
 1.  Alonso       103        1.  Renault          144
 2.  Raikkonen     76        2.  McLaren-Mercedes 136
 3.  M.Schumacher  55        3.  Ferrari           86
 4.  Montoya       50        4.  Toyota            78
 5.  Trulli        43        5.  Williams-BMW      54
 6.  Fisichella    41        6.  Red Bull-Cosworth 27
 7.  R.Schumacher  35        7.  BAR-Honda         25
 8.  Barrichello   31        8.  Sauber-Petronas   14
 9.  Heidfeld      28        9.  Jordan-Toyota     11
10.  Button        24       10.  Minardi-Cosworth   7
11.  Webber        24       
12.  Coulthard     21       
13.  Massa          8       
14.  Villeneuve     6       
15.  Wurz           6       
16.  Monteiro       6       
17.  Klien          5       
18.  Karthikeyan    5       
19.  de la Rosa     4       
20.  Albers         4       
21.  Friesacher     3       
22.  Pizzonia       2       
23.  Sato           1       
24.  Liuzzi         1        


Fastest race laps: Click here
Pitstop times: Click here
Lap by Lap
Lap 1: Pole-sitter Juan Pablo Montoya makes a clean start to beat World Championship leader Fernando Alonso into the first turn. Jenson Button grabs third from Jarno Trulli and Takuma Sato, but the Japanese driver hits back on the approach to Parabolica. Rubens Barrichello gets ahead of teammate Michael Schumacher to lie sixth. Giancarlo Fisichella is eighth from Ralf Schumacher, Jacques Villeneuve, Kimi Raikkonen (fastest in qualifying, but docked 10 places because of an unscheduled engine change), Felipe Massa, Christian Klien, Antonio Pizzonia (in his first start since Monza after being drafted in to replace the unfit Nick Heidfeld), Tiago Monteiro and Robert Doornbos. David Coulthard and Mark Webber pit after sustaining minor damage in the first-corner jam. Christijan Albers and Narain Karthikeyan come in, too, after colliding at the first corner. All rejoin. Montoya leads by 1.5s at the end of the lap.
Lap 2: Both Ferraris pass Trulli. Montoya leads by 2.1s.
Lap 3: Montoya pulls away again - 2.4s. The top two are edging away from Button. There's a minor queue developing behind Sato. Raikkonen is still bottled behind Villeneuve.
Lap 4: Trulli repasses Michael Schumacher for sixth.
Lap 7: Alonso bags fastest lap so far: 1m22.685s. He trails by 2.2s.
Lap 10: The top two are 14s clear of third-placed Button.
Lap 11: Monteiro makes the first scheduled stop.
Lap 12: Alonso laps in 1m22.376s and cuts his arrears to 1.9s.
Lap 13: Michael Schumacher pits.
Lap 14: Barrichello and Villeneuve come in: Raikkonen is unshackled. Talking of which, Montoya laps in 1m21.988s.
Lap 16: Sato and Doornbos pit.
Lap 17: Button pits on schedule, Sato returns after a refuelling glitch.
Lap 18: Klien peels in.
Lap 19: Alonso and Massa refuel.
Lap 20: Montoya and Trulli pit.
Lap 21: Fisichella comes in. Coulthard and Webber are having a ferocious tussle - albeit for 15th place. Raikkonen passes the fuel-heavy Alonso for fourth.
Lap 22: Ralf Schumacher pits.
Lap 23: Pizzonia pits. Raikkonen - now second on the road, pending his stop - laps in 1m21.725s...
Lap 24: ...and 1m21.629s.
Lap 25: Raikkonen finally pits. He rejoins fifth.
Lap 26: Montoya leads Alonso by 9.5s. Webber pits.
Lap 28: Raikkonen suffers a cut left rear tyre. He pits for a replacement and slips to 11th. Coulthard refuels - and rejoins behind Webber.
Lap 29: With everybody having pitted, Montoya leads Alonso, Fisichella, Trulli, Button, Ralf Schumacher, Barrichello, Michael Schumacher, Pizzonia, Massa, Villeneuve, Raikkonen, Klien, Sato, Webber, Coulthard, Monteiro, Doornbos, Albers and Karthikeyan. Albers is given a drive-through penalty for failing to heed blue flags.
Lap 31: Monteiro pits.
Lap 35: Button pits.
Lap 36: Michael Schumacher comes in.
Lap 37: Barrichello pits.
Lap 39: Alonso and Villeneuve pit.
Lap 40: Montoya, Fisichella and Trulli pit.
Lap 41: Ralf Schumacher and Massa refuel.
Lap 43: Barrichello - again - Klien, Sato and Webber pit. The Ferrari driver replaces his left-rear tyre.
Lap 45: Raikkonen spins down from fourth to fifth at the Variante della Roggia.
Lap 47: Raikkonen repasses Trulli for fourth at the Parabolica.
Lap 49: Montoya slows noticeably - his left rear appears to be blistered. He carries on but reduces his pace. Alonso closes in.
Lap 50: Having harried Button since the second fuel stops, Michael Schumacher runs off at the second Lesmo and slips to 10th.
Lap 51: Raikkonen laps in 1m21.504s.
Lap 52: Alonso is within 3.5s of Montoya.
Lap 53: Montoya wins by 2.4s from Alonso. Fisichella, Raikkonen, Trulli, Ralf Schumacher, Pizzonia, Button, Massa and Michael Schumacher. Villeneuve, Barrichello, Klien, Webber, Coulthard, Sato, Monteiro, Doornbos, Albers and Karthikeyan are all lapped. All 20 starters are still running at the end.