Interview with Martin Whitmarsh:
"We've got to win all remaining Grands Prix"

---
By Adam Cooper, England
Autosport-Atlas Contributing Writer
The British Grand Prix highlighted McLaren's strengths and weaknesses this season: outstanding drivers and the fastest car make them candidates for a 1-2 at any given race. Poor mechanical reliability could cost them the World Championship. McLaren CEO Martin Whitmarsh talks to Adam Cooper about Juan Pablo Montoya's dominant win in the British Grand Prix, Kimi Raikkonen's blitz to the podium in the last couple of races, and the mistakes the team need to avoid for the rest of the season
Q: It was a great day for Juan Pablo Montoya, but would you rather have it the other way round with Kimi Raikkonen in front?
Martin Whitmarsh: "From a simple Championship points point of view, perhaps! But I think for the team it is a good result, because Juan has had a tough time. Kimi is fairly formidable at the moment, and has been for most of this season. I think for Juan to come and get that result, his first McLaren win, was massively important. I think we'll see him in a new competitive spirit in the coming races. We're there to win races, and we want to win races with both drivers.
"Of course Alonso in the middle there makes it tough for Kimi to now pull through, but at least we took some points from Alonso, we scored some points with Kimi, and we're still in with a shout of the Championship. If you think for the last two weekends Kimi has had to start from the middle of the field, and he's come through in both of them, it illustrates what a great driver he is, and what a strong package [we have]. We've got to stop making those errors as a team that give us 10 place penalties, put him near the front, and he's going to win all of them."
Q: Can you confirm what happened to Kimi's engine on Saturday?
Whitmarsh: "It was a water pump driveshaft. The water pump is in the auxiliary pump package alongside the engine. You can remove it, but it's a question of time to rebuild the engine. It happened at a point where we didn't have too much time, and therefore we were forced to make the engine change. It would have been difficult to change without breaking the seal, it may not have been an easy job, and we had limited time to get the car ready and get it out."
Q: So if it had happened on Friday afternoon and not Saturday morning you might have been able to do something?
Whitmarsh: "We may have been able to. Technically, you can change the auxiliaries on an engine. It was part of that package. We don't fully understand what happened. It looks as though it was not a fatigue failure. It's from a batch that's been run for many thousands of kilometres. It's frustrating, of course, because if you have something that's consistently weak, then you can address it.
"At the end of the day, we can talk about luck and misfortune, but at the end of the day there isn't luck in this business, you've got to iron those issues out. You've got to make sure that the process, and the consequence of that process, the product, is reliable and we don't have these problems.
"I have to say that after two problems over the last two weekends, both in the car that is contesting the Championship, it was fairly tough for us to take. A great strength of Kimi is that he is so robust, he's so focussed. He has emotions, he will be greatly disappointed, but he's disciplined enough to compartmentalise that. You can't change it, so get focussed on doing the best job.
"Realistically, he couldn't have done a better job unless we had Alonso backed up by Juan Pablo, and that's not how we go motor racing. We were there to win the race, we were there to go as quick as we can, and I don't think anyone can accuse Juan Pablo of taking it easy during this race - he was going for it throughout the whole race."
Q: Obviously the key was the start. How impressed were you with the way Juan got past Alonso?
Whitmarsh: "He made a good start and frankly we all realised that an assertive manoeuvre with Alonso was probably the right thing to be doing at the moment. As long as it's clean and fair. I think Juan Pablo was there to get his maiden McLaren win, and I think inevitably Fernando is in a Championship battle at the moment, so it was absolutely the right thing to do. Motor racing is a balance and a measure of aggression when you need it. It was good and clean and hard, but it was right.
"I think after that there was no doubt in my mind that he was going to come through, he was going to keep pushing. If at any stage Alonso would have got up there, Juan would have been fairly robust in protecting the position! He wanted to win. After the start of the season he's had, in a new team, that was just what he needed to do.
"I genuinely believe that there's a feeling of relief, proving to himself and to the team that he can do it. We never doubted it. He should have had a lot of podiums along the way, but for one reason or another he hasn't. So to go out and win now and take points from Alonso is a good thing for us, it's good team work. We just have to stop making mistakes as a team and getting 10 place penalties."
Q: What do you think of Juan's overall performance?
Whitmarsh: "Juan settled down into a great race. Early on he was slightly overdriving, and the car looked a bit loose as a consequence. But he figured that for himself and decided that he had to look after his tyres, and his rear tyres in particular. From a few laps into the race he was completely mature, completely smooth, did exactly what he had to do.
"Obviously he took a view on strategy, we told him 'right, we need to open a seven second gap here', and bang, he delivered a seven second gap. He had a tough time with traffic at one point, but then so did Alonso. Traffic was difficult for both cars, and ultimately I think it was about a neutral thing. The reality is he beat Alonso fair and square, which I think he is capable of doing. What we need to do now is to make sure both out drivers finish in front of Alonso in the remaining races, and then we'll get the job done."
Q: Were you relieved when Alonso only did one more lap at the first stops?
Whitmarsh: "Clearly we're monitoring people's strategies, and it ran pretty much to the arrangements that we expected. We decided that we had to open up enough of a gap to give us that margin that we needed."
Q: What do you think of Kimi's race?
Whitmarsh: "The last two races by the time Kimi has got to clear air he's typically been half a minute behind, and he's then has to play catch up. I don't think there's anyone doubting that for the last eight races, Kimi has been the fastest package out there. I think Juan Pablo did all he had to do and did a great drive, but Kimi has been so blisteringly quick at all points, and I think everyone sees that. He's got the right balance of speed and aggression that you need to have to go out and get the job done.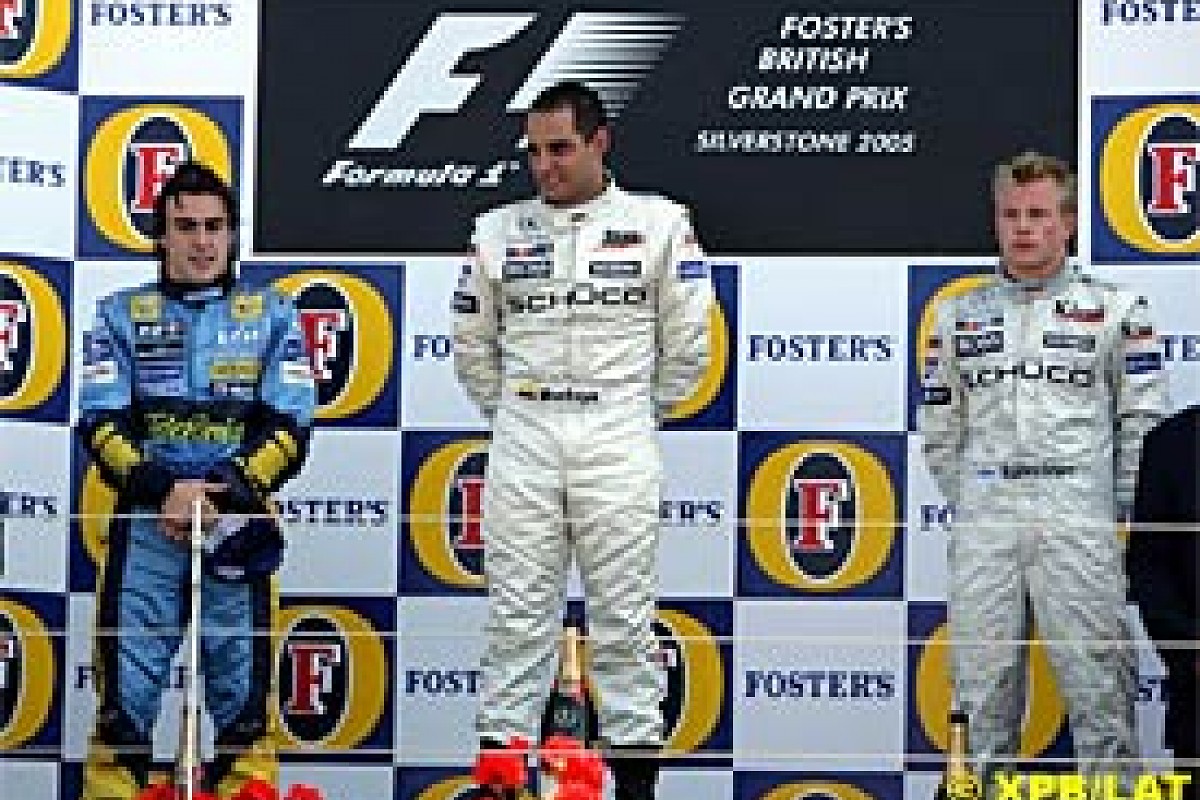 "I think a one-two would have been nice, and less points for Renault would have been nice. I think they're doing a good job, and they will be tough to beat, but I think we've got the performance to beat them. We've been saying that for some time. I don't think there's anyone wagering this year that we're not going to win a Grand Prix again in the season! I think we're going to win quite a few.
"We believe at the moment that we're capable of winning all the remaining Grands Prix. That's tough, but that's the sort of target we've got to set ourselves. To go out and win a Championship, we've got to win all remaining Grands Prix, which I'm personally looking forward to, and I'm sure everyone else in the team is."
Q: Do you think Michelin really hammered Bridgestone?
Whitmarsh: "I think Michelin are doing a great job, there's no doubt about that. They've had some distractions in the last few weeks, just as all their teams have. They've come through that, they look very strong. They could have gone ultra conservative in the light of Indianapolis, but I think they've done a great job. There's always that balance, there's a risk management, and occasionally you get it very wrong. I think they're doing a good job in that regard.
"Bridgestone is a competent organisation. Maybe others can tell better than I, but I think Bridgestone are carrying an unfair proportion of the burden of blame in the pitlane at the moment. I think if you ask me right now which tyre I'd rather be on, I'd rather be on a Michelin. But on the other hand, I don't think the performance deficit of Ferrari is wholly attributable to tyres. Even if a proportion of it is, that's to do with the strategy people are putting in to working with their tyre partners and how they are trying to work the tyres.
"Michelin have been very open to having a number of strong partners. That means to an extent you dilute your efforts, but at the same time you get a reasonable amount of technical feedback. Bridgestone and Ferrari choose a different strategy, which is the view that you focus on one strong team and a more focussed effort will give results. Maybe sometimes it will, but I think at the moment the results are showing that perhaps Michelin have got the strategy right."
Q: Is it going to be between you and Renault for the rest of the season?
Whitmarsh: "I think that's been clear for some time. We haven't pulled clear in the way that Renault have, but I think we're starting to now. A lot of the cars there are being lapped, and we've got a good performance. Renault are strong, but I happen to think we are stronger, but perhaps I'm biased! We'll see what happens in the next races."
Q: Were you surprised to see Ferrari struggle so much?
Whitmarsh: "At the moment, Ferrari is not the most competitive package out there. They've got drivers with good guile and good experience that are making the best of the package that they've got and are scoring some points. But really, the points table and their finishing positions in Silverstone aren't a good indication of their performance. They are some way off Renault, which is heartening for us, but they are a competent organisation, they've got a pair of good drivers, they've got a strong team, and they're going to, I'm sure, improve their performance as the season goes on. Fortunately at the moment they've got a reasonable way to go to be really challenging."
Q: The next round is the German Grand Prix. How important is it to win at Hockenheim?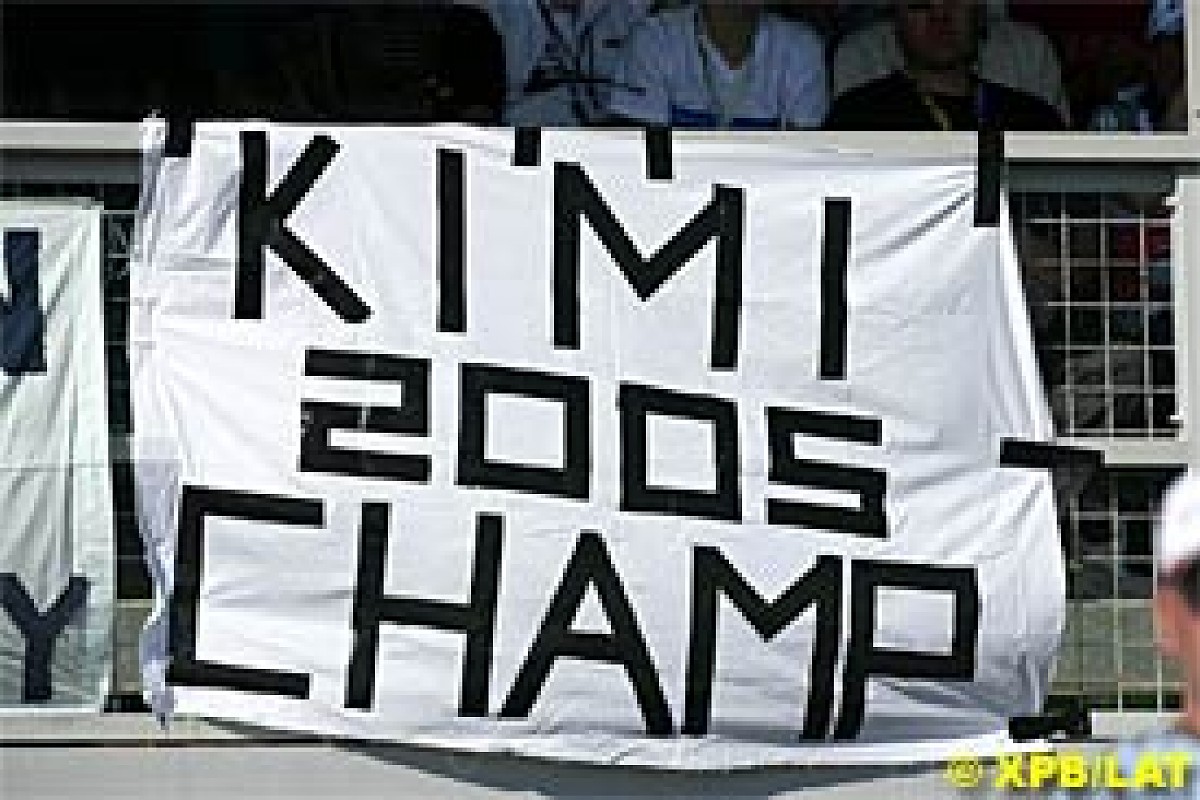 Whitmarsh: "Of course it's important. Every Grand Prix is important. I'm sure we'll have a few DaimlerChrysler guests there, and we'd like to win for them, but most importantly we want to win for ourselves. Every Grand Prix in this Championship is vitally important for us. We can't afford to make any more mistakes, we can't afford not to score maximum points, and if we now score maximum points with both of our drivers in the remaining Grands Prix then we can win the Championship.
"If we have a reliable car, if we have two cars finishing every single race for the rest of this year, I believe we will win the Championship. If we don't, if we have two more failures during the year, then I think the Championship's gone. I think it's that sort of mathematics, isn't it? All the time assuming of course that Renault maintains what has been very good reliability.
Q: Realistically, is the constructors' title potentially going to be open a lot longer?
Whitmarsh: "They're both open, and they're both tough. We've got to win races to get it done. At the moment, in some ways, there's no one else. Even if we beat the Renaults, if they're reliable, no one else is going to beat them. The points system is such that you have to maintain performance and beat them every race.
"We believe we can go to Hockenheim with the fastest car, the strongest pair of drivers, and we're going to win it. It isn't easy, winning in F1. There's many a team up and down here who have never done it. It's not an arrogance, it's a belief and a confidence that we're going to go out and win it..."