America knows about entertaining people. The customer comes first in many things and usually the customer doesn't have to pay a great deal of money in order to be entertained.
Shame the race at the front of the United States Grand Prix last Sunday was a bit strung out, but the race further back for the crumbs was pretty good, again giving people the chance trackside to get a taste of what we usually get during a MotoGP race.
With Indianapolis on the calendar for next year, the fans are very confident that the place will be pretty full over to the east; a massive centre of populous and a love of racing first and foremost should be the key for Dorna and MotoGP to grow into the US.
Formula One supremo Bernie Ecclestone and IRL boss Tony George fell out for whatever reason, leaving MotoGP and Red Bull to make a real impression. It doesn't need to be hung on an American rider, just pure racing.
The Indianapolis MotoGP layout © IMS
Hey, with the Brickyard 400 this weekend and another next year taking place before the MotoGP arrives in town on September 14th 2008, what a chance it would be to promote the race with a MotoGP bike going around the track in front of 400,000 fans? Not all of them would get it, but nearly half a million people is one hell of a captive audience.
What we will then have are the two USGPs with the small friendly crowd at the more natural Laguna Seca layout before a pay day for Dorna and promoter IMS when we go to Indy. Which one will be the better show next year?
The Ducati squad were not too bothered about the show last Sunday; all they wanted was a win, and they got that. Casey Stoner got his points while Valentino Rossi struggled again, the engineers got their victory 44 seconds faster than last year's race winner, Nicky Hayden, an incredible feat considering the Ducatis last year at Laguna were woeful.
And as for Ducati's pushing into the USA, well... Their market in California alone must account for 90% of the 10,500 units they sell in the USA a year. I have never seen so many Ducatis! They will sell so many more off the back of that win, it may mean they'll have to actually make them over there rather than ship them. Who knows?
Loris Capirossi is arguing with the team and this whole thing about a third bike for next year alongside Casey Stoner and Marco Melandri is a fob off. He is not going to take it, even if Ducati have been 'polite' in at least offering it to him. It is just a shame it has deteriorated down to them arguing over things after the guy won so many good races for them since 2003.
It's obviously no co-incidence that Capirossi's form has plummeted with the stunning form of his teammate, but will the little Italian have enough fighting spirit on the Suzuki he is actually going to ride next year? Is he doing it for the cash? Let's hope he can prove us wrong at the first race of 2008, but you just fancy that with Chris Vermeulen under a bit of pressure to deliver, and Suzuki edging closer up the championship, order the former team incumbent may have an advantage...
Someone else who is really getting an advantage at present is Anthony West. In the first four MotoGP races he has ever raced in, he's outscored his far more experienced teammate Randy De Puniet 29 points to 20.
"The Japanese just told me to keep my head down and finish in the top 10," he told me on Thursday. He's now got three top ten finishes from four. Not bad, hey?
Maybe there's something about the younger generation of MotoGP riders that can get their heads around the current technology? Look at Chaz Davies' debut even though he was in at the deep end at a track that is probably the hardest to learn and wrestle a bike around in the entire 18 race calendar. Hell, he was minding his own business and within 30 minutes he was on the D'Antin Ducati for the Friday afternoon free practice session.
Chaz Davies on the D'Antin Ducati chases the Repsol Honda of Nicky Hayden © DPPI
The sprocket fell apart during the race forcing the 21 year old to pit with another one of D'Antin's famous lifting of parts shortcuts, just ask Neil Hodgson about falling on cold tyres, because the tyre warmers didn't work.
The thing we have to remember about Chaz is he used to race against Stoner in the UK Aprilia Challenge Cup in 2001, battling the Aussie to race victories alongside Leon Camier. The remain firm friends and are intensely competitive. Indeed, asked is Casey would help out Chaz over the Laguna weekend, there was a positive, "Nope. He's a rival. It's different now."
Two riders who are firm friends everywhere except on the track are the two FIAT Yamaha riders Rossi and Colin Edwards. It is difficult not to get on with Edwards who just speaks his mind all the time. If only Valentino could give Colin 30 seconds on a Sunday afternoon. That is how far back the Texan was of the No.46 4th position bike.
"When was the last time you saw teammates works bike 30 seconds back?" Asked Edwards after the race. And that was the polite bit...
Edwards hasn't just forgotten how to ride, same as Hayden. Someone's having a laugh somewhere.
So, as Fonsi Nieto said, "It's time to go happy to the holidays." Who is happy?
The Happy Holidays
Casey Stoner - Obviously... six wins from eleven races. Worst has been two fifths. Incredible riding and cool head.
Chris Vermeulen - Had his first win at Le Mans, but more importantly his first dry weather podium at Laguna and a new Suzuki deal to the end of 2009.
Marco Melandri - Realised he hadn't forgotten how to ride with third in Laguna. Ducati deal done for 2008 and 2009. He's seen the light to get out of HRC.
Chaz Davies - Finally got people to talk about him after all these years of us Brits telling people he was good.
Livio Suppo (Ducati Team Manager) - Cannot stop smiling. Took risks with Bridgestone and Stoner and is happy to ride the wave.
Bridgestone - Initially brought lots of engineers to each track during the early season in case of problems. Now they don't bother.
Anthony West - Won two Super-sport races as a stand in before leaving to beat a regular MotoGP rider after a matter of hours on the Kawasaki. Impressive.
Paul Denning (Suzuki Team manager) - Suzuki only eleven points behind Repsol Honda in the teams' table.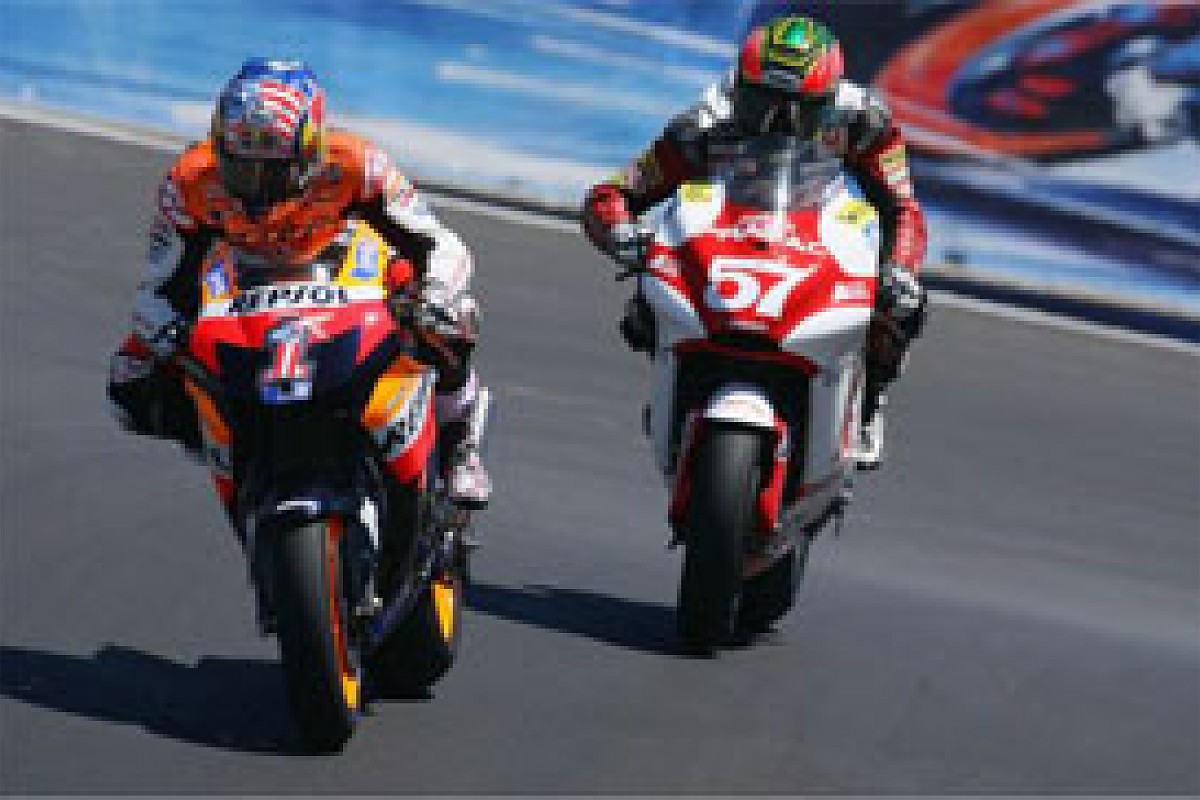 Valentino Rossi © DPPI
50/50 Happy / Hurting
Valentino Rossi - Happy as knows he can still do it just as he did at Mugello. Mega ride.. but bike and tyre problems keep rearing their head. Turkey and France for tyres, Germany for the overheating gremlins returning. On Michelin's case big time and rightly so. Stoner's lead is different from the Hayden lead 12 months ago in that Stoner's got it through domination rather than Rossi losing it as he did on the Camel Yamaha in 2006.
Loris Capirossi - Happy as got a deal and a wedge of cash from Suzuki in his pocket for 2008, but had to fall out with Ducati to get there.
Dani Pedrosa - Happy as finished every race less for being knocked off in Turkey, won in Germany and can now ride in the wet. (Le Mans). Trouble is, Honda and Michelin still messing him about. Saving grace has to be 'post 8 hour' parts in Brno.
Nicky Hayden - What is there to be happy about? You finally get the bike onto brilliantly ridden podiums, and then with the ultimate chance to win a race at Laguna (the only one this year...?) and gets friendly fired by a fellow American.
Sylvain Guintoli - Happy as lead home race and woken people up to a 250 privateer champion. Knows can go faster after arm pump operation this week. Dunlops nowhere but keeps trying every lap.
John Hopkins - Got that Chinese podium in well ridden race, leading to a big dollar Kawasaki deal for 2008, but now overtaken in points table by teammate. That will bug him.
Colin Edwards - we forgot there were two poles and two podiums, but it all seems a very long time ago. His total loyalty will be rewarded with another deal?
Randy De Puniet - Now proved he has the speed, but keeps falling off as he used to do in 250. The new Carlos Checa in that respect.
Hurting
Alex Hofmann - Got a plate in one hand and a half inch gash in the other. Will he ride again?
Shinya Nakano - Good Hondas struggle, and his is not a good one.
Carlos Checa - See above.
Makoto Tamada - See above but change Honda for confidence.
Team Roberts - Poles, podiums and success last year. Now no power from Honda. Got nothing to do with the chassis...
Toni Elias - Leg in a hundred pieces and out for months. Name never mentioned in paddock circles anymore after two races out of the loop. Cruel after the truly brilliant ride in Istanbul.