Sunday's 2007 European Grand Prix at the Nurburgring circuit will go down as a rich source of material for F1 trivia buffs, with the chaotic race inviting questions such as "Which F1 driver qualified stone last in his debut GP, but led the field by 19 seconds after just two laps?"
The answer, of course, is Markus Winkelhock. Although even the Spyker debutant's remarkable feat paled in comparison to the roller coaster fortunes that McLaren's Lewis Hamilton experienced.
Lewis Hamilton slides into the first turn gravel trap © LAT
The difficulty lies in formulating a question that adequately sums up Hamilton's first ever F1 finish off the podium. "Which F1 rookie ended a record string of podium finishes by being driven out of a gravel trap in an ambulance on Saturday, lifted out of another gravel trap by a crane on Sunday, passing the entire field behind the Safety Car, and then taking one tyre stop too early and another too late?" might suffice. Although even that doesn't tell the full story of Hamilton's weekend.
It was inevitable that the McLaren star's clockwork consistency would be disrupted sooner rather than later. Even Michael Schumacher at his daunting best was unable to maintain a string of podium finishes indefinitely. What could not have been predicted was how many blows of fate it would take to down Hamilton - and how he would doggedly and unexpectedly bounce back each time. If the young Briton's rivals had hoped that he would fold the moment that luck turned against him, they know better now.
Hamilton's weekend should have been done and dusted following his 120km/h, 20g impact into the tyre wall at the newly-named Schumacher S during the final qualifying session on Saturday. Even after being cleared to race, Hamilton's first-lap puncture, closely followed by aquaplaning helplessly off into the gravel trap at Turn 1, should have had the Englishman throwing his hands up in resignation and stoically accepting the first DNF of his ten-race F1 career.
Instead, Hamilton's race took on a Rasputin-like quality. Just as the Russian mystic refused to succumb to numerous attempts on his life, Hamilton refused to believe that the chase for points had become futile. No matter what the circumstances threw at him, Hamilton clawed his way back into the fray.
He was surely also helped by large dollops of good fortune. The setback of his puncture was partly negated by the rest of the field also having to pit and switch to intermediate tyres as the rain started on lap one. The trackside officials were also generous (perhaps too generous) in lifting the beached McLaren back on to the circuit. Additionally, the new safety car regulations allowed Hamilton to unlap himself and claim back some of the time lost from the aquaplaning incident.
Good fortune aside, it still took extraordinary resolve and cool thinking for Hamilton to keep the engine running as cars plowed through the gravel towards him, and then to regain the circuit via the crane and the Michael Schumacher "stopped in a dangerous position" line of reasoning.
When he pulled off that tactical coup (coincidentally at the same Nurburgring circuit), Schumacher was already a hardened veteran and multiple champion who commanded respect from the trackside officials. Hamilton is showing the same mental acuity and command in his debut season.
Sunday's race also answered questions about Hamilton's wet weather abilities and his willingness to gamble. In a competitive and reliable car, most drivers opt for a conservative style with fewer risks. It was this approach that led to both Kimi Raikkonen (2003) and Fernando Alonso (2005/6) being classified as "boring cruisers" who would not risk all to win.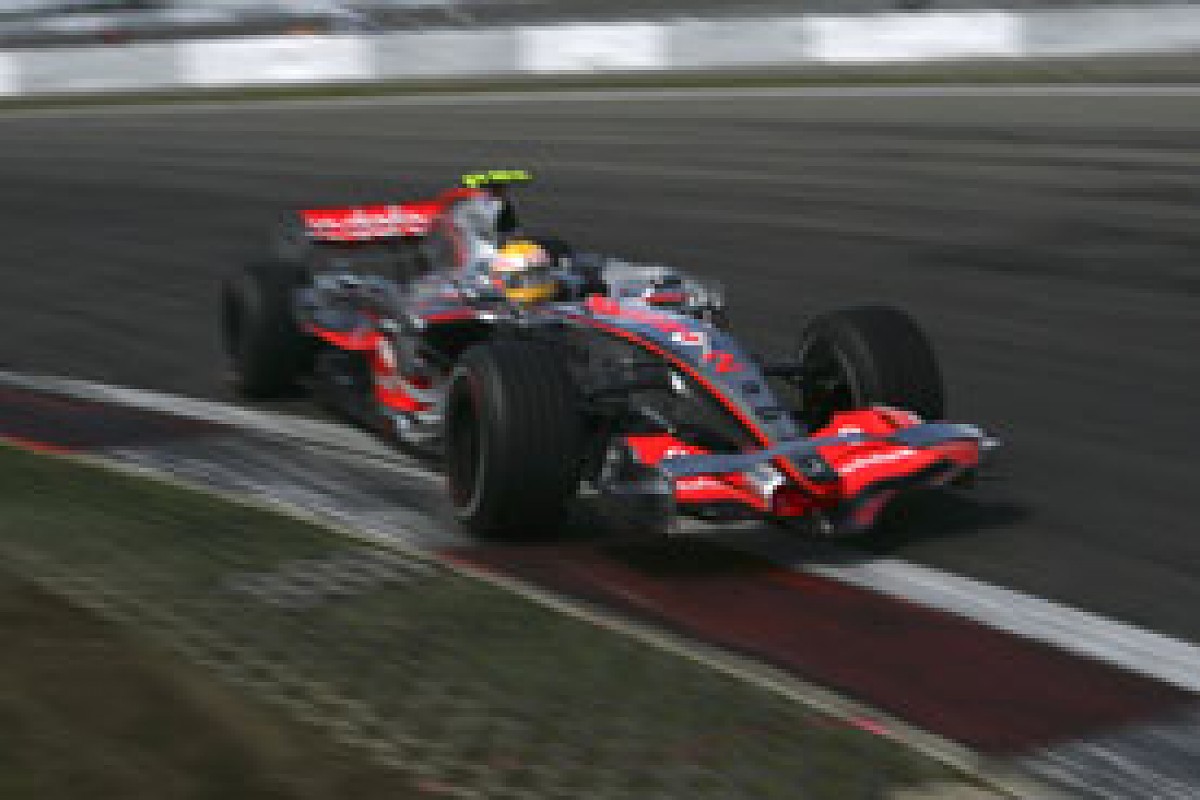 Lewis Hamilton gets sideways on dry tyres © LAT
The same accusation could have applied to Hamilton so far in 2007. Yet, on the drying track, he showed the same self-confidence and readiness to gamble that characterised many of Michael Schumacher's and Jean Alesi's performances in changeable weather - switching to dry tyres early and backing his own ability to keep the car on the tarmac in treacherous conditions.
Even though he drove fast and fearlessly with limited grip, the gamble backfired on Hamilton. Switching to the dry grooved tyres just a couple of laps later, when the gains in sectors two and three were no longer nullified by the time loss in the still-soaked sector one, would have been enough to get Hamilton into eventual eighth place ahead of Renault's Heikki Kovalainen. Instead, he finished an agonising one-and-a-half seconds behind Kovalainen, in the position that no driver wants - the first of the non-scoring finishers.
The symbolic (if not practical) value of that single championship point cannot be over-emphasised. It would have reinforced the impression that, no matter what misfortunes befall Hamilton, he'll take at least some reward from every GP weekend. As it was, he could aptly have described the European GP weekend as "living the nightmare".
As novel as the Nurburgring experience was for Hamilton, it was deja vu once again for Ferrari's Kimi Raikkonen. The Finn's long-standing woes with Nurburgring (a track that he enjoys driving) were intensified by yet another mechanical failure. In the five European GPs since 2003, Raikkonen has led for 77 laps around Nurburgring - with a measly fourth place and four mechanical retirements to show for his efforts.
Fernando Alonso, by contrast, has led for a cumulative total of just 14 laps at the same circuit in 2005 and 2007 - and eight of those were due to cars in front of him pitting earlier and then retaking the lead once Alonso had pitted. Yet he has taken the maximum ten points on each occasion.
For most of Sunday's race, especially in the dry conditions, Alonso had no response to the pace of Ferrari's Felipe Massa. But Alonso recognises, just as Michael Schumacher did before him, that race wins don't always go to the driver who leads the most laps. Just being on the dance floor during the closing laps, and able to put pressure on the leader, is sometimes enough to force a surprise win.
Once again, wheel vibrations swung the race in Alonso's favour. In 2005, heavy vibrations from Kimi Raikkonen's flat-spotted right front tyre caused the spectacular last lap suspension failure that allowed Alonso into the lead. On Sunday, the occasional vibration problems that plague Bridgestone's intermediate tyres affected both race leader Massa and third place finisher Mark Webber in the Red Bull. It was the only chink in Massa's defence of his race lead all afternoon, but it was all that Alonso needed.
The aggression of his passing move, and Massa's spirited resistance, resulted in brief contact and angry accusations from both sides after the race. It wasn't just the natural sense of competition or the glory of victory that sparked the argument. It was also the sense that this might be the only clean break that championship leader Hamilton will offer his rivals all year.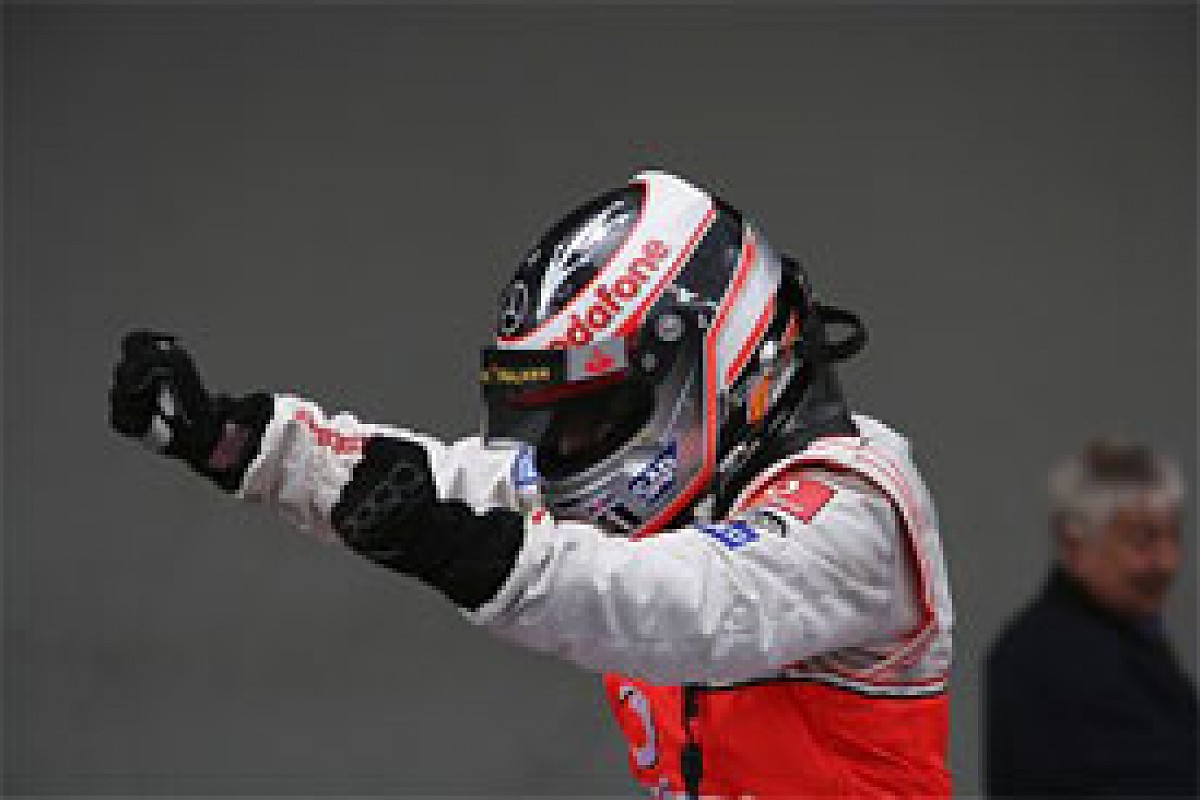 Fernando Alonso © LAT
Going into the season, all of the championship hopefuls realised the importance of maximising every opportunity. Ten races into the calendar, Fernando Alonso is now the only driver in the field to have followed through on the plan and scored points at every GP. The Spaniard's experience at this type of grinding and protracted championship slugfest will make him a tough man to beat in two weeks' time at Hungary.
Although, despite being the scene of his first ever GP win back in 2003, Hungary has not been kind to Alonso recently. A mediocre non-points finish in 2005 was followed up by the disappointment of losing certain victory in the wet 2006 race, when a wheel nut worked loose on his Renault. It's an experience that he cannot afford to repeat in 2007.
The Budapest circuit is also likely to be the last in this year's calendar to provide a clear advantage for McLaren. As such, both Alonso and Hamilton will be looking to eke out the maximum advantage before bracing for the renewed Ferrari onslaught from Monza onwards.
If the European Grand Prix was instrumental in opening up the championship battle again, Hungary may be equally pivotal in deciding the final outcome.