Reigning MotoGP world champion Marc Marquez says Honda lost its way during pre-season testing because it was "convinced" the real issue was his injured shoulder.
Marquez had to undergo surgery on a partially dislocated right shoulder he suffered in a heavy crash during qualifying for the Malaysian Grand Prix, and which he aggravated further in a small off during November's Jerez test.
He entered pre-season testing at "60-70%" fitness and struggled in Malaysia and Qatar with the 2020-spec RC213V.
Both Marquez and LCR's Cal Crutchlow complained that the new bike was even harder to turn than its difficult predecessor, and it wasn't until the final day of testing in Qatar that the problem was found to be the updated aerodynamic package.
But, speaking to Sky Sports, Marquez says the biggest issue was Honda linking his negative feedback of the bike to his shoulder not being 100% fit.
"The condition of my shoulder is improving, in the operation and during rehabilitation I had an injury - the muscle around the shoulder was [damaged]," said Marquez, who penned a new four-year deal with Honda in the off-season.
"But in the last days before the coronavirus emergency I had already started doing motocross again and I felt better.
"We initially lost our way in Malaysia.
"We lost it because we were all convinced that the problem was my shoulder.
"Every comment I made, such as feeling [of] the bike [being] heavy when cornering, was influenced by the shoulder.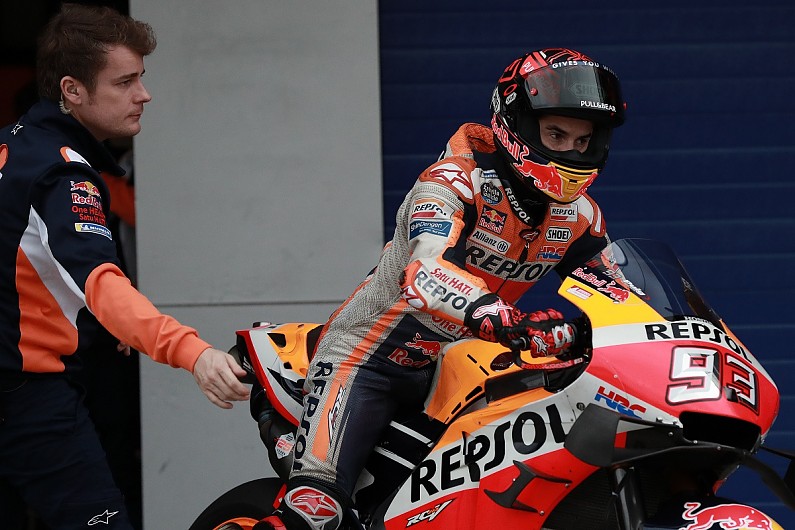 "Afterwards we went to Qatar, my conditions were better, but the problems were always the same.
"We tried pieces of the 2019 bike, we analysed the situation, to solve the problems and on the last day we found the right way."

What "unique" Marquez deal says about his and Honda's ambition
Many believed with Marquez still recovering from injury and on the back foot with the bike, he would have struggled in the season-opener before it was cancelled.
But Honda team boss Alberto Puig dismissed this, claiming Marquez would have "fought like hell" to have been at the front of the pack.
The 2020 season is on delay until at least the end of July after the first 11 races were cancelled or postponed by the COVID-19 pandemic.
When it resumes, it is likely it will be a European-centred campaign consisting of around 10-12 races from August through to November.
Commenting on the possibility of a short season, Marquez said: "It would be difficult to have a short season, because we would have to take risks, not being able to skip races [through injury].
"There would be no time to recover points.
"But, honestly, I don't think about that right now; when we have a calendar I will sort my strategy."