Honda MotoGP boss Alberto Puig admits Marc Marquez "would have suffered hell" with his injured shoulder had Qatar gone ahead, but believes he would have fought for the win regardless.
Reigning six-time world champion Marquez partially dislocated his right shoulder in a heavy crash during qualifying for November's Malaysian Grand Prix, before aggravating it further in a light tumble during that month's Jerez test.
He underwent an operation similar to one on a recurring left shoulder dislocation problem he had in the winter of 2018 over the winter, and struggled with it through testing.
It was expected that Marquez would struggle to be in the mix in the Qatar race - prior to its cancellation due to the coronavirus pandemic - but Puig refutes this.
In an interview with Autosport he said: "If we had started in Qatar, Marc would not have been 100%.
"This break has gone well for his shoulder, but he is not at all happy with this inactivity.
"He would have preferred to start [the season] in Qatar, of course.
"He would have done it at 65% or 70% of his chances, but unlike what many think, that would not have prevented him from fighting for the victory on Sunday.
"Let's be clear with that.
"Many rubbed their hands saying that Marc was not fit, and it is true he was not [fully] prepared.
"But from there to think that that night he would have not offered a level [befitting of his talent is a mistake].
"He would have suffered hell, but he would have come out of it because he is a very special guy."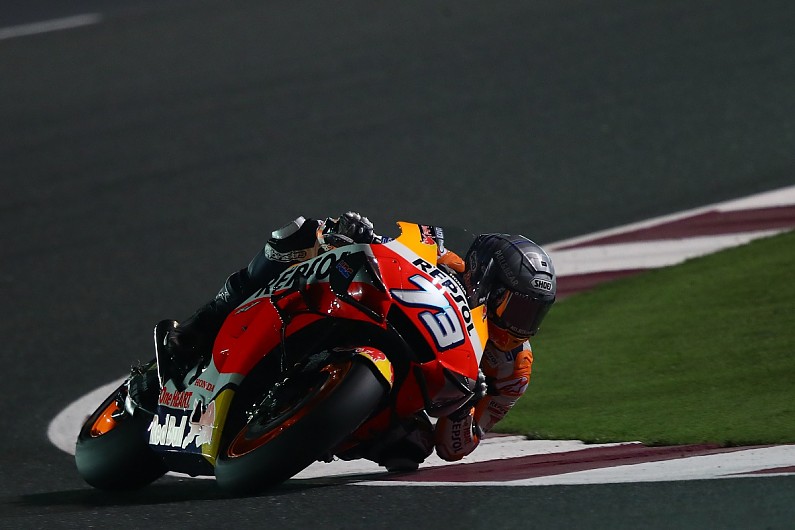 Puig also admitted the current hiatus is a "bad matter" for its rookie signing Alex Marquez, who endured a difficult final test on the Honda in Qatar prior to the cancelled season-opener.
"Well, for Alex, this inactivity is a bad matter, really, because he is a new rider in the category," Puig said of the reigning Moto2 champion.
"MotoGP requires a lot of training to [be ready for] it.
"He made the pre-season like we expected, and little by little he will have to find his place.
"That is the logical approach of anyone who comes to MotoGP, unless we are talking about a monster.
"Under normal conditions those steps are needed, and that's where Alex is."
Both Marquez brothers took part in MotoGP's inaugural #StayAtHomeGP Esports race, with Alex cruising to victory while the elder Marquez ended up fourth.