Cal Crutchlow says he would have been more committed to passing Maverick Vinales in MotoGP's German Grand Prix had it been for the last place on the podium, instead of second.
LCR Honda rider Crutchlow scored his first podium finish since the Qatar season opener, despite fracturing his tibia in the run-up to the weekend.
Crutchlow and Vinales had been battling over the third place position until Suzuki rider Alex Rins crashed while in a comfortable second place behind runaway winner Marc Marquez.
Crutchlow says running in the third took away the impetus to defeat Vinales, who's pace impressed the LCR Honda rider.
"Honestly speaking, taking nothing away from Maverick, I felt I had better pace," said Crutchlow.
"But I didn't need to pass. I was already in third, a podium position.
"I would've put a lot more pressure on Maverick and I would've passed him if Rins hadn't gone down, because I wanted the podium, and I was willing to take the risk today to be on the podium.
"But we were catching Rins anyway, and once he went down it was quite an easy podium. At one point we had nine seconds to the guys behind, which is a really strange race around here."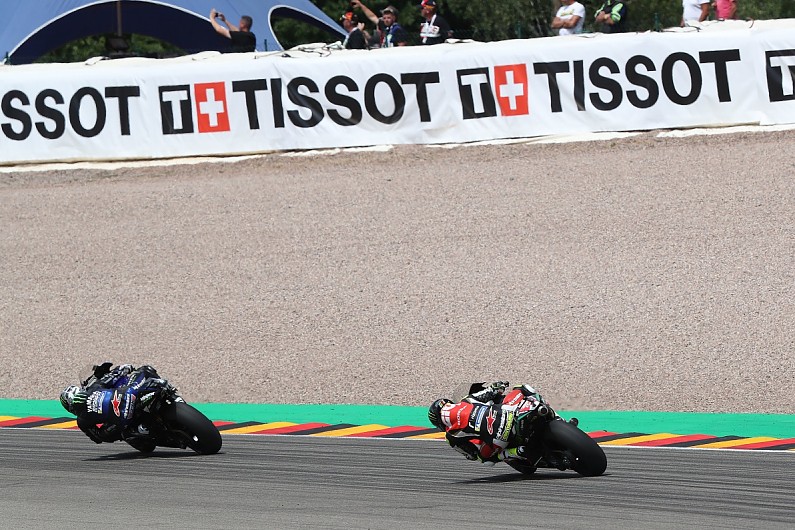 Crutchlow had been closing on Vinales but suffered a major moment at the Turn 10 left-hander on the penultimate lap, which convinced Crutchlow not to push his luck any further.
"With five laps to go he went a little bit, I caught him back up and I thought I would pass him on the last two laps," said Crutchlow.
"But it didn't happen like that, and I thought on the last lap 'he can have it', which is not like me.
"The tyre was gone, I leaned the bike over and I lost the rear. I needed a run down to Turn 11 because I knew I could pass him at the bottom of the hill if I got the run.
"I tried to come on to him fast but I just made the mistake."
Vinales' second place followed up on his victory last time out at Assen and moves the Yamaha rider up to fifth in the points, ahead of works team-mate Valentino Rossi.
Vinales admitted he had harboured hopes of challenging Marquez in the early laps but described his finishing position as "incredible" after "closing all the doors" on Crutchlow late on.
"I was worried about Cal, I heard his bike for the last 20 laps," said Vinales. "I tried to save the tyre, ride in a good way. I made a few mistakes but I'm really happy.
"We need to understand what we did well this weekend because, somehow, we were the first Yamaha and to be on the podium is really nice.
"To finish the first part of the season first [in Assen] and second [here] is amazing."