MotoGP rider Cal Crutchlow says he was "not very impressed" with his LCR Honda team-mate Takaaki Nakagami's riding during the Catalan Grand Prix at Barcelona.
Crutchlow believes Nakagami, who had started seven places behind him but made up the difference in the opening-lap tussle, was needlessly aggressive in trying to get past at the Turn 4 right-hander.
The Briton likened Nakagami's move to his own attempt to pass Jack Miller for fourth place with six laps to go at the same spot, in which Crutchlow overshot the corner and fell off his Honda in the gravel.
"What happened at the start was Taka took me off the track, coming into Turn 4, really pushed me out, and ruined that part of the race because I lost four places because he made a really hard move," Crutchlow said.
"Sure, this is racing and I've done it before, but I was not very impressed with how he pushed us out.
"I went in like normal, and he went in like I went in on Jack, but he made the corner, and I was a lot further than Jack, and he took us both out, and I went to the white line on the outside and four people passed me.
"It was the second lap of the race. I understand fighting for the position at the start - but he ruined his own race for the start, and he ruined my race at that point of the race, and I came back through, and he didn't."
Crutchlow said he sought out Nakagami after the race and gave him a warning.
"I told him in no uncertain terms, if he does it again, he'll know what's going to happen, I can tell you that," he said.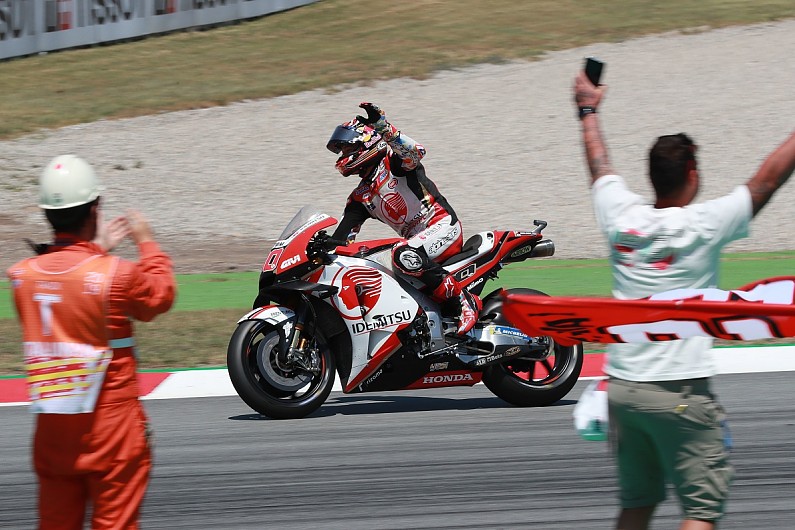 Nakagami - who took the chequered flag in eighth after a race of heavy attrition - did not feel he had done anything wrong.
"Of course I took a risk, but it's nothing, I didn't touch him," he told Autosport.
"Maybe I disturbed him a little but this is racing.
"If I hit him and if I crashed or something, I'd of course apologise, but it's difficult, this is racing and sometimes you have to go aggressive."
He also played down the post-race chat with Crutchlow, and believes there will be no hard feelings between them going forward.
"I understand him because at the end of the race he crashed, maybe the situation is not really good, so I understand what he wanted to say to me," Nakagami added.
"But, it's nothing, maybe today [Monday] or the next race we'll have no problem."