Honda's Jorge Lorenzo accepts the blame for causing the multi-bike pile-up that also eliminated Maverick Vinales, Valentino Rossi and Andrea Dovizioso from MotoGP's Catalan Grand Prix.
Lorenzo said he was "too excited" after making a strong start to the race as he was running fourth behind Vinales on lap two and is yet to finish a race in the top 10 in 2019.
His overtaking attempt at the tight Turn 10 left-hander went wrong and he hit Dovizioso and Vinales, with Rossi also caught up in the incident later on.
"I made a good start, recovered a lot of positions," said Lorenzo.
"I felt very good on the bike, better than the warm-up, better than over the [rest of the] weekend and I was recovering a lot on braking.
"In the previous acceleration, for Marc not to hit Maverick, [Vinales] needed to close [the throttle].
"So I took advantage of this, took his slipstream and prepared an overtake because I felt I had something more [on] the first two/three laps and I could recover some more positions.
"But I probably tried to overtake Maverick in the wrong moment in the wrong place.
"I knew this was a tricky corner - very similar [to the] first corner at Austin - and I've seen many crashes like this in all the categories.
"[It] happened to me in 2016 with [Andrea] Iannone.
"I was probably too excited knowing that I was feeling good, and I just felt that I could go faster and faster.
"My opinion is that these hairpins create these crashes - we've seen [this] many times.
"We just need to understand that as much as possible, [and] today I probably didn't realise, remember or pay attention to that that.
"Especially in the first [laps] it is better to be a bit more cautious in these corners. It was my mistake."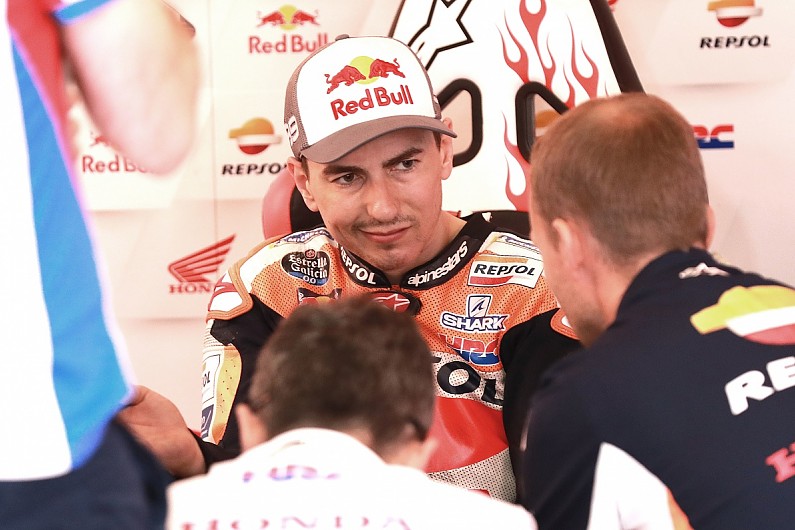 But Lorenzo feels he did not do anything "crazy", and reckons the crash would not have happened if there had not been so many riders around him.
"I didn't [do] any crazy braking, I was just more or less at Maverick's side [and] then I braked quite normally," he said.
"The problem was that we were too many riders and in front Dovi was preparing very well [for] the exit of the corner, opening the line.
"So I was getting closer and closer to Dovi - and to not hit him I needed to brake more with the front brake and the front tyre [was] close.
"It was a combination of factors."
Vinales called for Lorenzo to be relegated to the back of the grid for the next race at Assen, and Lorenzo accepted his compatriot's opinion.
"I understand Maverick's reaction because in the past [similar things have] happened to me and I have similar reactions to him, I understand completely his reaction and I say nothing."