Yamaha MotoGP rider Valentino Rossi says his recent visit to the "forbidden" Cavallara motocross venue was a way of keeping focus after the "shock" of the Italian Grand Prix.
Rossi had endured a disastrous weekend at Mugello, failing to make Q2 and having his race compromised by a clash with Suzuki's Joan Mir, before ultimately crashing out.
In the lead-up to the following race at Barcelona, Rossi had a track day at Cavallara alongside works Ducati riders Andrea Dovizioso and Danilo Petrucci.
Rossi had broken his right leg while training at the circuit back in 2017, which forced him to miss a race at Misano - and Rossi explained he had not been allowed to ride at Cavallara again until now.
"It's a good therapy, after a hard weekend like in Mugello," Rossi said.
"You need to stay concentrated and continue your programme, and after the race in Mugello, we were in Cavallara, that is the track where I was injured in 2017, but it's one of the my favourite tracks, it's a fantastic place, I always love to go there and I also grew up there.
"But unfortunately before the Misano 2017 I had a crash and I had the injury, so all my team - and especially my father and all the guys around me - didn't let me go for two years.
"I always pushed to but it's forbidden for me. But this time, from the beginning of the season we spoke with Dovizioso and Petrucci about going together one time, and they wanted to come to Cavallara, so I went to my father and I say, 'I have Petrucci and Dovizioso this time, we have to go'."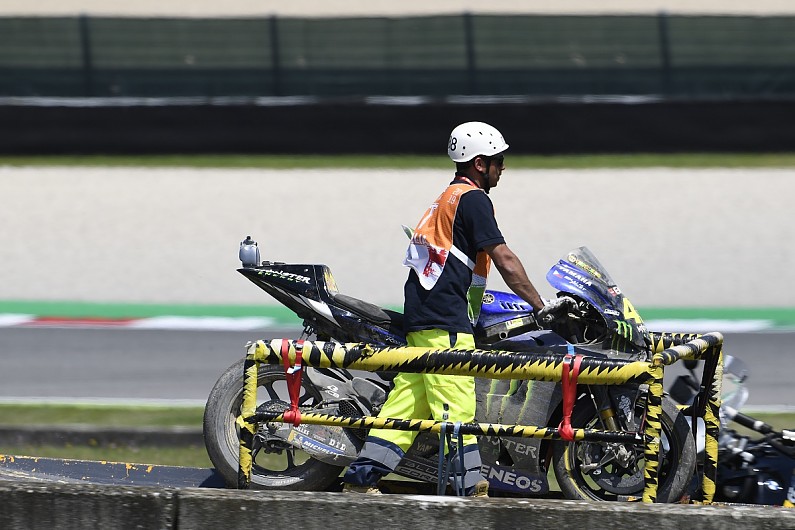 Rossi said it will be essential to be on the pace from the outset at Barcelona following the Mugello letdown.
"For me, the Mugello weekend was very tough, very hard, also because I arrived with good expectations, because in 2018 I did a good race," he said.
"So it was a bit of a shock, arriving into the reality and being more in trouble.
"This track [Barcelona] is one of my favourite tracks, I love this place.
"We arrive in a difficult moment, we are not very fast unfortunately, but we need at a minimum to work better than in Mugello, to stay more concentrated, try to be strong from tomorrow and try to do our best."