Ducati rider Andrea Dovizioso says a wrong tyre choice caused his poor Friday at Austin, which has left him facing Q1 at MotoGP's Grand Prix of the Americas.
Dovizioso was edged out of the overall top 10 by 0.084 seconds in practice two and as practice three is widely expected to be wet, the Italian is unlikely to have an opportunity to improve his time.
But he believes he has good race pace and that only the tyre selection caused him to fall down the roder.
"In the morning we had a small problem so we did less laps but apart from that in the afternoon the feeling was not too bad," Dovizioso explained.
"Before we put the new tyre, we started with the used tyre from the morning and at the end of my run I did 2m05.3s, it was quite good.
"About the speed [race pace], we are not too far. Unfortunately I think I made a mistake with the front tyre when I put on a new rear tyre.
"I used the medium but I lost the front many times and still we have to find our balance.
"I think we are closer than last year, a bit better, but always we struggle here and we have to stay calm and continue to work.
"Unfortunately [on Saturday] it will rain, that is the bad part but we try to think in a positive way. Maybe [being in Q1] can help us to be more ready in Q2, if we are able to go into Q2... we will see."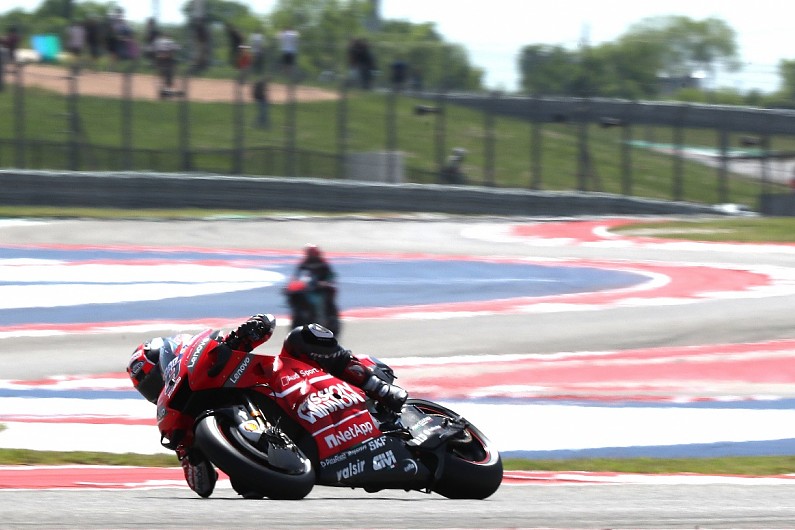 While Pramac Ducati duo Jack Miller and Francesco Bagnaia were in the combined classification top 10 in fourth and 10th respectively, Dovizioso's factory team-mate Danilo Petrucci was only 13th.
"I think our base is OK, but for sure we have not been able to fight for the top five, which is our target, but not even the top 10," Petrucci said.
"Watching the [forecast] conditions, it's a problem. But anyway, nothing is lost.
"If we can be fast, we can go anyway to Q2 and fight for the first two or three rows. But we have to see the conditions."