MotoGP and its supporting categories will introduce a new rule on how to classify riders who finish a race separated from their bikes.
The rule change was approved on Friday at a meeting of the Grand Prix commission, which is comprised of representatives from governing body FIM, promoter Dorna, as well as the manufacturers' and the independent teams' associations.
From 2019, a rider will be classified at the first point at which either they or their bike crosses the line last in cases where they are separated.
"Previously, in order to be qualified as a finisher, the rider had to be in contact with his machine while crossing the finish line," the FIM statement on the decision read.
"There have been situations when, due to a crash, the rider and machine have crossed the line separately.
"In future the finish time will be determined by the first part of the rider or his motorcycle, whichever crosses the finish line last."
The rule would have impacted the outcome of a race as recent as the 2017 Moto3 round in Assen, where Bo Bendsneyder was denied a 10th-place finish.
The Dutchman was running in a lead pack as it exited the final corner, but he made contact with another bike and fell.
Bendsneyder slid over the start/finish line behind his KTM, and was ultimately not classified as a finisher.
The Grand Prix commission has also sought to clarify rules stating which riders can rejoin an interrupted race following an accident.
The current regulations state: "At the time the red flag is displayed, riders who are not actively competing in the race will not be classified."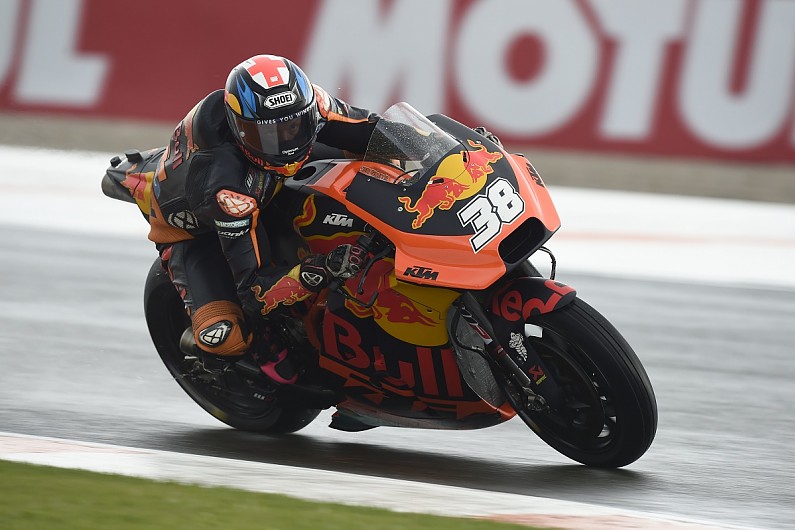 The 2018 MotoGP season finale at Valencia was red-flagged due to poor weather conditions, and only 16 riders were allowed to take the subsequent restart - including Bradley Smith, who had crashed but made it to the pits within five minutes of the red flag.
"For the purposes of the regulations covering this matter 'active' and 'actively competing' are defined as the rider riding on track, or attempting to repair/restart the machine, or to rejoin the track or return to pit lane," the Grand Prix Commission's decision read.
"The FIM MotoGP Stewards will be the sole judge of whether a rider is actively competing and such judgements are not subject to appeal."
An expiration date will now be attached to MotoGP manufacturer concession points, which will be voided "on the two-year anniversary" of when they were gained.
This currently applies only to KTM, which earned its first point of the six required to lose concessions with Pol Espargaro's podium at Valencia.