Suzuki's Alex Rins says he was "angry" during MotoGP's Phillip Island race at eventual winner Maverick Vinales, and believes his chances were "over" after a hit from the Yamaha rider.
Rins was part of the leading pack in the early stages of the race when he was nudged wide by Vinales at the Honda hairpin.
Vinales soon charged into the lead and scampered clear to win, ahead of a four-bike chasing group involving Valentino Rossi, Andrea Dovizioso, Andrea Iannone and Alvaro Bautista.
Rins eventually joined that pack but only after spending seven laps behind Jack Miller, which compromised his tyre performance, and finished fifth ahead of Rossi.
"The race was over when I noticed a strong impact by Maverick," revealed Rins.
"At the time I was very angry, it was very unexpected.
"I lost all possibilities because I lost the first group then I lost a lot of time with Miller trying to overtake him.
"When I got to the group I was a little bit out of tyres. You have to learn and try to be more aggressive."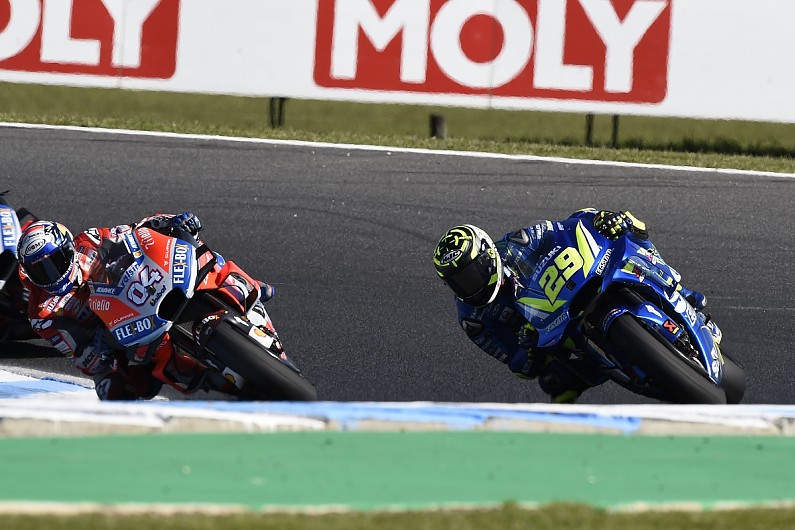 Rins' team-mate Iannone headed into the race as one of the favourites and ended up second, marking his best finish to date for Suzuki.
He had fought for the lead early in the race but ran wide at the fast Turn 4 left-hander and lost a couple of positions, which he said cost him dearly.
"I started the race with a really strong feeling, we had really good potential to try to win the race, but when I made a mistake - I arrived a little bit long with high speed - I lost four or five positions," said Iannone.
"I tried to recover but I felt the tyres start to drop a little bit more than I expected so I decided to remain in this group [with Dovizioso, Rossi and Bautista]. I controlled the tyres the best [I could].
"I had a little bit more on the last four laps I tried to push at 100%. I improved, but on the last lap I arrived another time at corner four and made a mistake."