Jorge Lorenzo has slammed fellow MotoGP rider Johann Zarco for 'PlayStation'-like riding after the duo's clash in the Japanese Grand Prix.

Ducati rider Lorenzo had taken the lead of the Motegi race on the opening lap, but began to fade soon after, rapidly losing positions.

But his descent down the order was also assisted by contact with Tech 3 Yamaha's Zarco, as the rookie nudged the three-time premier-class champion wide on exit of the Turn 9 left-hander.

"It wasn't the first time that I got a contact with Zarco this year," Lorenzo said after the race.
"He is very aggressive overtaking, I think it's too much.

"Looks like it is similar as when you play on PlayStation.
"He feels like there is no rider in front of him and he is just entering your line and he doesn't care."

Lorenzo subsequently recovered from his early-race slump to finish sixth, re-passing Zarco for position late on.

The Frenchman, who is enjoying a hugely impressive first season in MotoGP, had drawn the ire of another of the sport's elder statesmen earlier this year - with Lorenzo's former team-mate Valentino Rossi having criticised Zarco after clashes in Austin and Assen.

Lorenzo continued: "I would like to speak with the Safety Commission to see what you can do because for me, something can happen in the future.

"He is not aware that he is too aggressive. I went to talk to him when he finished, but he did not think he did anything wrong."

When queried about the incident by the media, Zarco did not accept blame.

"I was confident with the front, in this corner 9, I could attack," Zarco said.
"Then he tried to stay on the outside, but when I went out of the corner, I was not seeing him, thinking that maybe he can be there.

"We touch because on acceleration he went normally on my line and we touched each other. Because I was inside, I got a disadvantage."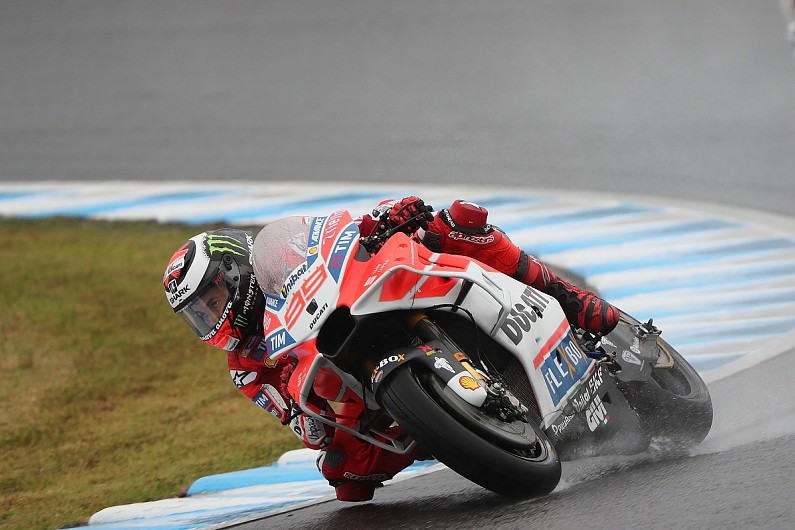 Lorenzo was among the pre-race favourites at Motegi, but finished over 24 seconds behind race-winning team-mate Andrea Dovizioso - an outcome he described as a "real shame".

He added: "The expectation was much higher than this position, 24 seconds from the winner.
"There was too much water on the track for our setting, didn't have confidence.

"Also Michelin, for safety reasons, avoid us to use the medium front, you had to use the harder one, also this affected me a little bit because I brake a little bit more smooth than [Marc] Marquez and Dovizioso, for example.

"I needed more grip on the rear. With not so much water, I was ready to fight for the win but with the lot of rivers and water, I wasn't competitive.

"And even if I tried to warm up the tyres, it's not possible, [they] didn't get enough temperature during all the race."