Valentino Rossi's rivals praised the injured Italian's "incredible" performance in MotoGP's Aragon Grand Prix after he finished the race fifth.
Rossi broke his leg in a training accident at the end of last month but, after missing his home round at Misano, returned to MotoGP action just 22 days after his accident when he took part in Friday practice at Aragon.
The 38-year-old then secured a place on the front row of the grid in Saturday's qualifying session and finished fifth a day later, just under six seconds adrift of race winner Marc Marquez.
Rossi ran second behind Ducati's Jorge Lorenzo for the first 11 laps of the race, and was later involved in a tussle with Marquez's Honda team-mate and eventual runner-up Dani Pedrosa.
Yamaha team-mate Maverick Vinales, who finished fourth, said at one point he thought Rossi might go on to win the race.
"He did a really good race; when I saw him at the front, I thought he'd win the race for sure," said Vinales.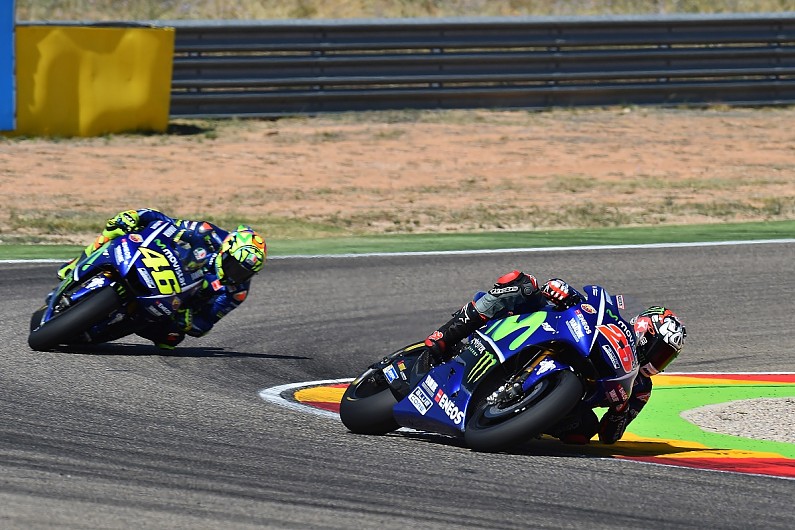 "If he's strong at the beginning, I can imagine at the end [he would be as well] because normally he comes better at the end.
"He came back strong like always, especially in the race."
Marquez passed Rossi mid-race on his way to a fifth victory of the season, and said he was impressed Rossi managed to finish right behind team-mate Vinales.
"It's incredible to be here after this kind of fracture, I think nobody did [expect it]," said the championship leader.
"His talent makes the difference.
"[It's] also incredible that he finished only five tenths behind Vinales with the same bike, because he is still injured."
Lorenzo, who completed the podium, added the rate of Rossi's recovery had been "impressive".
"It's impressive all weekend," said Lorenzo. "The way he qualified, but especially the way he recovered.
"It's not the same, the body of a 38-year-old and the body of a 15-year-old, that all the recovery's much quicker. And it's impressive.
"[Finishing] some tenths from Vinales, who has perfect [condition] and on a track that's not one of his favourites, [is] very impressive."