When most paddock folk get to Valencia in early November, much as they love the sport and some of the travel, they've grown a tad weary of not seeing their family, living out of a suitcase, sharing rooms and having the back of their airline seat kicked all the way home from Australia.
The championship is usually wrapped up and there's just the weekend to trawl through before a bit of the unknown in the shape of new riders gelling with with their new bikes in the Monday test.
That is just one season. How about 18 years of that, and as a racer in the very top echelons of the sport?
If you started in 125cc and came through 250cc to the top class, you would have had to go to every race with the same jet lag and the same suitcase, even if by now you've elevated yourself up to the front of the plane.
Then there are the tests that used to happen in Australia pre-season, resulting in you doing nearly a season's worth of mileage before the first grand prix proper - and then there is the meeting and greeting of the sport's hierarchy in Japan and Europe.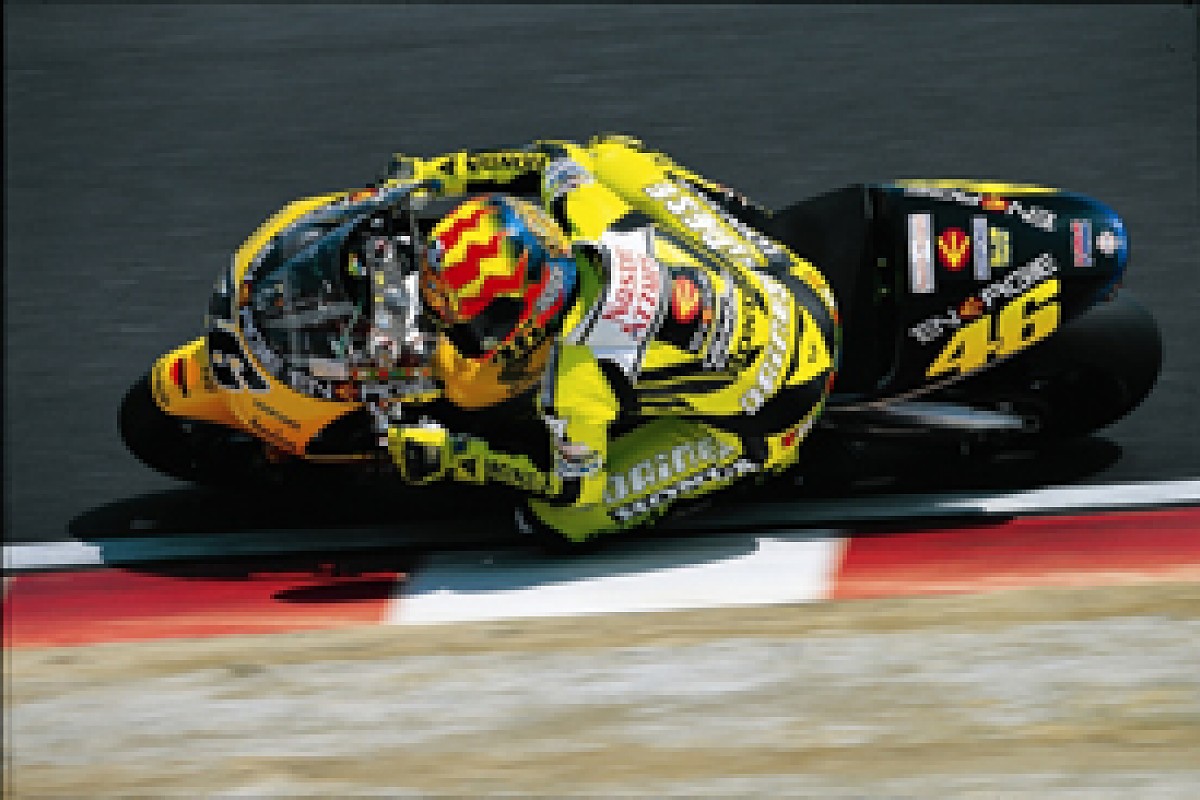 Rossi was a sensation from the start
And that's just the travel. The real bread and butter comes with getting on the right bike at the right time and having the motivation to keep at it; with finding solutions week in, week out for weaknesses in the bike or the tyres; having arguments with other competitors; and risking your life every single time you throw your leg over the bike.
This is the column that I really didn't want to write, but I'm going to have to broach the topic sooner or later. Valentino Rossi, is it time to quit?
I'm not cold-hearted about Rossi retiring because the times I have had in the commentary box watching him have been truly incredible.
I was lucky enough to be there on the days when he won his first 500cc race at Donington Park; when he had the fight with Max Biaggi at Barcelona; when he handed the Honda V5 its first MotoGP win at Suzuka. I was there for the Welkom win on his Yamaha debut, and all of the brilliant Mugello triumphs.
They were good days for grand prix racing, which found in Rossi that once-in-a-lifetime phenomenon that motorsport - and world sport - soon embraced.
The blue eyes, the charm, the ability he has to make you feel like the only person in the world; that smile, that laugh, the celebrations, the whacky colour schemes and helmet designs and the grace in winning with humility. Rossi loves MotoGP and never wants to short-change it.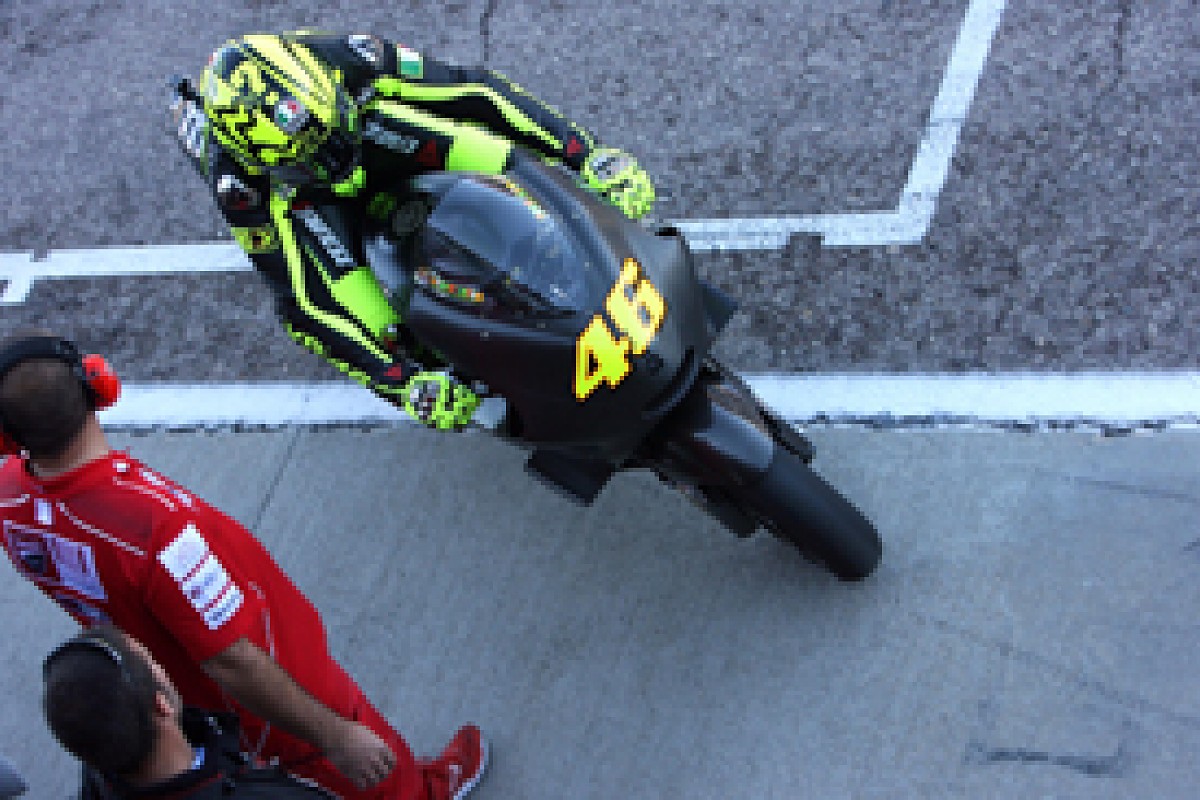 Rossi had a bad feeling from his very first test on the Ducati © LAT
The switch to Ducati was supposed to replicate his switch from Honda to Yamaha, but, as we all know, it became an extra scene that didn't play out well.
It was a total disaster. Rossi knew it was a mistake the very first time he rode the Ducati in a Valencia test in 2010, and admitted this year that he tried to get out of the Ducati deal after one of the two years he had signed for. Yes, it really was that bad.
A return to Yamaha for 2013 beckoned, but Assen was to be his sole win - and his only victory of the past three years. Others were riding injured and on the back foot in the Netherlands that weekend, meaning his return to the top step gave him less satisfaction than podiums at Aragon and Phillip Island.
Journalists who understand the full picture of MotoGP are quite thick-skinned, but to a man there was some shock at Valencia this year when Rossi's split with Jeremy Burgess, his crew chief of the past 14 seasons, was first rumoured and then messily confirmed.
After the press conference on Friday evening I was talking to Mark Neale (of MotoGP film making fame) and we watched a scrum of journos ambush Burgess while Rossi stood up and walked across the room to see his girlfriend who was sitting on a sofa. Yamaha hospitality is a big place and it was as full as I've ever seen it, but no one followed VR across the room. It's not often you see an international sports star totally alone.
Had Burgess told him to up his game and he hadn't liked what he'd heard? Had the 'no bullshit' approach from Burgess been too straight talking? Has the 'Jorge Lorenzo moulded' Yamaha been a little too alien in feel on the way into the apex? Is it rather difficult to watch a 20-year-old rookie whoop everyone's ass?
Is this what it felt like to his competitors during the 2002 and '03 seasons when Valentino was dominating aboard the Repsol Honda V5?
Rossi's passionate approach has won him a huge following
To all the above, the answer is 'of course'. Rossi is no cold-hearted rider cut from the same mould as Mick Doohan or Casey Stoner. For the Italian, it is all about the feeling of being at home and among friends.
Uccio Salucci, Albi Tebaldi, Max Montanari, Flavio Fratesi and Rino Salucci are his faithful from Tavullia, while mechanics Bernie, Alex, Gary, Matteo and Brent have been a unit with him from day one at Yamaha, the first three coming over from Honda in late 1999.
They are friends going racing on a huge scale rather than racers just doing it for the money.
But now the pressure is on in year number 19 in 2014 to see what he can do, to prove to himself there is one more fighting victory in him in a 'fair and square race'.
Rossi has said that after the first six races in 2014 he'll know what the decision will be for 2015. The sixth race next year will be Mugello, the race track where he has flown on a MotoGP bike.
His seven consecutive victories at the track may be unequalled for decades to come - and rightly so - but the 2014 weekend will not be the Mugello he was used to 10 years ago. The crowds still support him and will always stand by him, but thoughts as the helmet goes on next year might be about his manager's meetings in the trucks rather than what celebrations are going to be played out if he wins the race.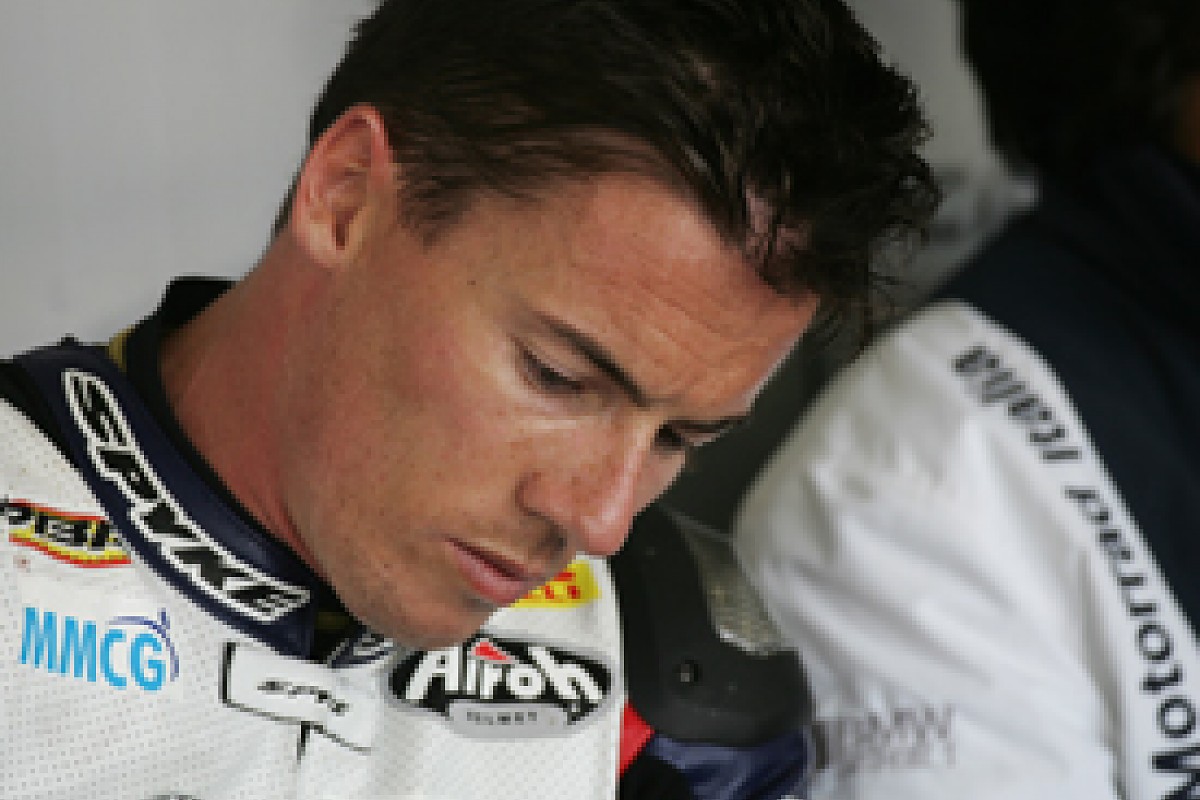 Toseland was hit hard by the reality of a sudden retirement © LAT
Everything in motorsport is cyclical: McLaren wins, McLaren loses; America tastes MotoGP success, Britain does likewise.
It was ever thus that at one point some racers just lose their edge and get beaten by the next guy coming. The trick is to know when to jump off.
Doohan was approaching the end, but was still winning and still had the fight in him when a second nasty leg injury meant he didn't have to give retirement much thought.
Recently, three-time Indianpolis 500 winner Dario Franchitti had to call it a day on medical advice. James Toseland had his hand smashed up and, when told by his surgeon that he wouldn't race again, went outside and cried his eyes out in the car park. The realisation that the end was real, and immediate, hit him hard.
Jackie Stewart had decided at the beginning of his last season in Formula 1 to stand down, only to witness first hand his best friend and Tyrrell team-mate Francois Cevert killed at the last grand prix meeting of the season, and the last of the Scot's career.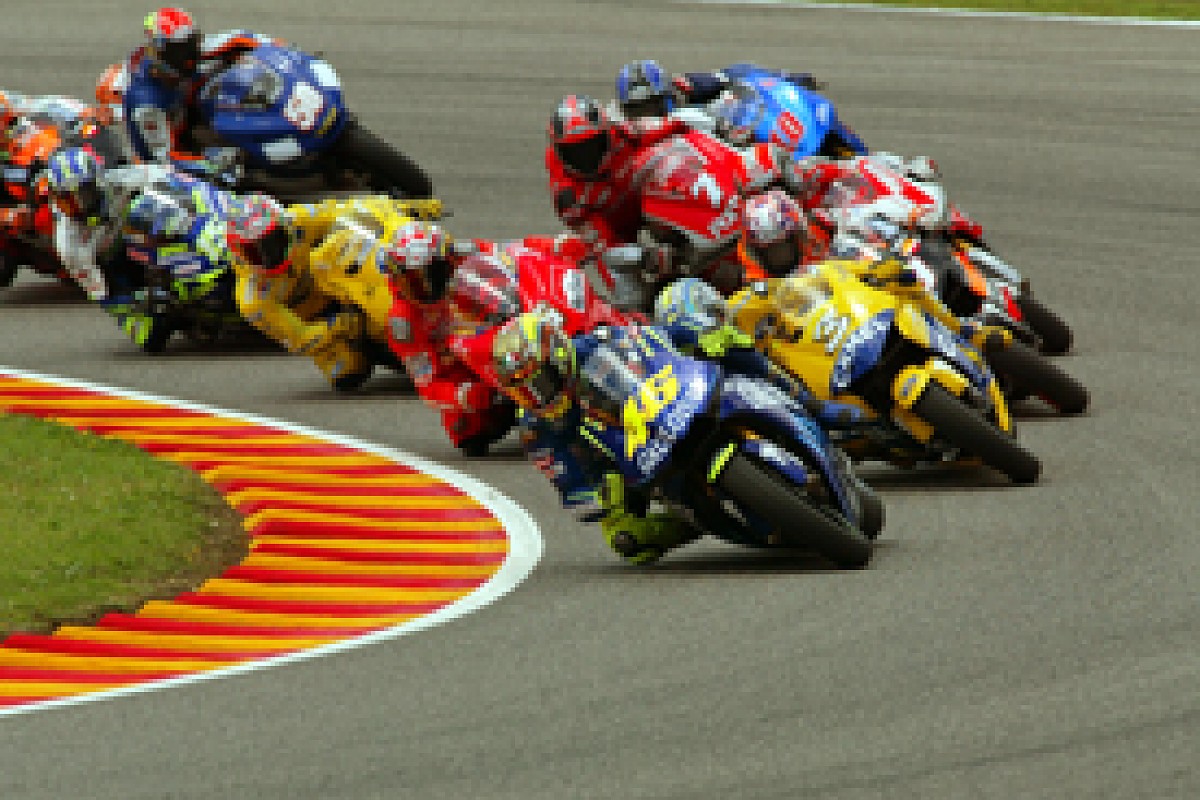 Rossi was unbeatable at Mugello from 2002-08. Here he leads the field in '04. Will 2014 be his farewell? © XPB
Is the mystique of finishing a career early the better thing to do? Does the temptation to carry on and on, as Michael Schumacher did, forever tarnish the brand?
This time next year we'll all know if the decision to move Burgess on was the right call or not. Suffering a small PR loss will mean nothing if Rossi wins, for then all will be forgiven.
If he can beat Marc Marquez, Dani Pedrosa and Lorenzo, what the hell did we know - maybe it is time for the next generation of engineers to have their chance in place of a guy who was winning races over 30 years ago and who commutes from the other side of the world.
Whatever happens with Valentino Rossi after 2014, the world of sport will definitely agree that whenever he stands down we all hope that he's safe, healthy and in one piece. After 19 years of racing he's already done the difficult bit of winning 106 grands prix.
One hundred and six.
It's easy for any of us to talk of another man's retirement, but not easy for a racer to make that choice when there are still rides available on the grid. But as F1 driver Gerhard Berger said after his fiery crash at Imola in 1989, "Every time you crash you write a cheque, but one day there is no more money in the bank."
Stay safe Valentino. Stay safe.