The future of the MotoGP championship is not only about the technical regulations but about the challenge of promotion, too. It is the Holy Grail for any championship rights holder.
Top of the table in that is TV and who sees the races. No TV equals, no sponsors. No sponsors equals club motorsport.
There is still the same number of people with TVs in the countries that matter to MotoGP than there were 10 years ago. The difference now is that there are so many other things to watch and get distracted by for the same amount of eyeballs. More sports, more repeats, cheaper programmes made from HD cameras that are edited on the kitchen table don't help season-long championships and their TV figures. Overheads for some TV programmes now are nigh on zero. Hell, the latest GoPro Hero3 cameras are now used in Hollywood blockbuster movies thanks to their 12-megapixel, 4k capabilities, and they're around £300.
So this leaves us with the same number of viewers at home on the sofa but more channels and programming under the buttons on the remote control.
We can now watch live sport on TV from almost anywhere. Since the 1990s, every single lap of every single Formula 1 weekend has been broadcast into the UK courtesy of Eurosport, the BBC with its red button/internet and now Sky Sports F1. Pre-race build-ups and features during the week feed the hunger of the fans who then flock to Silverstone and many an overseas F1 race.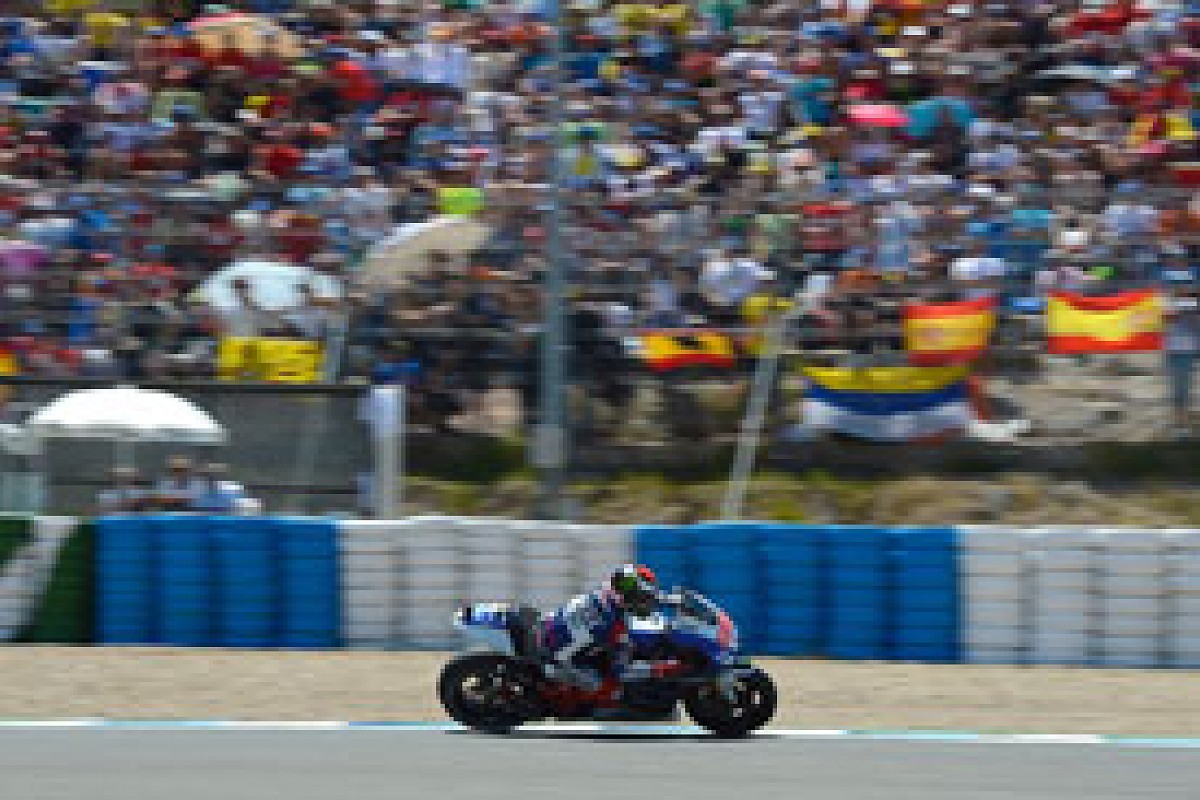 Lorenzo had plenty of support at Jerez
With MotoGP, Eurosport has shown all Friday and Saturday afternoon sessions, as well as the warm-up and the races since 1997. Every weekend in that time there's been about 12.5 hours of coverage for the fans who then feed the sport with their enthusiasm, attendance at races and loyalty over the years.
And it's all soon to reach yet another level in the UK with the BT Sport news announced recently. New camera angles, interviews, studio analysis and coverage of all MotoGP sessions will be nothing short of total immersion into a GP weekend for fans at home. The international-feed pictures supplied by Dorna will be second to none.
However, are there still rocks left unturned for the further promotion of the sport? Are there nettles needing to be grabbed that won't sting?
First off, as much as the MotoGP paddock is full of guests and fans during a weekend, it's a rare chance for the majority of fans to see their heroes close up, let alone get an autograph. With riders having their motorhomes in the paddock there's no chance of doorstepping a superstar as he gets out of his hire car or leaves his hotel.
This has led to some circuits having autograph sessions, but not all. Things like quick-fire signing sessions based on a lottery basis when purchasing tickets, 'Meet Your Hero Golden Ticket' (Willy Wonka style), Twitter hashtags, and staff giving out special-access tickets to the younger generation as they arrive that day could all easily be done.
Rider introductions on a mobile stage in front of the main grandstands could be something MotoGP could steal straight out of NASCAR's box. Drivers have to walk past fans to a massive mobile stage that is branded up with the race sponsors before they appear one by one to the cheers and, most amusingly for some, jeers of the crowd. They are yards from the fans, but I've never seen so much cheering before a race - it fires up the fever for the next hour of track action!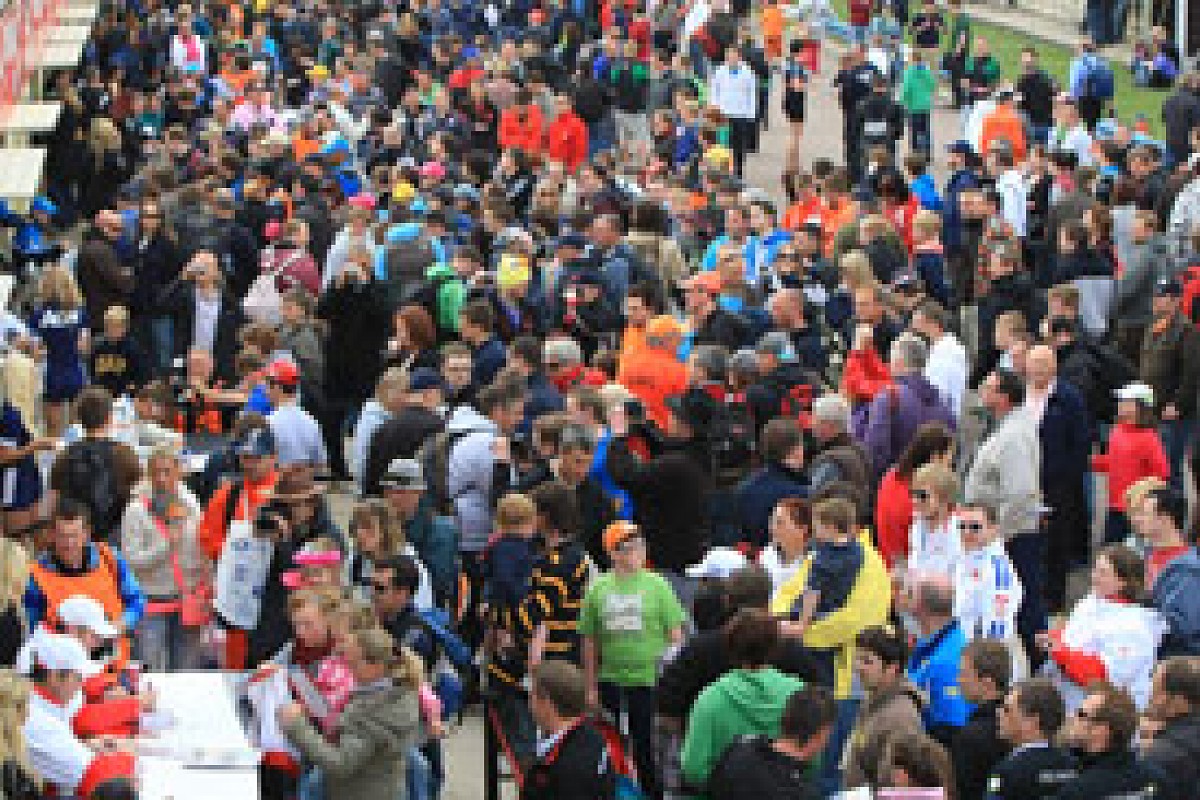 The BTCC is not alone in using autograph sessions to give fans greater access © LAT
In the British Touring Car and British Superbike Championships, the drivers and riders have to attend a compulsory autograph session in the pitlane on race day. Failure to attend without good reason in the BTCC leads to penalties ranging from a reprimand to a maximum fine of £100,000 to forfeiture of championship points. Wow.
However, TV is king as it encompasses more fans than any circuit can ever do. MotoGP is now shown all over the world, including live onboard some aircraft and cruise ships courtesy of Sport24 TV. And that's without reckoning on mobile and tablet devices through WiFi, SlingBox, 3G and 4G networks.
It's total and utter manna from heaven compared with when I was growing up when a single live race was cause to stop everything you were doing that day rather than wait until the evening and get truncated highlights.
Also, the calendar is adjusted accordingly to kick off the season with literally... the biggest kick. Qatar under floodlights during TV prime-time in the heartland of Europe, closely followed by Texas, again during European prime-time on a Sunday night, have been brilliantly set up by Carmelo Ezpeleta of Dorna. Jerez then follows as one of the 'Triple Crown' races during the May Bank Holiday weekend. It's a fantastic start to the MotoGP season.
On the flip side, having races in Asia in the Autumn are not user-friendly as champions tend to get crowned at 5am at either Motegi (Japan), Sepang (Malaysia) or Phillip Island (Australia). Indeed, the past six MotoGP champions have been crowned before most people have got out of bed, while only one of them since the class was introduced has not been crowned in Asia.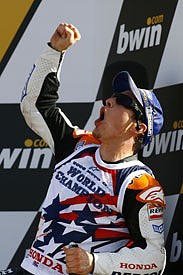 In the past 10 seasons, Hayden alone has been crowned in Europe
Crowning of MotoGP World Champions
2003 Valentino Rossi - Sepang
2004 Rossi - Phillip Island
2005 Rossi - Phillip Island
2006 Nicky Hayden - Valencia (Spain)
2007 Casey Stoner - Motegi
2008 Rossi - Motegi
2009 Rossi - Sepang
2010 Jorge Lorenzo - Sepang
2011 Stoner - Phillip Island
2012 Lorenzo - Phillip Island
F1, by contrast, has been crowning its champions at the end of a build-up of races at time-friendly circuits that culminate in the west, Texas, Sao Paulo being the season-closers. Singapore is shifted on its head to make it European-friendly, while Abu Dhabi also runs late with the novelty of a day/night race.
However, it's not the matter of a moment to have lots of races in Europe or the Americas, nor is it a good idea to drop Asian races.
Perhaps it might be a good idea for the odd MotoGP race to take place on a Monday night? No one goes out on a Monday night (see your local pubs and restaurants) so there could be an opportunity for the Qatar race to be on the day after the sabbath?
It's happened before - in 2009 when it rained on the Sunday in Qatar and the race got delayed for 24 hours. But what about Barcelona or Misano trying a Monday-evening race? Both have easy access for fans who could take the Monday off work instead of the Friday. This is prime-time TV thinking.
Perhaps we should be thinking about running events over two days rather than three? How about running after 4pm on a Saturday? At the moment, nothing really happens on track after 4pm and yet it's still light until 9pm.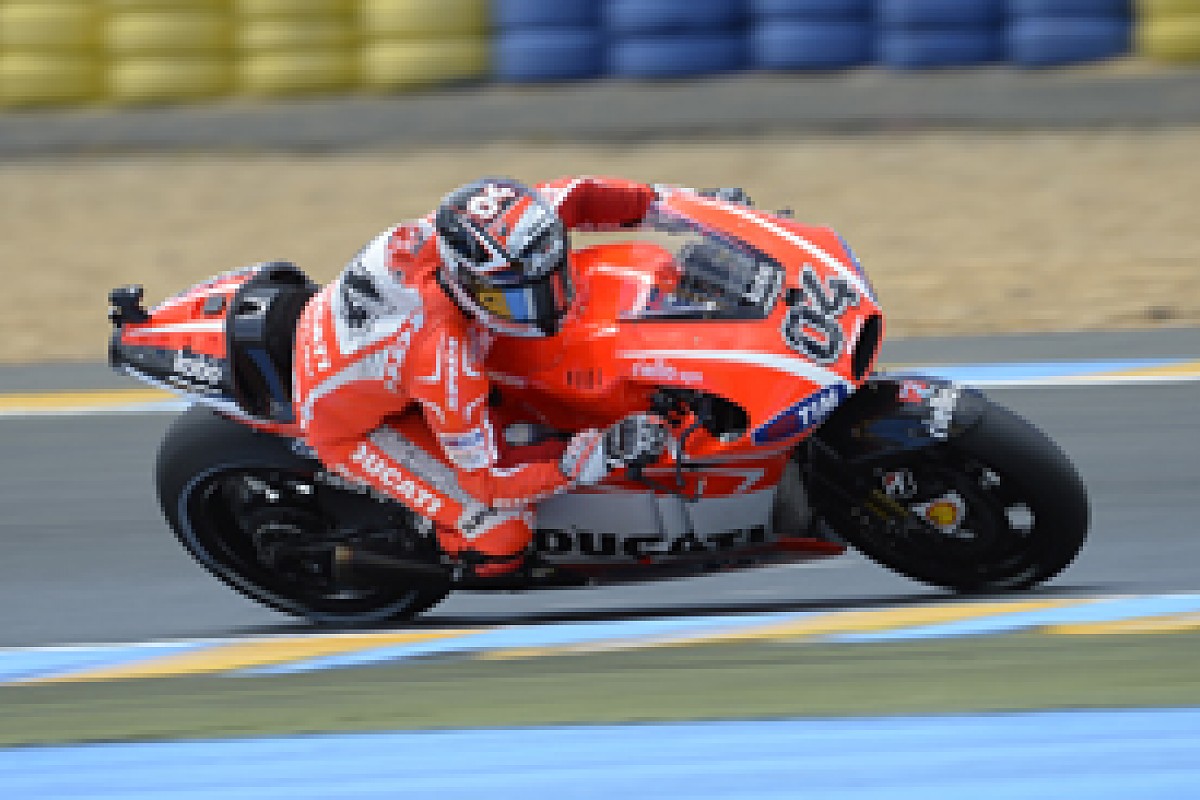 Would running over two days, or past 4pm, boost the show?
Admittedly, the more practice you give riders, the greater the chance one of them will run away with the race.
At tracks for which teams have got oodles of data (Barcelona, Mugello), practice should be reduced to perhaps fit in another race, or why not let them have a 'happy hour' on Thursday afternoon/evening when everyone and everything is set up at the track. It'd be great for TV on a Thursday night, wouldn't it?
A different angle of promotion is through Twitter and the internet, as we know. The web will be the railroad bringing us the pictures, and not just through WiFi-enabled TVs in our front rooms. In the future will the sport actually have any TV channels through which to show its races?
In the same way that can buy a song or an entire album on iTunes, perhaps sports rights holders could have space on iTunes where people can pay for a race at a time or a complete season through their WiFi TV?
Were a Spanish fan able to buy a race through 'MotoGP iTunes TV' for €1, or €15 for the whole season, the income for the recent Jerez event alone would have been €5.2m for Dorna, a figure that (if rumour is to be believed) is already 25 per cent of the fee it gets from Spanish TV broadcaster Tele5 with 75 per cent of the season remaining.
Or, based on 2012 average viewing figures, plus the exciting prospect that is Jorge Lorenzo vs Dani Pedrosa vs Marc Marquez, let's have a guess at, say, €60m for the year?
This internet lark - it might just catch on. Given that the 'net is here to stay, what MotoGP might want to try - just try - are races at different times of the week. Baseball and football tried it and it rather caught on... a bit like the internet.