I'll never forget Nicky Hayden's championship year in 2006 when it was "me and squirrel against the world" as he and his Dad Earl flew to every race from their base in Kentucky.
It was not an easy year as Hayden fought against a difficult clutch and a development motorcycle that was so different from the other Honda RCV 211Vs, but he and his Dad used every single possible advantage to work out who was doing what in the paddock; the press, the gossip columns and - most importantly - out there on the track. One easy way was by Earl hoovering up the printed press releases from every other team on Friday and Saturday evening. Much is given away in releases and many pieces of A4 made it back to the Hayden motorhome so he could analyse who was moaning, who was confident and who was struggling at what particular corner.
As an example; Honda said in a preview to last year's Spanish Grand Prix that Marco Simoncelli had been over to Japan to use the HRC hired wind tunnel as solutions were sought for his big frame to push through the air. On Thursday at the track I dropped into conversation with Dani Pedrosa that this had happened. He was quite surprised, but I was even more astounded that Dani didn't know about the Simoncelli trip. A rival going to the wind tunnel in place of HRC's number one rider... And it was a guy from Worcestershire with an internet connection that informed him.
Racing so often starts on Thursday with conversations like mine with Pedrosa that day. As Mick Doohan said following his retirement in 1999, he could be "a bit difficult" when he was at work, but that it was all about getting into peoples' heads and working out who he could beat before the lights went out. Conversely there are some riders who are wild on-track but are yet to either have a biggie into the bales or to be weighed up by the establishment. It happened to Valentino Rossi and Jorge Lorenzo in their first years, having some enormous accidents that they can look back on and almost laugh at now.
Simoncelli has been talked about as a wild man by many in the paddock during recent weeks, the Saturday evening press conference spat with Lorenzo at Estoril being the highlight. The backlash against Simoncelli was as if no one else had ever made a lurid lunge or a mistake in their life. Some were holier than thou with their virginal attitude to racing that Marco just got pushed further and further down the plank, but he was having nothing of it. "Okay, I get arrest(ed)" he quipped, clearly not giving a damn.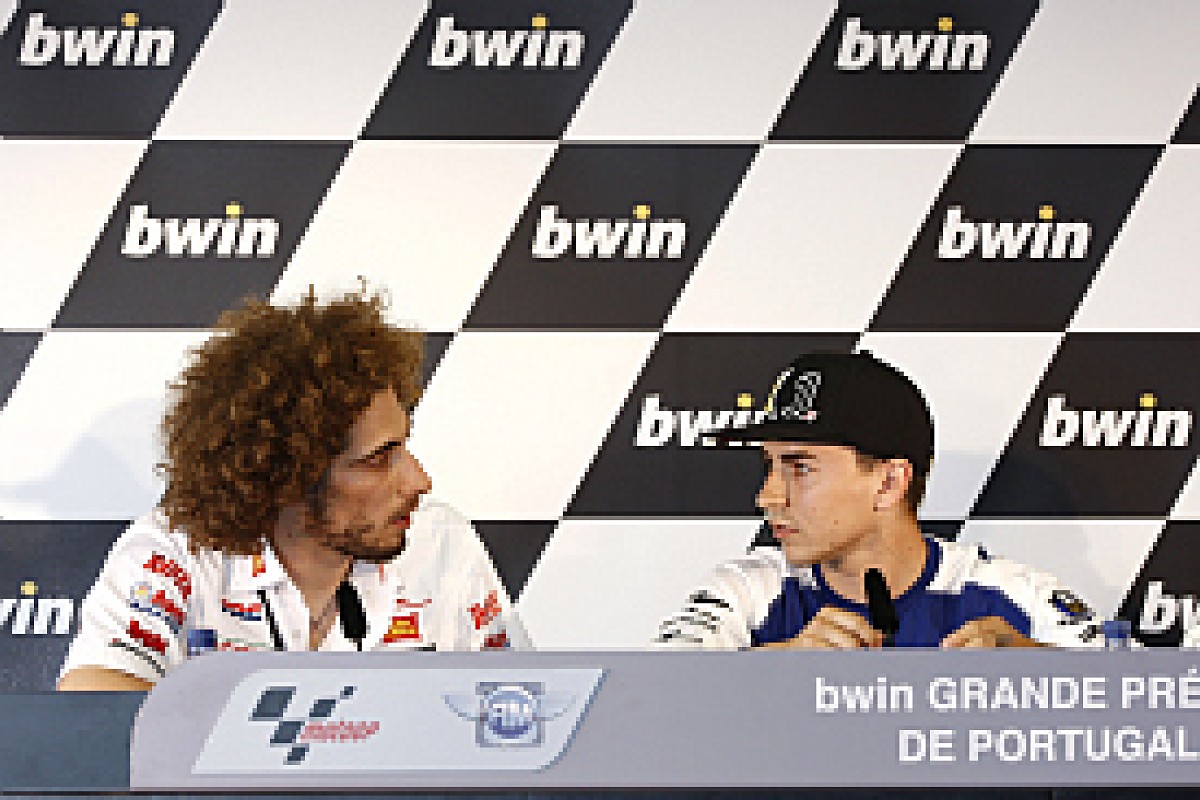 Simoncelli and Lorenzo had 'words' at Estoril 2011 © sutton-images.com
The world's press erupted in applause for the guy. Erupted. We wanted a racer and a new lion out there on the track and here he was right in front of us.
We've now seen Simoncelli playing hard ball on the track and witnessed him getting a ride-through penalty, a very vague rule being cited as the reason for it. There's been enough said or surmised about who was where on the track at what speed and at what angle. But seeing as I don't ride a MotoGP bike I'm not going to offer my opinion. That's not the reason for this column anyway.
No. This column is about the bigger picture of the characters who started the French Grand Prix last weekend before the lights went out.
At Le Mans last Sunday we saw a fired-up Simoncelli determined to not make the same mistake twice. He'd looped it while leading at Jerez, and crashed again on the first lap at Estoril - when in with a very strong chance of his first MotoGP podium as well. He even said after the Estoril test - where he went fastest "To get back on the bike and complete such a positive test, setting the fastest time, after the disappointment of yesterday actually makes me even more angry. I can go home happy and looking forward to the next race at Le Mans, where I want to properly get over the disappointment of yesterday."
I read that and remembered it all the way to Le Mans - little did we know just how fired-up he actually was until we looked at his progression through free practice:
FP1: 0.896s behind Casey Stoner
FP2: 0.404s
FP3: 0.260s
Qualifying: 0.059s
Last Saturday afternoon when he so very nearly beat Casey to pole position. It was one hell of a lap, just 0.059s behind the Aussie, something that proved to be a warning shot for Sunday. I remind you of Hayden assembling information about his rivals through press releases and networking through the paddock...
Le Mans was going to be a Honda win whatever happened - something I tweeted on Sunday morning. But who was going to come second?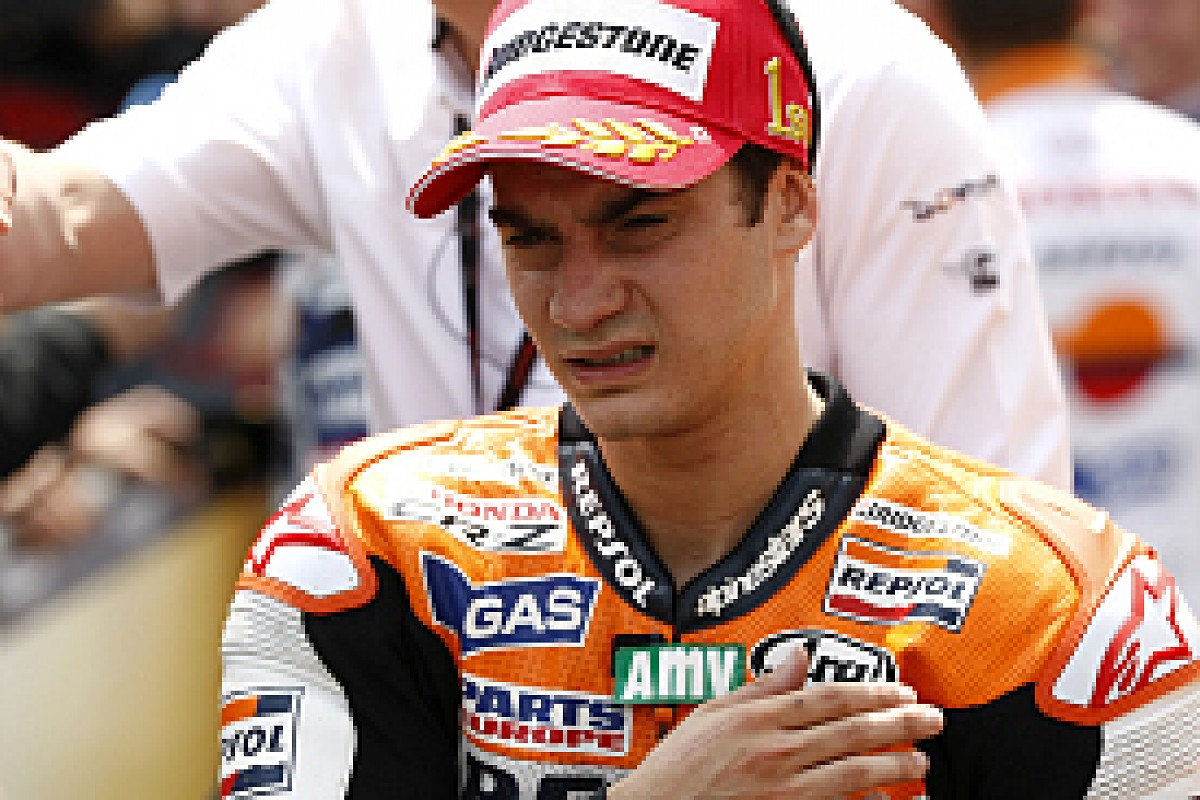 Pedrosa came off worst in France after Simoncelli crash © sutton-images.com
Pedrosa held second place for the first half of the race, well in touch with leader Stoner. There was a potential Estoril deja vu approaching when Pedrosa followed until bolting for the win four laps from home. But Stoner pulled out the lead, going faster on 13 flying laps to Dani's three.
Or was it Pedrosa fading with his still painful left shoulder - the same left shoulder that prevented him from finishing FP3 on Saturday morning after taking his hand off the bar and shaking his head in frustration?
Pedrosa must have started the race with a niggling thought that his physical fitness wasn't going to stand up to 28 laps battling against Stoner - who could have won that race on a Paton 500. It was an annihilation by the Aussie - smoking the opposition and completing the race 26s faster than last year's winner in similar conditions.
Simoncelli, on the other hand, was fit, got within an ace of pole the day before and was looking to avenge the demons of leading and binning it at Jerez and Estoril, where all he came home with was "a nice picture of my aerial barrel roll." He did admit however that, "I won't be pushing over the limit to get a result at all costs, I want to manage the race well."
Six of the 10 laps preceding the accident on lap 18 featured Simoncelli faster than Pedrosa. In sector one on the fateful lap, Simoncelli gained a full 0.5s on Dani.
He was on him and passed him on the brakes into the Garage Vert double right, but Dani got a better drive down the 674m long back straight - as he so often does. That's his strength. Pedrosa got ahead, but Simoncelli used his advantage of being better on the brakes (data showed he braked at the same point as before) - more mass pitching over the front of the bike due to his lanky frame means he's squishing the tyres into a bigger contact patch. It's a brave thing he has to do but it's one he's got very good at.
Pedrosa took the inside line. Simoncelli left him a bit of room, but a bit was not enough and off spilled Pedrosa. Could the Spaniard have leaned it further over? Was the pain of his left shoulder too great leaning on the left bar? We'll never ever know.
In a matter of minutes, Race Control decided to impose a ride-through penalty on Simoncelli, something that cannot be argued later by the rider nor the team; a shame, as there have been some equally tough passing manoeuvres over recent years.
What about these for size?
Motegi 2010: Rossi v Lorenzo
Wheel to wheel, knee to knee. Everyone loved it.
Jerez 2005: Rossi v Gibernau
Would Rossi have made the corner were it not for Sete Gibernau being there? I met Sete's dad, Manuel, after the race and he was at his wits end as to why there was no comment from Race Control.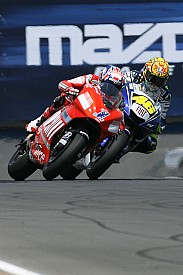 Rossi and Stoner battled hard at Laguna in '08 © LAT
Laguna Seca 2008: Rossi v Stoner
Rossi took to the dirt in order to keep in the race as he passed Stoner. Stoner was fuming afterwards only for Rossi to play-up to the watching media scrum around parc ferme.
Phillip Island 2003: Rossi v A 10s penalty
Caught passing under yellow flags, Rossi was given a 10-second penalty mid- race. He just rode even faster and won it by 15.2s.
The common denominator of the above was that Rossi won and the MotoGP fans went into a frenzy. It's good for business to have The Doctor winning and that's a fact. Once he broke his leg last year, TV figures plummeted, merchandise sales dipped and even big Italian newspapers Corriere della Sera and La Repubblica didn't even send their reporters until he returned.
Returning to Le Mans, it's easy to sit at my laptop and write that if Pedrosa had just settled for third with Lorenzo sixth, Pedrosa would be leading the championship and would have gone to Jerez this week to test the 2012 Honda instead of heading back to hospital. It's also easy for others to say that Simoncelli is a general loon and that Pedrosa's Honda wobbled on the way into that left hander with shades of Estoril '06.
Former rider Jeremy McWilliams says that it's so difficult to pass on these 800s that he was amazed that "Simoncelli got past so easily at the previous right hander ahead of Dani. You don't pass that easily unless the other is weakened in some way mechanically, with tyres or with physical condition. Into the left where it happened, Pedrosa had lost the weight off the rear as he turned in and missed his perfect apex right up against the white line. Even if you lose a metre of braking distance, you can run on."
James Toseland, a man who rightly said that he was "paid to overtake people," remarked that it was hard. Stoner thought it was all Simoncelli's fault, while Honda World Superbike rider Jonathan Rea was with Toseland on that one too. Rossi said it was "too hard this time."
If there is a loon out on-track and Race Control doesn't try and calm him down, or at least give him a yellow card, then the guy's a time bomb waiting to go off. It's then a question of whether or not you want to be near him when he does go off and what reward you are prepared to risk by getting into a fight with that guy. We learnt after the race that Simoncelli had been given a warning beforehand, but it wasn't given to him in front of his peers in the riders' briefing because there isn't one in which all of them can berate him behind closed doors.
With the benefit of hindsight and not the instant gut reaction that I have to offer in a split second while on TV, Simoncelli was hard and got caught up with the wrong guy, who hit the ground at the wrong place and bounced over the wrong kerb at the wrong angle. Pedrosa made a move on a far fitter, and far hungrier-for-a-podium Simoncelli and it went wrong.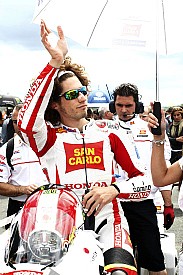 Fans love a character like Simoncelli © sutton-images.com
The witch hunt was on for Marco, but he was caught at Le Mans and he'll just fight back even harder, no matter how intense the bollocking was from HRC management when he was frog-marched over to the Honda truck last Sunday night.
Fans love racers with character and flair: someone who's different. See Rossi or Kevin Schwantz. At Le Mans we saw a glimpse of another very, very brave and slightly mad motorcycle rider who will take no prisoners and ride hard just as Rossi has over the past decade. Simoncelli has, after all, been watching and learning from Rossi's passes while coming through the 125 and 250cc classes.
Simoncelli is hard and some think he's dangerous. Thank goodness his colleagues warned us that he was hard rider in the weeks before Le Mans by constantly building him up and reminding us he was a hard case. For me though, the writing was already on the wall. Simoncelli was on a mission, he even said it after the Estoril test.
The warning was there he was going to be a hard man at Le Mans, just as it was important for Pedrosa to finish the race and lead the championship. Many riders have said he's an impossible rider to barge past because he's the biggest guy out there, so when the smallest guy out there - a guy who's also struggling with a weakened collarbone - tries to wrestle with him, there is really only going to be one winner.