At 10.39 Saturday 5th June Valentino Rossi's luck ran out. He crashed at 111mph in the Biondetti chicane and before he even stopped rolling through the dusty gravel trap his lower shin had already broken in two with the inside parts trying to get outside. It was nasty and everyone knew it.
An air of silence soon fell over the whole valley. A human sixth sense seems to kick in; people just know when someone is in trouble. A loved one, a friend or a hero.
Valentino Rossi crashes at Mugello © LAT
Cameras around the circuit were trained onto Rossi fans holding their arms on their heads, mouths open, just staring at the big screens in a vain hope he'd get up and limp away. It was not going to happen; firstly because in one shot his leg was not straight, and secondly his face just said it all. Pain like that must be unimaginable...
The mood of the fans was then encapsulated in a shot of a father and daughter both in Valentino Rossi fan-club T-shirts. The penny then dropped with me that they were on the next table to me at breakfast that morning and I overheard the girl say that she couldn't wait to see her hero in the flesh for the very first time, and now there she was on the big screen crying, her hands clasped over her mouth, watery eyes sparkling.
It's easy to get complacent about safety in motorsport, but one has to remember the crashes he's got away with. Friday 29th March was the first time Rossi went out on track at Shah Alam circuit on the outskirts of Kuala Lumpur for a GP practice for the first time, qualifying for the race with his lap time later that afternoon. However, biggies at Donington 2003 and Assen 2006 very nearly meant he didn't get to race day, but 230 races and 12,000 racing miles later he eventually misses one.
It was a bit of a shock, as these things always are, but no one's dead. Rolling through a gravel trap at that speed has left Wayne Rainey in a wheel chair while others have never got up.
Time is always a healer and Sunday was much better. Sure there was a feeling that was different, but Mugello on a sunny summer morning with the fans blaring out noise from air horns, engines or chainsaws can only stir the soul of any sports fan. It did for me, as I made time to soak it all in before going to the commentary box.
But looking back on that sunny summer morning, there were things that were going on in riders' heads from the moment they'd woken up. This was something different for everybody with Rossi not on the grid. Hell, when there was last a premier class grid without Valentino Rossi, only Loris Capirossi can remember what it felt like back in Valencia 1999. Neither does anyone else know what it's like to race a 500cc bike, never mind 2010's 800cc orgy of carbon and titanium.
Dani Pedrosa was on pole last Sunday and he may well have changed his approach to the race against the absent aura and presence that is a yellow #46 wheel to wheel with you at 205mph. Rossi has the psychological advantage over all of them, and if he's got into the their heads, then that's another chink in their armour he can capitalise on.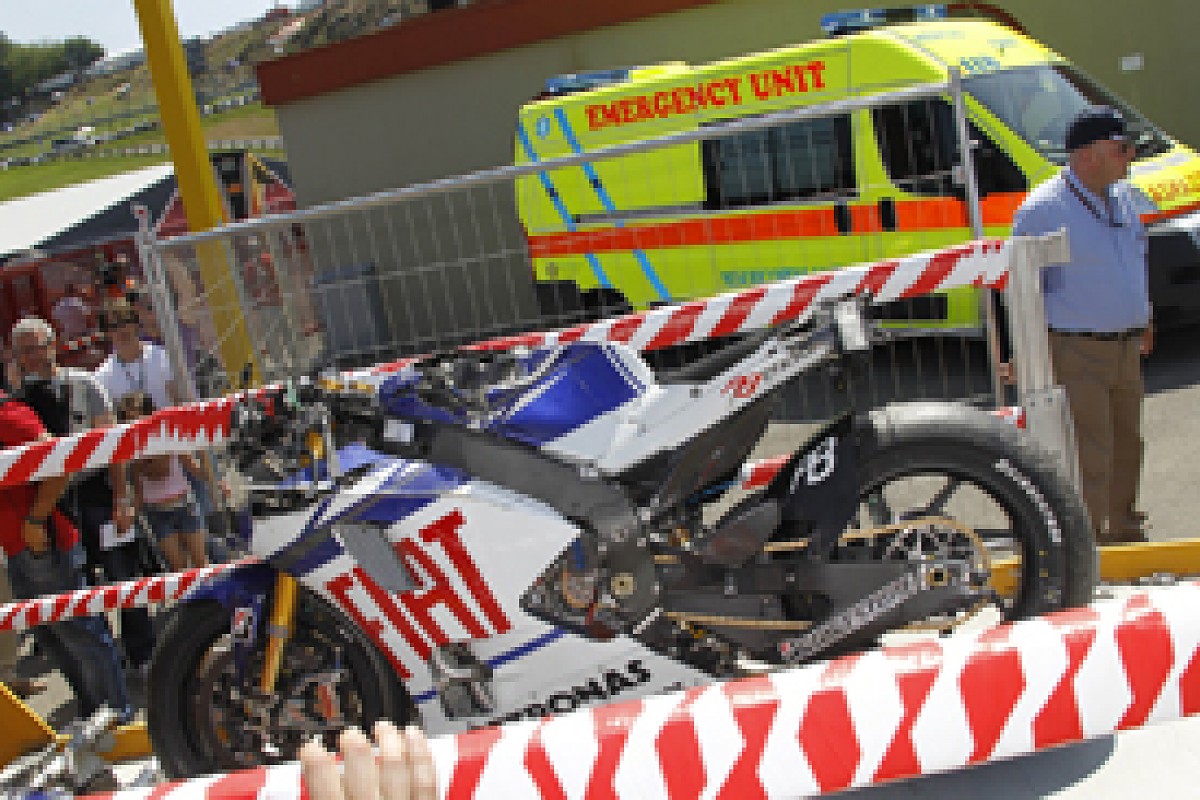 Valentino Rossi's crashed bike at Mugello © LAT
So in the space of 24 hours if there was any doubt in Pedrosa's mind about not winning at Mugello, it had evaporated with the morning mist on Sunday. Why? Because he knows that now he has a Honda that has been turned inside out, upside down, and back to front since the opener four races ago, and it's a winner.
He knows he can take on Jorge Lorenzo in a fight, but with different weapons. Lorenzo doesn't mind a fight, whereas Pedrosa likes to bolt off into the distance with a series of qualifying laps. All but one of his MotoGP victories have been alone, China 2006 being the exception to the rule.
Pedrosa's MotoGP winning margins:
China 2006      1.5 secs (but Hayden in 2nd was 10 secs ahead of 3rd)
Donington 2006  3.8 secs
Germany 2007    13.1 secs
Valencia 2007   5.4 secs
Jerez 2008      2.8 secs
Catalunya 2008  2.8 secs
Laguna 2009     0.34 secs (but slowed dramatically on the last lap)
Valencia 2009   2.6 secs
Italy 2010      4.0 secs

He's still 25 points behind Lorenzo, which feels like a lot, but there are 14 races left and 275 points still in play.
So is it now time for the others to get into their heads that they have a new arch rival? Oh yes. I think so.
However, they should not get ensconced as the leader of the pack; Mick Doohan won all five of his titles after nearly having his leg amputated and Mark Webber currently leads the F1 title race after having had a similar injury.
* * *
I bumped into Casey Stoner as I was leaving the track on Sunday evening. He and wife Adriana were wandering back to their motorhome after having eaten in the Ducati hospitality. In the twilight we sat on the steps that led up to the car park for 25 minutes and shot the breeze talking, not about the race that afternoon, but about all sorts of other things...including the cricket Twenty 20 World Cup. I had to get the English dig in early! We all laughed.
I had a spat with Casey a couple of seasons ago, but that was when we were 'at work'. However, as we sat there on the steps only interrupted by the odd autograph hunter I didn't want to jump into my hirecar and go. I wanted to go somewhere for a beer and a laugh. It was a genuine pleasure to 'get away' from the pressure cooker of paddock working days that these guys have to go through once every fortnight. It was our first time in 2010 where we'd brought down our racer/journalist 'guards'.
We then discussed the upcoming Silverstone race, but the conversation was quickly turned by him to the frosty reception that he's had from fans during the Day of Champions stage appearance on the Thursday when a few people booed him a couple of years ago.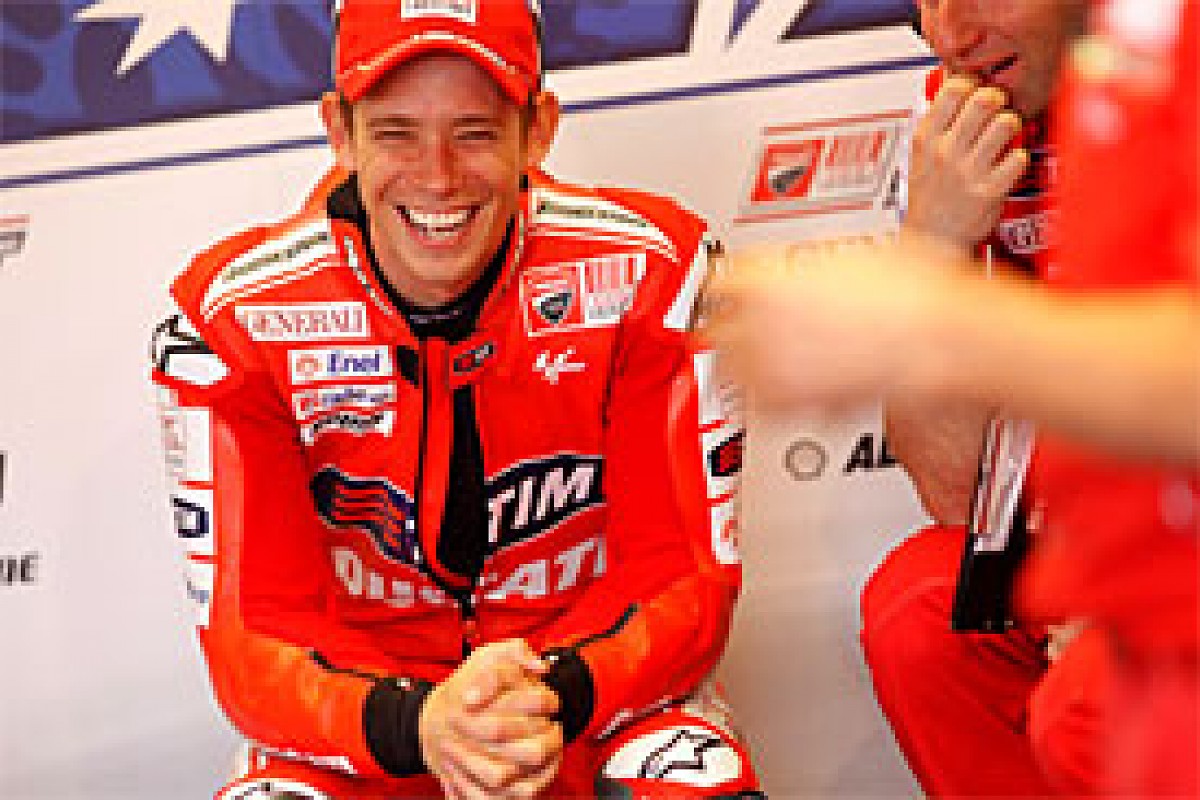 Casey Stoner © LAT
Booing and hissing really gets on my wick, particularly when the guy was en route to winning ten races in 2007, blitzing the others into the weeds. And that includes Valentino Rossi. Repeat: he beat Rossi hands down.
"No way after what they did to me a couple of years ago. I've got some great British friends and had some great times over there, but no way am I going on stage. I've given some stuff for the auction though so I've done my bit."
It was said with passion that has nothing to do with the on going English/Aussie sniping over the cricket and the rugby, as this is motorsport; just look at Mark Webber's determination and exceptional humility over the past few weeks, Troy Bayliss' grit and Mick Doohan's respect for winning five titles. (The fact that those Doohan Arai replicas are still selling well surely says something, doesn't it?)
But it's the old addage of seeing a face through the TV or computer screen and then making a judgment, swayed by the emotions of the day by the writer or the reader. You then meet that particular person, we've all done it in family, community or work circles where a pre-conception of someone has preceded them, only for you to realise you're 180 degrees wrong once the flesh is pressed. It can of course go the other way, but Sunday night was the perfect example of something that I wish everyone else could see in a quiet lad who rides the beejesus out of a bike in front of millions, but who craves his private time with his wife tucked away from anything to do with the media.
At work he's a hard task master on himself and on the people around him. He has to be. MotoGP isn't flower arranging. It's win at all eye-gouging, punching and kicking costs, at 215mph.
Mick Doohan admitted he could be 'difficult' when at the track during his racing years, but away from it he was charm epitomised, so please give Stoner a round of applause when you see him at Silverstone and recognise a world champion when you see one. As Kenny Roberts said when Nicky Hayden won his 2006 championship, "You don't get gifted a race at this level never mind a championship."