He fell off.
For the second time in three races, he fell off. When did that last happen? A very long time ago.
Personally, I got the impression that Valentino Rossi didn't really turn up to Indianapolis. An element of just getting through the race, even with the thought that he may well 'get beat' as they would say Stateside, particularly with the pace of Dani Pedrosa who was a dead cert to win it once the lights went out.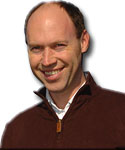 Valentino Rossi and Jorge Lorenzo vie for the lead in Indianapolis © LAT
"I was always a bit slower compared to the other guys and I never felt the bike like I wanted," reported Rossi. "I was not 100 per cent. In fact without the crash I think it would be difficult to stay with Jorge."
It's unlike him to be behind the 8 ball, but actually it may well have given him a bit more focus coming into the next race this weekend at Misano. The trouble is home races can be good and bad, as Valentino said to me on Sunday night.
"For some things it is bad because you have a lot of things to manage outside the track, starting with the passes for your grandmother, but from the other side for the race you have all your friends and family together with you and all 10km from Tavullia is a good motivation."
"You know with 50 [points lead] it is easier, but we have 25 in front, we've won five races - we are the guys who won the most races this season - so we have to understand why this weekend [Indy] is a bad weekend for us. We restart from Misano. We have five races, the championship is very open but from my side it was open before because six races is very long."
He was laughing and joking, but the body language when he came into the pits said he was at a loss as to why he went down. I disagree with even Valentino in that he was 1.5 metres off the correct line into the right hander where he fell. If you look at the TV replays, he fell on exactly the same line that Lorenzo took into the corner, but it may well have been a dip in the join of the asphalt that unsettled the bike moments before he went down. Only the data will show that back at Yamaha.
Rossi will be acutely aware of Lorenzo's pace and speed at Misano: he won the 250cc race there in 2007 from pole, and then came second last year only to VR himself. Lorenzo when focused in unstoppable. But then so is Valentino. One must applaud Lin Jarvis of Yamaha in putting these two together for next season. Are we going to see some racing with these guys, or what?!
Relief
Indianapolis is a stunning place that brings the best out of people, most of all Nicky Hayden. Every man, less for avid Dovizioso fans, was cheering Hayden over those last laps. The only people who were torn were Nicky's old mechanics at Honda who now screw Dovi's bike together!
Behind the podium Nicky swore - and he very rarely swears - with joy and relief. "**** we needed that, Tobe," he said with a look in his eye that had anger in it, prior to finding out that he will be retained at Ducati in 2010.
Nicky Hayden celebrates his first Ducati podium
While Hayden's future is secure, there are still doubts over whether Casey Stoner will even be riding next season. Maybe the Aussie doesn't know himself, as the ongoing saga continues with his fitness and enthusiasm of the associated work off the bike. Riding, he wants to do, but not much else. But will he be fit and healthy come October 1st at Estoril? That is a major question for Ducati and the promotors of the sport.
Whatever is happening in Australia, there must be some worried people at Ducati with still only Stoner able to ride the bike to its max. Remember, the only non-Stoner victory on the 800cc bike was Capirossi at a damp, rain-affected race at Motegi in 2007.
It's either Stoner returning or Dani Pedrosa arriving to be a Hayden team-mate at Ducati next year, but has anyone thought about the grudge that American fans still have against Pedrosa for knocking Nicky Hayden off at Estoril in 2006? The boos on stage on Friday morning at Indianapolis would have made Ducati USA executives wince.
Not so old things
I like old things, particularly machinery. I also believe, along with Valentino Rossi, that they have a bit of a soul - particularly if they were successful on the race track.
Kevin Schwantz's 1993 title-winning Suzuki was brought out of retirement at his house by mechanic Hamish Jamieson, who worked on the bike in its day. The magnesium around the water pump had gone a bit, but he fixed it. The suspension seal on one side was weeping a bit, but Hamish got Christophe Bouginon (who is now Randy de Puniet's crew chief) to mend them. He originally worked for Kayaba back in the day, so was called upon to re-prep the forks and delve into his mind how much preload was put into the rear shocker.
Hamish even called up AP to find the guy who supplied the now ancient-looking calipers, but he'd long gone.
The bike had its own garage at Indy, where full public access was allowed. The place was rammed, leaving the Shetlander Jamieson hardly a free moment to get on with any work, but he still had the touch - as he did winning with McCoy in 2000 on the Red Bull Yamaha. Original shirts, stickers and caps all reappeared. A proper little time capsule.
But it was probably the highlight for many over the GP weekend - the Indianapolis Mile on Saturday night. Kenny Roberts riding the TZ 750 Yamaha that has been restored to replicate his historic 1975 victory there before he came over to Europe a couple of years later to win three titles on the bounce.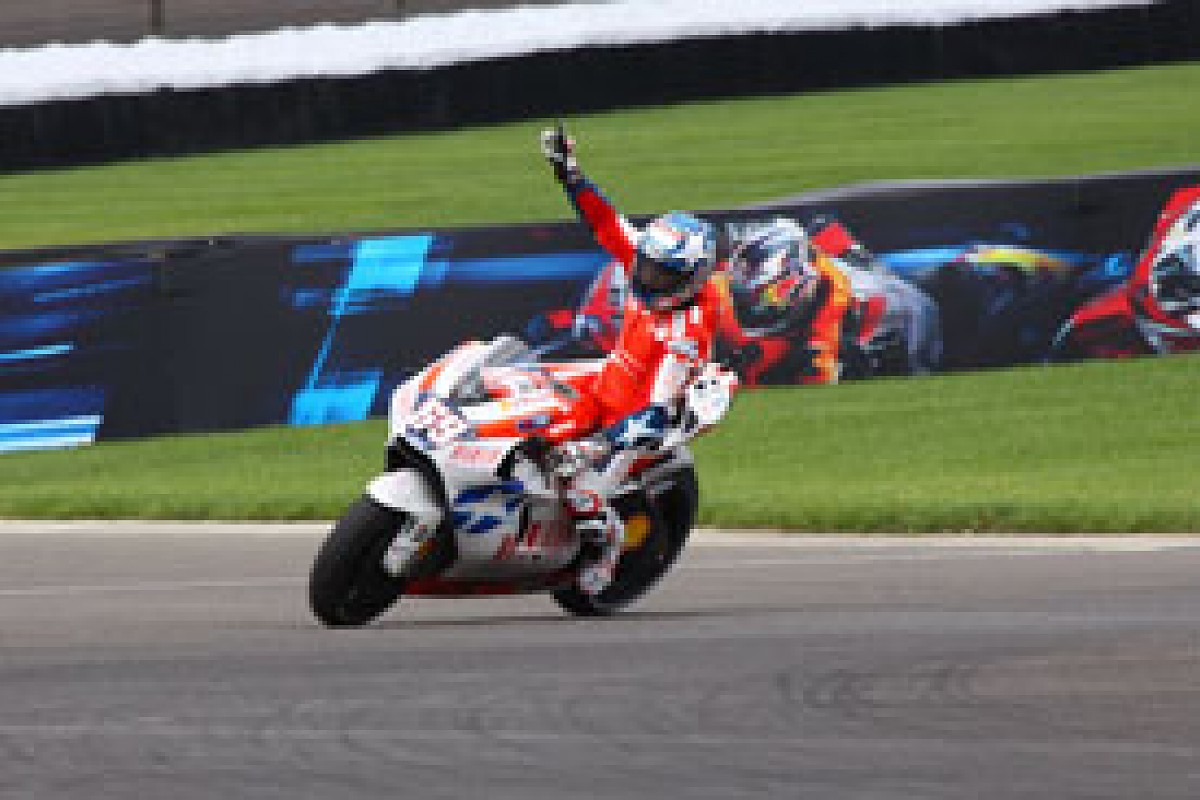 Toby Moody inspects a dirt track Harley-Davidson © Toby Moody
Even Alpinestars remade the leathers with their old logo stitched into the collar for added retro; the sleeves straight-ended, without velcro. Magic little touches.
I could go on and on, but it was one of those moments where you had to be there.
Walking in and within minutes meeting Jay Springsteen, the man who battled with Roberts in the mid 70s, taking the Grand National titles away from the King. He didn't know who the hell this Brit was, but I sure as hell know him.
Watching his nephew in a heat race, he invited me up to watch from atop his truck. This involved stepping past his Dachshund, called Diesel, and then climbing up a worm ladder through the roof of the van.
Watching a heat at a mile standing next to Jay Springsteen is truly awesome. Always try to surround yourself with the experts whenever turning up somewhere new. Crikey, it doesn't get much bigger than that. Well, apart from the fact that Roberts was to do his laps later.
Finding the TZ 750 among a load of people in the dimly-lit paddock, just parked up alongside a nondescript van was a moment that actually made me shout to my colleague, Julian Ryder: "Here it is! Over here!" I actually rushed to the front even though the bike wasn't out on track for another hour.
I soon got a poke in the ribs from Nicky Hayden, dressed up in non-Ducati gear, just soaking it all in. He never won a mile during his dirt track days, but he finally admitted he'll be giving it a go when he stops MotoGP.
Others there included Toni Elias, Andrea Dovizioso and Valentino Rossi, who was meant to ride a Yamaha all liveried up in FIAT Yamaha colours, but in the end he deferred to Kenny Roberts after his three flying laps, saying the night was for him.
That was even with the presence of Walter G Davidson, Wayne Rainey and Chris Carr, the seven-time dirt track champion and former two-wheeled land speed record holder (at 350mph) who is currently at Bonneville trying to wrest his record back.
It was proper, intoxicating Americana.
No better place to be in the entire world of motorsports - and I've seen a lot over the years.