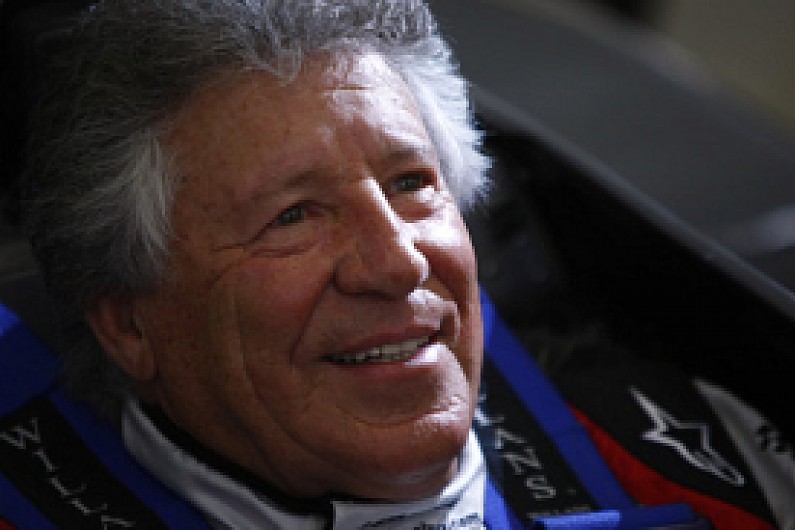 Indycar racing legend and former F1 world champion Mario Andretti has backed the safety systems at Las Vegas Motor Speedway following Dan Wheldon's fatal crash last Sunday, and believes the accident was a "freakish" one-off.
Speaking exclusively on CNN's Piers Morgan Tonight on Monday, Andretti said he was surprised that more drivers did not suffer serious injuries in the horrific multi-car crash in the IndyCar season finale that claimed Wheldon's life.
"It's incredible that no more than just one driver was [seriously] hurt," said Andretti. "Dan's situation was a very freakish thing where his car flew right up into the catch fencing. The track is very well equipped, it is one of the few tracks to have SAFER walls all the way around, but he just missed the top of it. It was so unfortunate."
Andretti believes that there is no need for any knee-jerk reactions to the design of cars and circuits as a result of Wheldon's death.
"I think we have to realise the sanctioning bodies are being very responsible in dealing with the safety, in terms of the cars and racetracks," he explained.
"I think it's a testament to [them for] the [the majority of] drivers coming out of the car unscathed from such horrible accidents. Unfortunately, it's never going to be 100 per cent safe. But there's always that spectrum for the freakish situation.
"On the plus side, the sport, with every incident, will analyse every aspect of it. What can we do better? What can we do different? This is not something that you forget and move on to the next race, and not do anything about it.
"It's going to be very well investigated; all of us will have an opinion about it, and maybe some things will need to be done differently. Looking at the amount of exposure we have, week-in, week-out, thousands and thousands of miles being run on the track in racing and testing, I think we're very proud of our safety record. I wish we could be 100 per cent shielded from danger, but nothing is in life."
Mario, whose son Michael's Andretti Autosport team was poised to run Wheldon in the next-generation car in 2012, added that the loss of the two-time Indy 500 winner and 2005 series champion was going to leave a huge void in Indycar.
"When you lose somebody who is really close to home as has happened, it's in a very special way. Dan was a racer," said Andretti.