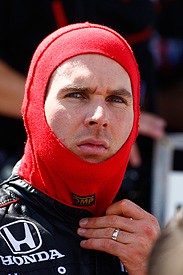 Will Power delivered a scathing verdict on the IndyCar officials and their decision to restart the race at New Hampshire in wet conditions eight laps from the end.
Power, running fifth at the time, was caught out as Danica Patrick spun on his outside, and had little room - or grip - to manoeuvre, eventually ending up in the wall with a gaggle of other cars.
Power, fearing that his chance to gain significant championship points following Dario Franchitti's earlier retirement, leapt out his car and immediately remonstrated with officials, before slamming their decision when he arrived back in the paddock.
"I was begging them, begging them, please do not go green," Power said. "So was everyone else - the track was in no condition to restart.
"To me it was disgraceful. It was a decision which put a lot of guys in danger."
Power levelled much of his ire at IndyCar's president of competition Brian Barnhard, who has already drawn criticism for his perfomances this year.
"I just can't believe the decision - what are they doing up there? They cannot have this guy [Brian Barnhart] running the show, he makes such bad calls all the time. Shame on him.
"I lost my temper, and that was bad of me but I just couldn't help it. We begged them, begged them, not to do it."