Conor Daly scored a maiden IndyCar Series pole position in qualifying for the first race at Iowa, with reigning champion Josef Newgarden on pole for the second race.
Carlin driver Daly, who had never previously qualified inside the top 10 on an oval circuit, also took the team's first pole position since its arrival in Indycar in 2018.
The 28-year-old was the early pace-setter in a rejigged qualifying format, where a driver's first green flag lap counted for grid positions for Friday night's opening race, and their second forming the line-up for Saturday's second encounter.
Chevrolet-powered Daly was the ninth car of 22 to take to the 0.8-mile oval circuit, and was the first driver to break the 175mph barrier.
Newgarden and his Team Penske team-mate Will Power came closest to usurping Daly's 18.37s, but fell just short - Newgarden by 0.008s.
The Carlin driver slowed slightly on his second fast lap, to 174.9mph, with Newgarden recording the fastest lap of the entire session at 175.3mph - 18.35s - to snatch pole for the second race by 0.040s from Power and Daly.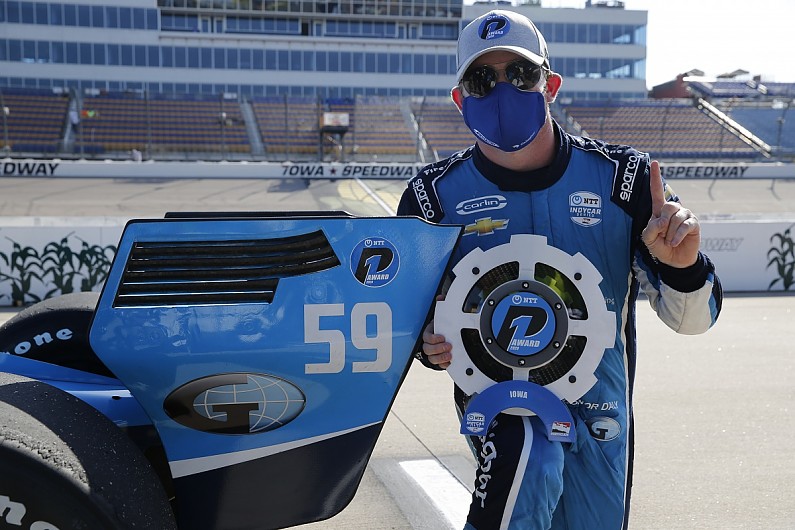 Colton Herta, racing for the Andretti affiliated Harding Steinbrenner squad claimed fourth for both races - lapping in 18.41s and 18.55s, respectively.
After a poor start to the 2020 campaign, Alexander Rossi qualified a strong fifth for the first race - the Andretti Honda driver the early pacesetter with his 18.68s lap-time, before Daly stormed to pole.
The 2016 Indy 500 winner could not keep up that pace however for the second lap, falling to a 19.08s time and 21st on the grid for the second race.
Championship leader Scott Dixon endured a difficult session for Chip Ganassi Racing, his #9 machine struggling with understeer throughout its time on track.
Dixon could only manage 17th for the first race, with oval specialist Ed Carpenter and rookie Alex Palou either side of him, and fared even worse on his second lap, securing 18th, sandwiched by Marco Andretti and Graham Rahal.
Simon Pagenaud will start both races last after the #2 Penske suffered a fuel pressure issue just as it was about to start its qualifying run.
Pagenaud was due to be the third last car to record his times, but the issue struck just as he was given the go-ahead to start his run, with race director Kyle Novak waving Pagenaud's attempts to get going off, and pulling the car out of line.
Iowa Race 1 grid
| Pos | Driver | Team | Time | Gap |
| --- | --- | --- | --- | --- |
| 1 | Conor Daly | Carlin | 18.3711s | - |
| 2 | Josef Newgarden | Team Penske | 18.3796s | 0.0085s |
| 3 | Will Power | Team Penske | 18.4112s | 0.0401s |
| 4 | Colton Herta | Andretti Harding | 18.4120s | 0.0409s |
| 5 | Alexander Rossi | Andretti Autosport | 18.6831s | 0.3120s |
| 6 | Takuma Sato | Rahal Letterman Lanigan | 18.6975s | 0.3264s |
| 7 | Felix Rosenqvist | Chip Ganassi Racing | 18.7048s | 0.3337s |
| 8 | Patricio O'Ward | Arrow McLaren SP | 18.7534s | 0.3823s |
| 9 | Jack Harvey | Meyer Shank Racing | 18.7540s | 0.3829s |
| 10 | Marcus Ericsson | Chip Ganassi Racing | 18.7666s | 0.3955s |
| 11 | Santino Ferrucci | Dale Coyne Racing with Vasser Sullivan | 18.7837s | 0.4126s |
| 12 | Ryan Hunter-Reay | Andretti Autosport | 18.7905s | 0.4194s |
| 13 | Rinus Van Kalmthout | Ed Carpenter Racing | 18.8205s | 0.4494s |
| 14 | Oliver Askew | Arrow McLaren SP | 18.8344s | 0.4633s |
| 15 | Charlie Kimball | A.J. Foyt Enterprises | 18.8412s | 0.4701s |
| 16 | Ed Carpenter | Ed Carpenter Racing | 18.8584s | 0.4873s |
| 17 | Scott Dixon | Chip Ganassi Racing | 18.8631s | 0.4920s |
| 18 | Alex Palou | Dale Coyne Racing | 18.8768s | 0.5057s |
| 19 | Tony Kanaan | A.J. Foyt Enterprises | 18.8782s | 0.5071s |
| 20 | Marco Andretti | Andretti Autosport | 18.9951s | 0.6240s |
| 21 | Graham Rahal | Rahal Letterman Lanigan | 19.1109s | 0.7398s |
| 22 | Zach Veach | Andretti Autosport | 19.4520s | 1.0809s |
| 23 | Simon Pagenaud | Team Penske | - | - |
Iowa Race 2 grid
| Pos | Driver | Team | Time | Gap |
| --- | --- | --- | --- | --- |
| 1 | Josef Newgarden | Team Penske | 18.3559s | - |
| 2 | Will Power | Team Penske | 18.3883s | 0.0324s |
| 3 | Conor Daly | Carlin | 18.3951s | 0.0392s |
| 4 | Ryan Hunter-Reay | Andretti Autosport | 18.4705s | 0.1146s |
| 5 | Colton Herta | Andretti Harding | 18.5566s | 0.2007s |
| 6 | Jack Harvey | Meyer Shank Racing | 18.6549s | 0.2990s |
| 7 | Alex Palou | Dale Coyne Racing | 18.6702s | 0.3143s |
| 8 | Tony Kanaan | A.J. Foyt Enterprises | 18.7297s | 0.3738s |
| 9 | Marcus Ericsson | Chip Ganassi Racing | 18.7495s | 0.3936s |
| 10 | Felix Rosenqvist | Chip Ganassi Racing | 18.7841s | 0.4282s |
| 11 | Charlie Kimball | A.J. Foyt Enterprises | 18.7888s | 0.4329s |
| 12 | Patricio O'Ward | Arrow McLaren SP | 18.8102s | 0.4543s |
| 13 | Oliver Askew | Arrow McLaren SP | 18.8244s | 0.4685s |
| 14 | Ed Carpenter | Ed Carpenter Racing | 18.8434s | 0.4875s |
| 15 | Rinus Van Kalmthout | Ed Carpenter Racing | 18.8681s | 0.5122s |
| 16 | Santino Ferrucci | Dale Coyne Racing with Vasser Sullivan | 18.8818s | 0.5259s |
| 17 | Marco Andretti | Andretti Autosport | 18.8970s | 0.5411s |
| 18 | Scott Dixon | Chip Ganassi Racing | 18.9841s | 0.6282s |
| 19 | Graham Rahal | Rahal Letterman Lanigan | 19.0136s | 0.6577s |
| 20 | Takuma Sato | Rahal Letterman Lanigan | 19.0242s | 0.6683s |
| 21 | Alexander Rossi | Andretti Autosport | 19.0846s | 0.7287s |
| 22 | Zach Veach | Andretti Autosport | 19.9487s | 1.5928s |
| 23 | Simon Pagenaud | Team Penske | - | - |
Autosport has produced a standalone special magazine to celebrate our 70th birthday. All current print subscribers will receive a copy for free. To order your copy of the 196-page Autosport 70th Anniversary issue, please go to: autosport.com/autosport70th