Scott Dixon says the Red Bull Advanced Technologies aeroscreen will have no impact on the vision of IndyCar drivers after taking part in an intensive test of the device.
IndyCar formed a partnership with the technology arm of the Red Bull Formula 1 team to evolve its cockpit protection system following the introduction of the Advanced Frontal Protection.
Dixon tested IndyCar's first foray into cockpit protection with an aeroscreen designed by PPG.
The five-time IndyCar champion has now trialled a simulated prototype version at Dallara's Speedway base in Indianapolis on Tuesday.
Dixon said: "Everything went smoothly.
"Additions on this were cooling pieces and a screen anti-fog system, so they were checking the line of sight wasn't impeded by any of these.
"To be honest, it felt very like the current car, visually, where you look out at the AFP [Advance Frontal Protection device].
"We went through [simulations of] Indy, Texas, Iowa, Barber and Long Beach, and no issues."
Dixon suggested the cockpit view has been helped by the fact that drivers sit so low and focus primarily into the distance head-on.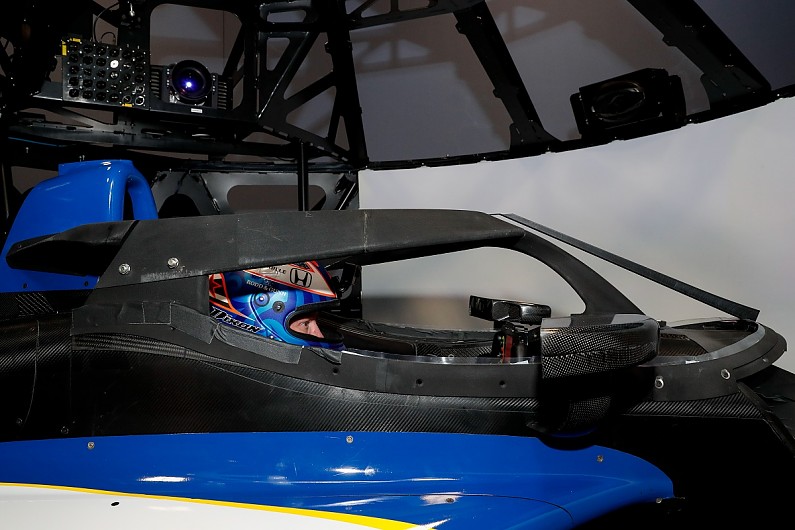 He suggested once drivers adapt to looking through a screen, the Halo-like framework will make little difference to a driver's viewpoint.
"Honestly I think it's going to be almost exactly the same as what we have," he said.
"Unless you look up, and look where you [normally] don't, you're not going to notice it.
"The AFP is [already] pretty high and this is exactly where your line of sight currently is - the new system is exactly the same thickness.
"Getting in the car is the only difference that we'll notice, and once you're belted in, visually it will be almost exactly the same."
Dixon also said previous concerns over cockpit protection systems such as the line of sight on ovals had been checked off.
"The biggest concern - which was a bit of a myth and I'm not really sure how it got started - was the Halo and how it would not be useful on an IndyCar because of the line of sight on ovals such as high-banked stuff like Texas," said Dixon.
"Definitely with this design [it] doesn't impede that.
"The next thing was the visual distortion, but with what we've run in the past with the aeroscreen [the PPG version], making sure we got the angles and the way they apply [the screen] to the frame, there have been no issues.
"Then you come up with different references of things like fogging, but I believe it is going to have an anti-fog system which will help, and once we get it running they'll start looking at tear-off devices.
"Distortion and visuals is the biggest thing for any driver, making sure that it's not going to impede your vision or there being a possibility of you not seeing something as quick as you normally would, or not seeing the flagstand.
"But those are all ticked off - no issues there."
Dixon also confirmed that there had been tests on the increased weight in the centre of the car to check its impact on handling.